Hosting Town Hall Meetings became a troublesome task, especially for organizations spread over multiple cities or countries, as all the stakeholders and employees of the company are not present at a similar location. However, the innovative blend of event world and technological advancements have made it possible to organize crucial meetings like Town Halls with ultimate convenience and excellence.
Let's explore the most beneficial virtual town hall tips, ideas, and practices to ensure the success of your Virtual Meeting. Let's begin by understanding it's fundamentals.
What is a Virtual Town Hall Meeting?
A Virtual Town Hall Meeting or an All-Hands Meeting is an interactive online meeting that brings all the shareholders, managers, team heads, and employees of an organization together to discuss significant business strategies, updates, and decisions. The all-hands meeting is of great importance for businesses as they are a source to keep everybody connected, updated, and ensure that all the company employees are on the same page.
An all-hands meeting makes it possible for all the attendees to get many similar benefits of an in-person event like face-to-face interaction, along with the bonus benefit of attending the town hall from anywhere across the world.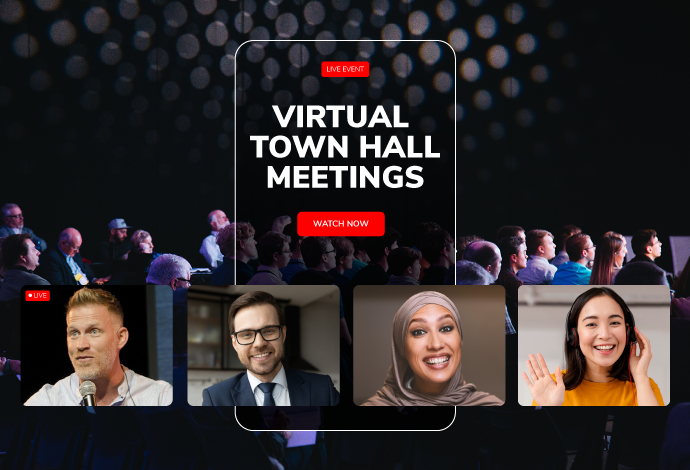 Virtual Town Hall Meetings also enable you to access & share content, interact with the team members, and record the sessions to ensure that nobody misses out on vital information. Nevertheless, there are a few things you need to take care of to host an efficient Town Hall Meeting. Read on to explore some of the top suggestions to ensure a quality online event.
In-Person, Hybrid, Virtual
Create an Extraordinary Event Experience
Across All Event Formats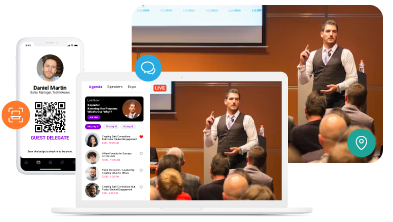 Excellent Virtual Town Hall Ideas to Perform an Effective Meeting
#1 Define Your Purpose
Although this idea sounds simple and obvious, it works like a charm! Defining your purpose behind hosting a Virtual Meeting is the primary and the most requisite step as you begin to plan your event. A predetermined goal does not only help you form a coherent structure but also in framing streamlined content.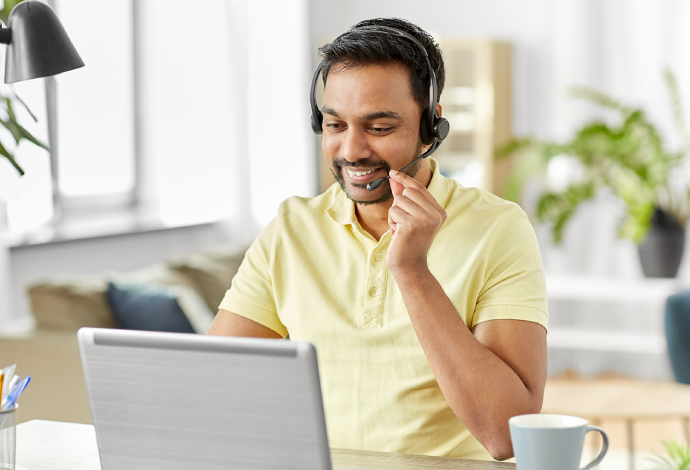 #2 Choose the Most Suitable Virtual Event Platform
A Virtual Meetings Platform is responsible for bringing your online meeting to life. Therefore, make sure you choose a suitable virtual venue that provides you with the most innovative and valuable tools to enhance the efficacy of your Virtual Event. An advanced online meeting platform is well-equipped with the most relevant elements that can amplify the success prospects of your event.
An Online Town Hall involves the discussion of important information like company decisions and policies. So, don't forget to discuss the security concerns with the virtual event platform you choose.
#3 Actively Promote and Market Your Town Hall
Aggressive promotional activities and marketing strategies help you in maximizing the reach of your Virtual Town Hall Meeting. You can make use of various mediums like social media platforms, email listing, landing pages, or even word-of-mouth to adequately promote and market your event. Another idea is to hold social media contests and create a separate unofficial group of all the registrants. It will not only help you in promoting the presence of your meeting but also in enticing your attendees to be engaged.
In-Person, Hybrid, Virtual
Create an Extraordinary Event Experience
Across All Event Formats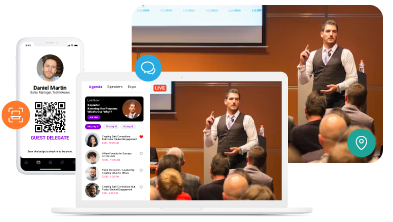 #4 Make Your Virtual Meeting More Interactive and Engaging
It is essential to understand that as your attendees are present over a screen, their attention span is comparatively less. Therefore, incorporating top-notch interactive and engaging features at your Virtual Town Hall Meeting is very essential to ensure its success. Any virtual event meets the pitches of progress only if it successfully provides an excellent event experience to its attendees. And, your attendees' satisfaction lies in the interactive and engaging features of your event.
#5 Collect Valuable Feedback
The idea behind collecting your participant's feedback here is diverse. The feedback can not only help you analyze the efficacy of your online event but also tell your employees that their opinions are highly valued at your company. Feedback collection used to be a trying task before the virtual shift of events. However, it has now become easier to accumulate valuable feedback from your attendees.
This feedback can be about any matter- be it your attendees' event experience or about the topics & decisions discussed at the online meeting.
Let's move ahead on the way to ensure the success of your Town Hall by exploring some of the best virtual event tips!
Top Virtual Town Hall Tips to Make Your Meeting More Interesting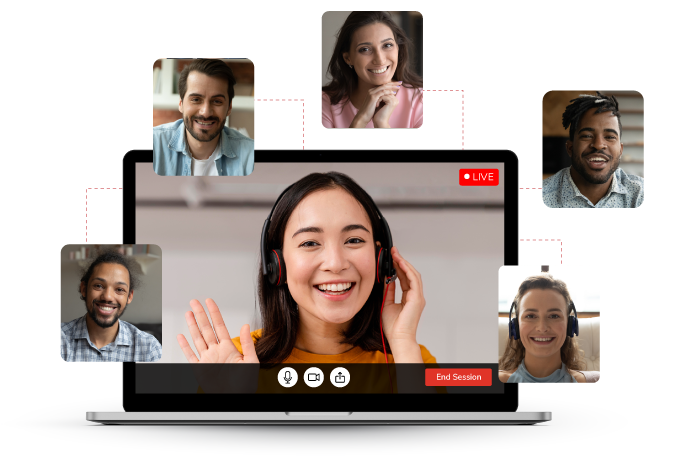 #1 Gamify Your Town Hall
Gamification of a virtual event is one of the most effective ways to establish the maximum engagement of your remote attendees throughout the event. Virtual event platforms provide countless innovative gamification tools like virtual scavenger hunts, tic-tac-toe, spin the wheel, crossword, etc. You can organize these short games during the breaks between your event sessions.
In-Person, Hybrid, Virtual
Create an Extraordinary Event Experience
Across All Event Formats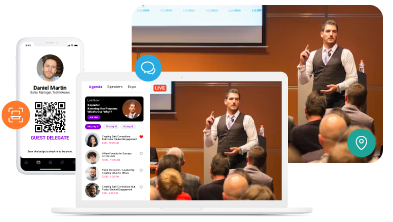 #2 Provide Constructive Communication Facilities
A major intention behind hosting a town hall meeting is to initiate active communication among the company members to hold important discussions. Therefore, providing constructive communication opportunities to all the attendees is like the most basic requirement at your online meeting.
An advanced online event platform facilitates you with various communication tools like personal text, audio, & video chat, networking chat rooms, meeting schedulers, etc. With the help of these facilities, your attendees can also initiate conversations with team leads, managers, or other employees in case of any doubt or questions.
#3 Render Interactive Opportunity
Providing interactive opportunities is another essential tip for your online town hall. Interactive elements like Q&A sessions, live polls, trivia, contests, etc., can not only help you make the event more interesting but also improve your attendees' engagement.
#4 Use a Moderator
For an event like Town Hall, where a large group of attendees is present with the expectation to interact, it is significant to use a moderator. An Online Town Hall is hosted with the aim to share valuable company data and information with all the employees, and a moderator can ensure a smooth flow of this important conversation.
Moderators usually have advanced control over the tools to make sure that the meeting goes well.
#5 Bring a Meeting Leader/Host On Board
Like, a moderator is essential to execute a smooth town hall, the meeting leader or host is the main face of the meeting. The host at your event is responsible to keep the event on track and on time. The job of a meeting leader begins by kick-starting the town hall, explaining the agenda, introducing the speakers, managing the interaction, and ends by closing the meeting.
In-Person, Hybrid, Virtual
Create an Extraordinary Event Experience
Across All Event Formats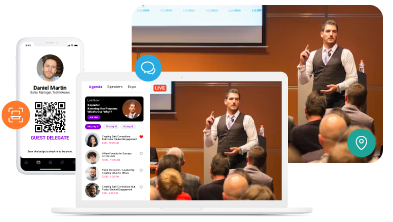 #6 Create a Well-Planned Agenda
Creating a well-planned agenda is one of the most essential elements to pull out an efficient Town Hall. A predefined agenda does not only help the meeting host in maintaining the flow of your event but also helps attendees set appropriate expectations.
#7 Examine the Event Tech Support
Examining your event tech support by testing it with a dry run before going live on the event day is another crucial tip to ensure your meeting's success. Therefore, make sure you test all the tools and elements of your Virtual Meeting Platform to avoid any possible errors or glitches during the event.
#8 Engage with Interactive Quizzes and Surveys
As a part of virtual town hall game ideas, you can take it series to incorporate engaging quizzes and surveys throughout the Town Hall Meeting. As this can boost the participant's activity and also, quizzes can test members' knowledge about company updates or industry trends. Also, with other surveys to gather valuable feedback on various topics. Take this as a fun element.
#9 Host Live Demonstrations and Product Showcases
In a town hall meeting, you can give a live demo of the product, the latest technological advancement, and other key not aspects. The live demonstration provides a quite soothing experience to attendees and a chance to interact with the products virtually. Also with our integrated virtual meeting town hall platform, you can add live chats, Q&As, polls, surveys, and such interactive features. Ultimately this will boost your town hall activities capabilities and attain valuable results in terms of engagement.
#10 Live Performance or Entertainment
In general, it is believed that town halls are completely formal. But in case you want to look for the best ideas for virtual town hall meetings then adding a touch of entertainment and excitement can be a million-dollar idea. Well, before thinking about it, taking permission from the management is preferable. However, without entertainment, meetings are boring. So, think of it. Live entertainment can uplift attendees' spirits and create a memorable experience for all.
Walking onward, let's explore some more Virtual Town Hall Ideas to make your event more fun and interactive.
Virtual Town Hall Best Practices to Make the Most Out of Your Event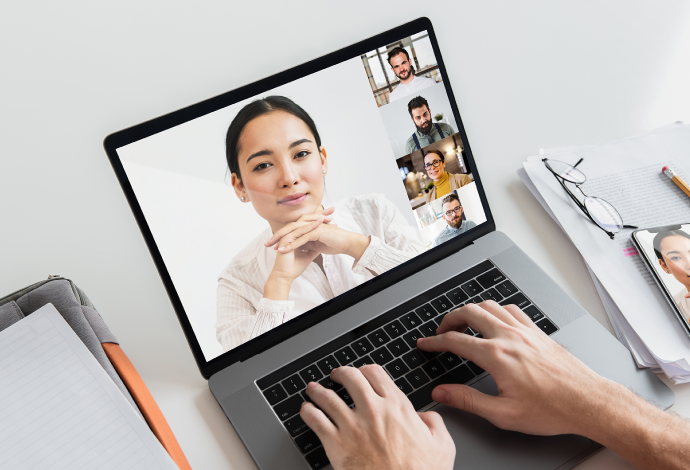 #1 Begin Your Town Hall with the Ice-Breakers
Fun ice-breaking activities can not only grab your attendees' attention but also motivate them to interact. When you host a Virtual Meeting, it is vital to make sure that your attendees are not just present at the event but feel actively engaged too. To initiate an ice-breaking conversation between your employees, you can begin by asking fun work-related or random questions, introduce new hires to everyone, etc.
#2 Celebrate Your Company Achievements
Celebrating company achievements can boost the morale of all the stakeholders and employees. Everybody likes to be appreciated for the work they do. Fortunately, a Town Hall Meeting is the perfect opportunity to acknowledge the hard work of your team and praise them for the same. It will not only help you in engaging your attendees but will also motivate them to perform better in the future.
#3 Make it Easy for Your Attendees to Join the Meeting
Difficult navigation is one of the common reasons why registrants fail to join the meeting on the event day. The reason can at times be technical difficulties like device support or at times, it can be the unavailability of proper links. Therefore, make sure that your Virtual Meeting is easy and seamless to join.
#4 Give Your Department Heads a Chance to Speak
Like the rest of the employees, the team leads and departmental heads also covet to be appreciated and acknowledged for their hard work. While it can be a great idea to let the CEO kick-start the meeting, your attendees might lose interest if only one person keeps speaking throughout the Town Hall. Therefore, give the department leaders a chance to speak at the event too. This way, your employees will feel more engaged as the department heads will represent them too.
#5 Don't Bore Your Attendees Out!
You have to make sure that your online attendees feel enticed while attending the Town Hall Meeting instead of having a tedious experience. To ensure a captivating vibe throughout the virtual event, keep the sessions short and include mini-breaks to reduce the meeting fatigue.
#6 Incorporate Interactive Polls and Surveys
Town halls are meant to gather honest feedback and votes from the members. With our robust platform, you incorporate interactive polls and surveys throughout the Town Hall Meeting. This will allow you to gain real-time feedback, let members express their opinions, and vote on relevant topics. All the insights gathered with these polls and surveys can be further used to make and improve the company policies and take other necessary steps. Take this as the first virtual town hall idea to look forward to implementing.
#7 Use Multimedia and Visuals Effectively
Leveraging multimedia elements to enhance engagement can be the best town hall theme idea. Utilizing relevant videos, animations, infographics, and visual presentations can help in conveying the information with ease. Also, the content and media utilized can be altered as per your town hall meeting theme to maintain a consistent tonne.
#8 Foster Virtual Networking Opportunities
Create an immersive 360-degree virtual environment from any virtual town hall theme ideas like branding colors and other elements. This can easily facilitate networking opportunities. Create breakout rooms in a branded theme that cater to smaller group interactions allowing attendees to connect with each other, discuss common interests, and build relationships. Also, encourage the members to engage in a cross-functional manner to foster valuable collaborations and knowledge-sharing.
Bring all the mentioned tips, ideas, and practices together to pull off a triumphant Online Town Hall! Wish to know more? Contact us now, and we'll back you with all that's needed to host an efficient virtual meeting.
In-Person, Hybrid, Virtual
Create an Extraordinary Event Experience
Across All Event Formats