All types of on-site events have gone virtual after the pandemic outbreak. While the concept sounded bizarre in the beginning, the world has now accepted the greatness & profitability of virtual events. Similar is the case of trade shows. Organizers have been hosting online trade show events and have generated a maximum number of qualified leads at lower expenses. In this blog, we have covered everything you need to know about a virtual trade show event. Move further and explore must-know aspects of a virtual trade fair.
What is a Virtual Trade Show?
A Virtual Trade Show is simply an online version of a trade show event organized over an immersive 3D virtual environment provided by a virtual event platform. A virtual trade fair has numerous virtual functionalities like real-time interactivity, networking, connection building, 360-demonstrations, etc. It is not only a virtual replication or version of an in-person trade fair but also a step ahead of the traditional trade activities.
An online trade show event is way more beneficial than a physical event for both the organizers & exhibitors in several ways.
Let us move further and explore some of the most prominent benefits of hosting a virtual trade fair.
What are the Benefits of a Virtual Trade Show?
#1 Global Reach
The Virtual Trade Show event enables global organizations to reach a wide target audience and ensure qualified leads from across the globe. There is no limitation on the number of participants you can invite or the time that the event can last. Therefore, you get the advantage of maximizing your event's reach to a global level.
#2 Helps in Saving Resources
The virtual format of trade show events enables the organizers & exhibitors to save many resources. From the entire event venue set-up to the content resources like boards & booths, the requirement of multiple arrangements gets eliminated. Not just this but there is also no need to travel long ways and arrange the accommodation for the participants. Hence, a virtual trade fair event helps you save resources & minimize ecological footprint per attendee.
#3 Maximum Exposure
A virtual trade fair event can last for a long number of days, while the content can be made available on-demand for as many days as you like. Therefore, you get the opportunity to keep your event & content exposed to the target audience for a long time. It clearly means that the virtual event format helps you gain a better ROI & lead generation at a minimized cost.
#4 Seamless Real-Time Interaction
A virtual trade show platform provides the users with various real-time interactive features. These virtual tools help the exhibitors have a clear interaction with the attendees and build valuable connections during the event. Real-time interactivity plays a vital role in any virtual event as it keeps your attendees engaged and provides them with a greater value during the event. A virtual fair also boosts your chances of consumer acquisitions as direct interaction builds an improved consumer trust in your brand.
#5 Event Data Tracking Possibility
A virtual event platform provides the excellent feature of complete event data tracking. Using this tool, you get to analyze each & every aspect of the virtual event and track the attendee footprint. This aspect of a virtual event is not at all possible in the traditional event format. Hence, a virtual event brings you the matchless benefit of complete event data tracking possibility.
Let's move further and explore some simple steps to organizing a successful virtual trade show.
How to Host a Virtual Trade Show?
Here are the 5 Simple-Steps to organizing a successful virtual trade fair event.
#1 Determine Your Event Goals
Defining your virtual event goals & objectives is the first & the most vital step to organizing an outstanding event. Therefore, start by determining all the objectives of the virtual trade show. Doing this will help you create a well-defined plan of the event and further choose a platform that provides you with the requisite features.
#2 Create a Well-Thought Event Plan & Strategy
The next significant step is to plan out the event and create a well-thought strategy. Creating an event outline is not a choice but a mandatory aspect of hosting an event. Therefore, plan & strategize each element of the virtual show that helps you ensure seamless execution of the event.
#3 Choose a Suitable Virtual Trade Show Platform
Choose a virtual trade show platform that meets all your event needs and requirements. An excellent virtual event platform provides the users with the best interactive features, a 3D dynamic virtual environment, seamless networking, and a lot more. Therefore, choose a virtual event platform that provides you with excellent customization, scalability, and features based on your event plan & strategy.
#4 Promote & Market the Virtual Trade Show
Develop a comprehensive marketing strategy to promote your virtual trade fair event. A great event marketing plan can help you collect more registrations, maximize lead generation and attain better sales conversion. Here are some of the best ways to promote your virtual trade show event:
Create a captivating landing page for the event.
Social Media buzz through teasers or contests
Pre-event fun activities
Advertising stickers or banners on the official websites
Email marketing
#5 Test the Technology Thoroughly
When the big event day is close, check all the technological aspects. Checking the platform and other tech instruments will help you ensure that there are no errors or glitches during the event.
Following these five broad steps, you can easily ensure the seamless execution of your virtual trade fair event. Moving further, let us explore some helpful tips to host a successful virtual fair.
How Do You Plan a Successful Virtual Trade Show?
Here are some of the most beneficial tips to help you plan a successful Virtual Trade Show event.
#1 Take Platform Demos Before Choosing One
The virtual events industry is filled with different virtual event platforms today. However, choosing the right virtual trade fair platform is one of the most significant decisions that can make or break your event. Therefore, make a well-thought decision while picking the virtual event platform for your event. Mentioned below are some of the most essential features that you should look for in a platform:
100% Customization
Flexibility & Scalability
Fully Managed Virtual Event Platform
Super-Engaging Functionalities
Dynamic 3D 360-Degree Virtual Environments
Industry-First Networking Features
Safe & Secure Platform
24*7 Backend Support
#2 Create an Easy-to-Navigate Virtual Experience
Virtual event experiences can still be new for some attendees. Therefore, make sure you do not rule out this possibility and create a difficult user experience at the venue. Make sure that the virtual venue is engaging but also easy to navigate so that the attendees have all the information at their fingertips.
#3 Include Highly-Engaging Features
Create an engaging virtual trade show experience for the attendees by using the provided virtual tools. The most experienced virtual trade fair platforms provide the users with functionalities that keep the attendees engaged throughout the event. Mentioned below are some of the best ways to make your virtual trade show event super engaging:
Gamification Elements throughout the Event
Social Wall
Branded Virtual Venue Experience
Photo Booth
Leaderboard
Networking Functionalities
Signature Wall
Engagement Zone
#4 Create an Engaging Event Schedule
Create an event agenda that doesn't make your attendees have a tedious event experience. Long sessions with heavy content can make your attendees feel like skipping the event. And, you would definitely not want this to happen. Therefore, create an event agenda that is not tiring for your attendees throughout the virtual show. An excellent idea to ensure an engaging event schedule is to provide breaks and include entertaining sessions during these breaks.
#5 Make the Exhibitors' Trade Show Booths Stand Out
Trade Show Booths are the best representative of your exhibitors' brand. Therefore, create branded booths with exceptional designs, layout, and content. The best virtual trade show platforms provide users with highly customizable solutions so your exhibitors can seamlessly fulfill their branding goals. From logos, colors, and fonts to templates, banners, and content, personalize the booths for your exhibitors as per their preferences.
Let's move further to explore what a virtual trade fair looks like.
Must-Have Features of a Virtual Trade Show
#1 Compelling Visual Experience
Create a visually compelling virtual environment experience for your users. Use the opportunity to customize the virtual venue and set up a rich design. The virtual event can be a new experience for many users, and so you should create a unique & stunning visual experience.
#2 Provide Excellent Networking Tools
Ensuring networking & interaction is one of the most significant elements to host a successful virtual event. Provide your virtual trade fair exhibitors and event participants with excellent networking functionalities to ensure a seamless interaction. Here are some of the must-have virtual networking tools:
B2B Meeting Schedulers
Networking Tables
1:1 & Group Chat
Business Card Exchange
AI Matchmaking
Advanced Search Filters
#3 3D 360-Degree Demonstrations
The attendees at a virtual fair event expect to get 3D demos of the products being discussed at the event. Therefore, ask your virtual trade fair platform provider to include a 3D demonstration feature during the event. Including a 3D demonstration, the feature will also enable you to maximize your customers' trust and sales conversion.
#4 E-Commerce for On-Event Sales
Ask your virtual event service provider to incorporate an e-commerce functionality that enables on-event sales without any delay. Including e-commerce or live shopping can help you eliminate purchasing delays and ensure maximum conversion.
#5 On-Demand Content Availability
Apart from providing all the essential content over the virtual venue, make it available on-demand. A virtual event platform can be LIVE for as many days as you prefer. Using this feature of a virtual event platform, you can ensure maximum exposure for your virtual trade fair and its content. Follow the above-mentioned steps and tips to organize a highly productive virtual show. Have any queries at all? Reach out to us, and we'll solve all your questions & doubts!
In-Person, Hybrid, Virtual
Create an Extraordinary Event Experience
Across All Event Formats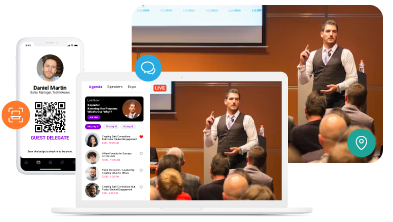 Virtual Trade Show FAQs
How do virtual trade shows work?
Virtual trade shows work over immersive 3D virtual event platforms. A managed virtual event platform provides users with a comprehensive solution from set up to execution.
How do I host a virtual trade show?
You can easily host a virtual trade show event by collaborating with an experienced virtual trade show platform. You can host a successful virtual trade show by making the right decision while choosing the virtual event platform.
How much does a virtual trade show cost?
The cost of a virtual trade show event depends on the number of features & functionalities you choose to incorporate at the event. An excellent virtual trade show platform provides flexible scalability, providing the best service based on your requirements & budget.
How do you set up a trade show?
Setting up a virtual trade show is a super easy task if you are working with a managed virtual event platform. A fully-managed virtual event platform takes the entire responsibility of your event, giving you the time to focus on content instead of set up.