Tokens are undoubtedly well-known to everyone who has ever attended a festival. They are a tradition of those events. In the past, event planners have employed plastic token systems to unify prices and ease the effort of relocating cash. Welcome to 2023, however. Gen Z and Millennials, who are accustomed to using their cards everywhere they go Why then not at events? Event planners employ cashless payment systems in today's technologically advanced world to improve payment security, shorten lines, and preserve social distance. You will learn everything about the cashless payment system in this session.
What Is A Cashless Payment System?
The cashless payment system is a type of program that allows users to make payments without physical cash. In simple words, cashless payment is a digital process of exchanging financial transactions between two parties. Cashless event solutions help to avoid the use of traditional paper and coin currency. A cashless payment platform is utilized in order to perform digital transactions between two parties. Cashless payment platforms include a payment gateway in order to transfer funds using credit cards, debit cards, or ACH electronically by means of Kiosks, websites, mobile phones, or other digital devices. Transaction from a cashless payment system specifically involves no paper for the completion of the transaction between people, organizations, or businesses. Purchasing an event ticket from the mobile app or even buying a product from an eCommerce webinar fall under the umbrella of cashless and contactless transitions.
Digital payment for events is also referred to as tap-to-go or touch-free payment. One of the most important benefits of using this payment system is that it increases security. With this, the user doesn't transfer payment or billing information directly to the vendor. NFC is a famous and common cashless payment option in this digital world. NFC stands for Near Field Communication. Through radio frequency identification (RFID), a cashless payment system allows for contactless and cashless payment. Most cashless payment devices include an NFC payment option. This type of transaction takes place over a specific RF (radio frequency) that helps mobile phones or cards to connect with the payment device.
A Timeline Of Cashless Payments
1995 saw the introduction of the first contactless payment card for commuters worldwide by the Seoul Bus Transport Association.
1996 saw the release of the first iteration of the EMV security standard.
In the United States, contactless cards were first used in 2004.
In 2008, contactless credit cards are first made available by Visa, American Express, and MasterCard.
Launched in 2011, Google Wallet and Android Pay enable contactless payments using smartphones as opposed to cards.
In 2018, Google Wallet and Android Pay merged to form Google Pay.
COVID-19 worries drive up the use of contactless payments in 2020
How Do Cashless Payments Work?
An RFID microchip, transponder, and antenna are incorporated in contactless payment cards and approved mobile devices. The client must be near the vendor's reader in order to make a purchase. Both Google Pay and Apple Pay do not handle or authorize transactions. As an alternative, they tokenize the customer's payment card and merely forward that data to the relevant credit card network. Every time a card or other approved device is used in a transaction, the microchips used in contactless payments provide fresh verification codes.
This method of data transmission differs significantly from that of magnetic stripe cards. Each time a conventional magnetic card is swiped, the billing information of the client is sent to the card reader. That information may be sold on the dark web or intercepted and utilized by another individual. However, when a transaction is carried out wirelessly, the only data that may be intercepted is the special authentication code that proves the transaction actually took place.
Every time a chip card is used, a new code is created, making it more challenging for hackers to try to copy the card and make purchases. It is just not possible to reproduce the dynamic authentication mechanism in a way that would yield dynamic codes identical to those that would be returned by a legitimate chip card. Additionally, the cashless payment system will have additional security measures that require the user to validate their identity using a technique like FaceID, fingerprint, and passcode before conducting cashless payments for events.
Type Of Cashless Payment Options
For any business, secure payment processing is an essential task. In this digital world, this task is often performed by cashless payment devices. These devices help to ensure systematic and accurate online transactions. Most event cashless payment platforms such as DC Cashless include a wide range of payment options and some of them are given below:
Credit/ Debit Card
The use of debit and credit cards for cashless transactions has become widespread. Many people believe using a debit card to make purchases is safer since you are using funds from your account. Overspending is the danger associated with credit cards. A sort of credit facility offered by banks is a credit card, which enables users to borrow money up to a pre-approved credit limit. Both debit and credit cards can be used to book event tickets or purchase products and services. You may use credit and debit cards to make a payment without using cash.
UPI
UPI known as Unified Payment Interface has changed the way we transact. In order to complete the UPI transaction, your contact number should be registered and linked with our bank account. With the help of a virtual payment address, you can receive or send money. It helps to avoid entering your bank details such as account number, name, etc. In order to get UPI payment receiver would require to have a current account. PhonePe, BHIM, and SBI Pay are common and famous UPI applications.
Mobile Wallets
Mobile wallets have developed into a useful way to make payments without using cash. The funds you add to your mobile wallet are used everywhere they are accepted. The most popular mobile wallet right now is Paytm. The disadvantage of mobile wallets is that they are not linked to your account. Once you've done so, you may only spend the funds you've added to your mobile wallet at merchants who accept payments via that app.
OR Codes
QR code is a part of mobile payment services. To finish your payment, you just scan the business service's code. A smart gadget with a camera and scanning capabilities would be necessary for this. It is an efficient way to do digital business. Most event organizers use QR codes for smart event ticketing. It helps them to convert their event into a smart event,
Benefits Of Considering A Cashless Payment System For Your Event
secured cashless solution for events allows event organizers to streamline payment operations by tracking essential sales data and automating the transaction process. Event organizers can boost the functionality by including a network of data-capture devices such as barcode scanners and card readers. An event cashless payment platform that analyzes the inventory and buying trends can assist event organizers to avoid client service problems and understand the purchasing behavior of clients. Depending on the cashless payment platform's feature, event organizers can promote their brand, check sales patterns and track gross revenue. There are different benefits of considering a cashless payment system for events and some of them are given below: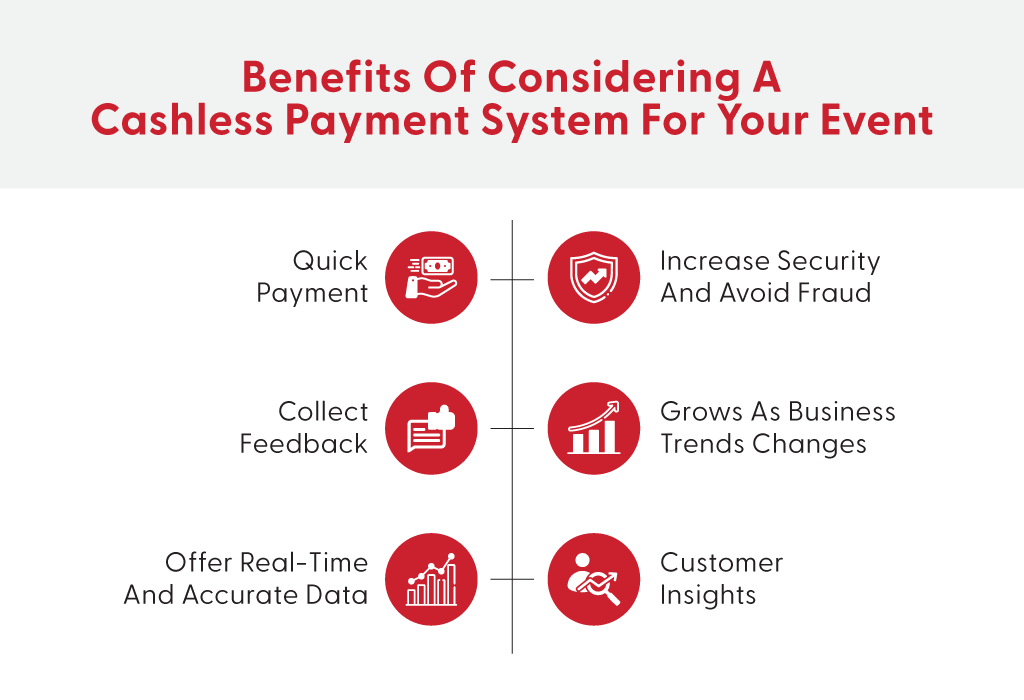 Quick Payment
Most event organizers use a cashless payment platform in order to reduce long waiting lines and perform quick payments. The staff member chooses the number of tickets or products the customer wants to purchase and the platform automatically calculates the price. And then the invoice can be printed directly on the sport or sent by email.
Increase Security And Avoid Fraud
This will not only eliminate certain risks of data loss, but it will also provide attendees and event organizers more peace of mind, preserving your reputation as a result. Additionally, there is a decreased possibility of fraud because it is more challenging for employees to offer free beverages or tokens to their friends.
Collect Feedback
A cashless payment system enables event organizers to manage the ticketing and payment process as well as collect customer feedback. You will be happy to know that a cashless payment system can be an ideal tool if you want to collect feedback from your customers. You can use this tool to promote customers for direct feedback via target emails or in-person surveys after the purchase.
Grows As Business Trends Changes
In order to support emerging customer trends, the cloud-based cashless payment system is constantly updating its software. This tool can help businesses up to date as consumer preference change. It can accept various payment types like UPI, credit/debit cards, NFC, and more.
Offer Real-Time And Accurate Data
You can keep your eyes on key performance indicators such as sales, profits, and expenses with the reporting feature of a cashless payment system. This system offers real-time data that you can access from anywhere. With the help of a cashless payment system, you will be updated with the information required to maintain your operations. It also helps you to avoid human error by importing the data accurately
Customer Insights
The plus point of a cashless payment system is that it can help event organizers to collect customers' data such as name, email-id, contact number, purchasing history, and more. Proper data management helps event organizers to understand their target clients and make more beneficial decisions. 
Convenience and Efficiency
Cashless payment systems provide convenience for both consumers and businesses. With a simple tap, swipe, or mobile scan, transactions can be completed quickly and seamlessly. This eliminates the need to handle physical cash, reducing the time spent on counting and making change during transactions. For businesses, faster transactions mean shorter queues and reduced waiting times for customers, leading to improved customer satisfaction.
Increased Sales and Impulse Purchases
Cashless payments make it easier for customers to make purchases, even when they don't have exact changes. This convenience can lead to increased sales, as customers are more likely to complete transactions without hesitation. Additionally, the speed and efficiency of cashless transactions can encourage impulse purchases, driving revenue for businesses.
Final Words:-
Cashless payment systems give event-based enterprises a significant boost in terms of efficiency, usability, management advantages, and reporting insights. An event-specific cashless payment system has advantages well beyond its capacity and potential. Regardless of how big or small your business is, this system can be an ideal option So why are you still waiting? Get in touch with DC Cashless. It is a feature-rich cashless payment solution with cutting-edge technology, that ensures your satisfaction with the best services to increase the profitability of your company.
In-Person, Hybrid, Virtual
Create an Extraordinary Event Experience
Across All Event Formats