We are highly humbled and delighted to bag the most prestigious awards of the events & experience industry across diverse categories. EEMAX Global & Spotlight Awards are the two extremely notable events organized at EEMAGINE, an event considered to be the industry's most definitive platform that brings together the ideators, visionaries, designers, thought leaders, marketing gurus, entrepreneurs, innovators, and policy makers of the sphere. Organized by EEMA- the Event & Entertainment Management Association, EEMAGINE 2022 was held on 5th-8th August at Fairmont Jaipur. Dreamcast has not only won various awards in the domain of virtual events but also for the Best Virtual Platform.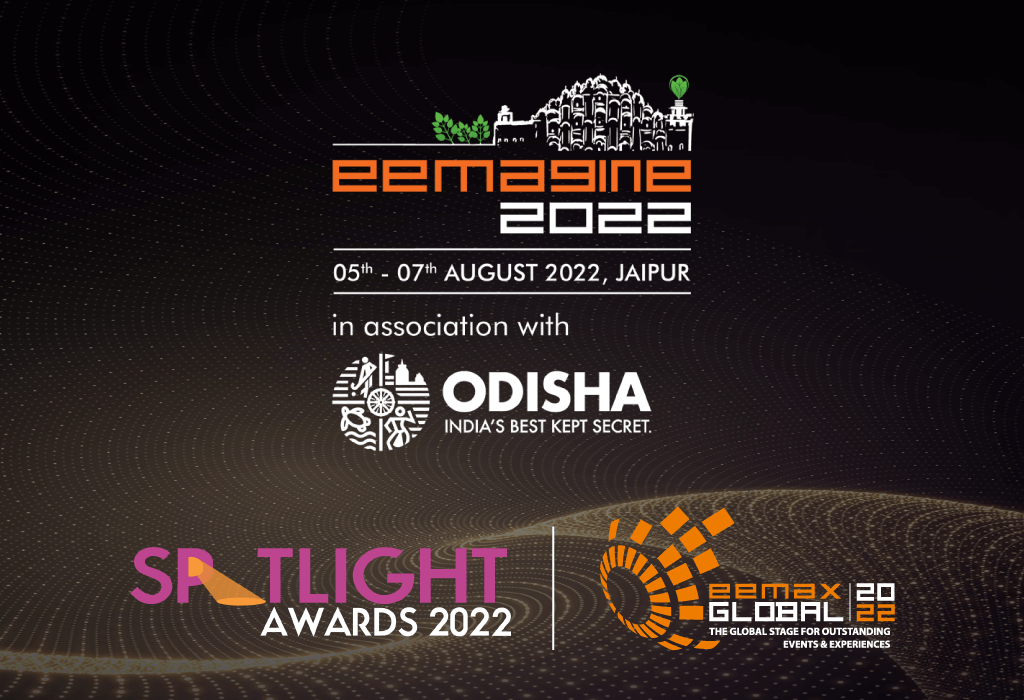 A Brief Peep:
Best Virtual Platform Partner – Dreamcast
Best Government Ministry / PSU Event – India Mobile Congress 2020 – Dreamcast
Best Exhibition B2B (Virtual)- SAATE GenX Virtual Exhibition – Dreamcast
Best Music Event (Virtual) – All About Music 2021 – Dreamcast
Let's explore the key highlights of the platform & events in detail.
Best Virtual Platform Partner – Dreamcast
Overview of the virtual event platform in numbers & facts, representing the result & excellence: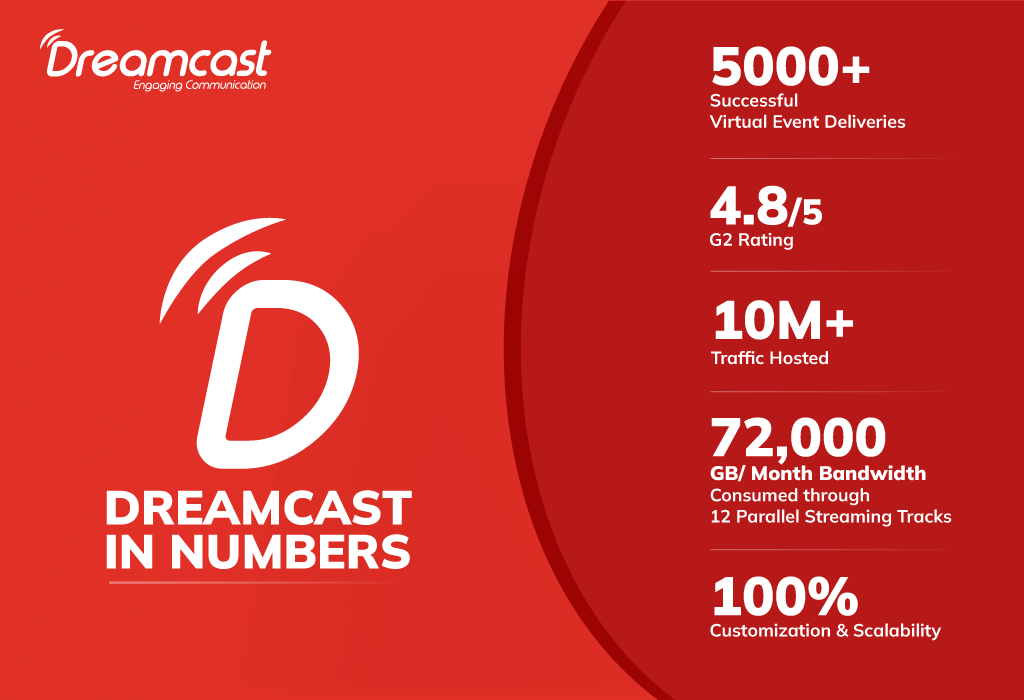 1000+ Happy Global Customers
5000+ Successful Virtual Event Deliveries
100% Promising Customizability & Scalability achieved
10M+ Traffic Hosted
Average 1 Million+ Monthly Traffic
Average 72,000 GB/ Month Bandwidth Consumed through 12 Parallel Streaming Tracks
Rated 4.8/5 on G2
Received 10+ High Performer Badges across different segments
The pandemic pushed the entire ecosystem of organizations to modulate their way of organizing events. This was when Dreamcast launched India's first virtual event platform, post-pandemic. The objective was to provide event organizers, agencies, and users with an immersive, interactive, and engaging virtual environment to host all scales and sizes of events digitally.
Due to countless restrictions, organizing many significant events became impossible. This further led to the lack of connection-building and collaboration opportunities. To combat this challenge, Dreamcast aimed to create a platform that could replicate & ensure an event experience as close as the on-ground format over a virtual venue.
Another challenge was to reach out to the audience and share with them the efficacy of the virtual event platform. However, once this objective was achieved, virtual events turned out to be more advantageous for organizers & agencies than ever.
With this transition, the importance of data security & safety increased. Dreamcast intended to build a platform that is 100% safe for its customers. Various other objectives included:
Multi Format Interaction
Real-Time Communication
Third-Party Integrations
Multilingual Capabilities
Audience Engagement
Seamless Networking
Large-Scale Participation
Feedback Collection
Data Analytics & Reports
Planning and Effectiveness of the Platform
India's first post-pandemic virtual event was organized on the platform just 55 days after the lockdown.
The virtual event platform is made suitable for diverse use cases like AGM, Townhall, Trade Show, Product Launch, Fair, Exhibition, Conference, Festival, Summit, Expo, OTT etc.
First in the country to introduce 2-way interaction during live streaming.
Possibility to create innovative industry-first-functionalities.
Range of 50+ engaging tools & games to amplify the execution.
The platform covers all types of experience integrations, be it 3D or Meta.
The platform is extending itself digitally by providing web, application, and on-ground solutions, boosting in-person & hybrid events.
Some exceptional virtual events created by Dreamcast:
WESD – A 24-hour-long virtual event with 3 simultaneous product launches & 60+ hours of continuous streaming in 5 languages.
JLF – A virtual event with real-venue replication created for the world's largest literature festival.
TWOW – The World of Weddings, India's first fully 3D, customized & interactive virtual wedding expo for wedding organizers & general audience.
IMC – An event inaugurated by PM Narendra Modi, 170+ exhibitors & powerful networking.
ALL ABOUT MUSIC – A Music Event with200+ Expert Speakers, 300+ companies across 25 countries
Johnsons & Johnsons – A virtual product launch event with a 100% personalized event venue.
Economic Times – Virtual events organized for 8 quarters straight, with 50+events
HP – OTT – An OTT Platform created for HP's Sales Kickoff Event.
Best Government Ministry / PSU Event – India Mobile Congress 2020 – Dreamcast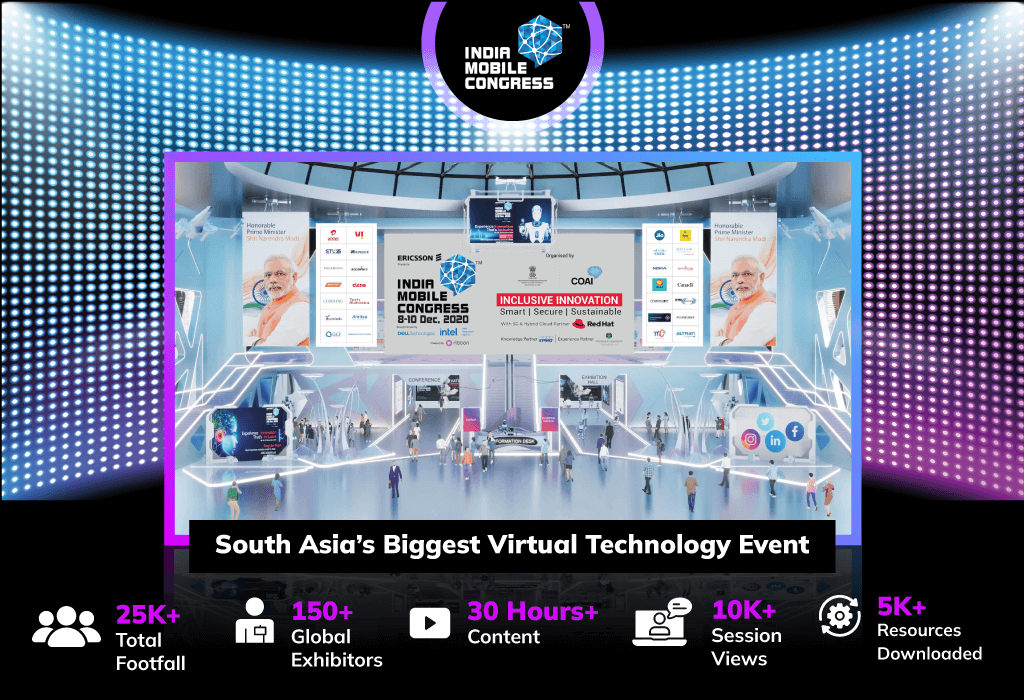 Unmatched Post-Event Statistics
6725 Resources Downloaded
48,65,93,866 Potential Reach
89.32 Sentiment Score
19,70,800 Video Views
21,060 Total Social Media Posts Presented on Social Wall
India Mobile Congress is the largest digital technology forum in South Asia that has established itself as a leading platform for bringing together the industry, Government, academia, and other ecosystem players, to discuss and display the latest in the technology world.
In 2020, IMC aimed to go virtual and bring together the top policymakers, global industry experts, academia, regulators, and analysts to discuss and deliberate on critical industry issues over live interactive sessions.
The objective was to create an immersive virtual event platform that could meet the networking & knowledge sharing goals of the event virtually.
The decisions made in the conferences were meant to result in policies that affect market trends in addition to inviting investments into the sector and driving innovations. Hence, creating an easy to use & navigate virtual venue was a significant requirement.
India Mobile Congress is committed to put India on the global technology map and promote the idea of a self-reliant India (Atmanirbhar Bharat) with its virtual edition in 2020.
An engaging & interactive virtual event environment was created to meet the exhibitor, networking, and knowledge sharing goals of the event. The virtual event platform had a completely branded environment with multiple interactive zones like Conference Hall for live speaker sessions, 7 Exhibition Halls with 170 Exhibitor Booths, Resource Center with multi-format accessible content, Networking Lounge with Powerful Functionalities like:
Meeting Scheduler
AI Matchmaking
Call-Back Request
Business Card Exchange
Live Audio & Video Chat
The event was inaugurated by the Hon'ble Prime Minister of India, Shri Narendra Modi and was attended by various respected government and industry leaders like Shri Ravi Shankar Prasad, Mr. Sunil Bharti Mittal, Mr. Mukesh Ambani etc.
All the live sessions were streamed glitch-free with high audience engagement.
IMC 2020 was executed frictionlessly by creating multiple virtual halls & zones so the navigation becomes easy and the platform is easily accessible for the attendees.
A Social Wall Integration was done to represent real-time large scale impact of the event with the hashtag- #IMC2020.
An Exhibitor Finder Tool was enabled on the platform so the attendees could seamlessly connect with their preferred exhibitors.
To boost interactivity and maximize attendee participation, Live Polls & Ask a Question features were incorporated into the session halls.
More stats that defined the overall event scale:
72 Hours Semi Live Content
7 Interactive Exhibit Halls
31 Keynote Sessions Streamed
12 Fireside Chats
18 Panel Sessions
12 VIP Inaugural Sessions
190+ Speakers Joined
30 Premium Sponsor Booths
170 Partner & Exhibitor Booth
The event was a great success with over 11,306 session views and 1.16 Billion impressions that defined a seamless reach of the virtual event platform.
Here is a noteworthy testimonial received for the virtual event by Hon'ble PM of India:
"IMC 2020 has a gathering of the brightest minds in the telecom sector. IMC has all the key players who have played a critical role in the recent past and are expected to lead India towards a more prosperous future."
~PM Narendra Modi
Best Exhibition B2B (Virtual)- SAATE GenX Virtual Exhibition – Dreamcast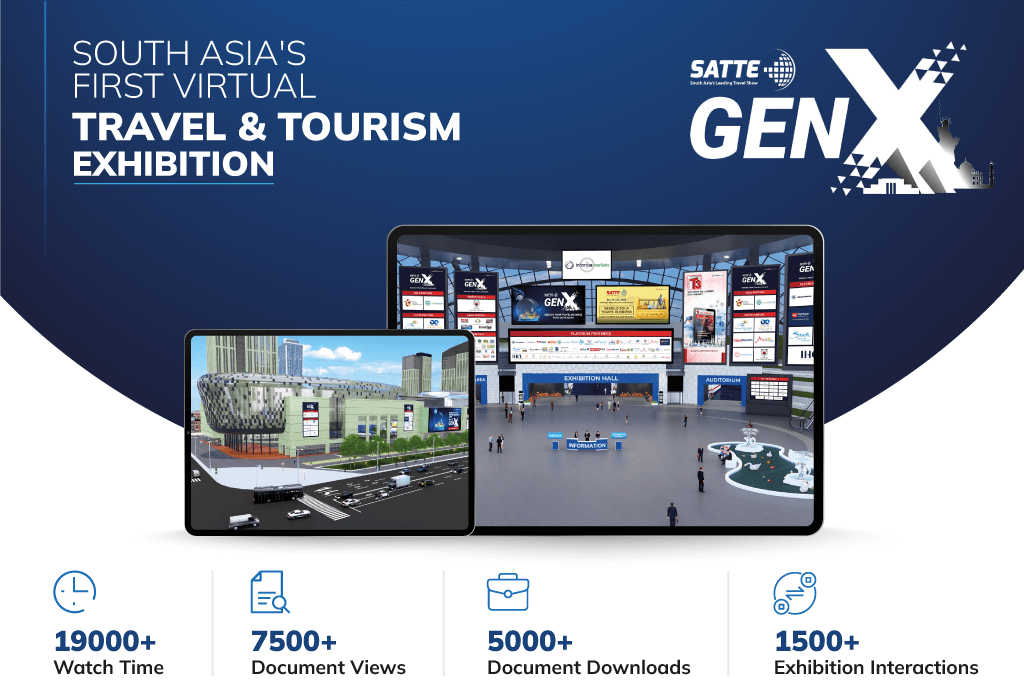 The Upshots of the Event:
19000+ Watch Time
7500+ Document Views
5000+ Document Downloads
1500+ Exhibition Interactions
SATTE, South Asia's Largest Travel and Tourism Exhibition from the stable of Informa Markets India, made its virtual debut with SATTE GenX, a Premium Virtual Travel Exhibition on September 20-21, 2021.
SATTE with its new digital initiative aimed to offer the audience & stakeholders the opportunity to:
revive business activities in the travel & tourism industry
conduct business from remote locations
connect & network seamlessly
By taking the event digital and attempting to meet these objectives virtually, the event strived to:
create an exceptionally branded event experience
meet exhibition & networking goals frictionlessly
ensure a smooth user experience
outstanding event engagement
To create new opportunities using all the technology available to ensure business continuity and build the capability to mitigate the challenges, a highly interactive virtual event platform was set up for the event. SATTE INDIA 2021 VIRTUAL EXPO was one of the steps in the direction of providing all businesses with the opportunity to rebuild their travel business & networking with global leaders. All the virtual functionalities delivered involved an attempt to meet the event requirements & goals without requiring a physical stage or venue. Here are some of the key highlights of the virtual travel expo platform created for SATTE:
Completely Customized & Branded Virtual Event Platform with easy navigation
Interactive Live Sessions with Global Thought Leaders
Custom Designed & Branded Exhibit Booths with Multiple Interactive Functionalities
Exceptional Multi-Format Networking Features for Seamless Connection Building
User Calendar & Briefcase Option to Elevate the Attendee Experience by Providing them with their Own Personalized Agenda
Third-Party Platform Integrations Enabled for Improved Execution
The virtual exhibition experience was amplified by ensuring the most suitable features & functionalities to focus on excellent branding, interaction, and networking goals. Here are some of the key aspects that amplified the event execution:
Pre-Eminent Branded Virtual Environment with Attractive Exterior and Interior
Information Desk to solve queries via real-time tech & chat support. Access to the entire event's agenda & schedule.
Branded Auditorium Area to run live sessions
Live Polls and Q&A option for better interaction with the Target Audience using live interactive tools like
Exhibition Floor Area with various exhibitors from different countries participating under the category of Platinum, Gold, and Silver.
Live Lead Generation by tracking the engagement factors at the booths
Meeting Scheduler based on available slots, Business Cards, 1:1 multi-format communication for elevated networking
Various other excellent functionalities were added to the platform like Feedback Form, Videos & Documents Library at exhibit Booths, Destination Briefing, etc.
The virtual counterpart of SATTE witnessed a significant surge in demand from global and domestic players, as the virtual exhibition has been seen as a vehicle for business revival. The event was able to:
Connect with Potential Buyers through real-time interaction
Witness improved Conversion rate with zero cost set up and running costs
Unlimited Opportunities for exhibitors to connect and share product knowledge with the target audience
Best Music Event (Virtual) – All About Music 2021 – Dreamcast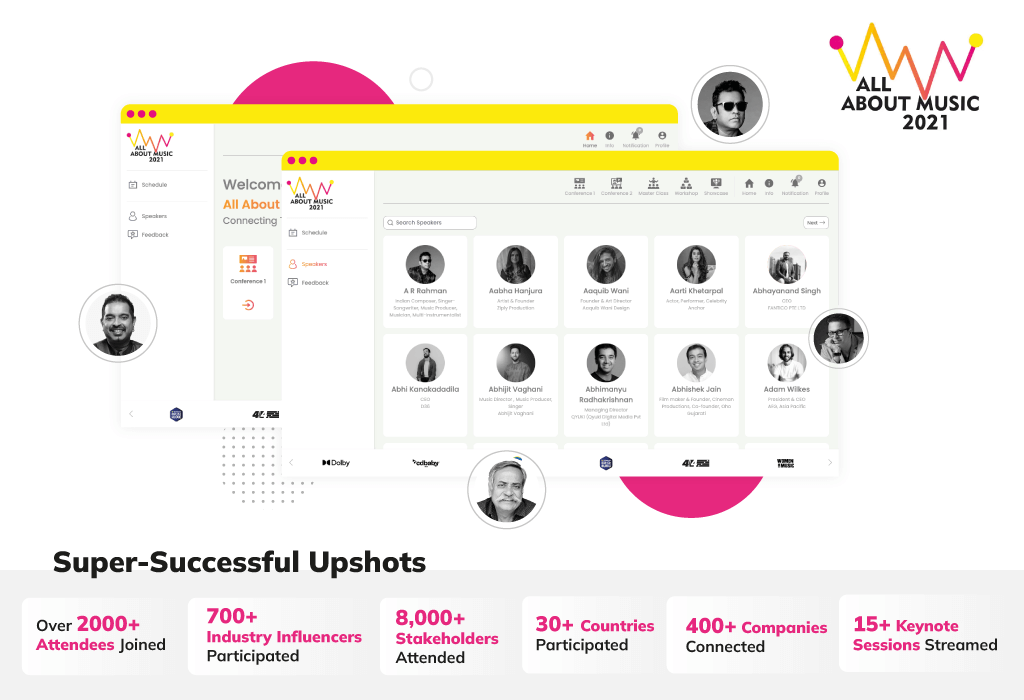 The Upshots of the Event:
Over 2000+ Attendees Joined
700+ Industry Influencers Participated
8,000+ Stakeholders Attended
30+ Countries Participated
400+ Companies Connected
15+ Keynote Sessions Streamed
In the challenging times, All About Music chose to take its 2021 event virtual. The objective was to build an interactive & engaging virtual environment that opens a gateway for the global music community to the Indian market. By pivoting to the power of virtual, All About Music 2021 intended to fill the space of music industry conferences & B2B networking events in India's calendar. The virtual experience of the event majorly involved an emphasis on:
Seamless Networking Across Geographies
Access to Expert Panelists From Across the Globe
Save Time & Cost of Travel
Replay the Content on Demand
With the help of excellent live interactivity & networking opportunities, the event aimed to provide the audience with the opportunity to showcase their performances and pitch their songs to:
Music Labels In Association With Red FM
Music Supervisors
Film Makers
All About Music'21 aimed to generate high visitor traffic, provide easy accessibility & networking options to global users. To meet the event objectives, we created a customized virtual event platform offering inventive stack of virtual functionalities:
Conference Halls, Masterclass & Workshop areasfor live interactive keynote & informative sessions.
Connect Corner to enable networking between attendees and up to 15 global expert speakers via the option to schedule meetings based on available slots. Users could also update the objective of scheduling the meeting and explore brief company details for better insight.
My Appointment enabling the attendees to check the status of their scheduled meetings & add it to their personal account calendars.
AAM Attendees tab to display other attendees' details, with the option to schedule meetings.
Exhibition area with custom exhibit booths providing multi-format content and information
To amplify the experience, various other functionalities like Event Schedule, Social Wall, Speaker Details, Feedback Form, Briefcase, etc. The event was also made engaging with exquisite features like Live polls, Video & Audio chat options, and Q & A sessions, Parallel Live Session Streaming, etc.
Virtual events work on different approaches to revamp the event. The organizers were worried about facing certain constraints that can be a hurdle in the event's success like accessibility, attendee engagement, delivering an immersive experience, networking, etc. However, to solve their worries, we created functionalities that could ensure a successful event execution. Here's how we amplified the event implementation:
Easy to use & completely branded event platform providing a personalized experience
High-quality AV with 100% HD content presentation
Innovative connect corner section to boost 1:1 networking between audience & experts
Custom-designed branded booths with live interactive functionalities
Complete access to the entire event's analytics and reports
The requirement-based functionalities included in the platform guaranteed a memorable event implementation, overcoming all the anticipated challenges.
The results were phenomenal and altered people's conventional mindset of attending on-ground music industry events. The virtual edition of ALL ABOUT MUSIC 2021 was a great hit. The worries about the exceeding budget, accessibility, immersive experience, audience engagement, analytics, short-lived impact, and so on all got resolved with our virtual event solution platform.
The event outreached over 2000+ attendees and left a huge impact on music enthusiasts on a global level. However, making the event the talk of the town with excellent attendee reviews:
"By being able to engage directly with the experts who actually call the shots, All About Music 2020 allowed me to take stock of how far India has already come, and truly appreciate the jaw-dropping potential of what lies ahead"
~Will Page
Author of Tarzan Economics and former Chief Economist, Spotify and PRS for Music
—–
The entire team of Dreamcast is highly grateful to EEMA India , the jury at EEMAgine, and all our clients for choosing us, believing in us & recognizing our hard work! We are beyond thankful!
In-Person, Hybrid, Virtual
Create an Extraordinary Event Experience
Across All Event Formats