The FIFA World Cup 2022 will begin in November. After taking place in Russia in 2018, it is now happening in Qatar. The opening round of Group B matches, which take place on Monday, November 20, includes England taking on Iran and Wales taking on the United States. 32 teams will compete in eight groups over the coming weeks to advance to the knock-out rounds, with the final taking place on Sunday, December 18. Even if you can't travel to Qatar, the international soccer tournament is always exciting to watch, regardless of the outcome.
You must be seeking FIFA world cup live streaming now that it's back to witness the thrilling matches. Here is all the information you need to know about the FIFA World Cup 2022 and how to watch it.
About the 2022 FIFA World Cup
The FIFA World Cup, a quadrennial international men's football championship played between the senior national teams of FIFA member countries, is set to take place for the 22nd time in 2022. It is scheduled to happen in Qatar. After the tournament in South Korea and Japan in 2002, this will be the second World Cup exclusively held in Asia. Additionally, this will be the final World Cup with a 32-team field. It is slated that the field will rise to 48 teams for the 2026 tournament in Mexico, the United States, and Canada.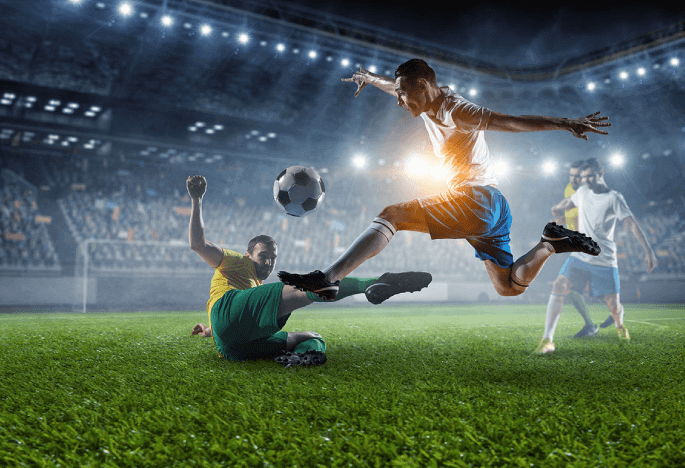 This World Cup will be the first to not take place in May, June, or July and to take place in the northern autumn; it will be played in a condensed time frame of roughly 29 days due to the extreme summer heat in Qatar. At Al Bayt Stadium in Al Khor, the opening game of the tournament will be played between Qatar and Ecuador. The final is scheduled on December 18, 2022.
Where is the World Cup 2022 being held?
Qatar is hosting the 2022 World Cup in the Middle East. All of the games will be held at eight stadiums, all of which are located in or around Doha, Qatar.:
Lusail Stadium (Host 10 games including the final)
Al Bayt Stadium (Host 8 games including the opening match)
Stadium 974 (Host seven games)
Khalifa International Stadium (Host eight games).
Education City Stadium (Host eight games)
Al Thumama Stadium (Host eight games)
Al Janoub Stadium (Host seven games)
Ahmad Bin Ali Stadium (Host seven games)
Which Teams Have Qualified for the World Cup?
For the opening games, FIFA world cup qualifying teams are divided into groups. The eight groups, each made up of four nations, are listed below.
A: Ecuador, Qatar, Senegal, Netherlands
B: England, USA, IR Iran, Wales
C: Saudi Arabia, Argentina, Mexico, Poland
D: France, Denmark, Tunisia, Australia
E: Spain, Germany, Japan, Costa Rica
F: Belgium, Canada, Morocco, Croatia
G: Brazil, Serbia, Switzerland, Cameroon
H: Portugal, Ghana, Uruguay, Korea Republic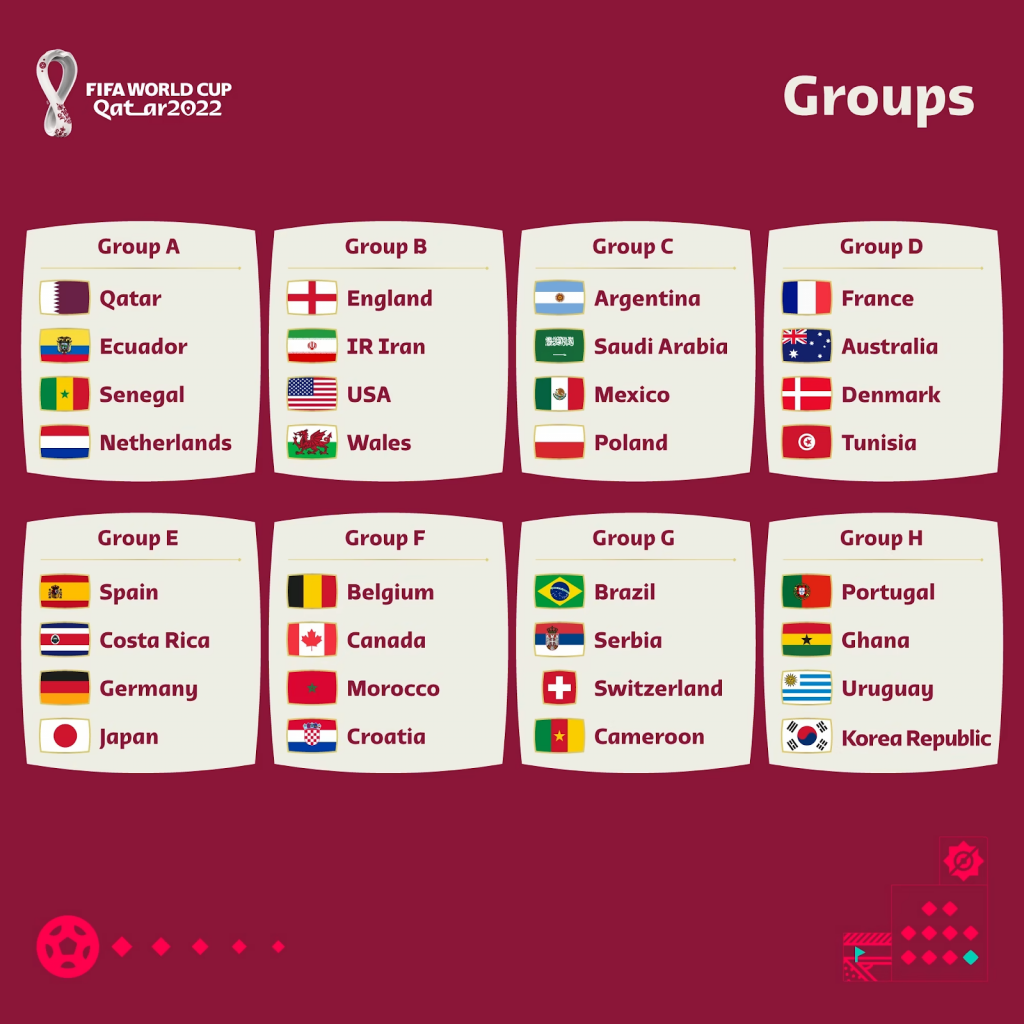 Image Source:- FIFA
What is the schedule for the 2022 FIFA World Cup matches?
The 2022 FIFA World Cup will have four games every day in a 12-day group stage and matches later in the tournament that goes into extra time will extend past midnight in Qatar. FIFA released the schedule for the first World Cup to be played in November and December. If you are looking for the full list of FIFA World Cup 2022 fixtures.
How to Watch the FIFA World Cup Online
There are three things you may do if you want to watch a FIFA World Cup game but aren't sure how to go about it.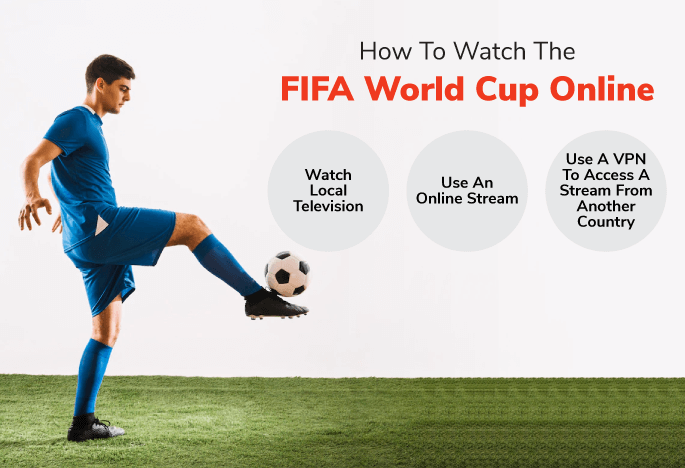 #1 Watch Local Television
FIFA matches are also shown on several networks' regional channels. Examples include Fox in the US, Sky Sport in Germany, BBC, and ITV in the UK. It's likely that turning on your TV or visiting a nearby pub will allow you to view the game live.
#2 Use An Online Stream
There's a good chance that the nation you're in streams World Cup games online. You might be able to discover a free FIFA world cup 2022 live stream, whether you're at home or on vacation. Live streaming services often serve as a substitute for television during a game for broadcasters, enabling people to watch sports like football straight from their computer or tablet. The Live streaming platform enables users to view their preferred sporting events from wherever.
#3 Use A Vpn To Access A Stream From Another Country
Sometimes the appropriate FIFA streams are not accessible where you are. This may be the situation if you now subscribe to a service but are unable to use it because you are traveling. In these circumstances, a VPN might assist you in accessing your preferred streams or even free streaming in another nation. The simplest and possibly most practical answer is to utilize a VPN.
How Live Streaming Services Revolutionized The Sports Industry
Every sports fan, whether they follow minor league teams or the big leagues, agrees that it is crucial to root for their squad. It's important for them to watch their favorite team wherever they are, and they shouldn't be limited because they can't see it live or aren't close to a TV. Live streaming platforms can close the gap and let viewers watch world cup football live stream from the comfort of their own homes.
The power of demand has been handed to us via Live streaming services. There is more stuff available than ever before, and we can watch anything we want on demand. This is especially true in the sports sector, where access to previous games and contests required buying each one separately and was almost non-existent. More sports organizations are streaming events, games, matches, and tournaments online. Why? Both live streaming and on-demand video streaming options provide several important benefits over conventional television broadcasts. Here, let's take a closer look.
Lower Barriers to Entry
Obtaining a broadcast television spot is challenging and expensive as well. Simply put, it means that the most well-known companies may provide access to the conventional TV broadcast strategy. Contrarily, there is no competition for the confined areas when watching the FIFA World Cup live streaming.
Global Audience
Numerous syndication outlets itself provide a variety of logistical difficulties. Broadcasters can reach larger audiences without any regional limitations thanks to the best streaming company. Geographical restrictions are removed with streaming events, allowing spectators to watch and enjoy their favorite game in their own city.
Multi-Device Streaming
Even now, some individuals live without a TV. Despite this, smartphones and tablets are advancing quickly and spreading like wildfire. You may reach a huge audience wherever they are using their gadgets via live broadcasting over the internet.
Boost the Engagement
By including in-game information or trivia throughout the broadcast, games become more engaging and the viewer is given a sense of connection with the team. Additionally, adding links to player biographies or even the ability to buy tickets for the upcoming game would encourage fans to continue their team support and increase revenue.
Smart Broadcasts
Live streaming sports provide special opportunities. For instance, several athletic companies broadcast live events from a variety of camera angles. It gives consumers more consumer power by letting them pick the viewing locations from which to watch their favorite game.
Generate Revenue
Pay-per-view (PPV), transactional video on demand (TVOD), and ad-supported video on demand (AVOD) have long been well-liked business strategies. Pay-per-view (PPV) games that are streamed live provide you with a simple way to incorporate the norm.
Final words:-
Live streaming enables businesses to engage their audience in new and creative ways. It's a great, economical technique to strengthen your marketing plan, establish contact with possible leads, and cultivate your loyal fans. It's not as easy as just producing content and enjoying the advantages of live streaming. To engage your audience and optimize the impact of your on-ground event, the live video you produce must be of a high standard. You'll need the proper equipment, technology, and tools in order to host a fantastic and engaging live stream.
Are you interested in streaming live local events? If so, Dreamcast could be the perfect choice for you. We provide a video hosting management platform with over-the-top video capabilities. As a top Live streaming service provider. We have the resources you need to make your sports or event broadcast a success. So why are you still waiting? Check out our solutions right now!
FAQs
When will Qatar host the FIFA World Cup 2022?
It is planned that Qatar will host the FIFA World Cup in 2022 from November 20 to December 18.
Where Will the 2022 World Cup Be Broadcast?
You can watch these games live if you utilize YouTube TV or another Live streaming service. Additionally, there are other Live streaming options for the FIFA World Cup on FIFA+, FuboTV, Peacock, Sling TV, and Video.
What platforms are supported to watch the FIFA World Cup Qatar 2022 matches?
1. Only a few devices and operating systems can support the specific encryption needed for the LIVE matches on the World Cup channels. For instance
2. Google Android (Android versions 8.0 and above)
3. On iOS (iOS versions 12 and above)
4. Apple Mac OS (Chrome and Safari browsers)
5. Windows OS only (Chrome, Firefox, and Edge browsers)
How do I use a mobile device to view the FIFA World Cup?
Download any streaming service that has the rights to broadcast the FIFA World Cup from the Play Store and watch it live on your smartphone.