You can conduct an eco-friendly event as everyone is pivoting to in-person events. It will be easier if you find eco-friendly event planning companies who will serve you with various components to make your event digital. Here is a list of ideas that can be helpful in making your event more sustainable and eco-friendly.
8 Ideas to Make a Huge Difference with Green Events This 2022!
Ideas and hacks that can change the complete experience of your events are as follows: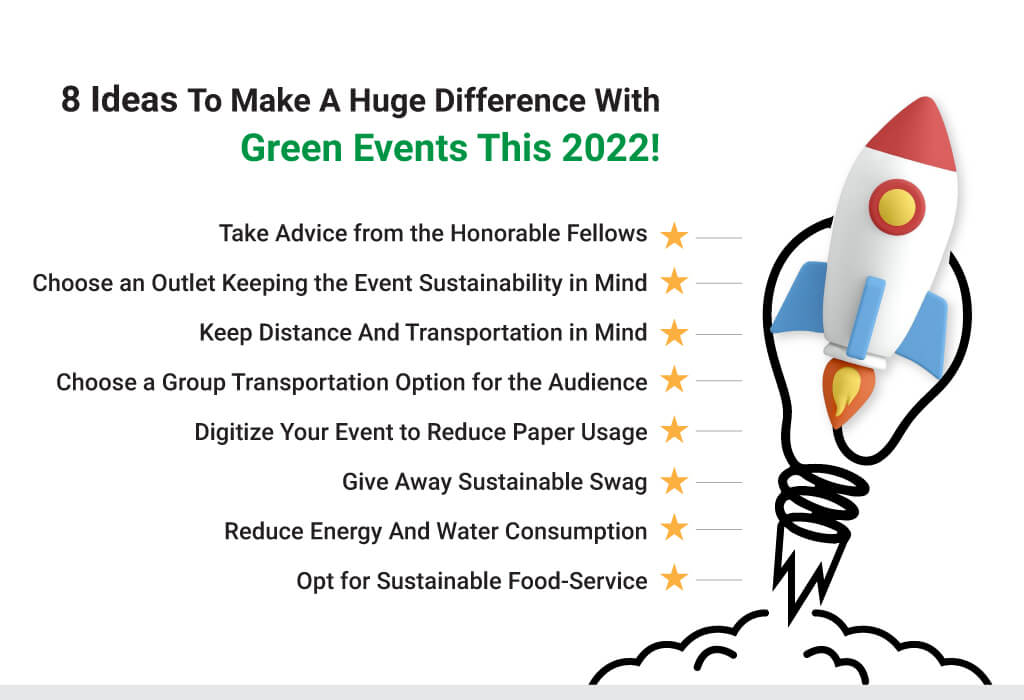 1. Take Advice from the Honorable Fellows
You will need proper guidance and knowledge to host your sustainability event. The event planners can provide you with suitable green meeting practices, like going paperless, controlling resources use, and more. You will need to coordinate and incorporate with other sustainability-minded partners in order to get a better outcome. Hence, gather knowledge about the fun sustainability event procedures of your possible merchandisers and associates.
2. Choose an Outlet Keeping the Event Sustainability in Mind
The sustainability of your event depends on your event location in one way or another. You can find a lot of places in your city or country that can provide you with eco-friendly event decor. Furthermore, you have to take a lot of aspects into consideration while choosing a place for your event, such as:
In-Person, Hybrid, Virtual
Create an Extraordinary Event Experience
Across All Event Formats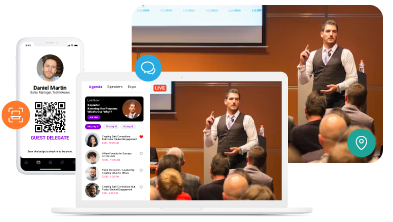 Finding your event venue near the center of your city can help.
Access to public transportation should be easy for everyone.
Pick a medium with solar panels and other sources of renewable energy.
You will need a venue with accommodation in it or nearby for a multi-day event. It can be helpful in avoiding unnecessary commuting.
Ensure your venue is technologically smart and advanced enough. People must be able to find the place via digital signage, Google map, and more.
Know about your city if it supports sustainability initiatives. Visit ICLEI – Local Governments for Sustainability to know the estimation of a city's sustainability index.
Check whether your place has facilities like realistic lighting, energy-efficient techniques, good excrement regime functions, composting lavatories, and more.
3. Keep Distance And Transportation in Mind
You have to keep the carbon footprint lower than usual. It may sound complicated, but you can make it easy by measuring the distance from the terminal to the event place and the venue to the suggested resorts. Furthermore, you have to ensure that the space is less to keep the carbon footprint low.
Next is public transportation. You have to ensure that your audience will get public transit to travel from the convention center area to the airport and around the city.
Also, check a venue with different hotel rooms, restaurants, and other convenience stores nearby. Your event can be less impactful on the environment if people do not have to travel with any vehicles and reach everywhere walking.
Additionally, you can choose to go hybrid. This way, people from far away do not have to come and attend your event. Hence, your audience will have the option to participate in your event either on the ground or virtual.
4. Choose a Group Transportation Option for the Audience
It can be challenging to find a green event venue. However, you can change multiple transportations into one instead of calling the eco-friendly events off due to transportation. Furthermore, you can hire carpools or shuttle buses for the attendees that will take them from various decided destinations and drop them back there as well. This way, you can reduce transportation costs and environmental effects without hassle.
5. Digitize Your Event to Reduce Paper Usage
You do not have to worry about the registrations and logins, as you can go digital for such requirements. The in-person event service providers will help with this.
A. Advanced White Label Mobile Event Application
You can get a completely customizable application without mentioning the creator's name. Hence, you will get an app entirely of your own name. You can provide registration, login & join, access thee documents, and various other features and functionalities according to your needs.
B. Event Microsite Builder for Marketing & Driving Registrations
It is essential that your audience get complete information about your event at a place. Hence, you can develop a microsite where you can deliver the whole data of your event from start to end. For instance, you can share schedules, documents, agendas, speaker names, session data, gifs, and more.
C. Digitalizing the Complete Registration Process
You can change the complete experience of your event registration by taking it online, regardless of whether your event is online or offline. Hence, you can get an idea of how much audience you would expect at your event. Attendees can register online as well as get an M-ticket online. Also, you can take their seat confirmation over Whatsapp with RSVP management. Additionally, people who were not able to register online and need a ticket at the last minute can come to the venue, scan the QR and get the complete information as well as the registration page. 
In-Person, Hybrid, Virtual
Create an Extraordinary Event Experience
Across All Event Formats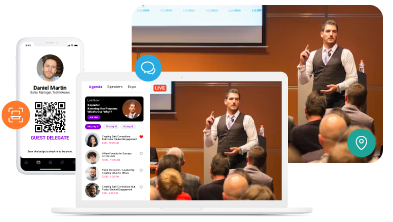 Online & On Spot Registrations
RSVP Management
Ticketing and M-Badges
QR Code Enabled On-Spot & Online Functionalities
D. WhatsApp Automation
You can automate WhatsApp to your event and make information sharing and other aspects easy. Viewers can get notifications, engage features, attendee support, and even submit follow-ups online.
Push Notification
Database Marketing
Audience Engagement in Real Time
Help Desk Throughout the Event
Feedback After the Event Ends
6. Give Away Sustainable Swag
Swags are the best way to keep the audience entertained at your event and promote your brand more. It is an imperative facet of your environmental event to offer the best swags with your brand name. You can choose some righteous and endurable goodies to emphasize your sustainability objectives. Also, you can pick the alternative for physical swag for a more smooth eco-friendly event management. For instance, you can consider sustainable fabric if you choose physical objects to share with the attendees, such as:
E-vouchers
E-gifts
Recycled Notebooks And Journals
Plants And Seed Packets
Reusable Tote Bags
Bamboo Cutlery Kits
Recycled Backpacks
Eco-Friendly USBs
Recycled Mugs And Tumblers
7. Reduce Energy And Water Consumption
You can choose to go with using the Eco-Friendly Event Decor. Nowadays, you can get the ecological materials that are really in trend. Furthermore, you can pick recyclable pallets, papers, and other elements to increase the green decor. 
Also, you can use different solar panels and biomass generators to save some energy at your event. It can help in diminishing the outflow of greenhouse gasses. Also, you can add lights, IT tools, or other electronic devices that can be helpful in saving energy at your event venue.
Additionally, you will need a plan for a power-down situation that can be helpful in saving power and supporting you to run an event for multiple days without hassle.
8. Opt for Sustainable Food-Service
As soon as one hosts an event, the second thing that comes to mind after the venue is food. Organizers start looking for a caterer and try their best to provide the best quality food to the audience. However, they forget about the wastage of food. Hence, one of the best eco-friendly event ideas is to provide food per person instead of in groups. You should bookplates or combo for one person and provide them with a blocked package. It will reduce the wastage of food and make your event more eco-friendly.
So, these are the various ways that can be helpful in making your global green events with eco-friendliness and sustainability in 2022, 2023, and beyond. Enlist your event on a listing website so that attendees searching for "topic or brand name- eco-friendly events near me" can find your event smoothly. You can get all the digitalization options with Dreamcast!!!
In-Person, Hybrid, Virtual
Create an Extraordinary Event Experience
Across All Event Formats