Events are a huge part of most organizations. Whether it is a law firm, an educational institution, or a corporate organization every business or institution hosts events. And there the event microsite comes into the game.
There are various events like conferences, webinars, trade shows, etc that help business and event organizers to share crucial information, help them in connecting with their audience, promote their products, and services, and raise brand awareness. 
Hosting an event requires a lot of planning and a marketing strategy that will help in creating successful events. Websites are a popular tool that event marketers used to refer back in the days but now they are shifting to microsites for organizing and providing all event-related information. 
In this article, we will explore more about what an event microsite is, event microsite benefits and advantages, and best practices.  
Overview Of Event Microsite 
Event microsites are like a landing page or a webpage that is separate from the companies' or businesses' official website. Many event marketers use microsites for events as a landing page for a specific event or as an event calendar. 
Organizers use microsites for events because it organizes all the content related to the event on one specific website. There are various benefits of using microsites for events. 
Microsites of an event or a business can be different from the main website of the brand or business. It can have its theme or interface but it will have some similarities with the main or parent website. 
Benefits of Event Microsite 
There are several advantages of using an event microsite for event managing and marketing some of them are mentioned below: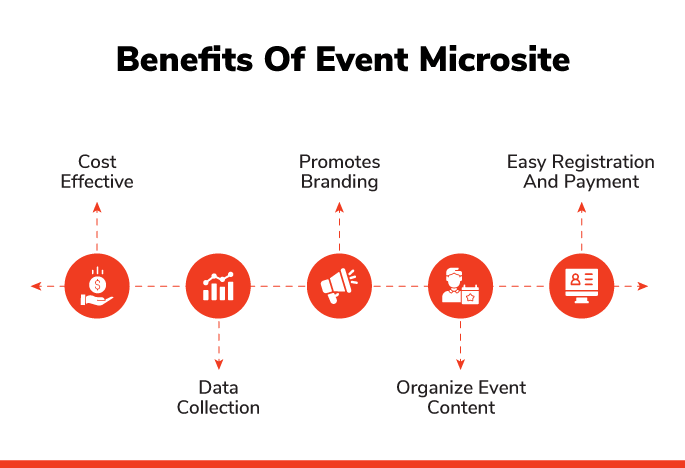 1. Cost Effective 
One of the major advantages of having a microsite for events is that it is cost-effective. Not every event organizer may want to create a website from scratch for an event and a fully optimized website can cost a lot more than a microsite for an event. 
Because the event microsite is small, it takes resources and time. It is very effective for marketing the event on a low budget. 
2. Data Collection
Another significant benefit of creating a microsite for events is that it can collect data. Event organizers can use a microsite as a tracker that can collect all the necessary data that users share on that particular webpage. Because these microsites have one particular focus it becomes easy to collect the data. Event marketer can effectively track their key performance indicators with the help of a microsite. 
Event marketers can help organizers track leads, and click-through rates to know the success of their marketing campaign. With a dedicated microsite, marketers will get clear data from website visitors. 
3. Promotes Branding 
Branding is essential for any business or organization and microsites for events can help with branding. Microsites for events are dedicated to one particular event and help with the marketing and branding of the event. Marketers can design event microsites in an aesthetically pleasing way and these microsites have the scope of the branding.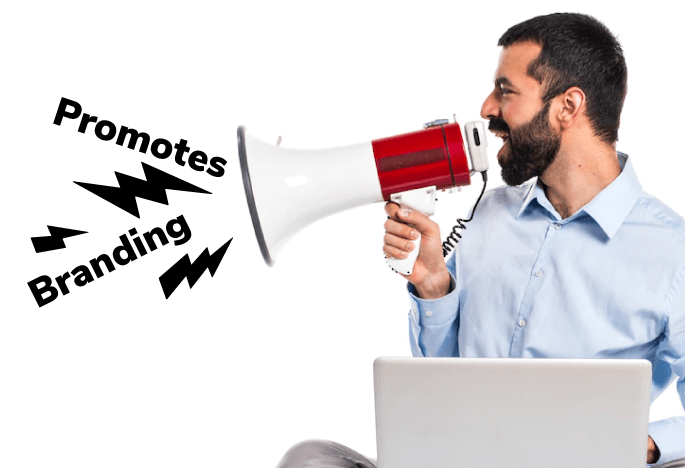 For event branding and promotions, a lot of organizations use event merchandise, banners, templates, etc but now it is time to go digital and create microsites for events with high-resolution graphics that promote branding. 
Event markets can release some exclusive images and videos on the microsite to create buzz and for promotions of the event. 
4. Organize Event Content 
There are various benefits of using a microsite for the event and perfectly organized data and information in one place is one of them. There is a lot of information and data that you need to provide to your audience and for that, you can't use your official website. Microsites for events are perfect for posting event updates, sharing tickets, and registration information, and providing customer support for the users. The event microsite is useful and shareable. The event organizer can share a microsite to promote the call to action. 
5. Easy Registration And Payment 
Registration ticketing and payment are crucial factors in any event. Creating a dedicated microsite to promote ticketing and registration can be effective for the event. 
With the help of an event microsite, organizers can shorten the process of registration and ticketing. Users don't have to visit the main website and redirect to other pages for tickets, registration, and payment. They can register, get the ticket and make payment conveniently in one place only. 
Users might feel fishy if they are redirected to different web pages for the process of ticketing but with a microsite, everything is under one roof. 
Event Microsite Best Practices
Here are some of the best practices for the event microsite: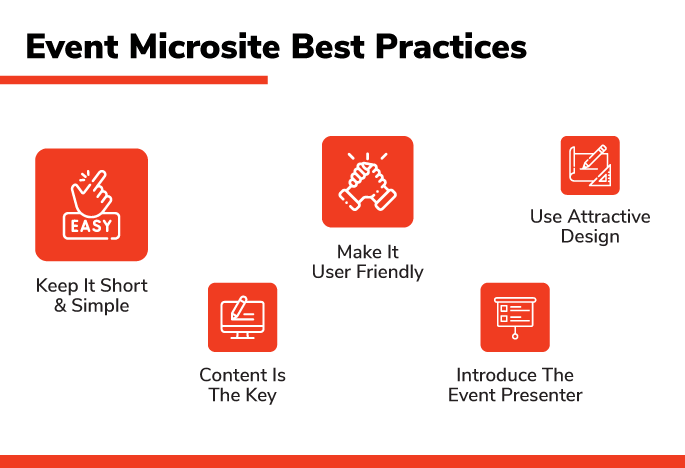 1. Keep It Short & Simple 
The first best thing that you should do for an event microsite site is to keep it simple and short. If your microsite will have too many pages and information it can get cluttered and it won't be effective. As an event marketer, you should not create a microsite with more than four pages. Specify your event goals and create a simple microsite.  
2. Content Is The Key 
Content is the key to any event. Users these days only want to consume engaging and appealing content and to keep your users hooked to your microsite you will have to provide them with engaging and informative content. 
With an event microsite, there is a lot of information and content available. As the organizer, you should provide all the necessary information too with some attractive and engaging graphics. Don't just use text but also include graphics. Take time and create an effective content strategy for your microsite with a clear call to action. 
3. Make It User Friendly
Because the event microsite is small and doesn't have many pages it has a lot of scope for creativity. With a microsite for events, organizers can attract a lot of users. So organizers should keep it simple. The microsite should be creative but don't complicate too much for users. The microsite should be easy to navigate. Your users should be able to find the information that they are looking for on the microsite. 
4. Introduce The Event Presenter 
A microsite can be used in various ways for an event and using it as an event presenter is one of the best practices. Most of the users who are interested in your event will visit your microsite to know about your event. They might be looking for your event goal, the reasons to attend that event, and presenters for the event. 
By introducing your event presenter on your microsite you can create buzz among your audience and it can also help you in attracting more audience for the event. 
5. Use Attractive Design
Creating a microsite that is attractive and user-friendly can also help in attracting users. Most individuals like to consume content that is appealing to the eyes. Use bold and unique texts and attractive designs. Be creative with your microsite and create an interface that is simple but attractive at the same time.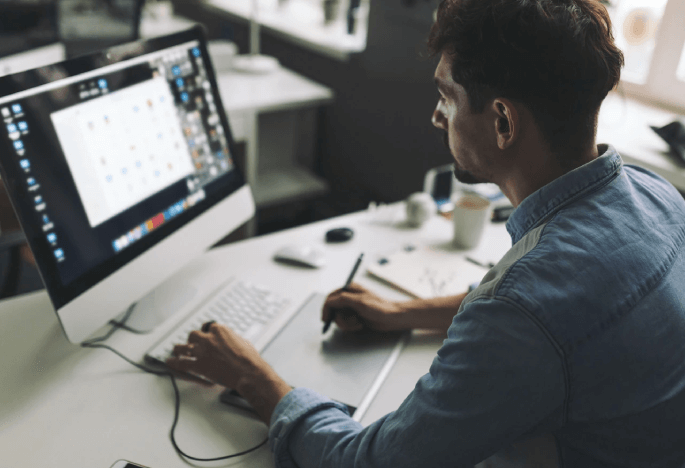 It is easy to attract and engage the audience by using unique and different color themes. Not just that with attractive designs event marketers can also promote the branding of the event. 
Website Vs Microsite 
There are a lot of individuals who get confused between websites and microsites. Some individuals think that microsites and websites are similar but no that's not the case. A microsite is a site that is created especially for providing the content. Whereas the website is the face of the business. Websites have all the information regarding the brand or the organization but a microsite only offers a section of information that can be regarding an event, a product, or a service. 
The website has various pages, a domain, and landing pages whereas the microsite is usually the subdomain of the main website. They are not synonyms. 
The Bottom Line 
As you know microsite is a dedicated site to provide information and promote events. It offers several benefits for event marketers. The microsite offers in-depth content and information regarding the event. It can help in tracking leads and managing data. Event organizers can track the performance of their marketing campaigns with the help of microsites. 
An event microsite can be very beneficial; it is more creative and engaging than its parent website but not completely different. If you are planning an event be it a virtual or in-person event you should create a microsite. Be very clear about your object and know the main goal for creating microsites for events.
In-Person, Hybrid, Virtual
Create an Extraordinary Event Experience
Across All Event Formats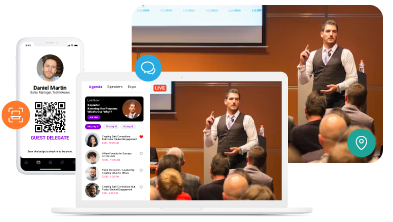 FAQ
What are some examples of Event microsites?
AIGA (American Association of Graphic Arts) Design Conference, NAACP Freedom Fund Banquet, IWMF Courage in Journalism Awards, and Startup Grind Global Conference are popular examples of microsites for events.
What is the difference between microsite and landing pages?
Landing pages are created for initiating the call to action but microsites are more like web pages that are providing information regarding an event, company, product, or service.
What are the uses of event microsites?
To provide information, for promoting an event, for new product promotion, and to offer users an interactive experience.
What is the objective of an event microsite?
The main objective of the microsites for events is to offer a platform that can provide information and help users discover your brand.