Technology is evolving rapidly and providing more convenient solutions to streamline workflows. With this, event organizers have found a more suitable solution, the event web app. Which is an internet-based application that can be accessed at any time. This has replaced the need to download the event app from the App Stores. That acquires some space in your device and for each event, there is a possibility to download a new app. Web app for events are similar to traditional event apps, but they can simply be accessed in a browser with a URL. There is no need to download anything, all you need is good connectivity. 
In this blog, we will take a closer look at the event web application and why they are a suitable alternative for native event apps.
Event Web Apps or Native Apps, Do They Make Any Sense?
Regardless of the event web app or the traditional mobile app, they give important benefits and information to the organizers and the audience. Such as speakers, schedules, agendas, data tracking, attendee information, etc. These apps are also capable of facilitating engagement with interactive features like live chats, polls, surveys, emoticons, quizzes, games, networking, etc. which are important to enhance the event experience by making them participate.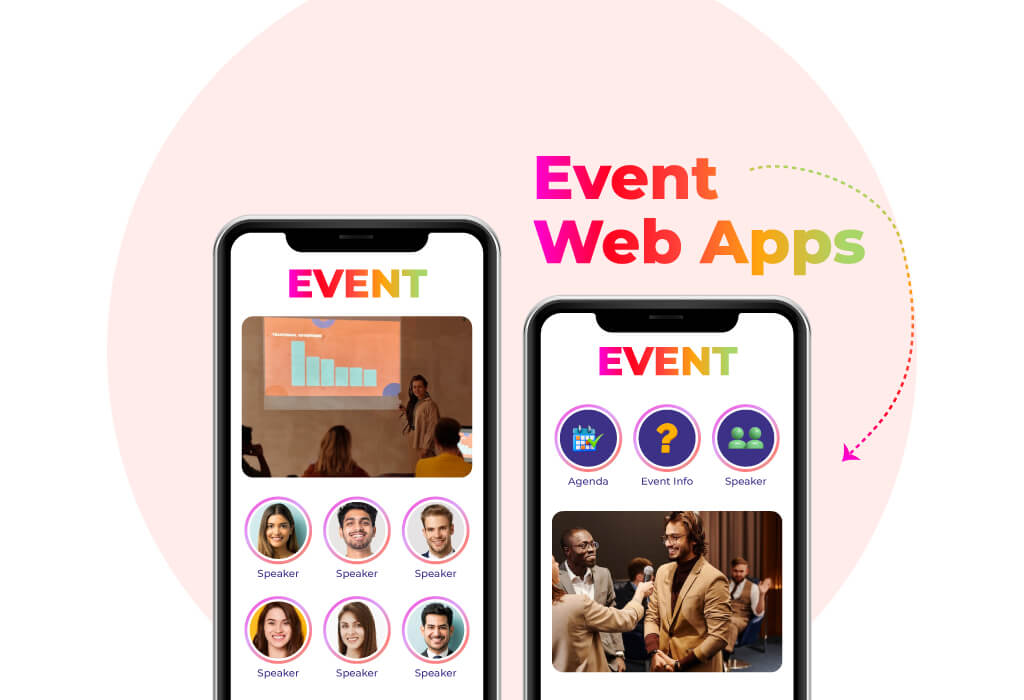 Moreover, they are specifically designed to fit according to the screen type and size. Because no one wants to use an app designed for desktops on their mobile devices. Also, with the possibility to access necessary information that is required by the organizers and attendees. Event apps are a necessary part that can streamline the event management process and give prominent benefits to the event.
Which Is Worthwhile Web or Native Event Apps?
Web event app or mobile event application both can be advantageous. They are capable of streamlining event management with enhanced solutions and experience. But they both are different in their own specific field, while one can be downloaded and the other can be accessed directly with a URL. The basic difference between the two is discussed below: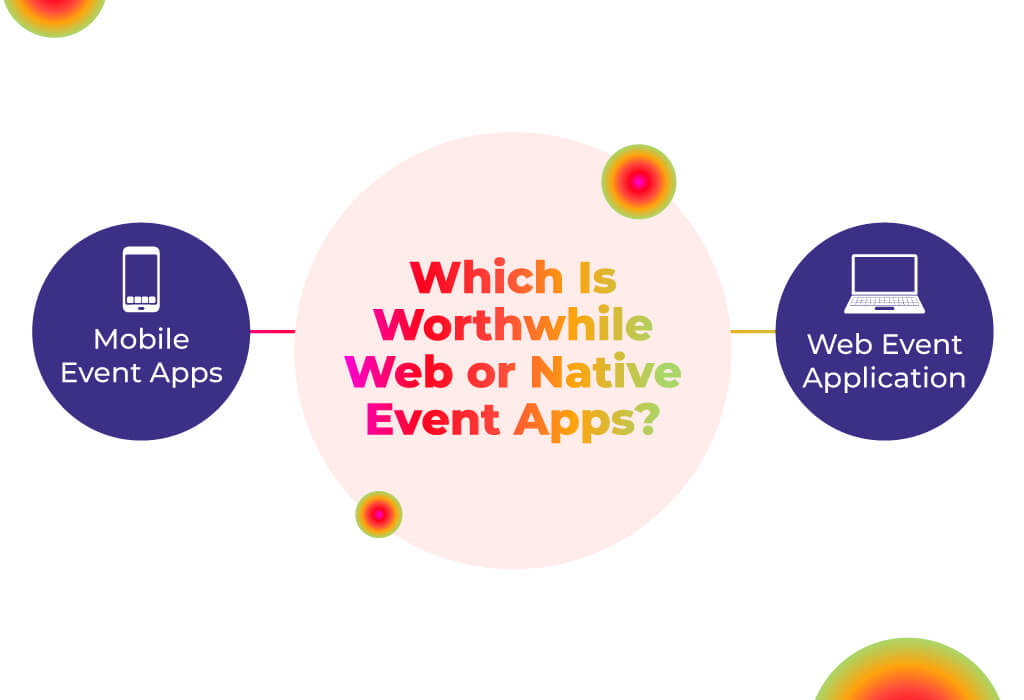 Mobile Event Apps
These apps are developed and then made available to download via the App Store or Play Store based on the user's operating system. This already makes it difficult as two different formats of the apps have to be made, and the participants need a good voluntary reason to download them. However, they offer the possibility to access the features of the device that the event web app can. These apps are capable of sending push notifications to pass necessary information and once downloaded they can be accessed offline. But this can turn into a disadvantage as if there are any necessary changes they won't be able to access it without the connectivity. 
Web Event Application
A web app for events can be easily accessed and controlled with a smartphone or tablet browser. They are optimized to work independently for any type of mobile device with easy accessibility but require good internet connectivity. It is an advantage as many of the users don't want to download a mobile event app just to delete it after the event is finished. Also, they can take up too much memory space on the device, while web apps can work with a single URL. Moreover, a mobile web app is always up-to-date as the changes are visible immediately. 
Prominent Benefits of Event Web Application
An event web app is made to be accessed easily on a browser via a URL. This is not the only advantage of using these apps, they are also convenient to use. More benefits of using event web application are listed below:
No Need to Install Anything
There are already so many apps available on your audience's smartphones, and you don't want to burden them with installing yet another for the short term. With a web app for events, there is no installation required as the events last for a few days, so it eliminates the hassles of installing. A simple URL that can be accessed by opening a web page, you already have all the information readily available without having the need to download. Native apps capture an amount of data and the user will probably end up uninstalling it after a short period of time. Web apps make it convenient for the attendees to access information without downloading anything.
Flexibility and Marketing
A direct entry into the app to access all the information can attract many audiences. That is why using an event web app is a perfect way to market your event and a suitable choice to promote it on social media. You can add the link to each of your promotional activities, for the audience to open it immediately and access all the information firsthand. Making it flexible for the attendees to access it anytime and anywhere. With mobile event apps, you can only link the URL to install the app in order to access information. And from a marketing point of view, you have multiple options with the flexibility to add or customize the content. 
One for All Devices and Operating Systems
Mobile web apps work smoothly for all platforms, no matter which device you are using. Also, these apps are compatible with every operating system, iOS or Android. All you need is a good internet connection and an updated web browser to run it efficiently. As an end user, you can easily find the event web app using a search engine. Which makes it easier to access and get information about the event. 
Reduced Cost With Similar Functionality
With native apps, you have to implement multiple apps for each type of operating system to attract the audience. Creating an event web app is much more cost-effective because you only have to make a single application for all kinds of devices. The functionality of these web apps is comparable and similar to all those native apps that are downloaded. With this, you can improve the experience of the attendees without compromising the performance of the app.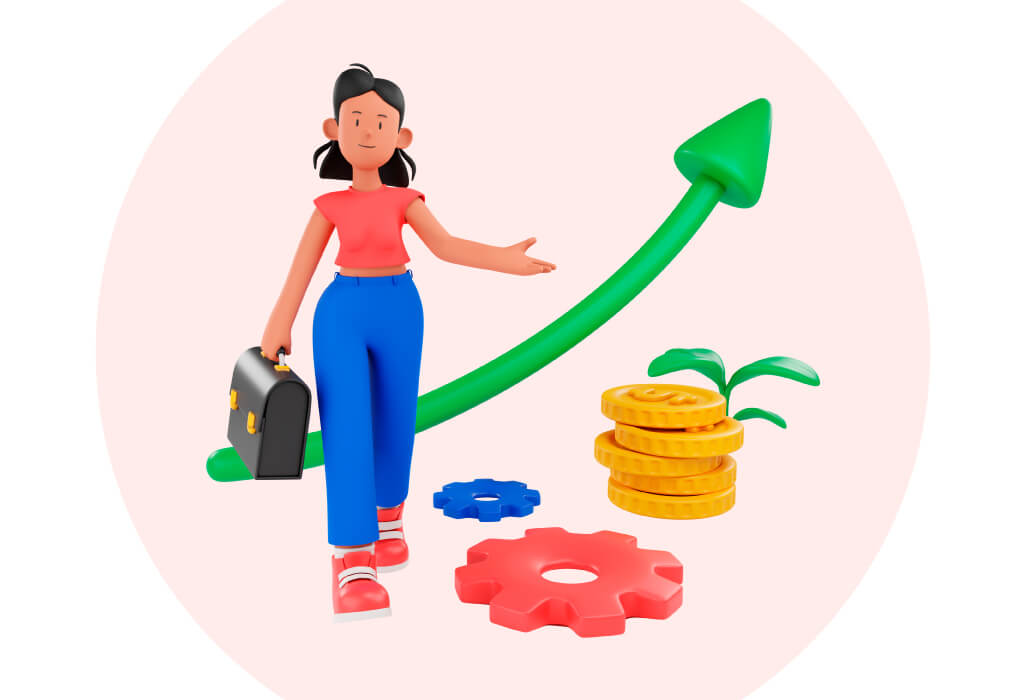 No Waiting Around to Operate
Web apps for events can be deployed more immediately than native apps, which require time to develop. Before posting them over the stores so that attendees can install them require checking the app for content and functionality. This could take a lot of time and, in the worst case, it fails to work effectively or is not compatible with the guidelines. Then the whole process needs to be repeated. With web event applications, all these efforts and time can be saved with instant solutions that can be directed within minutes. 
No Restrictions for Anyone
Most companies, organizations, and other industries equip their employees with mobile devices that have customized software settings to restrict installation and downloading. Also, for security reasons, they are disabled. Moreover, many of the users don't want to install newer apps as they don't trust them for security reasons. Whereas a web app for events can be opened in the browser without any hassles which eliminates any kind of restrictions. Making it convenient to access the app as long as they want.
Some Features of Web App for Events
The event web app makes it easy for the audience to access information without any disruption. No matter what kind of event you are hosting hybrid, in-person, or virtual events, these apps are suitable for each and every type of event. With seamless user interface, intuitive navigation, and great benefits and scalability of these apps, they can offer some great features such as:
Customized log-in page for event registration
Attractive lobby page to access all parts of the event
Session scheduling to make it convenient for the attendees
Live-streaming services for virtual and hybrid events
Enhanced engagement tools to make the attendees interact (chats, polls, games, quizzes, and more)
Robust technical support for encountering issues
Final Thoughts
An event web app is the best possible solution to save cost, as they are very similar to native event apps. They share the same functionality, the only major difference is that there is no need to install or download anything. Event management web applications can easily be accessed with a URL, and are compatible with every device. But to streamline the process and make a suitable web app for events, you need to hire professional help. Like Dreamcast which is an advanced event tech suite that specializes in providing end-to-end customized solutions. Book a demo now!
Frequently Asked Questions
What kind of information can be found on the event web app?
There is no difference in the functionality of a web application and a mobile event application. An event web app can provide all the necessary information that can be made available on the mobile event app. And it can also be integrated with some necessary features.
Can the event web app give offline access?
No, the web event app can not provide offline access to anyone. Since they work on a URL that requires a web browser and connectivity to access. Without a proper internet connection, these apps are not accessible.
Are web apps for events accessible on mobile devices?
Yes, a web app for events is accessible for all mobile devices in with any kind of web browser works. These apps are compatible with all kinds of operating systems, and you can assess all the information on your screen.
Do web apps for events provide any technical support?
Yes, technical support can be provided for web event applications in case someone encounters an issue. These apps are made with similar functionality to a native event app to work efficiently and improve the experience. All you need to do is hire a professional event tech suite such as Dreamcast.
In-Person, Hybrid, Virtual
Create an Extraordinary Event Experience
Across All Event Formats