The event industry has gone through a lot of changes recently since in-person events are back in trend. Event organizers are now looking for different ways in which they can offer attendees a primer experience and make the process of attending events seamlessly. To offer such an experience to the attendees they are now switching to onsite badge printing for events from a convoluted badging process.
Onsite badge printing for events is convenient not just for attendees but for event organizers too. With the help of onsite badge printing for events, they can wave goodbye to long queues and complex event check-in processes. With the help of mobile apps, event organizers can tackle everything from conference badge printing to exhibition badge printing and all other aspects of the event check-in process.
If you are curious to learn how onsite badge printing for events can be beneficial for you and why you need an hour for your in-person events, conferences, trade shows, and exhibitions, then continue reading further and you will get all your answers.
Overview Of Event Badges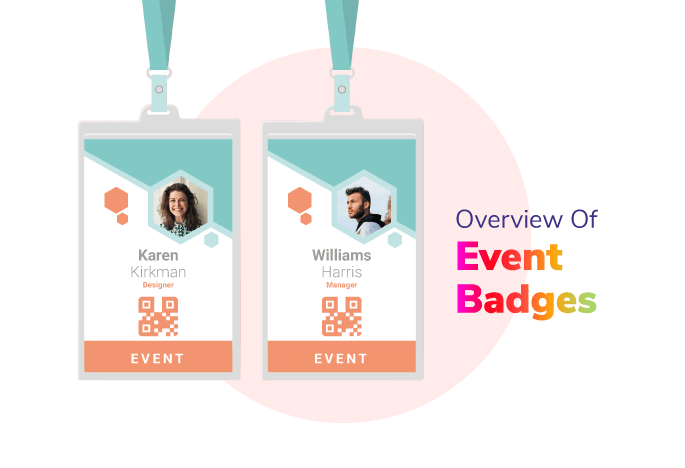 Event Badges are an important aspect of any event, exhibition, conference, etc. These custom-printed event badges are like an identity card of the attendee and they consist of crucial information about the attendees, for instance, their name, job role, event logo, or organizer's name, etc. With the help of these custom-printed events, badge organizers can manage access at the event. The best part about the event badges is that they help attendees to network with each other during the events.
Streamline the check-in Process with Instant Onsite Badge Printing
Here is how event badge printing can streamline the process of the event check-in process.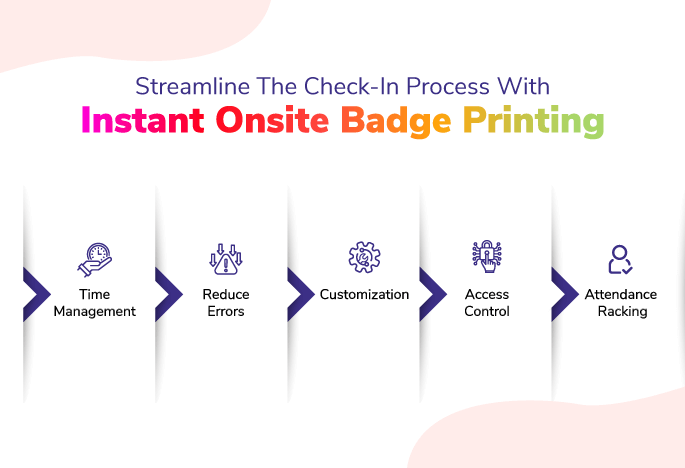 1. Time Management
Time management is crucial during the events and with the help of onsite badge printing for events organizers can save a lot of their time. As the process of onsite event badge printing is instant. Attendees can check in at the event and get their event badge in a matter of time, they don't have to keep waiting in a long queue, it is quick and easy.
2. Reduce Errors
The best part about event badge printing is that they reduce the chances of human errors. With on-site badge printing for events, the process of check-in becomes smooth and more accurate. All the necessary information about the attendees can be verified accurately within seconds and later gets printed on the badge without any typos. With this event, organizers can also make sure that the identity of the attendee is verified correctly and all the information that is printed on the attendee's badges is on point.
3. Customization
Customization and personalized experience have become a core part of the event industry. With the help of custom-printed event badges, organizers can make attendees feel welcome and offer them a more unique experience. With instant and onsite badge printing for events, organizers can customize their event badge printing by adding relevant information regarding the attendees. For instance, they can add attendees' photos, numbers, job profiles, and other necessary information that can help them better network at the event. With customization, event organizers get a chance to stand out from the crowd.
4. Access Control
Onsite badge printing for events helps organizers manage the security and access at the event. With the help of onsite event badge printing organizers will be able to identify the attendees which are crucial for event security. Plus with the help of their custom-printed event badges attendees will be able to access places according to the price of their ticket.
5. Attendance Tracking
One of the main reasons why event organizers have started preferring onsite badge printing for events is because they help them in managing attendance at the event. On-ground event badge printing keeps the track of attendees at the event in real-time and provides all the data to the organizers. It is one of the most effective ways of gathering leads at events.
Why Onsite Badge Printing Is Must For Events & Conferences ?
If you are wondering why on-site event badge printing is becoming a must-have for events and conferences then below are few reasons for that: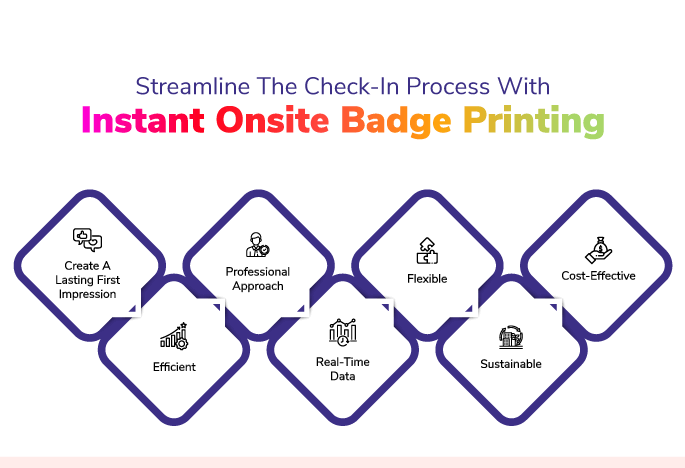 1. Create a Lasting First Impression
With the help of custom-printed event badges, event organizers can create a lasting impression on the attendees. People attend events to network and have an experience with a brand or organizers. If you remove all the hustle-bustle of long queues from your event you can make a good first impression among the attendees.
Nowadays event badge printing includes adding more detailed information like social media handles, QR codes, and photos of the attendee and has colorful design and printing which also plays a part in creating an impression on the event attendees.
2. Efficient
The best part about using onsite badge printing for events is that they are efficient. When you are hosting a conference or an exhibition that a large number of individuals are going to attend it becomes necessary to use an efficient method for easing the process of check-ins and saving time. With an on-site conference badge printing service or exhibition badge printing service you can offer custom-printed event badges to the attendees without wasting much time.
3. Professional Approach
Offering custom-printed event badges is a more professional approach and creates a more polished image of the event organizers. With event badge printing you can be well-organized and offer your attendees their professionally printed badges quickly and easily.
4. Real-Time Data
With the help of custom-printed event badges, event organizers will be able to collect all the data that event attendees will be sharing during the process of event badge printing. This data keeps event organizers updated about the number of attendees who have participated in the event. Not just that you are hosting an exhibition and during exhibition badge printing you provide badges to the attendees that help them access the different portals at the event so that every time your attendees entries the new portal you will know. This will help you understand how your attendees are engaging.
5. Flexible
Onsite badge printing for events is a must-have because it is flexible. Instant custom-printed event badges give the event organizers flexibility of printing new badges on-site if any attendee loses their badge during the event or if any attendee spontaneously decides to take part in the event they don't have to worry too much as they can easily register, get tickets and get their event badge printed.
6. Sustainable
Custom printed event badges are more sustainable. The on-site custom conference badges or event badges reduce the need for pre-printed badges which saves resources and printing material. Event badge printing has also become more sustainable nowadays because event organizers have started using badge printers that are eco-friendly and which can reduce the event's environmental impact.
7. Cost-Effective
Onsite event badge printing is a cost-effective way of offering badges at the event. Because it saves the resources of event organizers that otherwise would have been used for shipping and handling of advance printed event badges. Additionally, it simplifies the process of event check-in and as a result event organizers don't need to invest in a huge on-ground management and staffing team.
What to Look for in a Badge Printing Service Provider?
Now that you know how custom event badge printing can streamline the process of event check-in and why it is a must-have for the event it is time to look into what you should look for in an event badge printing service provider. Whether you need service for conference badge printing or exhibition badge printing there are features that you can't pass on while selecting your service provider.
Firstly personalization, for any onsite badge printing service provider personalization and customization is a must-have feature. With the help of the personalization feature, you will be able to create a badge that reflects the images of your event and brand.
The printing speed of the service provider is another essential factor to consider while selecting a service provider. As the efficient printing will ensure that your attendees don't have to wait too long.
It is important to consider the quality of badge printing while choosing the service provider for event badge printing. Your service provider should offer high-quality printing so that your badges look professional.
Make sure to choose a service provider that has reliable equipment for badge printing because if their equipment breaks down during the badging process it can create chaos at the event so it's a good idea to choose a provider that has better quality and reliable equipment.
And lastly, the most important thing that you should consider while selecting the service provider for the event badge printing process is the pricing. Make sure to compare the price of the different service providers so that you don't end up paying more.
Why Choose Dreamcast Event Badge Printing Service?
If you are hosting an event and looking for the best service provider for that we would suggest choosing Dreamcast as your service partner for badge printing for events and if you are thinking why Dreamcast, then it is because we offer you the most customizable and branded experience with the badge printing, you can make your badges aesthetically pleasing, add your logo, etc. We are not just limited to that you can manage your access, and event attendance and you will get all the data and leads of the event in real-time on your mobile event app dashboard. Our team of experts makes sure your badge printing process is smooth and efficient.
The Bottom Line
In a nutshell, instant onsite badge printing is crucial for events, conferences, trade shows, and exhibitions as they are quick and cost-effective. With the help of custom printed event badges, organizers can create a first and long-lasting impression on the attendees, additionally, they can also offer a more personalized experience to the attendees. If you are looking to create a professional experience at your event for attendees, now is the time to switch to on-site event badge printing and make the process of event check-in unique. You can connect with us and our team of experts can help you in creating unique, appealing event badges for all your events.
Frequently Asked Questions
What is event badge printing?
Event badge printing is a simple process of printing and creating custom printed event badges for different events like conferences, fashion shows, exhibitions, trade shows, etc. Events badges are printed by badge printing equipment and software that helps in creating a custom design, printing, and mentioning all the attendee's information.
What are event badges made of?
Event badges are made of different types of materials like paper badges, Fabric badges, Plastic badges, and Vinyl badges. You can choose the material of the event badge according to your event budget, event requirements, and sustainability needs.
What are the pros of printing badges on-site?
There are various advantages of printing badges: on-site badges can be printed on-demand, are flexible, save money, etc.
What technology do event badges use?
There is various technology that event badges use such as barcodes, RFID, QR codes, NFC, and Magnetic stripes.