It doesn't matter what type of event you are hosting, whether in-person or hybrid. QR code event registration and ticketing is a pivotal solution. It has gained immense popularity because they made the marketing and planning process easier. They have become a crucial part of any event as they have emerged as a popular solution for both operational and promotional purposes. QR (Quick Response) codes don't require any kind of physical contact, unlike the conventional way of using pen and paper to manually register. 
Attendees will not only experience seamless registration but will also experience contactless event check-in with QR codes. Moreover, there are many more great in-person & hybrid event advantages and uses of QR codes. In this blog, we are going to explore how this technology works, its uses, and how can it make the registration process seamless for in-person and hybrid events.
QR Code Event Registration: How It Works?
As the world is getting more digitally oriented, these black-and-white lines and pixels are more often seen in various places. You want to give your attendees an engaging and more convenient experience. Using an event QR code solutions is a good place to start. QR code event registration works in such a way that rather than asking the attendees to navigate through a complex process of registration and ticketing. That includes multiple forms and manual payment inputs. With QR code scanning for events, registration and ticketing for in-person events can be done in a matter of seconds. 
QR code event registration system can incorporate any type of relevant information that you need to provide the attendees with. When scanned with a mobile camera or other compatible device, these codes allow attendees to quickly access information such as the website's URL, sign-up forms, event tickets, etc. This allows them to complete the registration in a few seconds and you will be able to collect the information without manual workload. Moreover, a few steps on how QR code event registration works are:
Create the QR code and add it to all your promotional materials and emails.
QR code scanning for events, registration, ticketing, or access to any information can be done simply by their phone. This will take them to the integrated website URL or landing page.
All the information and data can be visible with a registration form for them to fill out and hit the submit button.
Once done, you can see the data on the dashboard to start making necessary arrangements.
QR Code Scanning for Events to Create an Immersive Experience
Using QR codes not only makes the event registration process easier and streamlined. It can be a game changer by creating a great impression on the attendees and by streamlining the event management process. No matter if you are using online or on-site QR code registration, the process and working remain the same. Furthermore, different ways of using QR code event registration can create an immersive experience for hybrid and in-person events are below:
QR Codes for Event Check-Ins
Waiting in long queues with huge crowds during an in-person event can create a negative impact on the attendees. Which is usually caused by the paperwork for attendees at the check-in desk. With QR code event ticketing, the attendees do not have to wait, do manual paperwork, or touch anything. By event check-in with QR codes, it can make the whole process faster and is done contactless way. Attendees can simply get their codes scanned to get confirmation and gain access to the event. All this can be done within a minute, making the check-in seamless just by incorporating QR code event registration.
QR Codes for Payments
There are various ways to use QR codes for in-person & hybrid events, but this is one of the most crucial. Using QR codes for payments can elevate the attendee experience and also can make the event cashless. If you are offering on-site registration and ticketing, then you can provide the attendees with a QR code to make payments. This cashless experience can be used for on-spot purchases to increase sales and generate revenue. Furthermore, using a QR code event badge printing solution for the attendees can be used as a digital card integrated with a wallet.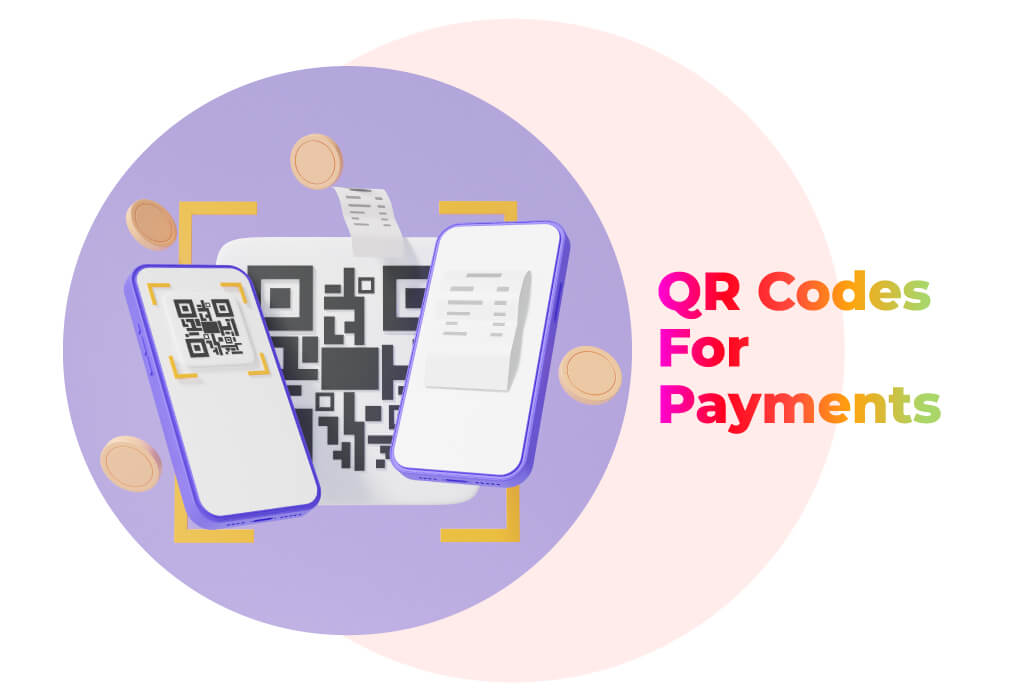 QR Codes for Event Management
Event management sometimes can be a daunting task because there are a lot of moving parts. Using QR Code event registration and ticketing solution will streamline the process by tracking each and every activity. You will be able to track your event attendees with every piece of information, from their session time to which booth they were interacting the most. Moreover, QR code-based event management is a no-brainer it easily allows you to:
Collect RSVPs
Create the hybrid or in-person attendee list
Event check-in with QR codes can be enabled by mobile devices or any digital format
Easy attendee tracking
Collect all the data and analytics
QR code scanning for events can be incorporated with any kind of information or integrated with payment gateways or other solutions
QR Codes for Event Access
Using QR code event registration for in-person events is a great way to ensure that attendees carry the right and accurate ticket before they access the event. With QR code event ticket scanning using a device, will not only ensure that the attendee gets inside quickly. But it also ensures that the right person with the right ticket is accessing the event. This eliminates the risks of forgery and any kind of duplicacy. 
Moreover, if you have incorporated on-site event badge printing with QR codes, then you can easily control the access of attendees. OR code scanning for event badges will make sure that there are no illegal entries or trespassing. Since there can be multiple restricted areas during a hybrid or in-person event, QR code badges can be used to control access to them.
QR Codes to Enhance Security
One of the great advantages and use of QR code event registration for hybrid & in-person events is that it can help in enhancing the security of the event. It will create a more secure environment for the attendees by eliminating illegal entries. Since these badge codes can carry all the information about the attendees and could include their photos. When scanned using a device it will display all their information and if something doesn't match then they won't be allowed. QR code event ticket scanning will serve as a security token. But the conditions are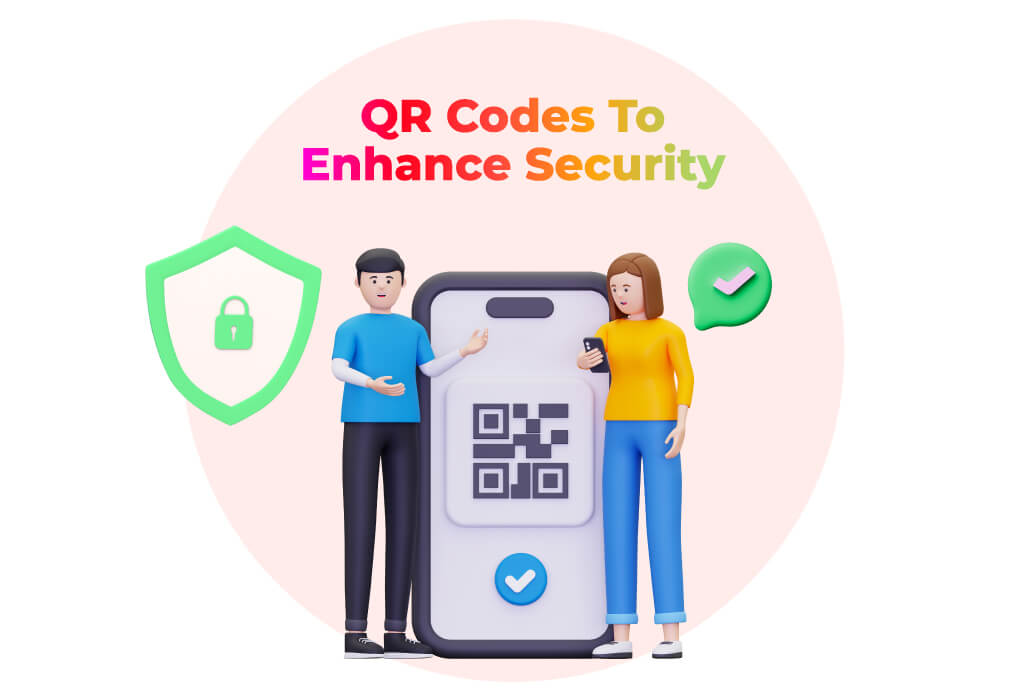 They must be personalized to each attendee's ID.
They should be non-transferable.
A verification of their original ID should be done in case of events like conferences, trade shows, exhibitions, etc.
These attendee badges should be checked properly with all the information.
Impeccable Benefits of QR Code for Event Registration
QR codes for event registration can have many uses. As they are a smart solution that can carry information that can be accessed in a contactless way. They can enhance the experience and streamline the event management process. Other than this, there are a few important benefits of incorporating QR code event registration.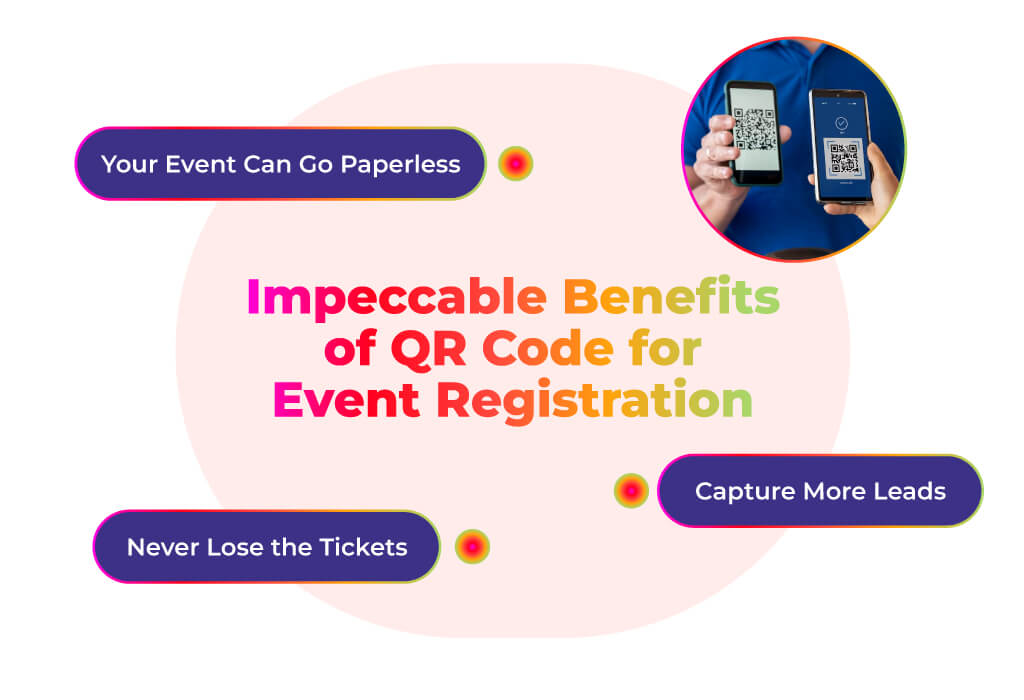 Your Event Can Go Paperless
The most significant benefit of QR code event registration is that it can be made available digitally. Without having the need to print them, attendees can easily access them on their mobile devices. Which will provide them access to event information and tickets.  It will provide the advantage of paperless event registration by helping save a lot of waste by creating an environmental impact.
Capture More Leads
Using a QR code for event registration can be the ticket to getting more sign-ups and capturing more leads. By scanning the QR code for your event, they can access the information or can be led to the registration form or landing page. Getting on the page can ensure that they get all the information and might fill up the form.
Never Lose the Tickets
When using QR codes for hybrid & in-person events, the attendees will never have to worry about losing their tickets or searching for them in their pockets or purses. They will always have a digital copy of the QR code event invitation or ticket. Which can be saved on their email or mobile device, so no re-printing of the tickets. QR code event registration and ticketing allow you to focus on other activities that help in running the event smoothly.
Final Thoughts 
QR code event registration for in-person and hybrid events can revolutionize the whole event experience. They can make the process of registration, ticketing, check-in, and event management much easier. This smart solution has become so popular that it has been a pivotal factor for many organizers. So, are you looking toward using an event QR codes solution? Then we at Dreamcast can help you. With our team of highly professional event tech suits, we can provide you with robust, end-to-end customized, and tailored solutions. Why wait? Book a demo now!
In-Person, Hybrid, Virtual
Create an Extraordinary Event Experience
Across All Event Formats