Event badges have become an important part, and they serve more than just an identification tool. For any event, these badges can be made available through on-site event badge printing, or they can be kept pre-printed. Becoming an essential part of creating a seamless and memorable event experience. These badges are a comprehensive solution that can provide multiple advantages and can play a major role in event management. Further, if we delve more into the world of badge printing, there are multiple ideas for event badges. That will include their significance, design, various types, uses, considerations, and creativity.
Whether you are organizing a conference, trade show, corporate event, or exhibition, understand the distinction of event badges. It can significantly enhance the event experience. Moreover, by printing badges on-site, you will be able to further elevate the attendee experience and optimize operations.
In this guide, we will discuss a definitive understanding of event badge printing. Its benefits, types, and the crucial role it plays in shaping a successful event.
What are Event Badges?
Event badges can be identified as personalized identification tools that are worn by the attendees during the events. These badges can be used for an array of events and can either be printed on-site or kept pre-printed. With many benefits of event badge printing beyond identification, they serve as an important tool in event management. Using pre-printed or on-site event badge printing solutions can seamlessly blend in the brand representation and functionality.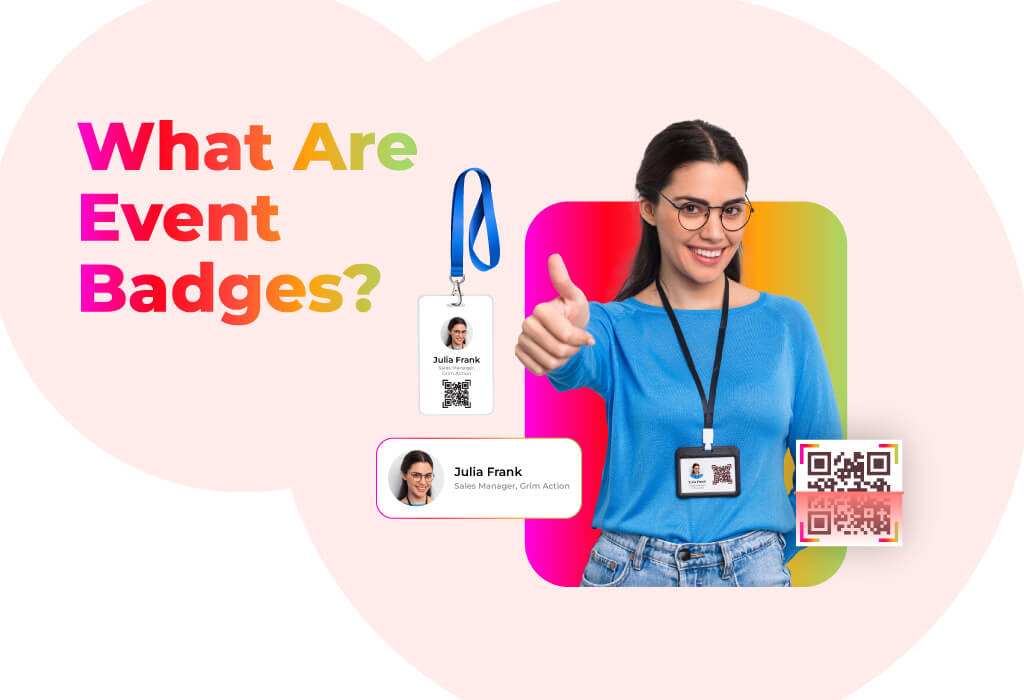 There are multiple types and aspects of designing badges for events as they are the key components. They visually represent the attendees and their roles, affiliations, and access levels. Moreover, these badges can include all the personalized information such as photos, social media handles, QR codes, etc. These small yet pivotal tools are typically available in the form of wearables. Such as lanyards, wristbands, and ID cards play a crucial role. For networking, streamlining logistics, enhancing brand visibility, and more.
Unlocking the Advantages of Pre-printed Event Badges
From event registrations to ticketing, using event badges can offer a multitude of benefits. That can help streamline the process of event management and also help the attendees in a seamless and memorable experience. 
Immaculate Access and Security
Event badges can function as more than just an identification tool, they can be used as a gateway. Authorization of access to specific areas, sessions, and activities event badge printing plays a vital role in enhancing security. If integrated with technology like RFID or QR codes, badges can provide swift, efficient, faster, and contactless check-ins with improved security. Which will prevent unauthorized entries and help track the attendees throughout the event.
Enhanced Engagement
Event badges integrated with mobile event apps can empower attendees with instant access to all the event information. Such as schedules, session details, speaker information, and more to ensure they are well-aware and informed. Not only this, it can help in encouraging them to proactively engage with the event's content. With the convenience of having information at their fingertips.
Incentives for Networking
Events can provide unparalleled opportunities to network and build valuable connections. With on-site printing of event badges that are equipped with customizations for information can help in facilitating meaningful interaction among attendees. It helps in breaking down the initial barriers and serves as a conversation starter.
Improved Brand Visibility
Event badges can be fully customized and are used as a subtle yet effective branding tool. With on-site event badge printing you can customize to incorporate event logos, themes, colors, and design. Which helps reinforce brand visibility throughout the event. 
Data Collection and Analytics
Data is a valuable asset for the success of the event and event badge printing integrated with technology such as RFID. Allows the organizers to gather insightful data on the attendees such as their preferences, session attendance, and engagement. This data is useful for the ROI and can be leveraged to refine future event strategies. Integrating with a CRM, ATS, or marketing tool can provide smooth data flow to gain better insights.
Easier Event Management
One of the greatest benefits and ideas for event badges that can be used is from an operational standpoint because they can help streamline logistic aspects. Designing event badges can help in differentiating between each participant of the event and helping the organizers to put together a smooth flow of activities. This is to assist in managing the session capacities and allocating resources.
What Makes On-Site Event Badge Printing Effective?
On-site event badge printing is very different from traditional pre-printed badges and keeps them to be distributed during the event. Leads to time-consuming administrative tasks and last-minute changes. On-site badge printing has transformed this process completely by making a seamless and efficient experience. It has eliminated the tedious task of finding and handing out badges during the event from a bulk of pre-printed badges. With an on-site solution for event badge printing, the ability to design, print, customize, and distribute badges on the spot has contributed to smoother operations. Not only this, it has also elevated attendee satisfaction, giving them a more seamless experience and eliminating the errors in their information that could occur with pre-printed badges.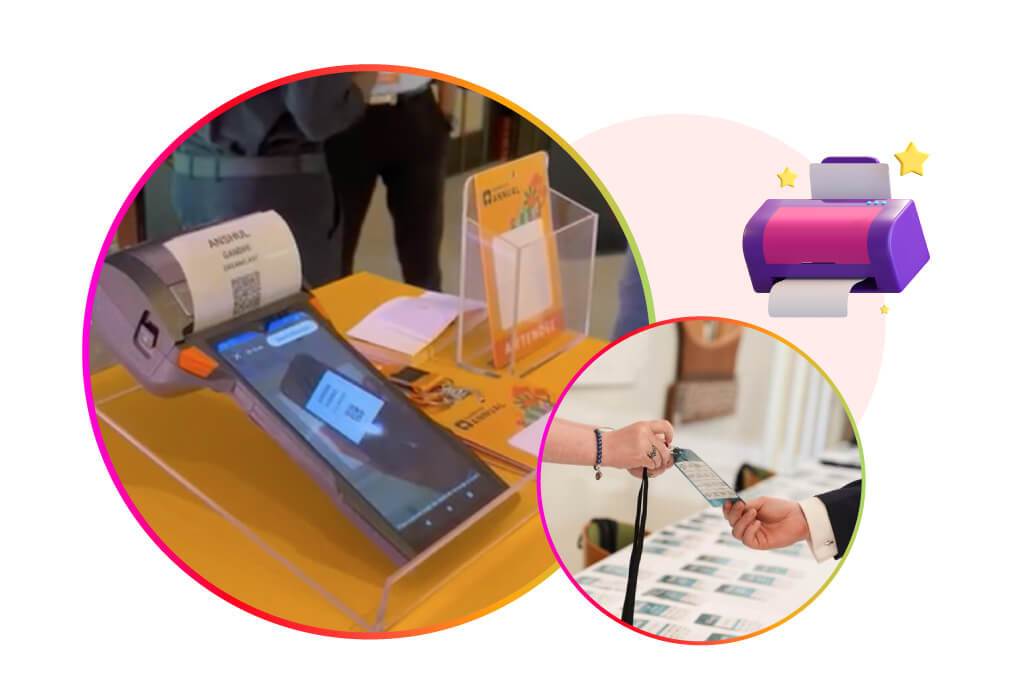 The Advantages of Opting for On-Site Event Badge Printing Solutions
Gone are the days when you had to keep your event badges ready to be distributed during the event with a lot of hassles. On-site printing is much more sustainable and error-free than pre-printed event badges. Moreover, with on-site event badge printing solutions, many efficient and effective benefits can be obtained. 
On-Spot Customization Capabilities
Onsite badge printing can empower the event with instant and on-the-spot adjustments to the attendee's badge. There can be errors during the event registration process, whether it is correcting typos, updating information, upgrading access, or accommodating any last-minute changes. On-site event badge printing gives the flexibility to ensure accuracy and up-to-date badges for attendees.
Improve Attendee Engagement
Using an on-site printing solution can personalize the badges for the attendees. That includes their names, photos, contact information, and even their preferred pronouns that foster a sense of belonging. Furthermore, giving a personalized touch can be small and create a significant impact, which demonstrates the recognition of the attendees and contributes to an inclusive atmosphere.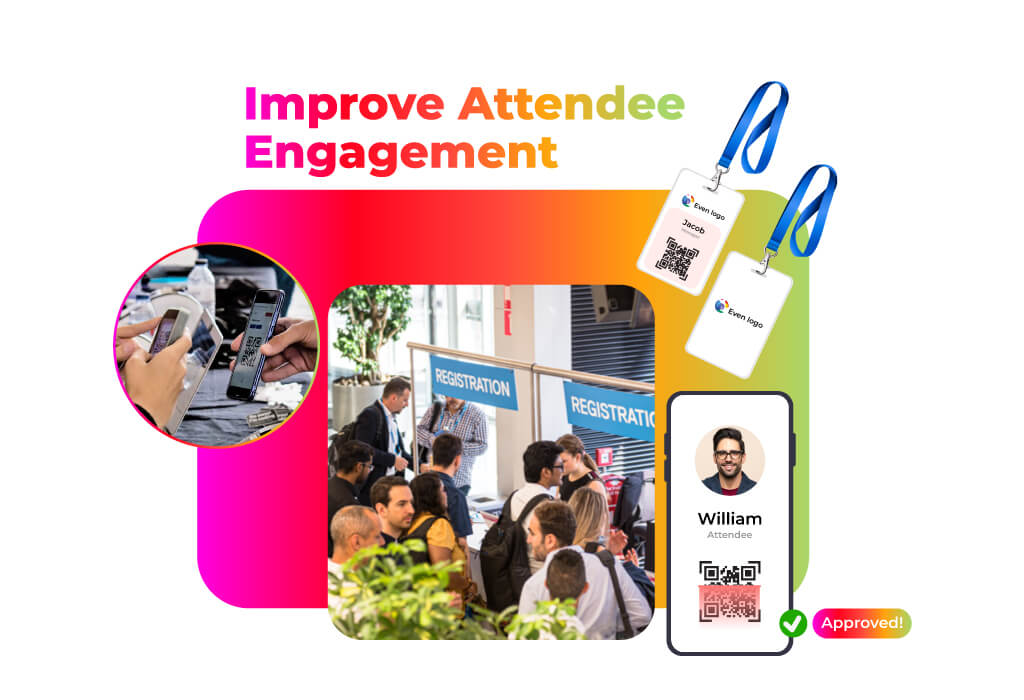 Elevates the Check-Ins
On-site event badge printing can effortlessly print the badges and streamline the check-ins. It can elevate the process of printing the badges much faster, easier, and error-free. With self-check-in kiosks and a zapping system, can help in reducing waiting time and queues. Attendees will be able to simply register, print their badges, and swiftly move into the event within seconds. Moreover, integrating smart solutions like event apps or QR codes with the badges can enhance the process.
Keep the Registrations Flexible and Stress-Free
On-site printing solutions can help to increase the revenue of the event by keeping the registrations flexible. They give the benefits of on-demand badge printing, and you can keep the registration open till the last minute or even after the event has begun. This will also create a great impression on the attendees and enhance their experience. By choosing a smart event tech suite like Dreamcast you will be able to streamline the process and get an enhanced on-site badge printing solution.
Saves Time and Money
Keeping your event badges printed increases the chances of errors in the badge that can be related to anything from attendee information to badge design. This increases the cost of the event as you will have to reprint them. On-site event badge printing can help to eliminate all the hecticness of causing errors related to the badges. Attendees can check the information before getting the badge printed, this also helps in reducing waste and saving time and money.
Innovative Ideas for Event Badges to Maximize Productivity
There is an array of ideas in which you can print your event badges. But you need to enhance the attendee engagement by giving them a robust and streamlined experience. You can leverage these creative ideas for event badges:
RFID-Empowered Badges
With advancements in technology and an increasingly digital world, RFID-empowered event badge printing has gained immense popularity. Due to their multifaceted nature, this technology allows seamless access control, attendance tracking, enhanced security, and more.
QR Codes Integrated Badges
One of the greatest ideas for event badges that has emerged as a modern solution for events is QR codes. They are compatible with any kind of badge design and can carry all the information. These badges work with tech-savvy audiences or events with digital components.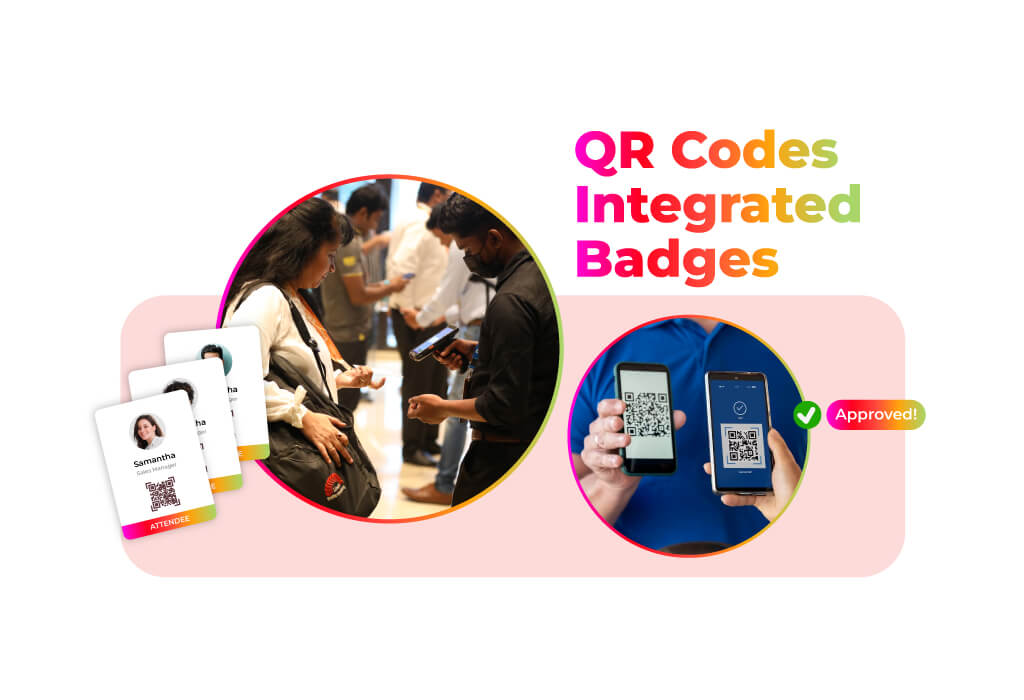 Environmentally Friendly Badges
The consciousness of the environment continues to grow, and using eco-friendly badges has become a prominent choice. This great idea for event badge printing is crafted with recycled, sustainable, and reusable materials. Opting to use environmentally friendly event badges not only reduces the carbon footprint of the event but also contributes to the commitment to responsible event management.
Smart Wearables Event Badges
Using smart wearables like wristbands or lanyards incorporated with technology is a great idea for event badges. It can revolutionize the attendee experience by offering features like cashless payments and personalized agendas. With this futuristic technology, it can leave a lasting impression on the audience, and they will even keep the badge as a souvenir.
Unleash the Potential of Event Badges
Whether you are opting for on-site event badge printing or keeping them printed to leverage the benefits of them there are some careful considerations of several factors to create a perfect badge.
Consider the badge materials: The choice of the material will significantly impact the durability and perceived value. Opt for something that aligns with your event and elevates its aesthetic.
Embrace customization: A great idea for event badges is a one-size-fits-all with customization options that reflect the event's identity.
Engaging content & information: Beyond the basic details, consider integrating engaging content. Such as personalized schedules, QR codes, etc. to enrich the attendee experience.
Leverage technology: In order to expedite processes and enhance engagement, utilize technology such as RFID, QR codes, barcodes, and others to elevate the experience.
Consistency and quality: The design of event types differs, there are some common threads that run through badge design. Consistency in branding, typography, and color schemes across different badges should create a sense of unity.
Compatibility with badge scanners: A suitable badge is only effective when it can be easily printed and scanned, even when opted for on-site badge printing. Ensuring the design of the badge is compatible with the printer, reader, or scanner to prevent technical hitches is a must.
Backup scenarios: Despite meticulous planning, problems can arise, and having a backup plan for your event badge printing is necessary. Having a backup for your printing solutions and attendees' queries with quick and effective solutions demonstrate the effectiveness of events organizational powers.
Exploring Various Types of Event Badges
There are different types of event badges that can be made available during the event and each serves a different purpose. As an event planner, choosing the right type of badges can ensure smooth operations and the ongoing of the event. Even if you have opted for on-site event badge printing, it should be able to provide your chosen types of badges.
Standard Event Badges
These badges are the foundation of any successful event and are designed to include all the attendee's information to provide a professional and welcoming impression. Standard event badge printing, allows the attendees to easily identify and foster networking opportunities.
VIP Event Badges
Event badges are printed to distinguish attendees, and VIP badges are a powerful way to acknowledge someone important and make them feel valued. They are designed differently from any other badges and are made unique. Moreover, they provide certain benefits that are specific to these badge holders, such as exclusive access to certain areas, sessions, amenities, etc.
Exhibitor Event Badges
These badges are necessary for events that involve showcasing something, like exhibitions or trade shows. They are indispensable for organization and visitor engagement and not only include the name and organization but also their booth number and company logo to facilitate seamless navigation.
Press Event Badges
For events that have media coverage, press event badges serve as a bridge between differentiating the press corps. They are often incorporated with "Press" or "Media" designation with additional information. Media personnel are granted unrestricted access to key areas and interview opportunities.
Speaker Event Badges
For many events, speakers are the backbone, sharing their expertise and insight with the attendees. These badges are specifically designed to highlight their status and expertise to identify them and not only this it also encourages engagement between them and attendees.
* On-site event badge printing solutions can help in facilitating different kinds of badges. They are capable of distinguishing and keeping a record of all the participants by segmenting them according to their roles and responsibilities.
Final Words
Event badges are not only for identifying, but they are more than that. They are a powerful tool that can influence the attendee's experience and engagement. By understanding the benefits of different types of event badge printing, and incorporating effective design, creative ideas, strategies, and more, organizers can elevate their events. Leaving a lasting impression on the attendees by providing them flexibility with on-site event badge printing can ensure contribution to a successful event. In order to leverage all the great benefits, hire a professional event tech suite like Dreamcast. Why wait, book a demo now!
Frequently Asked Questions
Why are event badges important?
Event badges have become a significant part of many events because of their capabilities of enhancing the experience and streamlining the event management process. They can be incorporated with modern technology to improve the efficiency of the event.
How is on-site badge printing effective?
On-site event badge printing is much more effective because it provides flexibility, helps save time and money, elevates the check-in process, and because of many more great advantages.
How can I choose the right type of badge for my event?
You need to consider all the aspects of your event before choosing the type of event badge. Determine the event's nature, attendee categories, need for the badge, and your budget to spend.
Can event badges be used for virtual events?
In general, badges are being used for in-person events all around but for virtual events digital badges can be created for virtual attendees.
Will keeping the event badges in advance improve efficiency?
Yes, it improves efficiency but comes with a high possibility of errors and changes. While opting for on-site badge printing can provide more flexibility to the attendees. And there is a scope for any last-minute changes that are required, which eliminates all the errors.
In-Person, Hybrid, Virtual
Create an Extraordinary Event Experience
Across All Event Formats