Technology has reshaped almost all the industry's functioning and operations. For on-ground event management, it is proven as the game-changer as the transformation in the process of event planning, execution, and experiences have seen rapid technology advancements. In the current digital dynamics, event organizers can empower themselves to deliver an extraordinary experience for attendees at every level. From streamlining registration processes to deploying engagement elements to the event all are possible.
Here in this blog, we are going to explore all the 25 emerging technologies for event management available. This technology deployment will surely transform the whole event dynamics and make your next event unforgettable. So, let's get started.
25 Best Technology for On-Ground Event Management
There are endless possibilities and technologies that are all helpful in your on-ground event management. Well, all of these technologies have their fair share of advantages, and deploying them in the right manner can let you achieve your targeted goals.
1. Online Registration and Event Management Systems
Before you start planning any event the first step to succeed is to attract as many participants as you can. By making the event registrations and ticketing procedures simplified it can be possible. There are many types of event registration solutions you can look for. However, it depends on the goals, types, and on budget and which kind of registration and event management system is required. For instance, if you are a brand that hosts a specific event every year then a mobile event app or microsite for the event is useful. By creating a theme-based platform covering all the necessary details about the event with registration capabilities and payment integration it is possible.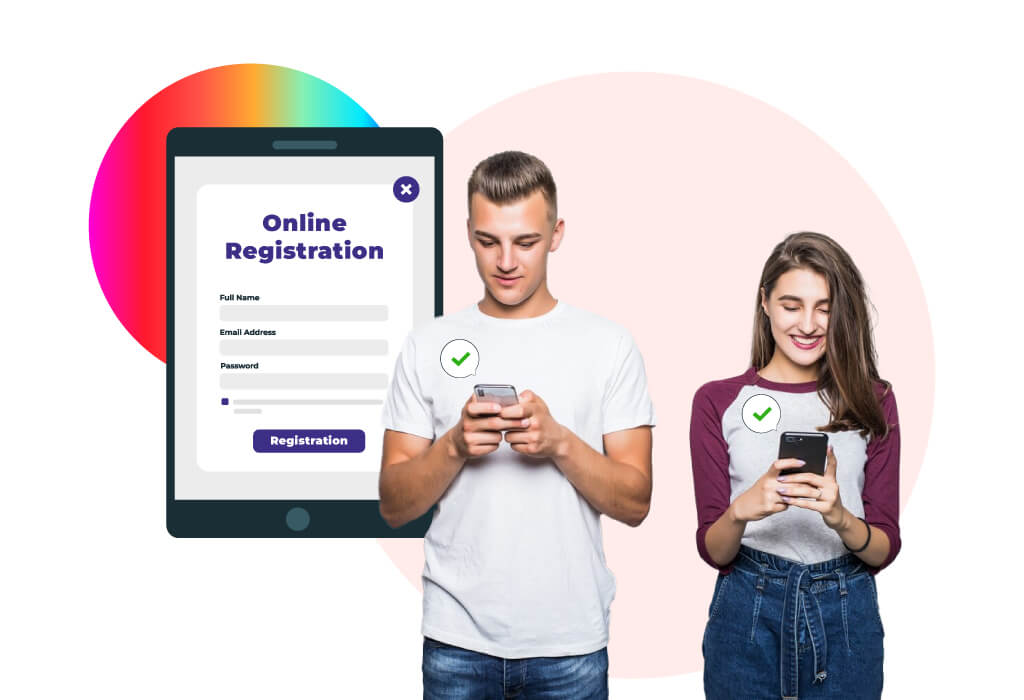 Furthermore, in order to attract more customers your registration platform should be integrated with all the standard payment methods. Like from debit cards to credit cards even online banking possibilities. Also, the platform should cover all the necessary information regarding the event like the timings, venue, speakers, panels, activities they can enjoy, and everything you want to showcase as a host.
2. Mobile Event Apps
A mobile event app is a specially designed application that can be used on any smartphone based on iOS and Android. Also, there are web mobile events that can be run on both smartphones and computers. In general mobile event apps are fully customizable and helpful for both the host and attendees. Any user can install the application and get all the information about the event including the date, timings, venue, event activities, theme it is based on, and all others. Also, by completing the registration and payments he can get all the updates about the event.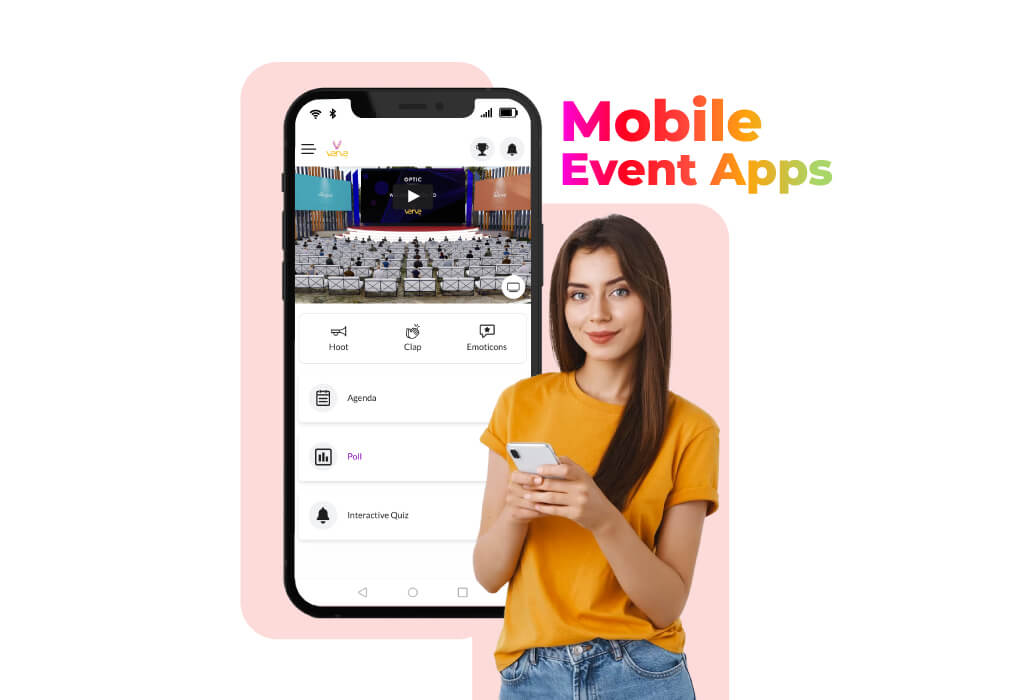 As a host, you can send personalized notifications, event updates and gather attendee details in your organizer's event app or in the backend. This information is further helpful in analyzing the event performance or in marketing campaigns to optimize the event attendees based on their behavioral patterns. Additionally, the attendee database is useful post-event for the sales and marketing team.
3. Event Microsites
An event microsite is a specially crafted single-page website, generally hosted on the same brand domain but separately. This single-page microsite is basically based on your brand or event theme. And consists of all the necessary details about the event or whatever the host wants to showcase to the user. This microsite for the event is also capable of registrations and ticketing (with payment gateway integrations). The best part about the microsite is that you can run ads on search engines. It is also helpful in spreading awareness, and increasing the visibility of the event by optimizing it with SEO. The user can check this website on search engines and is compatible with all devices with internet accessibility.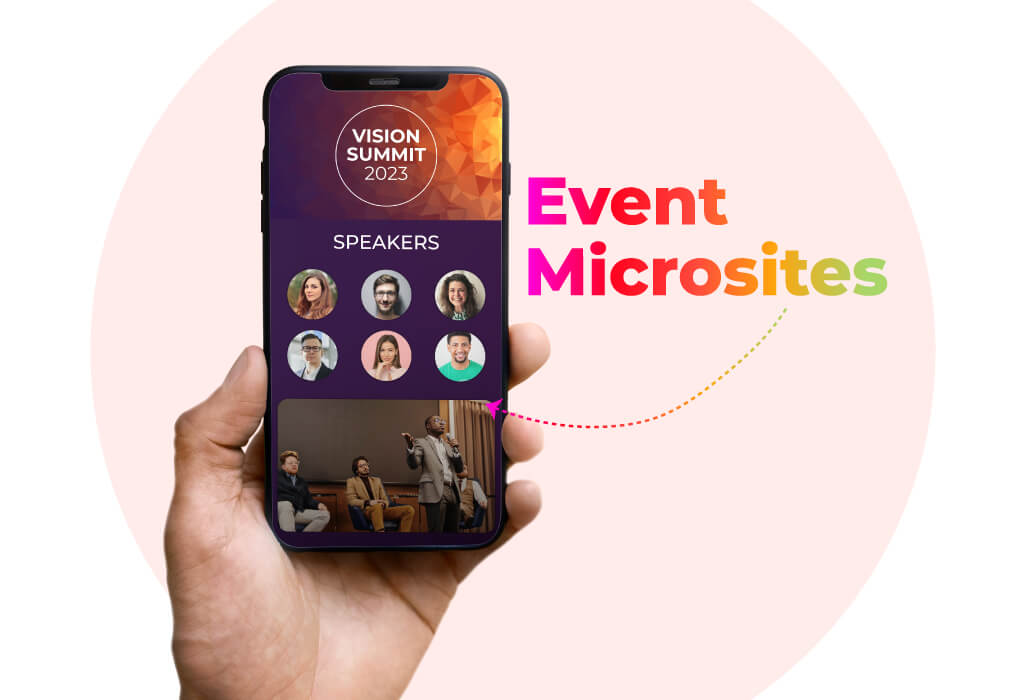 4. Self-Service Kiosks for Registration and Information
Besides the online event registration systems, self-services or on-spot registrations are also a necessary aspect to look into. As not all the event attendees come up with pre-registration. Some are on-spot attendees, to cater these self-service Kiosks for registration and information are the best technology ensuring smooth event management. These Kiosks can be possibly operated by the team or attendees themselves. Based upon the needs both are possible. To give you an idea of how this looks; think of automated ticket printing machines at bus stands and Railway stations.
5. RSVP for Event Management
RSVP is a French term for " Répondez s'il vous plaît", which means please confirm your presence. This is considerably the best technology for event management as by sending emails, notifications, or messages you can receive a confirmation. A few days before your event you can send a reminder and email for RSVP to all your registered users to receive a confirmation that how many participants are going to mark their presence. This is helpful in the event planning as for the on-ground event there are many preparations you need to do. So, in order to get an idea about the number of participants it is helpful. This RSVP management suite can also be used in many other ways too.
6. Contactless Check-In
We all have witnessed long queues, and bottleneck passages at the entrance of the physical event. However, these queues can be reduced with the help of facial recognition technology for on-ground event management. When the users are registering for your event they just need to click their picture and upload it. This picture will be used to recognize and grant access during the times of check-ins saving a large amount of time.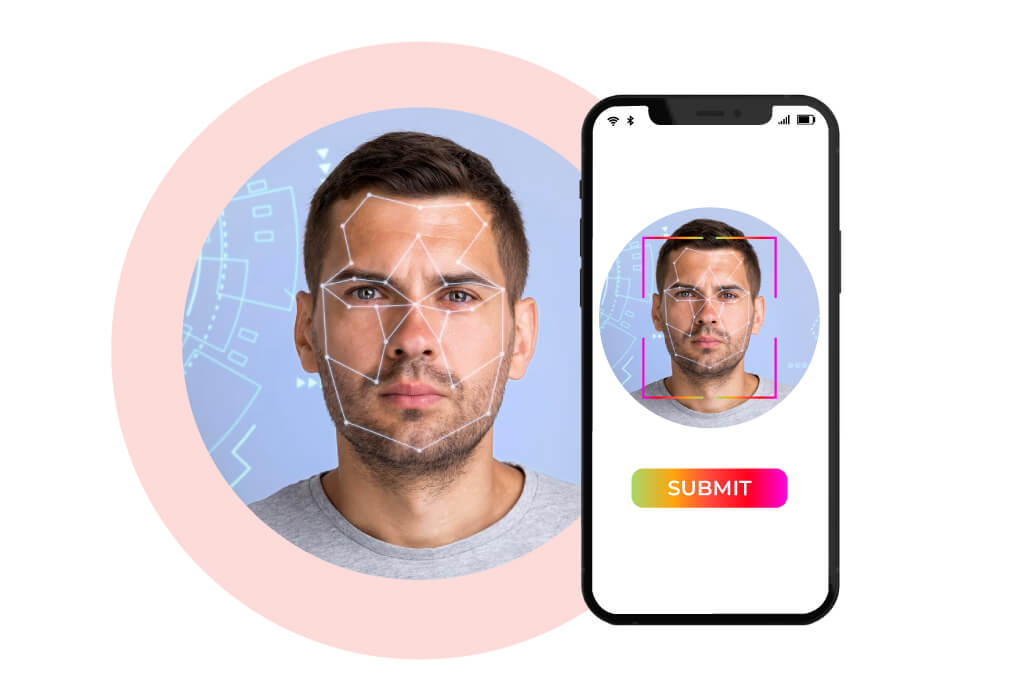 7. Badge Printing for Events
In on-ground events like conferences, trade fairs, expos, and others require badges. To print these badges there are badge printing machines available. But to deploy it, skilled laborers are required. But thanks to technology for event management that empowers the host to print badges on-spot or order pre-made customized badges based on the RSVP confirmations. Also, with easy-to-deployable printing machines with zero skill requirements, there are many arrays of benefits using them.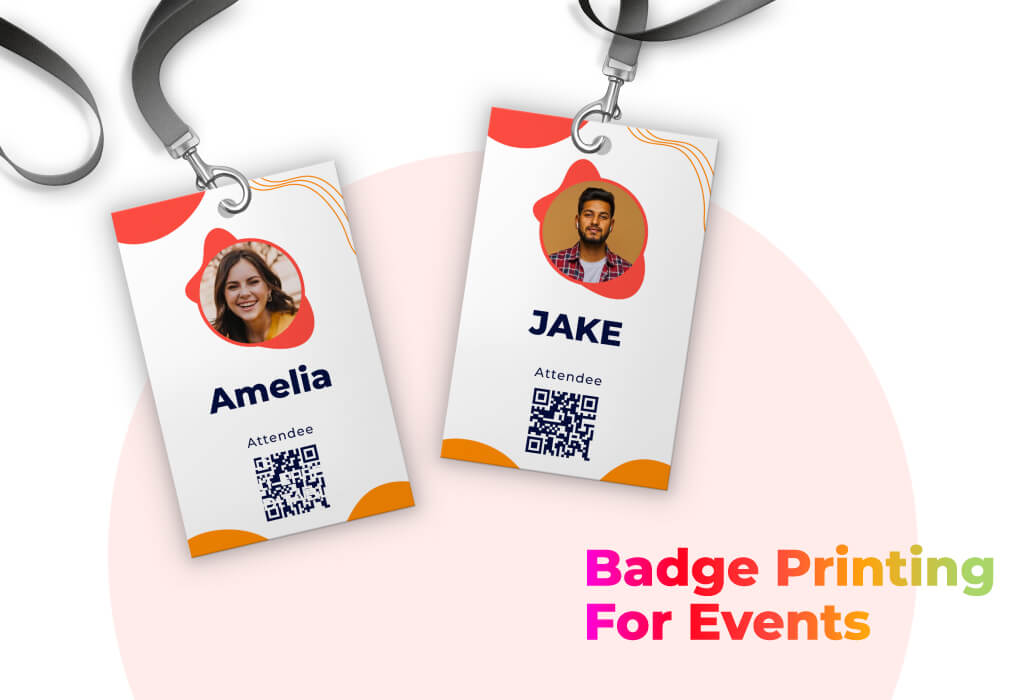 8. Live streaming of Events Sessions and Presentations
Live streaming is considerably the best event management technology that helps you reach a global audience. By leveraging the 360-degree camera, multi-camera streaming, and simultaneous live streaming (streaming on multiple social networking sites in real time). With this, you can easily stream your event and give chances to remote audiences to watch your event content and interact. This helps in overall visibility and ensures a better reach to achieve many aligned goals.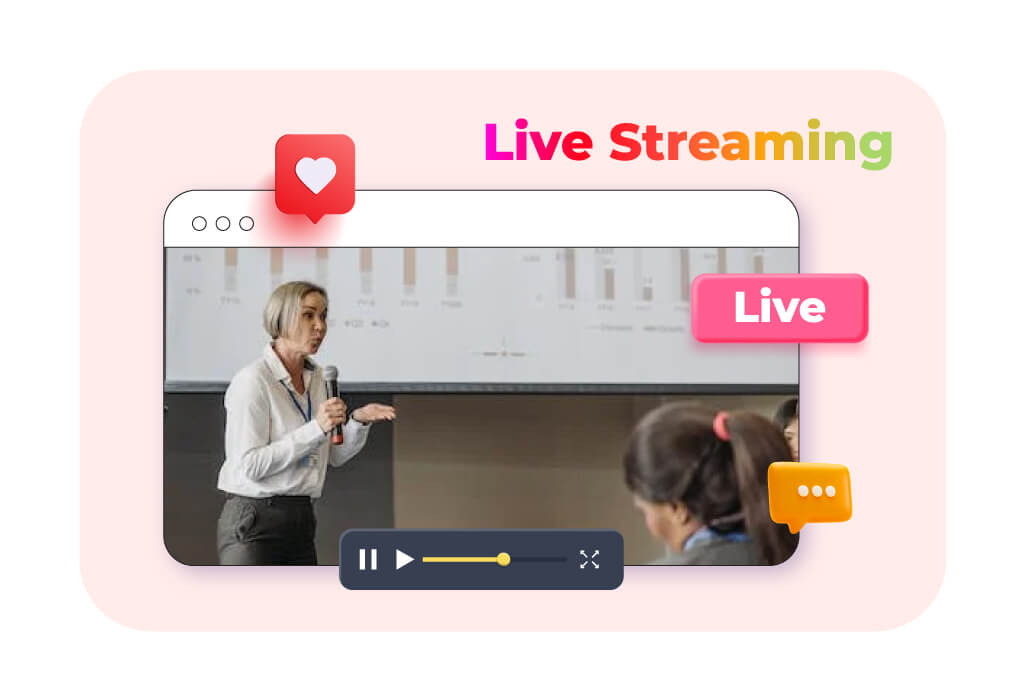 9. Virtual Reality (VR) and Augmented Reality (AR) Experiences
To cope with the latest trends and technological advancements you can introduce AR/VR games and experience. These can be fully customizable as per your unique requirements and event themes. For example, if you are hosting a trade fair you can set up a zone where you can give a virtual experience of how your newly built apartments or homes can look. Also, gamification and this sort of experience give a competitive edge and are quite new in the market. So, deploying such advanced VR/AR experiences can enrich your attendee experience and boost satisfaction.
10. Photo Booths
Hosting interactive and unforgettable events are meant when attendees build memories. As pictures and videos are meant to be proof of long-lasting memories. With the dedicated photo booths and 360-degree camera set-up integrated with AI and many filters. You can give a soothing experience for the attendees as they can print their photo and later upload it to their social media. This way you can increase event awareness and build a sense of community at the lowest cost possible.
11. Virtual Photo Booths and GIF Creators
Hosting physical events sometimes costs a lot of money. So, if you look forward to providing photo booths at a very low cost. You can create virtual filters, themes based photo booths with your brand microsite. Where the attendees can capture their photos with many filters. Also, create GIFs of their own. This is possibly the most cost-effective engagement tool possible.
12. 360-Degree Video Experiences
Drones, cameras, and slow-motion-capturing video cameras and equipment are the new age of trends. People like posting aesthetic reels on their social media accounts. If you provide this for free at your event the engagement level of your event can increase by a higher percentage. With the latest 360-degree and slow-motion capturing cameras you can fill your brand's social media walls full of joyous moments and boost the event dynamics. This is the best event management technology example and its impact is huge.
13. Event Chatbots for Real-Time Assistance
Errors, technical glitches, and problems can be raised at any point of time during the whole event attendee journey. To cater to this setting a system where you can resolve the attendee query with their registrations, ticketing, and other problems with event chatbots. These chatbots can be integrated with your mobile event app or specially designed systems. Also, with WhatsApp automation for events without any human need, you can assist with pre-defined solutions. This approach will make your attendee feel valued, and surely you will receive appreciation.
14. Audience Response Systems for Live Polling
In an on-ground event asking attendees for opinions or capturing polls in a manual process can be a big hustle. But with the integrated online polls with your existing mobile event app, microsite, WhatsApp, or other channels it can be possible. As you can push the polls in real-time asking the required topics with multiple options it can be easily recordable. Also, polls can be pushed over Instagram, Facebook, and other channels (on the event's social pages).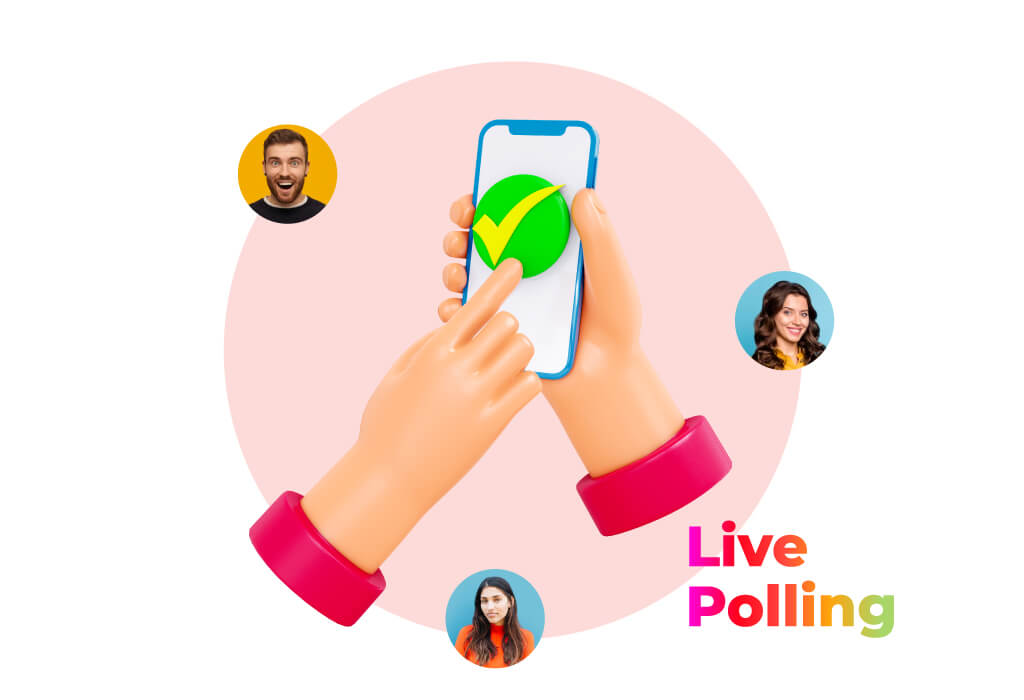 15. Live Interaction with Speakers and Presenters
As said earlier it is not possible to be available to attend all your attendees and participants in the in-person event at the decided dates. But the virtual presence is what you can take advantage of. By setting a big screen at your event or streaming the live call over the event app or microsite it is possible. You can ask your guest to spare some time during the on-ground event running so that they can address the attendees virtually. Also, with live chats and breakout rooms, 1:1 calls can also be possible for interaction between both speakers and attendees.
16. Social Media Walls
Social media walls are generally a type of big-scale screen at your event deployed at a strategic location for most attractions. These social walls are connected with all the leading social channels like Instagram, Facebook, Twitter, and YouTube. Whenever anyone with specific hashtags or tags your brand's page on social media with their post you can display it on the social wall. This real-time user-generated content encourages people to post their special moments on their social feeds. Ultimately leads to a higher rate of engagement and popularity.
17. Attendee Matching and Networking Platforms
The main purpose of anyone attending any event is to socialize and expand their networking. Conferences, trade shows, expos, and such kinds of events generally serve this purpose. But with the AI attendee matchmaking functionality of the event app is quite new. This works similarly to dating apps but in the business sense. It means that based on the preferences, choices, and fields of interest it generates the best match and helps in networking for the participants. With the utilization of advanced algorithms and machine learning, this new-age technology for event management creates a difference.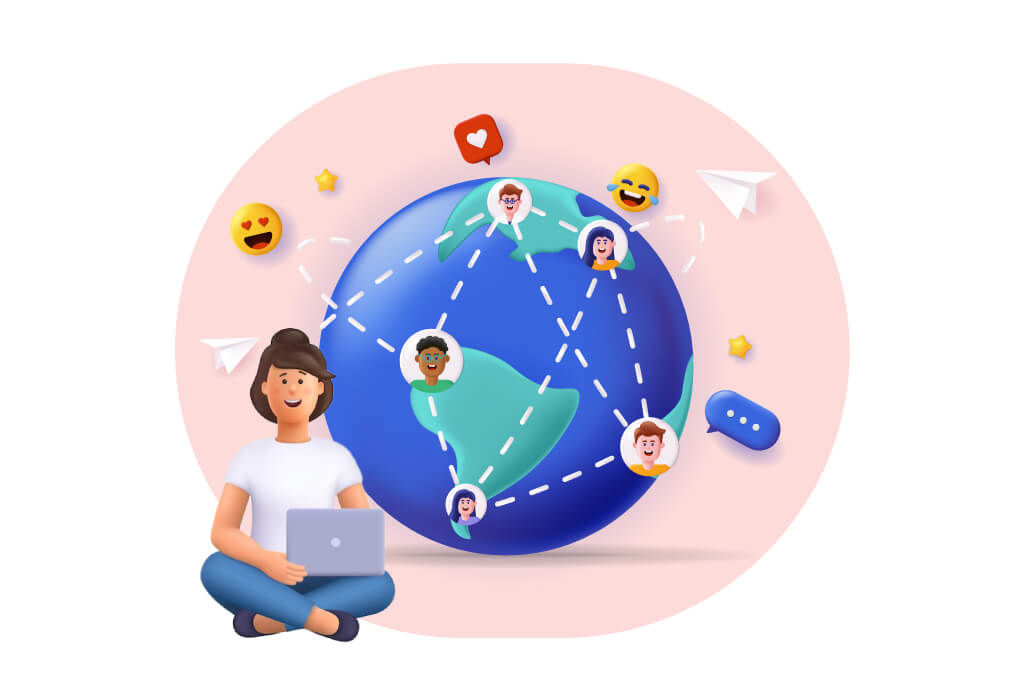 18. Technology for Multilingual Events
It is not always that all your attendees belong to the same native place or understand the same language. For this using live captions in your live streaming feed, or on virtual events can help you make the event truly global. Additionally, setting up dedicated screens where the live captions are available for every session talk can make your on-ground event truly multilingual.
19. Mobile Voting and Surveys
This functionality and solution are similar to what polls and Q&As look like but with a bit of dis-similarity. The mobile voting and surveys also serve the purpose of post-event feed capturing as well in order to learn about your attendees in a better way. This feedback and surveys can be pushed in multiple ways or with custom fields or pre-defined options and others.
20. RFID and NFC Technology
There are many added advantages and to make any event smart RFID is quite needed. In any large-scale event and expos manually giving access to different zones cannot be a good approach. As this can lead to bottleneck passages. But with RFID-based wristbands and badges, you can unlock many purposes such as; Access control, attendee tracking, and crowd management.
21. On-Site Event Analytics and Tracking
If you are thinking about how the RFID can help you track the attendees and how it is possible to get analytics out of on-ground events. Then Dreamcast has a solution for you. By deploying the RFID readers at various entry points your attendee can be tracked without letting them know. This way you can learn about the behavioral pattern of your attendees. For which session has the most engagement or least, which booths get the highest visitors, and a lot more. Even with RFID attendees can make payments which we are going to learn about in the cashless payment solutions.
22. Cashless Payment Solution for Events
In the current digital landscape, very few people carry cash. Also, carrying a lot of cash comes with the fear of theft, and handling them can be a big issue. So, with the deployment of digital cash cards, POS machines, RFID-based payment wristbands, and others it can be resolved. Our digital cashless payment solutions are capable of inventory management, printing receipts (tax-based bills), integrating with your existing systems, and others. By recharging the cash card any of your attendees can buy goods at your event without any wear of handling cash. This way you can increase the ROI and boost attendee spending capacities.
23. 3D Wayfinder App
The 3D way finder app in custom designed mobile application or integration capability functionality. This means you can specially craft a way finder app for your large-scale event or integrate it with existing mobile event applications. This helps the attendees to find their dedicated booths and get directions.
24. Cloud-Based Collaboration and File Sharing
Protecting the environment and achieving sustainability goals is responsible for all. The print of tickets, brochures, and all paper-based resources can be minimized with digital file sharing. By uploading any type of file and media over the resources section in the mobile event app or microsite or over a cloud storage it can cater. As the attendees can download the files on their devices at any time to save time and reduce paper.
25. QR Code Scanning for Lead Retrieval
It is a cutting-edge technology that streamlines the process of capturing attendee information during in-person events. By incorporating QR codes on event badges or exhibitor booths, participants can easily scan with their smartphones and capture essential lead data in real-time. This helps businesses easily capture the details and follow up with potential clients.
Now as we have learned about the 25 best event management technologies. It is the right time to further explore its importance, its benefits, and how it is changing on-ground event management. So, let's start without any further ado;
How Important is Technology In Event Management?
In every era, technology plays a crucial role in uplifting industries and focusing on quality with reduced human efforts. In the same context technology for event management improves overall efficiency, and engagement and contributes to the event's success. Here we have concluded some of the key reasons to highlight the importance of the best event management technology.
Enhanced Efficiency
By deploying technologies all the time-consuming tasks can be completed easily. By introducing smart registrations, a mobile event app, and easy check-ins organizers can focus on strategic planning and execution. All these combined can potentially lead to increased efficiency and cost reduction.
Improved Attendee Engagement
In a physical event by leveraging technology, you can deploy AR/VR gamification, and mobile event apps (for engagement and networking). Additionally, in order to foster communication before, after, and in between the event mobile event apps are the best technology available. As you can give the details of event scheduling, host live polls, and opportunity to connect with other attendees, creating a dynamic and engaging experience.
Tailor Your Event (Personalization)
In a physical, virtual, or even a hybrid event setting you can personalize the whole event theme as per your unique branding requirement. Furthermore, incorporating WhatsApp automation and auto-follow-ups can help organizers to send targeted information, marketing campaigns, and others.
Real-time Data Insights
With real-time analytics, actionable insights on-ground event management can be simplified, and easier to track event performance. As with event badges and cashless event solutions, you can track the attendee's movement as well as their spending behavior. This tracking helps in optimizing future events and in taking data-driven decisions for continuous improvement.
Global Reach
Even if you are hosting an in-person event, you always have the technology to easily reach a global audience. With a hybrid event platform, you can host the same physical event in a virtual setting too leading to increased event engagement, visibility, and diversity.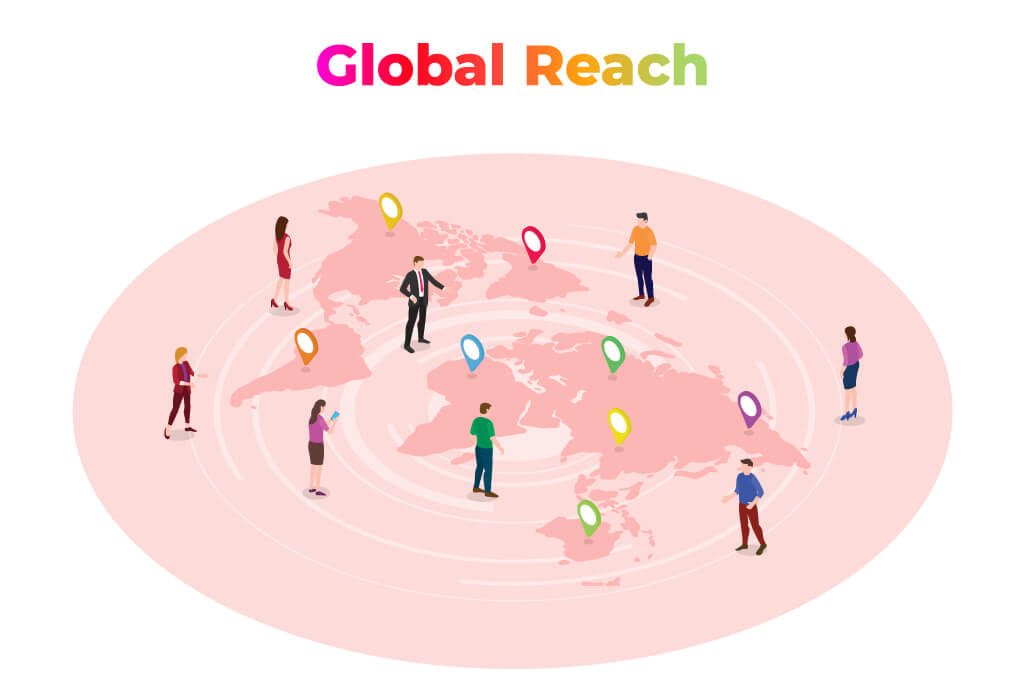 Sustainable Practices
It's true that the rising technological advancement has polluted the environment but not in the case of the event industry. Technology for on-ground event management also helps in reducing waste and promoting eco-friendly practices. With digital tickets, registrations, brochures, cashless payments, and others significantly contribute to environmental sustainability.
How Technology is Changing Event Management?
Technology is changing the core of event planning and executions to ease the management effort of organizers. With the right tools and digital solutions, all the traditional methods have seen a massive transformation. Here are some of the effective ways to state how technology is changing event management.
Online Registration and Ticketing
The first and foremost step in the event journey for the attendee is the event registration and ticketing process. By creating a specially designed mobile event app, or a microsite this can be turned into utmost convenience. The online registration and ticketing platforms provide an easier way to sign-up from anywhere at their own convenience. Also, it reduces the human effort, and paperwork needed. As the confirmation is also sent by email, message, or over WhatsApp.
Speedy Check-Ins
After the event registrations and confirmation e-mail the next step is to set up hassle-free check-in stations. For this facial recognition systems can be deployable. Also, mobile event app check-in functionality can be introduced or provide easy access with the scanning of M-Badges (sent via email after completion of registration and payment). So, in these ways, the technology for event management can be easier.
Virtual, Hybrid Events & Live Streaming
With live streaming of your on-ground event, you can reach a global audience. Also with virtual or hybrid event settings, this can be possible. For instance; if you are hosting a product launch event, accommodating too many guests in a physical event may not be possible. But by leveraging the hybrid event platform or live streaming technology you reach beyond geographical boundaries.
Furthermore, the event can also be recorded and shared afterward for social media engagement and other purposes. As there are multi-camera setups available. And multi-streaming capabilities which help in streaming the live feeds of your in-person event to multiple social networking sites in real-time.
Event Marketing and Social Media Integration
Before or after the event, reaching a wider audience to increase the overall ROI and achieving the marketing goals is still standing as the first priority for a lot of organizers. Technology helps in achieving all of those as automated yet personalized email campaigns, and digital advertising. Social media integration enables real-time engagement and boosts event visibility.
Artificial Intelligence and Automation
Artificial Intelligence (AI) is the new age of technology meant to improve on-ground event management. With automating tasks like attendee registration, chatbot support, and data analysis organizers can focus on other things to do. Also, this technology offers valuable operational efficiency leading to an improved attendee experience.
What are the Benefits of Technology in Event Management?
There are an array of benefits associated with the use of technology for event management. Here are some of the core advantages the event organizers can leverage with the deployment of the best event management technology.
Enhanced Communication
The first is improved communication with collaborative tools like; instant messaging, video meetings, webinars, and others. With real-time communication, timely exchange of information, and effective collaboration event management can be made qualitative. Also, rest with the minimized scope of any error.
Cost Savings
When the most important tasks like; registration, ticketing, check-ins, reduced paper usage, and others are automated it overall reduces the cost. With virtual meetings, remote collaboration, and hybrid event platforms uses traveling, the accommodation also contributes to saving costs.
Improved Customer Experience
Sending out personalized messages, offers, event updates, and others help in strengthening the bond. With CRM (Customer Relationship Management) tools and solutions, the organizers can enhance the customer experience with detailed information.
Scalability and Safe Growth
Undoubtedly every event organizer is looking forward to scaling their event but how? Well, with the use of many software-as-a-service (SaaS) products, and cloud-based services the collection of user details, keeping without jeopardizing the privacy concerns can be resolved. Also, flexible infrastructure provides the agility to accommodate business growth.
Furthermore, this solution comes up with endless security encryption protecting unauthorized access and cyber threats.
Streamlined Event Management
With the organizer's mobile event app, there are possibilities to keep track of all the workflows to ensure timely jobs are done. The innovative technologies for on-ground event management deployment also give you a competitive edge over others as you are staying up with the latest trends to give an extraordinary look and feel to all the attendees.
Keynote
Undoubtedly, the technology for on-ground event management works in making events smart and trendy following the latest tech-related innovations. Each and every event requires a different set of approaches and the best is what meets the goals of the host.
Furthermore, finding the best event tech suite companies who can offer end-to-end customization and have all the mentioned solutions and beyond that can be a bit difficult. But have got you covered. With Dreamcast, you can easily manage all your events with ease. As we are the largest event tech suite that offers full customization across all the solutions. Also, deploy our dedicated team to reduce all your event planning hustles. If you are willing to learn more about us. Book your free demo now.
FAQs
Can you get detailed analytics during the on-ground events?
Simply, yes by deploying the right solutions like RFID wristbands, facial recognition technology, cashless payments systems, and capturing responses via surveys, polls, and Q&As over the mobile event app and microsites. Capturing real-time analytics based on different purposes is possible.
Will technology for event management work for both large-scale and small-scale events?
Based on the unique requirements and goals of the event host on-ground event management technology works for both. From small to large, registrations, ticketing, engagement, interactivity, and real-time analytics are common things that are needed to make any successful.
How can event technology help in managing event logistics and operations?
With the deployment of organizers' mobile event app and cashless event systems (with inbuilt inventory management capabilities). Managing the event logistics can be possible. Also, the organizer's app can help in streamlining the operation and workflow of the event with real-time updates and analytics.
How can on-ground event management technology improve attendee engagement?
Live polls, chats, breakout rooms, social media walls, photo booths, gamification, and others can potentially improve attendee engagement. The deployment of such technology tools can help in achieving the targeted goals of attendee satisfaction and the long-term impact.
Can event technology be used for on-ground event marketing and promotion?
The use of social media walls, personalized notifications, post-event follow-ups, QR-based lead retrievals, event marketing, and promotions can be boosted. Also, using social media channels and advertisements for event microsites can possibly be achievable.
In-Person, Hybrid, Virtual
Create an Extraordinary Event Experience
Across All Event Formats