In-person events come up with a lot of strategic planning and execution, which takes a lot of time and effort. Well, it is also a true fact that no matter how much time you devote to planning and execution, in the end, it all comes down to what happened on that big day.
With time, a lot of changes can be seen, and for example, we all have witnessed how things were in the early 20s. But after the boom of social media, the accessibility of the internet, and lots of technological advancements, the event industry has completely changed. Nowadays, events can be hosted and attended both in-person and virtually. There are multiple formats of it, like virtual, on-ground, and hybrid events as well as different sorts of services and platforms like virtual event platforms, in-person event platforms, and hybrid event platforms respectively. Today here on this blog we are going to discuss in-person event best practices and how to utilise in-person event solutions to manage your event effectively.
In-Person Event Management and Best Practices
In-person events are considered the most preferable format of events, so the audience's expectations of this format are higher compared to virtual events. So, this is where in-person event solutions come into the picture. Nowadays, the in-person event also has the elements of the virtual world, and to fill the gap in the digital aspects of it like registrations and ticketing. There are many event practices you can incorporate with your next on-ground event, most of them are mentioned below;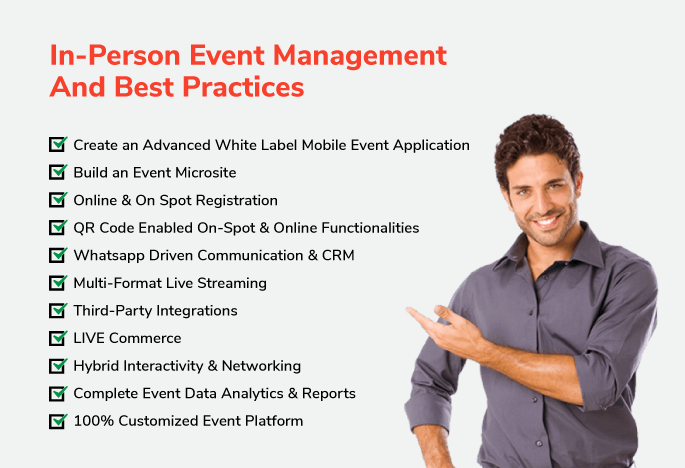 Create an Advanced White Label Mobile Event Application
You can create a mobile app for your event and share every update on it. Furthermore, you can add various logos, images, gifs, and an array of other content that can be helpful in promoting your brand. Your audience can find a lot of event features and information, so they can get a complete understanding of the event and data, including the date, time, speakers, session and a lot more.
Build an Event Microsite
A separate specially designed microsite for your event can be built. There you can provide various information for the easy comfort of your audience, which can capture the attention of your target audience. However, this microsite can be worked as a registration page and can find the complete schedule and itinerary.
Online & On-Spot Registration
No matter whether your audience comes under the category of online or offline, they can register for your event online. Additionally, they can go to your registration page and fill out the forum by providing their name and contact information (or filling in a customised field). Your in-person audience will receive the QR-based M-Badge via email, WhatsApp, or another mode of communication. They simply have to show the scanner while entering the event.
Moreover, talking about the on-spot event registration, this is like the same procedure but does not involved pre-registration. Anyone can reach the event venue and register themselves with ease if your event is managed by in-person event service providers.
QR Code Enabled On-Spot & Online Functionalities
You can create a QR scanner that can help your audience access complete information about the event. In this scanner, you can add links to your registration and landing pages, which can be helpful in diverting your audience. This way, you can boost the maximum number of registrations and log in to your event. They can access the complete data you and your speaker would like to share with your audience through this scanner.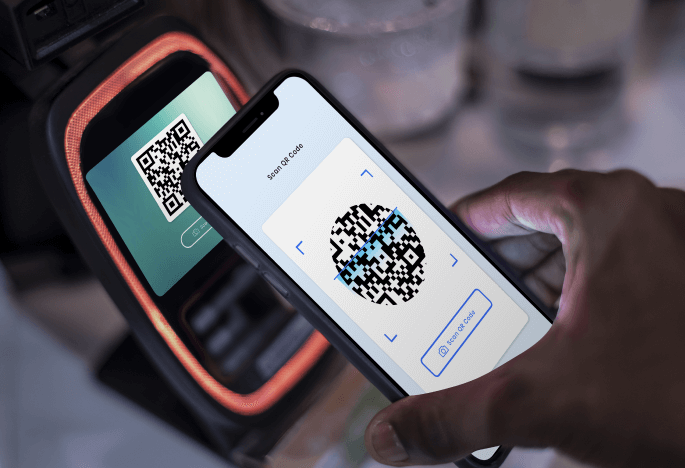 It is the QR scan code which is generated for the on-spot registrants and is similar to what we are discussing in the online registration.
Whatsapp Driven Communication & CRM
Make your users' journey easier by sending timely updates regarding the event via WhatsApp. WhatsApp is the easiest and most used app, so it will be easier for your audience to check the updates. Additionally, you can customise feedback forums or send other information messages to fulfil your marketing objectives and build interaction between your customers. These services can easily be customised as per the requirements and the needs of the host.
Multi-Format Live Streaming
You can take your in-person event online via live streaming, the online event solution will offer you multi-format live streaming that can be helpful in broadcasting your event over various platforms such as Facebook, YouTube, Instagram and more.
Furthermore, you do not have to spare separate time for every platform. You can simultaneously broadcast your event on various platforms, which leads to increasing your audience count without any problem.
Third-Party Integrations
The event host can integrate any application or software into your events, like Paytm, PayPal, or your partners so that your audience can benefit from it as well. This is a fully customised integration service and saves a lot of cost for the software development and easily allows you to add as many features as you want.
LIVE Commerce
There are many things you can do with your in-person events. As discussed earlier, you can make an app or microsite for your events, and now you can use that for commerce as well. If your in-person event is a trade fair or expo, then you can make the products available on the microsite you build or direct link to your website. With the help of third-party integration, you can add a payment solution to it.
Hybrid Interactivity & Networking
There is an opportunity for you to create hybrid event dynamics with the help of the hybrid event platform in the on-ground event. In this way, the audience will easily connect, interact, network, and engage with each other. Additionally, all your virtual event attendees will not feel the sense of attending the event in-person in terms of networking.
Complete Event Data Analytics & Reports
Data and analytics are two important components, and with the help of an in-person event platform, you can gather and collect a lot of data. In the physical forums or registration, it is hard to keep all the information saved but by using our services you can simply migrate the information of your attendees into your platform.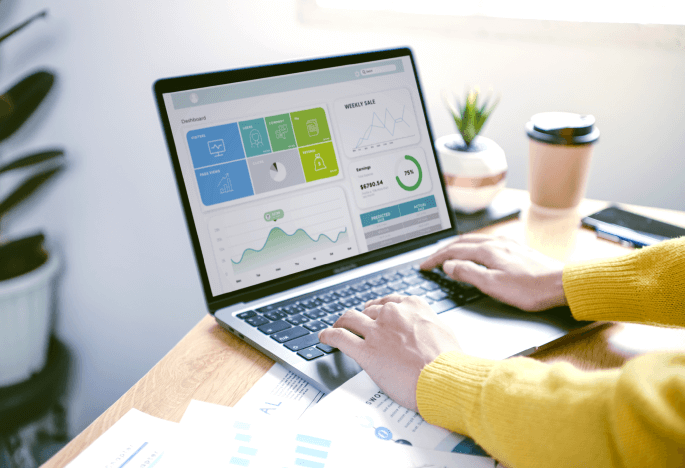 Additionally, you can keep an eye on all the data and metrics related to your events, like the number of registrations, attendees, and others.
100% Customized Event Platform
The benefits are countless, and making a customised event platform is the best option. We at Dreamcast can help you build a seamless interactive and fully customised website as per your needs and requirements.
Keynote
No doubt, we are entering into a virtual world and using its components in the event is somehow necessary to make the procedure easier. There are many objectives which we at Dreamcast fulfil to make your event memorable among your audience and lower your effort with our in-person event management solutions. All the above mentioned services can be used in your event to thoughtfully give the audience a seamless experience beyond their expectations. Don't wait for too long, just get in touch with us for a demo today.
In-Person, Hybrid, Virtual
Create an Extraordinary Event Experience
Across All Event Formats