The idea of sitting back comfortably and organizing a thriving Virtual Trade Fair might seem bizarre, but this is an innovative truth of the modern event industry and businesses. The era of virtual events has come and is here to stay. Like all other on-site events, virtual trade events have also shifted to virtual event platforms and only to create the best results! However, it takes a blend of countless features and elements to ensure the success of any virtual event.
Let's dive into the sphere of Virtual Trade Shows and gain a better understanding of all its significant aspects.
What is a Virtual Trade Fair?
A Virtual Trade Fair is an interactive simulation of a physical trade show into a digital format, hosted over a Virtual Event Platform. Organizing a trade event on a virtual venue instead of a physical one has numerous advantages that add to the value of online events. The innovative features of a 3D immersive platform effectively bring an on-site trade fair to life over a screen where attendees can enjoy all its benefits.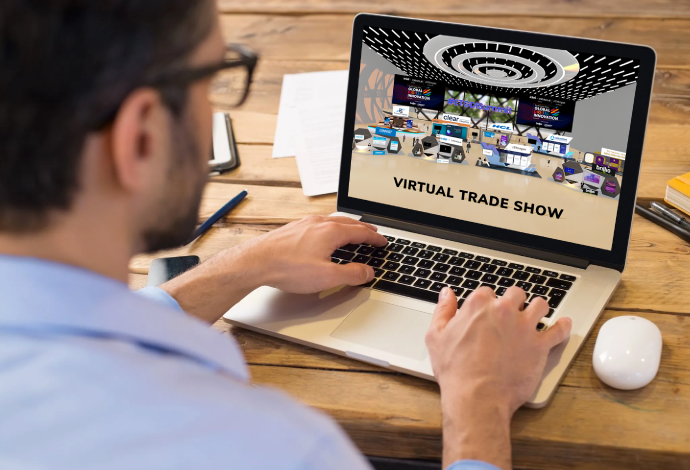 An Online Trade Show is not just powered by a dynamic environment but also by exceptional, engaging features that enhance your attendees' event experience. Virtual trade exhibits, shows, or fairs are increasingly becoming the first choice of marketers and exhibitors around the globe. The largest of enterprises are opting to host online fairs, owing to the countless benefits provided by advanced virtual event platforms. Apart from the increased participation, greater return on investment, valuable data collection, minimized expenses, and the capability to analyze the event's success, a virtual trade exhibit is here to set a whole new experience for your participants.
Let's move ahead to explore some of the top benefits of organizing a Virtual Trade Fair.
Top 5 Benefits of A Virtual Trade Fair
#1 Global Reach
Virtual Trade Shows help you attract attendees from anywhere around the globe, resulting in a maximized reach and increased participation. The world is becoming a global village with people getting the opportunity to consume the same information from their remote locations in real-time. All your participants need to engage in the trade event activities is a device with strong internet connectivity, and an unforgettable event experience is available to them within seconds.
In-Person, Hybrid, Virtual
Create an Extraordinary Event Experience
Across All Event Formats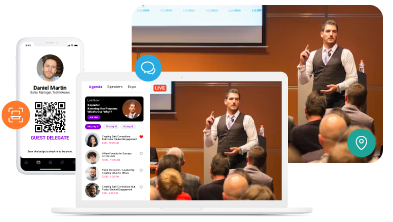 #2 Cost-Effective
Organizing an on-site trade fair event involves countless expenses and excessive efforts. From booking accommodation and travel tickets to arranging resources and logistics, there are many costs and responsibilities an organizer has to deal with. However, while hosting a virtual trade show event, all of these requisite expenses are eliminated. The best part is, reduced costs don't mean a reduction in significant elements to ensure the success of your event. In fact, as you shift your physical events to a virtual venue, the availability of valuable event aspects is increased.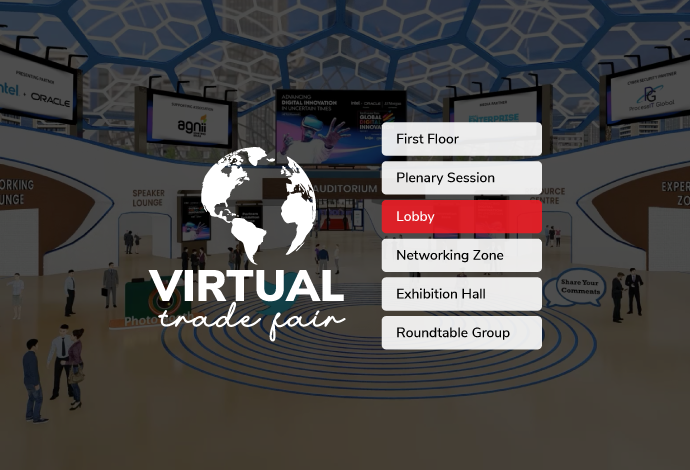 #3 Eco-Friendly
The augmentation of environmental calamities is unknown to none of us, and it's high time that we begin taking the required initiatives to save mother nature. Reports show an average of 5000000 tons of waste is produced in physical trade events every year. Therefore, taking your Virtual Trade Fair online is one of the best eco-friendly alternatives. It does not only reduce the use of waste-generating resources but also helps in reducing your attendees' carbon footprint.
#4 Higher Return on Investment
Hosting Online Trade Fairs help you generate an improved return on investment. An efficient virtual event platform helps the exhibitors and organizers in further strategizing their future events, based on the data provided to them. A virtual event can not only help you with the management of your costs but also use valuable KPIs to ensure a greater return on investment.
#5 Amplified Accessibility
Shifting to the virtual event format has enabled the attendees to experience the facility of unparalleled accessibility. A virtual trade expo can be accessed by your attendees from any remote location, browser, and device without any restrictions, unlike a physical event. Apart from this, the content you present at your trade exhibit is also highly accessible to your attendees for a longer time than a physical event. Also, after your attendees are done accessing the online trade booths and demos, they can further connect with you seamlessly.
All of this is made possible only with the help of innovative features rendered to you by an excellent virtual event day. Let's move ahead and explore the most beneficial features of virtual trade events.
Best Features of A Virtual Trade Fair
#1 3D Immersive Set-Up to Entice Your Audience
The virtual format of your trade expo provides you the opportunity to create a long-lasting impression on your participants. The idea of enabling an efficient simulation of physical trade events might sound bizarre but, the 3D immersive features of the virtual venues have made it seamless to host a virtual trade expo. To host a successful trade show, designing a visually enticing landing page, virtual locations, and interfaces is one of the most efficient ways.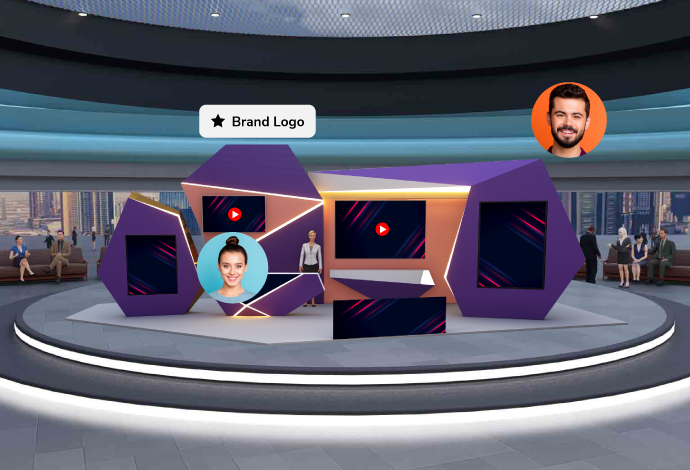 #2 Pop-Up Notification to Keep Your Attendees Posted
The feature of pop-up notification plays a similar function as audio announcements on a physical event. It helps you keep your attendees updated, informed, and attracted to the event.
#3 Customizable Virtual Trade Show Booths
The customizable virtual trade booths enable branding possibilities for your exhibitors. The custom designs at your virtual booth can not only fulfill your exhibitor's promotional goals but also entice your attendees to engage in the event.
#4 Excellent Engagement Tools
The excellent engagement tools provided by the virtual event platforms are one of the many reasons behind the increasing prevalence of virtual trade exhibitions in the event industry. By taking your event online, you can provide your attendees with interactive and engaging features like gamification, attractive booths, breakout room, entertainment sessions, live chats, etc.
#5 Splendid Sponsorship Possibility
You can add more value to your event by bringing worthy sponsors on board. A virtual trade show gives you an excellent opportunity to keep your attendees involved in the event through countless sponsorship tools. This way, you can not only help your sponsors in meeting their goals but also maximize the reach of your event by organizing multiple sponsored sessions. These sessions can include sponsored meals, sponsored breaks, sponsored swag bags, sponsored coffee, etc.
#6 Interactive Networking Opportunities
Gone are the days when networking opportunities were a matter of concern in virtual events. The skilled event planners have developed many innovative networking tools to elevate your attendees' event experience, available for you over a virtual trade exhibition. Be it AI matchmaking, advanced search filters, B2B meeting scheduler, or networking lounges, a well-resourced virtual venue can provide your attendees with all top-notch networking solutions.
#7 Collect Valuable Data and Reports
The collection of valuable data like attendee footprint, impressions, engaging hotspots, feedback, analytical reports, etc., plays a significant role in ensuring the efficiency of your virtual trade exhibit. With the help of these accumulated data, you can not only analyze the efficacy of your event strategies but also ensure the efficacy of your future events.
#8 Keep Your Trade Show Running
Can you imagine an on-site trade expo lasting for an indefinite time? The answer is obviously no. It will not only require extra effort but also cost you a fortune. However, you can let your virtual trade fair run for as long as you want. Even after the live feature is over, your online trade exhibit can be accessible for your target audience, and organizers & exhibitors can still receive notifications regarding the queries of people visiting the booths.
These features of an online trade fair undoubtedly make it exceptional from any traditional form. Let us now move forward to comprehend the process of hosting a virtual trade fair.
In-Person, Hybrid, Virtual
Create an Extraordinary Event Experience
Across All Event Formats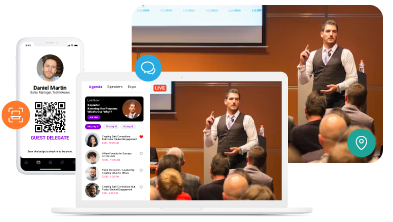 How to Host a Successful Virtual Trade Fair?
Here is a quick checklist to organize an excellent Virtual Trade Show!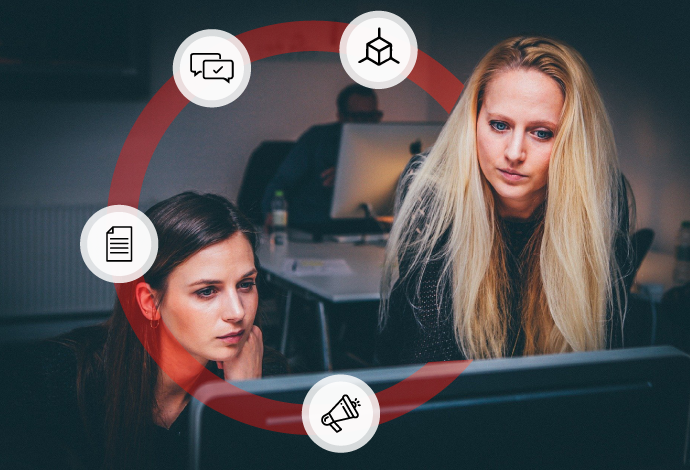 #1 Know Your Goals
Understanding your goals can help you in so many ways throughout the online event. Predefined goals and objectives can not only ensure the seamlessness of your show but also help you in opting for the most suitable virtual event platform.
#2 Choose the Most Suitable Virtual Trade Show Platform
Opting for the right virtual venue is the next vital step in the process of hosting a successful trade show. Ensure that you choose the platform that provides you all significant networking, engaging, interactive, and customizable tools useful for your trade event.
#3 Create a Definite Structure
A definite structure will form a flow for your event, further ensuring a smooth flow while the execution day comes.
#4 Create Compelling Content
Designing effective content will take you closer to your attendees and help them get closer to your exhibitors and sponsors. Therefore, deliver quality content to your attendees in all formats like images, videos, audio, or graphics.
#5 Add More Value to Your Event
Bring valuable sponsors, exhibitors, and speakers to your virtual trade expo in order to add more worth to your event. Also, make use of all the engagement and networking tools, to further amplify the success prospects of your event.
#6 Promote and Market the Show
The efficient promotional activities and marketing strategies can take your virtual event to greater heights of progress. You can use top ideas like social media contests, email marketing, word of mouth, landing page promotions, etc.
#7 Test the Event Tech
It is very significant to test the event technology before the big day. Make sure that all the tools and features are functioning properly before your trade event goes online to avoid any possible technological error or glitch.
#8 Collect Feedback!
Accumulate valuable feedback from your attendees to understand their experience at your event and the efficacy of your strategies.
Host your Virtual Trade Fair with Dreamcast, and we guarantee you will receive only positive feedback!
In-Person, Hybrid, Virtual
Create an Extraordinary Event Experience
Across All Event Formats