Are you the one who wanted to drive traffic at your next event or simply wanted to smooth the event attendee journey? No matter what in recent times the mobile app for events is known to do both as it can be used to drive traffic, and engagement and overall smooths down the procedures.
In this era, we all have witnessed the rising use of smartphones for a variety of purposes. If you are also supposed to host an in-person event or hybrid event and are thinking of not building a mobile app for events then you might be missing something to a lot of things. As smartphones now have the internet and for any purpose, the first preference of anyone will be mobile phones, even if it comes to joining a conference or a virtual event.
The benefits are endless in regards to custom event apps as from registrations, and ticketing to driving networking and engagement all can be done easily. The professionally built mobile event app will serve its purpose of being the bridge between virtual and in-person events. Additionally, keep the audience engaged, and informed will the details and information you put over the mobile application.
Here in this blog, we are going to thoroughly discuss the benefits, uses and how mobile apps for events can be the best investment in your event. So, let's get started;
What are Mobile Event Apps?
Every smartphone owner uses a lot of applications on their smartphone all for different purposes. And if you give it a thought we all are surrounded by mobile apps and are purely independent of all of those. From booking a cab to the office to ordering groceries or other things. So, it was apparent to see mobile apps for events, as the continuous development towards digitalisation makes a lot of transformation. In general, custom mobile apps for hybrid events let the audience and host connect to each other through their smartphones.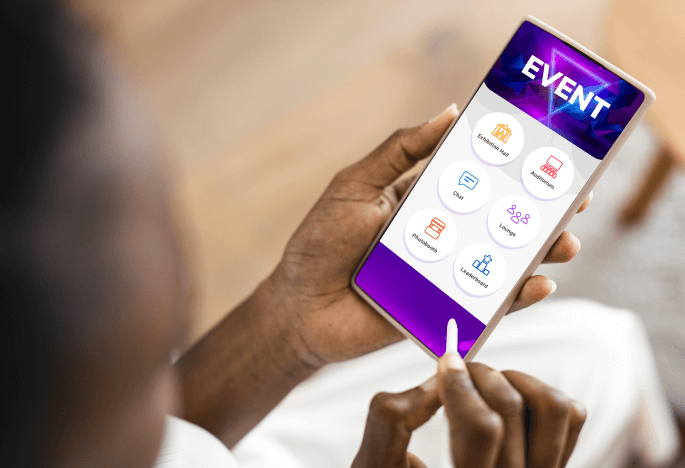 Every event app is customized and built on the particular theme of the event format. The host later put the app on any app store so that people can download it. The participant can access the event through these apps or get insights into everything the host wanted to let them know. Generally, the event app has all sorts of functionalities and features participants can look for and are optimized to run smoothly on phones.
Well, there are quite some differences in the different format of event apps, and serves their purpose. For instance; a mobile app for hybrid events can have different functionality, as it can be used to access the whole event or the conference. Whereas mobile apps for on-ground events work differently they can be used for registration, ticketing to get information about the event, and all other updates.
The Ultimate Benefits of Mobile Apps for Events
Engagement is essential, not just during your event but also before and after. The mobile event works as the bridge between the host and the event participants. Since managing both on-ground and virtual guests is necessary for a successful event and thus the hybrid events here add another layer of complexity. So, to make all that work smoothly here we are diving into the benefits which will surely clear the picture about how mobile app for events can be worthwhile in any event.
Let's look at all the benefits the host and participants can take from the relevant features. Here are some of the justified points you must need to count on.
Make the Event Mobile Device-Friendly
The rising demand and innovation for innovative gadgets are there in the world leading to new launches of devices every day for say. Every device has its own interface, size and screen resolution capability. Same in the segment any application working on a desktop or laptop device can be different and not be like in mobile. So, the one common rule is to optimize your whole event with a mobile device or make the event app responsive.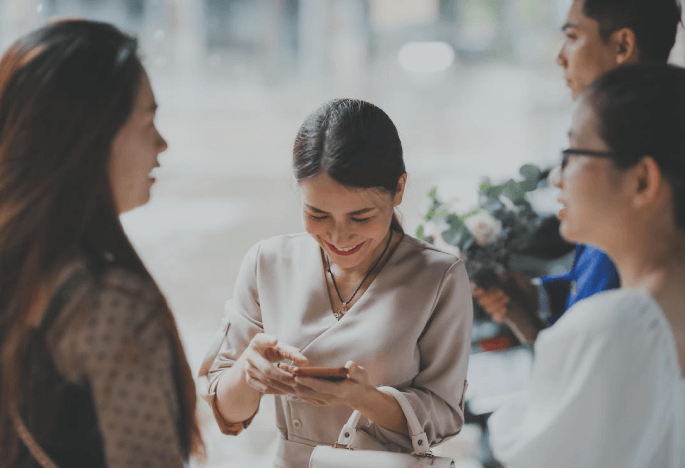 Build a mobile app for events that works smoothly and offers an appealing visual experience to the user. Additionally, build something that works in every smartphone (no compatibility should be arrived at whether it's hardware or software). This way you will gather more audience who have computers and smartphones as now with mobile applications you give no reason to leave your event.
Helps in Easy Set-Up of Event
A custom mobile app for in-person events helps in the overall set-up of the event easily. As over the application you can share all the information details about the event including day, date & timings. Additionally, you can put other necessary information regarding what the participants can expect, activities, speakers, guests, sponsors and others.
Furthermore, these custom mobile app for events can be useful in altering chat settings and can be used as a chat medium to clear any query of the user. However, the registration process can be done via this app (usually we do it while booking movie tickets or any others). The registration information later can be accessible by the event host too in the backend.
Mobile Event App Lets Exhibitors Customize Booths
In terms of customisation, the mobile app for hybrid events works the best. Here the exhibitors can leverage the freedom to customize and put the products, documents, products or any other information as per their needs and can set up an exhibit booth. These booths can serve multiple purposes: the exhibitors can showcase their offerings to the participants while the event participants can keep eye on different things. Additionally, the exhibitors can do the required changes by just using smartphones.
Send Push Notifications With Mobile Event Apps
Push notifications are important and make it feel good to the audience in making the connection. Over the mobile event application, the host can send push notifications and any new updates or reminders about the event. This is a good practice as it makes the participants' user journey easier (when you know something earlier your job is easy, just simple as it is).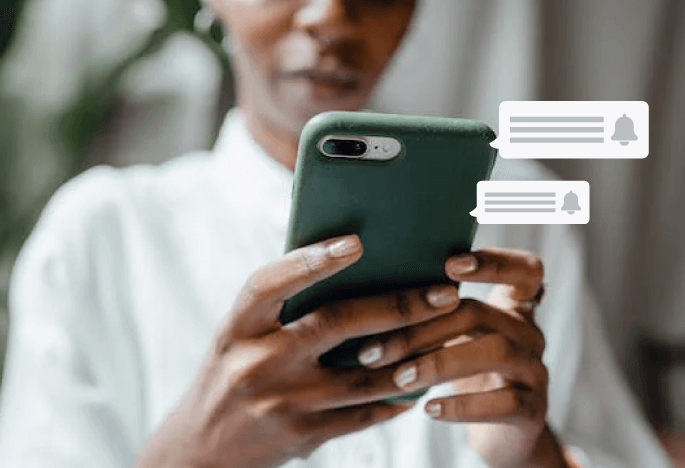 Mobile App For Events Helps In Getting More Visitors
We all use smartphones and there is no need to study any survey as with common sense we can say there are much more mobile users than any laptop or desktop. This fact is an opportunity for you, as creating a mobile app for events can be significantly moved to cater for mobile users. This way you will surely get more audience compared to web-based sites.
Be Environmentally Friendly
As a business, if you take initiative in reducing pollution and conserving the environment it's a good thing for your reputation. And by creating a mobile event app you can eliminate paper and plastic use and replace all of them with e-tickets and other itineraries or documents online. This will also save you costs and extra effort, like deploying extra men for these work and printer costs.
Mobile App For Events Encourage Communication
The app will help the audience to interact with the host and exhibitors through chats or networking lounges. This way both have the opportunity to expand their network which is one of the important aspects of any event. Thus, the app gives both interactions with interactive engagement.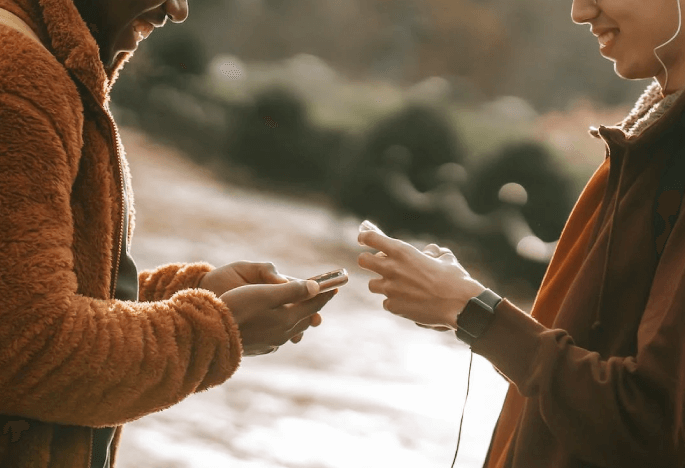 How to Make the Most of Mobile Event Apps at In-Person Events With Dreamcast
No matter whether you are planning a hybrid or an in-person event the mobile app is useful. With the help of such apps, you can let the attendees register and can keep tracking the activities to get valuable insight. Additionally, by customizing the event mobile app you can implement gamification leading to fun engagement.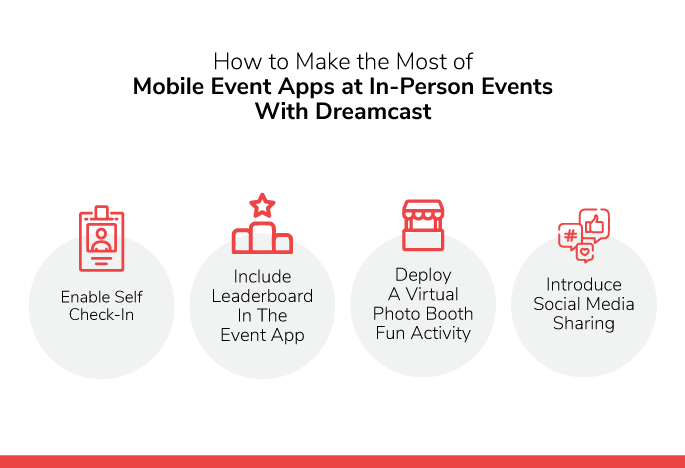 Enable Self Check-In
The participant can register themselves via the app while getting a unique QR coder or M-badge which can be used to identify at the entrance with the help of a zapping machine. This way the host can get insightful attendees' data and easier entry for the audience.
Include Leaderboard In The Event App
To enhance engagement and keep participants entertained, deploying gamification is relevant. And when anyone plays those games they can see their results or points on the leaderboard and verify their achievements.
Deploy a Virtual Photo Booth Fun Activity
A photo booth can work both in virtual and physical events as the [articulated here can submit their pictures using the application. And people can vote on them. This way you can create another activity that will surely attract more engagement.
Introduce Social Media Sharing
We at Dreamcast customize the mobile event app with a social media share button where the participant can share their picture over social media with just a click. This approach helps you to encourage the participants to get involved more while you get the free promotions. These mentioned benefits are one of the reasons why you must build a mobile app for an event. But hustling in finding the right event tech solution provider who can make your event seamless while building a mobile app for you. Then Dreamcast is here to help you. Wanted to know more about how it will work for you, book your free demo now.
Must-Have Features For Mobile App For Event
Now that you know the benefits of mobile event apps here are some of the must-have features for the mobile app for events.
1. Event Schedule
Mobile apps for events must have an event schedule or event agenda feature. If you get a custom Mobile event app that has a scheduling and agenda feature you will not need a separate event agenda app for maintaining the schedule and agenda of the event.
2. Interactive Maps
Maps are important for both on-ground events and hybrid events and with the help of your custom mobile event app, you can offer your attendees navigation through the event venue. Maps are a must-have feature for event apps. Create a mobile app for in-person events or a mobile app for hybrid events that have a map or navigation feature.
3. Push Notifications
If you are getting a custom mobile event app make sure you are choosing the one that offers a push notification feature. Push notification is a must-have for mobile event apps because it allows event organizers to interact with the attendees and send all the necessary updates.
4. Speaker Profiles
The next must-have feature for the mobile event app is the speaker's profile. With the speaker profile feature your audience will be able to know more about the speaker and if there is more than one speaker at the venue they will be able to decide who's a session they want to attend.
So your mobile app for hybrid events or in-person events should have a speaker profile feature.
5. Personalization & Branding
Mobile apps for events should have scope for personalization and branding. Your app should have a white label feature as it is crucial for personalization and branding. Your mobile event app helps in boosting the brand presence.
6. Event Registration & Ticketing
Mobile apps for in-person events should have registration and ticketing features. It will allow you to take your on-ground event digitally.
By offering tickets and registrations by mobile event app, event organizers can attract more audience to their event. Mobile event apps make the process of registration easy for event attendees. They can simply register, pay and get their event ticket on their mobile device.
7. Analytics Dashboard
An Analytics dashboard is also a must-have feature for mobile event apps as it offers event organizers insights into the event. With the help of an analytics dashboard event organizers will be able to keep track of their event performance.
8. Third-Party Integration
Third-party integration is also a crucial element for mobile event apps. With third-party integration events, organizers can integrate social media platforms, payment platforms, social walls, etc into their mobile event app.
Frequently Asked Questions
What is a mobile application event?
Mobile app for events is a custom mobile app that helps event organizers host and plan events with the help of an app. These apps allow organizers to offer online tickets, and registrations, send updates, reminders, etc.
How does a mobile event app work?
Mobile event apps act as a tool that helps event organizers in coordinating and connecting with the attendees, help them interact with attendees through the app, and make the process of event planning and management easy.
Why is Mobile Event Apps important?
Mobile event apps are important because they allow event organizers to host a complete online event, attract more audiences, and generate better revenue.
How can mobile apps improve events?
Mobile apps for events improve the communication between event organizers and attendees, help organizers offer robust customer support, boost brand awareness, etc.
What are the characteristics of mobile apps for events?
Some of the important characteristics of mobile apps for events are compatibility with android and IOS, fast loading, appealing UX/UI, security, etc.
In-Person, Hybrid, Virtual
Create an Extraordinary Event Experience
Across All Event Formats