With so many twists and turns, the scenario has shifted again. Now, going live is the option but not the most popular one.
Hybrid Events still maintain themselves in the favorite choice of the event sponsors as well as the audience when it comes to hosting events. However, there are many things to consider before actually planning to host your Hybrid Event.
This blog is all about letting you know the best formats to choose from for hosting your Hybrid Event, salient highlights of these events as well as interactive hybrid event ideas to turn your ordinary session into a highly engaging one.
Before Going Hybrid Let's Explore What It Is 
It is very important to know what makes Hybrid Events popular among other virtual events. But before that, we should be knowing more about Hybrid Events.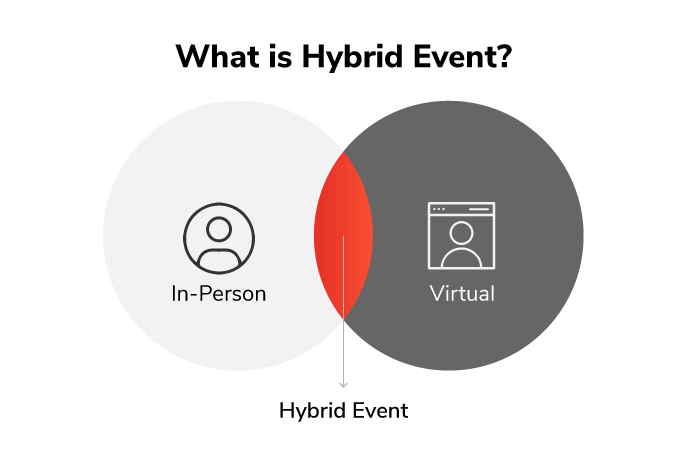 Hybrid Events are a combination of  On-ground events with the special presence of a virtual audience as well. These events include both types of audience participation- in-person as well as virtual. Hosting these events is beneficial for those ones who want to attend your event and somehow won't be able to make it.
It is a misconception that hybrid events thus only require a virtual event, streaming provider. In Fact, they require all types of planning and strategy that are made to host a successful on-ground event. We'll cover in detail about features and importance of hybrid events for getting maximum attention from the audience.
Hybrid Event Format – Let's Dive Deep and Discover 
A true Hybrid Event experience includes special elements like – the addition of keynote speakers for both types of audiences, a virtual presence with a physical setup, and much more.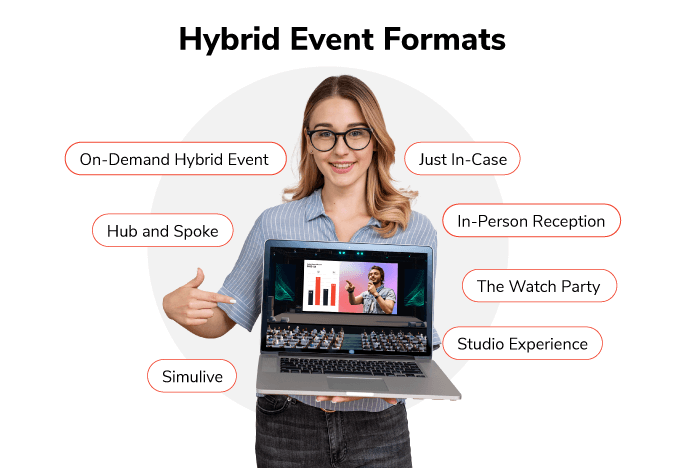 In addition to this, here are some of the popular Hybrid Event Formats which will surely make your selection process easy and convenient.
Just In-Case 
Basically, these events happened to be in-person with proper execution and planning. However, logistics should be taken to the virtual venue as per the event requirements. In addition to this, this type of Hybrid Event is not suited for many occasions with small space for the virtual presence 
Trending Hybrid Event 
This type of event is most popular because of the freedom as well as space that is provided for the audience to record and take pictures of the live event performance. In addition to this, attending virtually these events is free of cost making it very convenient and affordable for the audience.
On-Demand Hybrid Event 
This is the perfect Hybrid Event example for those audiences who want to watch the event afterward. It is majorly an in-person event that is recordable and playable post-event.
In-Person, Hybrid, Virtual
Create an Extraordinary Event Experience
Across All Event Formats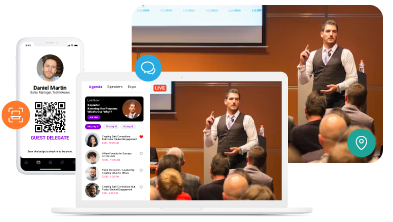 In-Person Reception 
Most part of the event takes place virtually. However, the reception along with other networking opportunities happens to take place in person. It is mostly for that audience who wants the essence of in-person while going virtual.
Hub and Spoke 
In these types of Hybrid Event Formats, the Hubs represent the location at which the actual event is going to take place. In addition to this, Spoke is defined as a combination of mini-events that includes multiple watch parties.  These events are good for creation of the networking opportunities as well as our own content.
Simulive
This type of event suits those audiences who don't want to go 100 % virtual. It includes prerecording the in-person event section and presenting it to the virtual audience without any edits whatsoever.
The Watch Party
This type of event tends to eliminate the geographical barrier limitations as it involves in-person several groups of people watching a live session speaker. It also increases the chances of wider audience reach with no travel or accommodation issues whatsoever. 
Studio Experience
This type of hybrid event format focuses more on providing a more personalized experience. The speaker showcases himself in front of a virtual audience or even a small crowd as well.
When Should You Think of Hosting Your "Hybrid Event"
Hybrid Events – Striking Features & Importance 
Features 
Here is a list of some most popular features of this platform –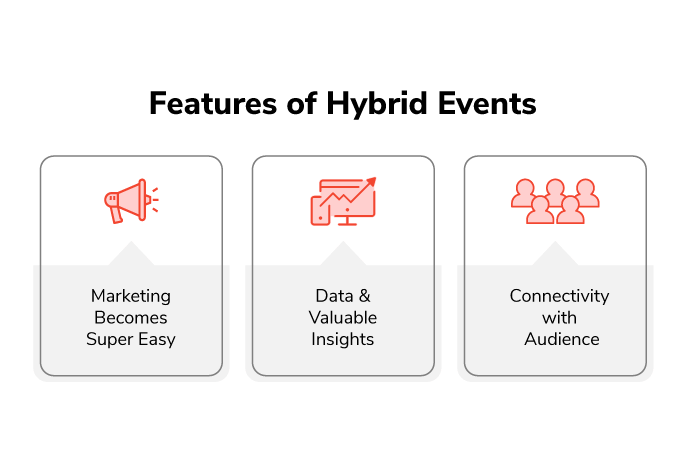 Marketing Becomes Super Easy 
As hybrid events include both types of audiences, it will be feasible for the sponsors to create brand awareness of their product or service at the global level. Additionally,. You can also create a landing page that shows all the relevant information about your event to the audience.
Data & Valuable Insights 
With the help of some best hybrid show platforms, you can create a fabulous registration page. As registration pages are the face of your event before its actual happening. Make sure to provide some glimpses of your event on the page to gain more attention from the audience.
Connectivity with Audience
While hosting your hybrid event, your chances get maximized to reach out to the maximum audience. This is the power of these events to gather more viewers with the implementation of features such as live polling, handouts, and much more.
Importance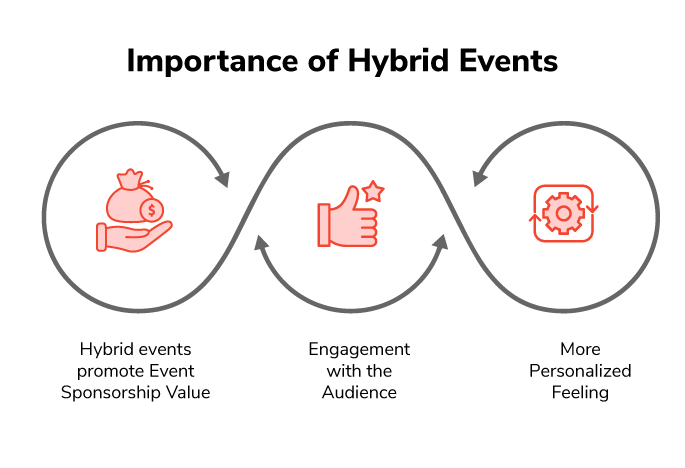 Hybrid events promote Event Sponsorship Value 
Ultimately hybrid events open up gateways for both types of audiences for the best marketing of your product or service. This is very essential as hosting a small part of your event in a virtual environment encourages lead-generation activities and revenue sources.
Engagement with the Audience 
This is the prime driving force for the hosting of these events. Both medium and small enterprises are switching towards these hybrid event platforms for the creation of brand awareness and interacting with the target audiences in a more comprehensive way.
More Personalized Feeling 
As the virtual component builds more connection with the live audience by providing the streaming without any edits or polish, there are higher chances of the content being promoted to other channels as well.
In addition to this, it is very easy to share the link to the event on different social media platforms such as Facebook, Instagram, etc.
Handy Tips For a Successful Event 
The success of your event ultimately depends on the proper execution of plans and cross-checking of the event components during the event in order to avoid common mistakes most organizers do.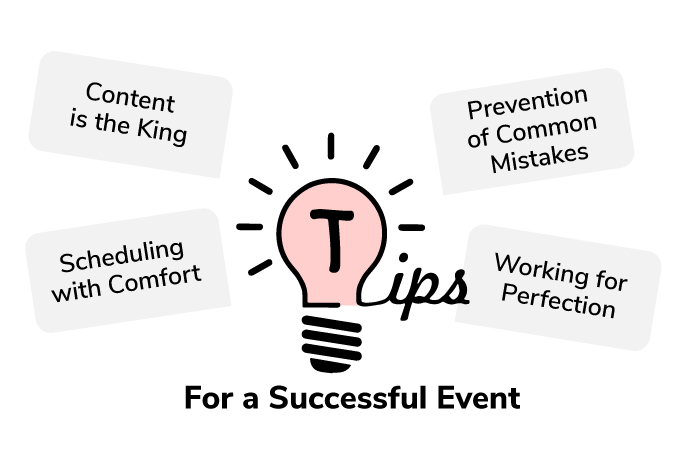 Here are some handy tips for making your Hybrid Event more interactive and maximum engaging – 
Content is the King 
Always keep in mind that keeping the audience engaged for long hours during the Hybrid Event is one of the toughest jobs for the event organizers. This can only be possible with the help of some best Hybrid Event Platforms.
For making better engaging content, one should focus on the smoother translation of the same over the video. It also includes conducting Live Polls, real-time feedback, interactive Q & A sessions, and much more.
Scheduling with Comfort 
There is no doubt that Hybrid Events offer relaxation in attending them from anywhere across the globe. But a major challenge arises when it comes to matching it according to different time zones. This involves proper planning and execution strategies.
With the implementation of some best Hybrid Event Practices, the same session can be offered multiple times for the sake of the convenience of the audience attending from different places.
Prevention of Common Mistakes
After all, Hybrid Events are all about balancing everything at one go. You have to deliver the same content to both physical as well as virtual groups, making sure the delivery is smooth over the video and without any delay.
However, you actually don't want your event to look different for both of your audiences. So make sure to provide relevant content to both of your audiences.
Working for Perfection
Every event can be made successful by keeping solving small errors and trying hard to touch everything for perfection. It includes making different strategies for both types of audiences which is very crucial for desired output we are expecting.
In addition to this, the objective behind hosting a Hybrid Event should also be clear before actually starting working on it. This ensures getting an instinct of what the audience is expecting from you.
As said before, it is far more difficult to keep an attendee's attention in front of a computer monitor than it is to hold their attention while they are present physically. It's possible that your virtual attendees will only be able to join the meeting for an hour or two at a time, or that they will need to take more breaks throughout the day.
Final Thoughts 
Hosting hybrid events offers tremendous opportunities for those ones who are ready to explore this semi-virtual experience. Undoubtedly, it ensures maximum audience reach as well as high engagement during the ongoing session.
From the audience's point of view, these sessions offer both types of experience to choose from. If they are facing time issues or venue issues they can attend the event virtually, if they want in-person exposure to the physical world like before they can attend it another way. There are numerous Hybrid Event Formats to choose from. Additionally, selecting the best hybrid show platform which supports low latency streaming is a boon for the event sponsors.
In-Person, Hybrid, Virtual
Create an Extraordinary Event Experience
Across All Event Formats