The fashion industry is constantly evolving, and one major change that has been seen in recent years is the shift in the way events are executed. With the rise of digital technology and the need for remote connections, hybrid fashion events have become more prevalent. These events combine in-person and virtual elements to provide a unique and engaging experience for attendees, and they are shaping the industry for the better.
Traditional fashion events lack a number of advantages that hybrid events possess. They improve accessibility to a wider audience, reduce expenses for attendees and marketers, and provide attendees with more possibilities for involvement. In this blog, we will discuss the benefits, difficulties, and prospects of hybrid fashion events, as well as the reasons why they're gaining popularity in the fashion business.
What are Hybrid Fashion Events?
Hybrid fashion events integrate online and in-person elements to provide participants with a rich and interesting event experience. These events allow organizers the option to engage both online and in-person attendees while showcasing fashion items, collections, and trends. A hybrid fashion event, for instance, may have a real runway show, pop-up stores, and other interactive activities that guests can participate in person. A virtual element of the event could also be included, enabling visitors to watch the runway show online, take part in the interactive chat, or make purchases through a platform.
"The hybrid fashion event model offers the fashion industry a unique opportunity to increase its impact and reach. While retaining a meaningful in-person experience for participants, marketers may convey their stories and products to a worldwide audience through live streaming and other digital components."
It may also be a successful strategy to improve accessibility, cut expenses, and provide participants with a distinctive and engaging experience. These events have become increasingly popular in recent years due to the advances in technology and the need to adapt to changing consumer preferences and market conditions.
Benefits of Hybrid Fashion Events
The benefits that hybrid fashion events provide make them a popular choice for both businesses and attendees. Some of the main advantages are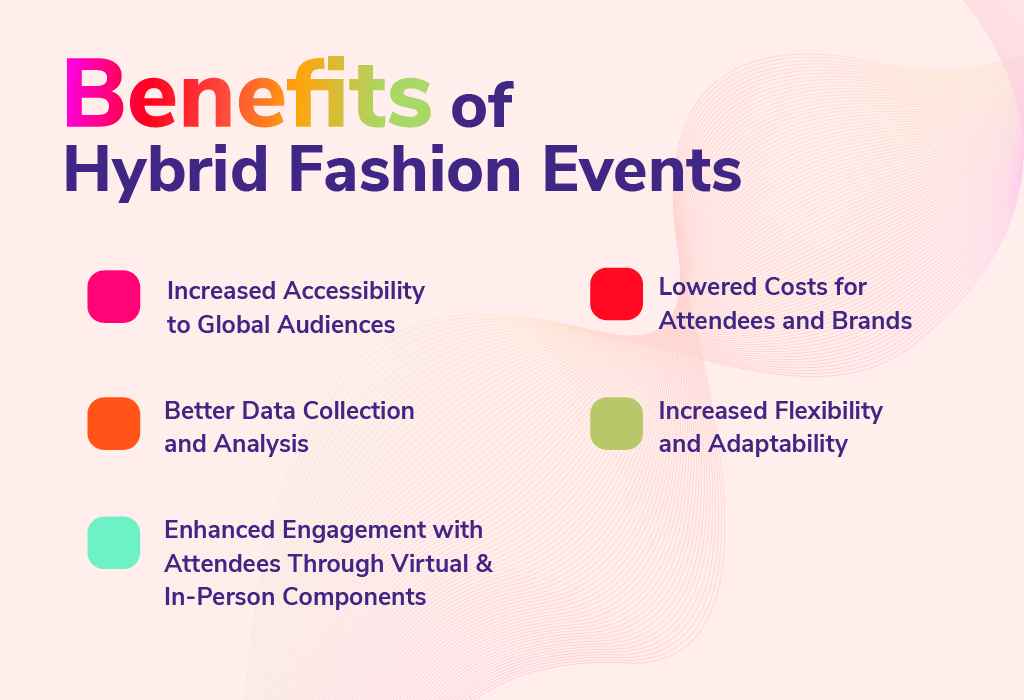 Increased Accessibility to Global Audiences
The ability of hybrid fashion events to connect with a larger audience is one of their most important benefits. Participants from all around the world can take part in the event through virtual components even if they are unable to attend in person. Most event organizers use platforms in order to host hybrid fashion shows. It allows them to reach a wider audience without geographical restrictions. The reputation of companies may be enhanced, attention can be increased, and a larger client base can be attracted with the assistance of this increased reach.
Lowered Costs for Attendees and Brands
The fact that hybrid fashion events may be more affordable for both consumers and companies is another advantage. Attendees may take part in the event from their homes or places of business, saving money on travel, lodging, and meals. With the help of a hybrid event registration platform,  attendees can access tickets from any place.  Additionally, brands save money on venue rentals and other expenditures related to conventional in-person events.
Enhanced Engagement with Attendees Through Virtual and In-Person Components
Hybrid fashion shows provide unique opportunities for interaction with attendees. The virtual components allow for real-time interaction and engagement, such as live chats and Q&A sessions, that can't be replicated in a traditional in-person event. When compared to a virtual event, the in-person components offer a more immersive and compelling hands-on experience. By combining both components, hybrid fashion events can offer a comprehensive and satisfying event experience for all attendees.
Increased Flexibility and Adaptability
Compared to conventional in-person events, this type of event offers more flexibility and customization. For instance, participants can still take part digitally if unexpected circumstances prohibit them from physically attending the event. By adjusting just the virtual aspects of the event rather than the full structure, brands may also adjust to shifts in the market, customer preferences, or other external factors.
Better Data Collection and Analysis
It allows event organizers to collect and analyze more data than traditional in-person events. Virtual components of the event allow for the easier and more comprehensive data collection on attendee behavior, such as how long they stay engaged with certain content, which products they show more interest in, and what parts of the event they skip. This data can help brands to better understand their audience, tailor their marketing and promotional efforts, and optimize future events for greater success.
Future of Hybrid Fashion Events
Hybrid fashion events are anticipated to take on a bigger role as the fashion industry continues to develop. Here are some predictions for how hybrid events will affect the market going forward, as well as suggestions for how companies and event planners may benefit from this trend.
In-Person, Hybrid, Virtual
Create an Extraordinary Event Experience
Across All Event Formats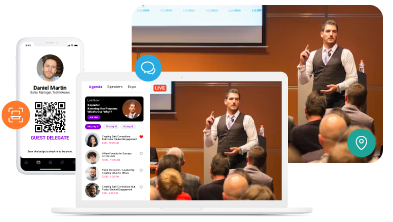 How Hybrid Events will Continue to Impact the Industry
Increased creativity and innovation
Fashion firms and designers may have the chance to try out creative ways to display their collections through hybrid events. Brands may push the boundaries of presentation and engagement by introducing digital components into their events. By implementing different hybrid fashion event ideas, brands can improve their presence and value.
With hybrid events, brands can reduce their carbon footprint by cutting down on travel and transportation, while still reaching a global audience.
Greater reach and accessibility
Geographically and demographically, hybrid events have the ability to reach a bigger and more varied audience. Hybrid events will probably grow more immersive and interactive as technology develops, giving attendees a more interesting and tailored experience.
More Immersive Experiences
With advances in technology, hybrid events have the potential to become even more immersive in the future. Virtual reality and augmented reality technologies can allow attendees to have a more interactive and engaging experience, even if they are not physically present. This can lead to new opportunities for brands to showcase their products and engage with customers in innovative ways.
How Brands and Event Planners can Leverage Hybrid Events to their Advantage
Event planners should consider cutting-edge technologies like virtual reality, live streaming, and interactive elements when planning their hybrid events. As a result, they will be able to design a more interesting and immersive experience for both physical and virtual participants. Organizers can also use event platforms in order to promote their event and boost registration for hybrid fashion shows.
Whether guests are present in person or virtually, brands should work to foster a feeling of connection and community. This can be achieved through hybrid fashion shows platforms. They offer differentfeatures like live chats, virtual networking sessions, and social media engagement.
Brands and event planners may leverage the set of data from hybrid events to enhance the next events. Brands can improve the guest experience and boost the performance of their events by collecting data on attendee involvement, preferences, and behaviors.
Hybrid Event Outlook and Predictions
It is always intriguing to know what the future holds, particularly when it comes to the world of hybrid events. Here are some hybrid event statistics that shed light on the future of these events, as well as some predictions: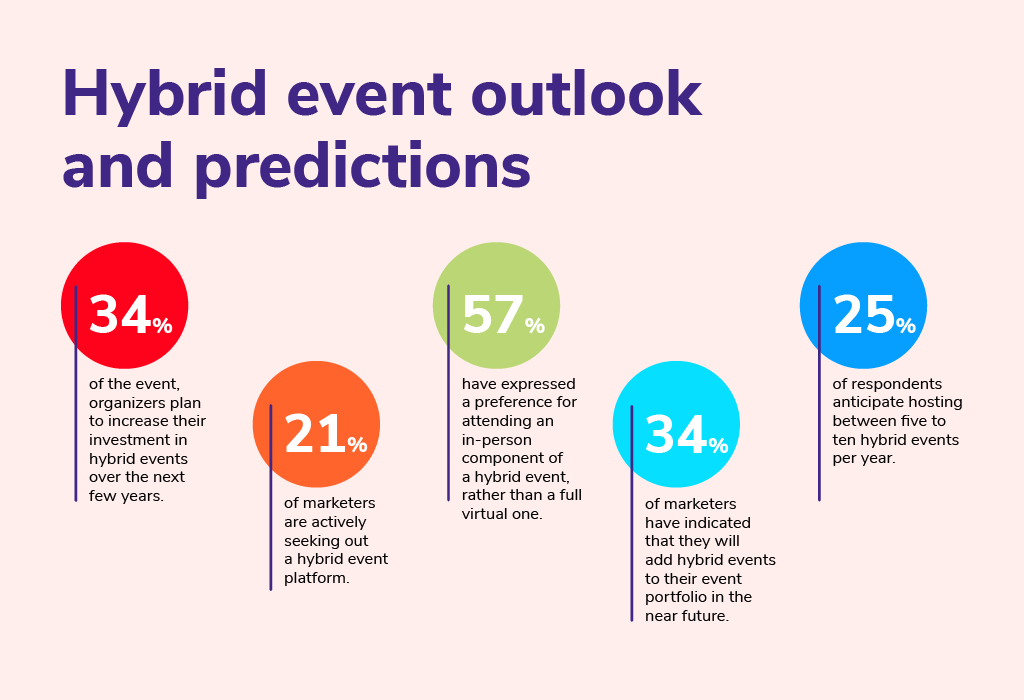 34% of the event, organizers plan to increase their investment in hybrid events over the next few years.
21% of marketers are actively seeking out a hybrid event platform.
57% have expressed a preference for attending an in-person component of a hybrid event, rather than a full virtual one.
34% of marketers have indicated that they will add hybrid events to their event portfolio in the near future.
25% of respondents anticipate hosting between five to ten hybrid events per year.
Statistics Source:- markletic
Case Studies of Brands that Have Successfully Executed Hybrid Fashion Events
Here are some instances of brands who have implemented hybrid fashion events effectively and showed how they used online and virtual elements to improve the entire event experience:
New York Fashion Week
By combining actual runway shows with a digital experience, New York Fashion Week (NYFW) has successfully conducted hybrid events. The event made use of a hybrid fashion show platform that gave guests access to unique information including designer interviews and behind-the-scenes video in addition to live and on-demand viewing of the shows. The platform also provides a digital showroom where users can browse and buy designer collections.
Burberry Spring/Summer 2023 Show
An immersive digital experience was combined with a real-world runway show to create a hybrid event. Many international talents were present at this runway event. actresses Bruna Marquezine, Daniel Kaluuya, Milly Alcock, Simone Ashley, actor, Burberry Ambassador Bright, presenter Sabrina Sato, and singer Normani were among the attendees.
For online guests, the brand produced a virtual representation of the show venue that they could navigate and engage with. The brand also used augmented reality (AR) to showcase its new collection, with virtual models walking alongside real ones on the runway. Live coverage of the event was provided on Burberry's website, social media platforms, and other partner websites.
Chanel's Métiers d'Art 2022/2023
Chanel's Métiers d'Art 2022/2023 fashion show was a hybrid event that combined a physical runway show with a digital experience. The brand used AR and special effects to create a virtual backdrop for the show, which was streamed live on Chanel's website and social media channels. The event also featured a 360-degree camera that allowed online attendees to view the show from different angles, as well as interactive features that allowed them to learn more about the collection. Chanel's Métiers d'Art 2022/2023 fashion show served as a fantastic example of how businesses can leverage digital technology to build immersive experiences that captivate spectators and immerse them in the world of fashion.
Challenges of Hybrid Fashion Events
Organizing and executing a successful hybrid fashion event can be a complex and challenging undertaking. Here are some common challenges of hybrid fashion shows:
1) Potential Technical Issues that may arise with Virtual Components
Hybrid fashion events require the integration of both virtual and in-person components, which means that there are many opportunities for technical issues to arise. Poor audio or visual quality for virtual guests, network problems, and program incompatibilities are a few examples of these. Event planners must thoroughly test all technological elements well in advance of the event in order to minimize these problems, and they must offer technical assistance and tools for troubleshooting to participants at all times. Event planners may prevent technology problems by working with professional hybrid event service providers like Dreamcast.
2) Balancing the Needs of Virtual and In-Person Attendees
Managing the demands of both online and live attendance is a major problem for hybrid fashion shows. For example, organizers must provide equal access to information and resources for both groups, and must facilitate interaction and engagement for virtual attendees in a way that is equitable to in-person attendees. While virtual guests could have different needs and preferences than those in-person attendees, this can be a challenging task.
3) Creating an Engaging and Memorable Experience for Attendees
All participants, whether they are taking part digitally or in person, must find the hybrid fashion event entertaining and unforgettable. This requires careful attention to the design, layout, and flow of the event, as well as the quality of the fashion presentations and other activities. Organizers must create an environment that leaves a lasting impression on attendees, whether they are viewing the event through a screen or experiencing it in person. Hybrid event platforms like Dreamcast provide a wide range of useful tools and features that may assist you in retaining and enticing your audience.
In-Person, Hybrid, Virtual
Create an Extraordinary Event Experience
Across All Event Formats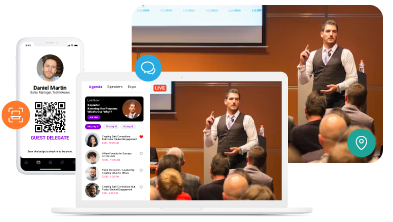 The following statistics represent the challenges that event organizers face while organizing hybrid events
71.1% of event organizers find it challenging to connect the in-person and virtual audiences at hybrid events.
46% of event planner report that speakers encounter difficulties engaging both virtual and in-person audiences simultaneously.
Technology to ensure a seamless experience is a concern for 67% of event organizers.
35% of organizers struggle with finding a suitable venue for hybrid events.
32.9% of organizers have experienced connectivity issues during hybrid events, but only 12% have backup internet connections in place.
39% of virtual attendees feel excluded from the event at hybrid events.
49% of the event organizers have trouble scheduling hybrid events for international audiences across multiple time zones.
38% of event organizers state that hosting a hybrid event takes more preparation time compared to hosting an in-person or virtual event exclusively.
Statistics Source:- markletic
Final Words:-
By giving audiences a more inclusive, approachable, and engaging experience, hybrid fashion shows are changing the business for the better. These events provide a number of benefits by mixing both virtual and physical components, including greater reach and engagement, cost-effectiveness, and useful data insights. Hybrid fashion shows are anticipated to grow in popularity and continue to change to fit the shifting demands of customers and companies as the globe continues to adapt to new technologies. Hybrid events provide the fashion industry with the chance to engage with customers in new and creative ways.
Are you interested in hosting a hybrid event? If so, Dreamcast is available to help. As a leading and trusted hybrid event service provider, we can assist you in incorporating various virtual components into your in-person events and engaging your audience without extra effort. For further information and details, get in touch with us.
FAQ
How can attendees participate in a hybrid fashion event?
Attendees can participate in a hybrid fashion event in a variety of ways, depending on the nature of the event. This may include attending in person, viewing the event online, participating in virtual activities, or engaging with the event on social media.
What types of events can be held in a hybrid format?
Nearly any type of fashion event can be held in a hybrid format, from fashion shows to industry conferences to product launches.
What are some of the best practices for creating engaging virtual experiences in a hybrid fashion event?
Some best practices for creating engaging virtual experiences in a hybrid fashion show include incorporating interactive elements such as polls and quizzes, providing live commentary and behind-the-scenes access, and using high-quality video and audio equipment to ensure a seamless viewing experience.
What are some of the key considerations for organizing a successful hybrid fashion event?
Some of the key considerations for organizing a successful hybrid fashion show include ensuring that the event is accessible and engaging for both in-person and virtual attendees, leveraging digital technologies to enhance the experience, and providing opportunities for interaction and networking.
In-Person, Hybrid, Virtual
Create an Extraordinary Event Experience
Across All Event Formats