Education is the birthright of every human being. It helps in making the world a better, safer place to live for all, and organizing such conferences for education plays a vital role. Education via conferences is important for a number of reasons. Leveraging the virtual and hybrid conference platforms can be helpful to achieve all these positive benefits.
With the help of virtual and hybrid platforms hosting international conferences on education can now be possible. From leaders to technocrats, professors, teachers, and researchers all can come together and share their knowledge, experiences, and ideas, which can help to advance the field of education. Let's explore some more aspects of hybrid conferences for education.
Hybrid Conference For Education: The Key Note Aspects
Organising a hybrid conference for education can be a daunting task. The conference must not only be informative and engaging but also accessible to all attendees. But also, it is crucial to choose the right platform and solution to make the event the best.
With the advancements in event technology, virtual and hybrid conferences have become increasingly popular. These types of conferences allow attendees to participate from the comfort of their own homes or offices, while also providing opportunities for in-person networking and collaboration.
Here in this blog, we are going to explore how to effectively organise a virtual and hybrid conference for education. Not just that but will also learn the important aspects, benefits, and best practices for hosting successful international education conferences. Let's go;
5 Key Reasons to Organize National & International Conference For Education
Undoubtedly, academic conferences play a significant role in all our lives. Without it you might not be able to read this post, I can't write it. This is why the exchange of educational learning, research, and other developments is necessary. Let's first look at the importance of international conferences for education and why there is a need to host one later.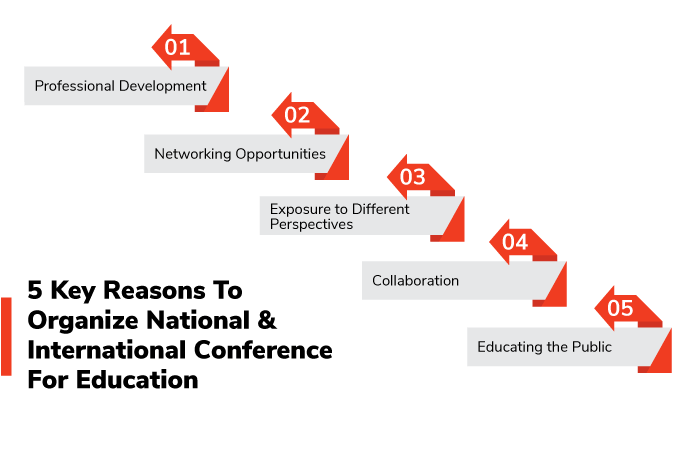 1. Professional Development
National and International conferences on education offer opportunities for professionals to know the latest development in their respective fields. Additionally, by attending workshops, lectures, and panel discussions led by experts can help to expand their knowledge base. Also, they can learn more about new research and best practices, and stay current on industry trends.
2. Networking Opportunities
It is not possible for everyone to attend an in-person conference for education. But with the help of hybrid and virtual platforms, hosting international academic conferences is possible. This provides a great opportunity for educators to network with their peers, as well as to connect with experts in the field. Attendees can share their experiences, learn from others and build professional relationships that can be beneficial in their future endeavors.
With the right hybrid conference platform for education, you can introduce many interactivities and engagement tools like chats, polls, discussion rooms, speaker connect, two-way audience interaction, and others. The engagement tools are not limited to this only as the platform can be customized and Dreamcast can do that for you.
3. Exposure to Different Perspectives
Hybrid conference for education bring together educators from different regions, cultures, and backgrounds. This allows attendees to gain exposure to different perspectives, which can help to broaden their understanding of the field of education and improve their own practice. Majorly all professionals, students, scholars, researchers, and leaders always look after International conferences on education, management, science, and others. This not just broadens their perspective but is helpful in their research and development.
4. Collaboration
Virtual conferences for education provide an opportunity for educators to collaborate on projects and initiatives. This can help to foster innovation and creativity in all fields of education, science, technology, and others. Additionally, it helps to build professional relationships that can lead to future collaborations.
5. Educating the Public
International educational conferences can also serve as a public education tool. They are an opportunity for educators to educate the public about the latest research and best practices in the field of education. Also helpful to discuss important issues related to global warming, pollution, cyber crimes, and science and technology innovations.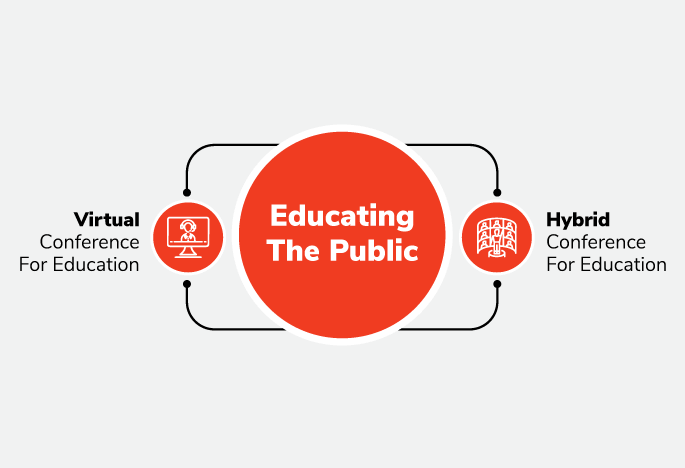 In general, we can claim that conferences for education play an important role in fostering the professional development of educators and people. Additionally, such conferences promote networking and collaboration and inform the public about the latest research and best practices in different fields.
Hope you understand the importance of hybrid or virtual conferences for education. And now we are going to discuss the key considerations and best practices for organizing a successful virtual and hybrid conference for education. But before discussing the best practices, let's devote some time to understanding the basic elements of these two separately;
Virtual conference for education
Hybrid conference for education
This approach will help you to identify the difference and importance of both in a better way.
Virtual Conference for Education
A virtual conference for education is a conference that is held entirely online, using video conferencing software and platforms. Attendees can participate in the conference from anywhere with an internet connection, eliminating the need for travel. Virtual conferences typically include live sessions, such as keynote speeches and panel discussions, as well as recorded sessions that attendees can watch at their own convenience.
Additionally, you can also include interactive elements such as Q&A sessions, chat rooms, and virtual networking opportunities. Academic conferences are becoming increasingly popular in the education field as they provide a convenient and cost-effective way for educators to stay informed about the latest trends and best practices in their field.
Hybrid Conference for Education
A hybrid conference for education is a conference that combines both in-person and virtual elements. Attendees have the option to participate in the conference either by physically attending the event or by joining remotely through a virtual platform. This allows for a wider range of participants to attend the conference, including those who may not be able to travel to the physical location. Hybrid conferences also allow more flexibility in scheduling and provide opportunities for interactive and multimedia experiences for both in-person and virtual attendees.
The Effective Way To Organize a Virtual & Hybrid Conference for Education
No matter which option you opt for, whether a hybrid or virtual conference for education. There are common considerations which are essential to take into account. When hosting a hybrid conference, it's obvious that you are running it as virtual too. So, in that sense, your objectives seem clear in reaching out to the global audience and targeting ones too in a seamless interactive way.  Here are the top pointers to help you host a successful virtual or hybrid conference for education.
❖ Defining the Conference Goals and Objectives
Before planning the hybrid or virtual conference for education, it is essential to clearly define the goals and purpose of the event. This will help to ensure that all aspects of the conference align with the overall purpose and that your International conference on education is tailored to the needs of the attendees. Consider a few important things and determine some questions like;
What topics will be covered?
Who is the target audience?
What is the desired outcome of the conference?
And others!
❖ Choosing the Right Platform
One of the most important considerations when organizing a virtual or hybrid conference for education is choosing the right platform. There is an array of companies available in the UAE and the middle east to look for. But before you start looking for a service provider you should know what features and tools are required. As each platform has its own set of features and capabilities, it is important to research and compare the options to determine which one is the best fit for your conference.
❖ Creating a Schedule
Once the platform or service provider has been selected, it is essential to create a schedule for the conference. This should include the date and time of each session, as well as the speaker or panelist's information. The program should also include breaks, networking opportunities, and other activities to keep attendees engaged. Depending upon the nature of the conference it is an essential step to analyze the number of attendees. As it will help you to schedule the activities and will ease the planning process.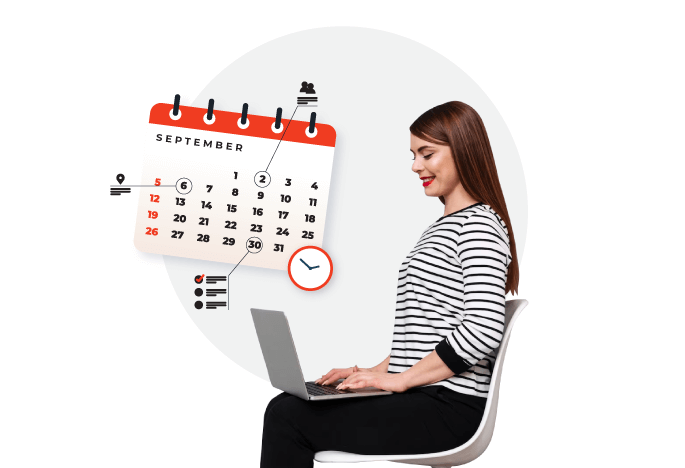 ❖ Promoting the Conference
For a successful virtual conference for education, it is important to promote it effectively. This can be done through social media, email marketing, and other digital channels. Consider creating a conference event microsite or a mobile application or landing page for the conference that includes all of the important information, such as the schedule, speaker bios, and registration information.
❖ Registration and Ticketing
Registrations and ticketing are important for measuring the success of the conference. In general, even if your conference is unpaid still there is a high need for registration to know who has attended the conference. As mentioned above creating a mobile app or conference microsite can be proven as an effective approach. Over the microsite, you can put all the necessary information about your national or international educational technology conference including the theme, speakers, and others. By giving the information you can appeal to the visitors to register with just a click. For your ease you can check out this guide for an effective conference registration process.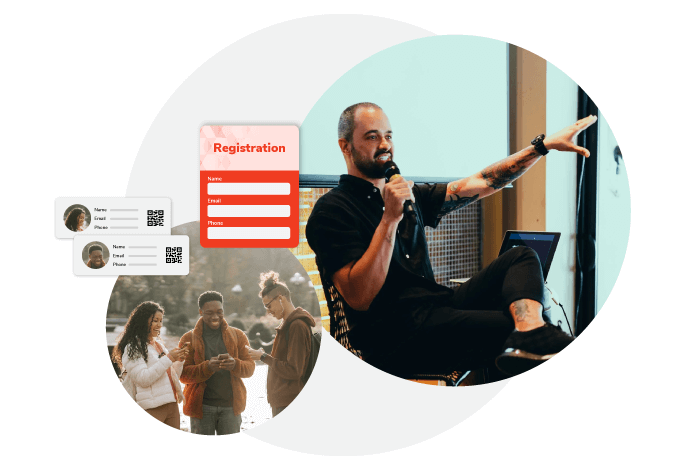 ❖ Networking Opportunities
One of the most important aspects of any conference is the ability for attendees to network and connect with one another. This is even more important in a virtual or hybrid setting, as attendees may not have the opportunity to connect in person. Consider incorporating virtual networking sessions, chat rooms, or other interactive features to facilitate connections between attendees.
❖ Live Streaming and Recording
To ensure that the conference is accessible to all attendees, consider live streaming and recording the sessions. This will allow those who are unable to attend in person to still participate and access the information. Additionally, it will allow attendees to go back and review the sessions at a later time. Additionally, by developing a mobile app or microsite you can stream or upload all these sessions there for later use.
Furthermore, it can be possible that you can integrate with social networking sites to directly live stream your academic conferences.
❖ Technical Support
When organizing a hybrid or virtual conference for education, it is important to have a dedicated technical support team in place. This team should be responsible for troubleshooting any technical issues that may arise during the conference, such as connection problems or audio issues. Consider providing a dedicated support hotline or email address for attendees to contact if they experience any technical difficulties.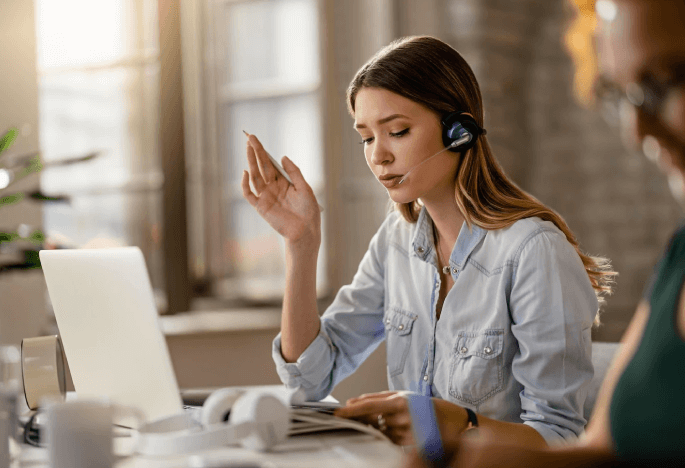 ❖ Interactive Elements
To keep attendees engaged and interested during the conference, consider incorporating interactive elements such as polls, quizzes, and Q&A sessions. These interactive elements can be integrated into the virtual conference platform and can help to keep attendees engaged and involved in the event.
❖ Sponsorship and Partnerships
Another way to enhance the conference is through the inclusion of sponsorship and partnerships. This can help to increase the visibility of the conference, as well as provide additional resources and support for the event. Consider reaching out to companies, organizations, and individuals who may be interested in supporting or partnering with the conference.
❖ Post-Conference Follow-Up
After the conference is over, it is important to follow up with attendees to gather feedback and assess the overall success of the event. Consider sending out a survey or conducting interviews to gather feedback on the conference content, organization, and logistics. Use the feedback to improve the next conference.
❖ Accessibility
When organizing a virtual or hybrid conference, accessibility should be a top priority. This includes providing closed captioning and transcription services, as well as making sure that the conference platform and materials are accessible to attendees with disabilities.
❖ Post-Conference Materials
Finally, to ensure that attendees can continue to access and learn from the conference content, consider providing post-conference materials such as recordings, presentations, and handouts. These materials can be made available on the conference microsite or shared through email or other digital channels.
Summing Up
Organizing a virtual or hybrid conference for education can be a challenging task. But by considering the key considerations and best practices outlined above, you can create a successful and engaging event that meets the needs of all attendees. With the right platform, schedule, and networking opportunities, your conference can be both informative and accessible to all participants. If you are also looking for the right partner who can help you with your next academic conference. We at Dreamcast would like to help you with that and will create a seamless interactive and best education conference for both national and international participants. Wanted to learn more about it. Book your free demo now.
In-Person, Hybrid, Virtual
Create an Extraordinary Event Experience
Across All Event Formats