Event CRMs are becoming a vital part of events. If you are an event management software or a platform and you are not aware of what CRM is, it's time for you to introduce yourself to CRM.
CRM stands for customer relationship management. Event CRMs are essential for event planners. It helps in tracking all the activities during the event. Nowadays events are becoming extensive and event planners need a tool that can help them manage all the aspects of the events. CRM is a tool that almost every event planner needs to better analyze and organize their event.
CRM can help with everything you need to know about your event, you can take your events to the next level with the help of CRM integration. There are multiple ways in which event CRMs can be useful events. So in this article, we will be discussing what event CRM is. How it can be helpful and what you should be looking for in an event CRM? So, if you are not aware of CRM this is the perfect article, to begin with.
Overview Of Customer Relationship Management Software
To state it simply CRM is software that allows you to manage relationships with your customers and potential customers. It is a tool that can collect all the customer's information like customers' contact details, email addresses, customer preferences, how they are interacting with your business, their transactions, and other such necessary details. Online event management needs CRMs that can engage customers and track the leads and sales for the business. Today not just the event industry but almost all other industries are using CRM to create a more personalized experience for their customers.
There are various benefits of using an event CRM, with CRM you will be able to better understand your customers, these CRMs can help you in tracking leads. If you want to manage your customers in a better way you should give CRM a thought.
How Event CRM Can Be Helpful
An event requires proper management and planning and event planners have to manage a lot of data, handling everything on paper or through different platforms can be challenging. And that is where event CRM comes in, they are very helpful in managing your event and provide everything in place. Here are a few ways in which event CRMs can be beneficial for the events.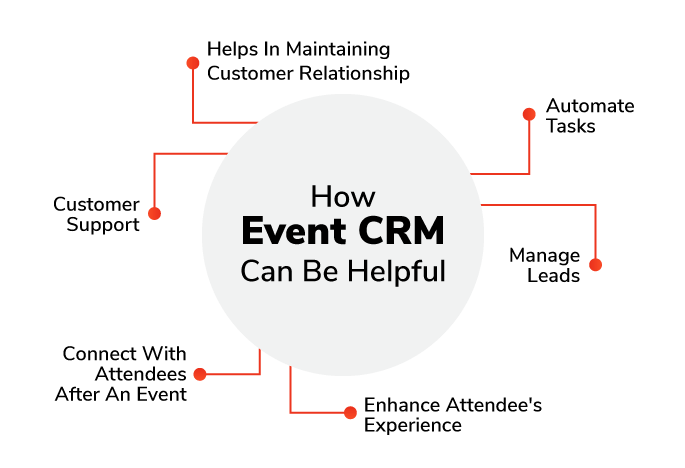 1. Helps In Maintaining Customer Relationship
The first and most crucial benefit of using an event CRM is that it helps in maintaining customer relationships. Any business needs to maintain a relationship with its customers and retain their customers. For any successful event, a brand and company need to be connected with their customers.
There are various ways in which event planners can stay connected with their customers use push notification reminders etc so that you are always available for your customers.
2. Customer Support
Customer support is needed for all kinds of events be they virtual or in-person events. Providing robust customer support is important and to do that you should have all the details regarding your user, you need to know how they are interacting with customer support, are they calling, whether they are asking the question through text messages, etc.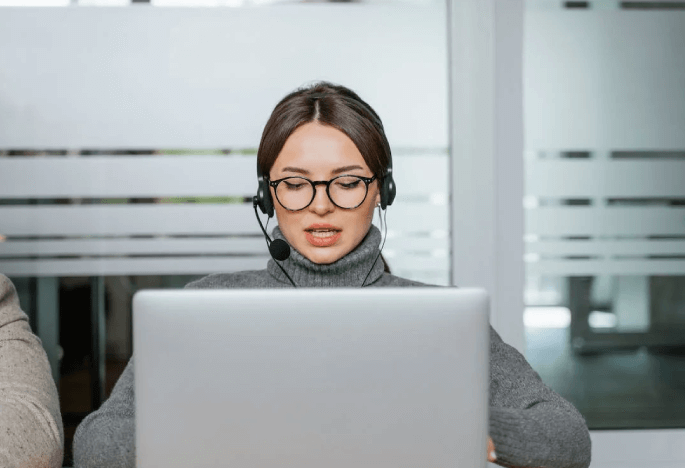 CRM will help you in collecting all the queries in one place so it becomes easier to manage all the queries. The best CRM system can help you in providing a better customer experience by offering information that is accessible whenever you need it so that you can manage your customer queries and grievances without any waste of time.
3. Automate Tasks
Like many other jobs, even event planning has few aspects that can be repetitive and can be automated. For instance sending emails, event registration reminders, sending tickets, push notifications and other updates all can be repetitive and CRM can automate them so that you and your team don't have to spend most of your time managing all these repetitive tasks, instead, you can use CRM to do that and in meantime, you can manage all other crucial tasks that need more planning and time.
4. Manage Leads
There is no other tool or system that can manage leads better than CRMs. They are the best option that is available in the industry to manage leads. Leads are vital for any event planners and with CRM they can use existing leads and collect new leads. It can make the process of lead management easier by providing you with information like how many new leads the event attracted, the number of leads retained, etc. It can also help in targeting the leads after the event.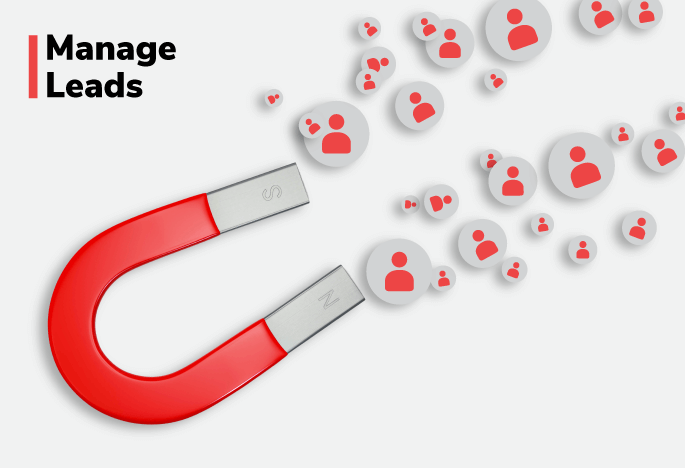 5. Enhance Attendee's Experience
The best part about the event CRM is that it can help in creating a better user experience. With CRM event planners can get all the information regarding their attendees they know how their attendees engage with them, and they have all the information like their contact details, and their preferences, what they are expecting so with the help of all this information it becomes easy to offer them fully customized and more personalized details. Offer them a personalized touch so they can feel connected. If you have loyal customers you can offer them a more special experience.
6. Connect With Attendees After An Event
CRM is a tool that keeps you connected with your event attendees even after the event. Your relationship with your attendees doesn't last just after the event. You should stay connected with them so you can target them and convert them for upcoming events. To maintain that connection event  CRM comes to the rescue. You can ask your attendees for feedback or you can send a follow message to your attendees to make that connection last. You can send them an automated thank you message or a feedback form that can also help you understand and analyze your event from the audience's point of view.
Features To Look For An Event CRM
There is numerous CRM software available in the market so here are some features that you should look for to get the best CRM for event management.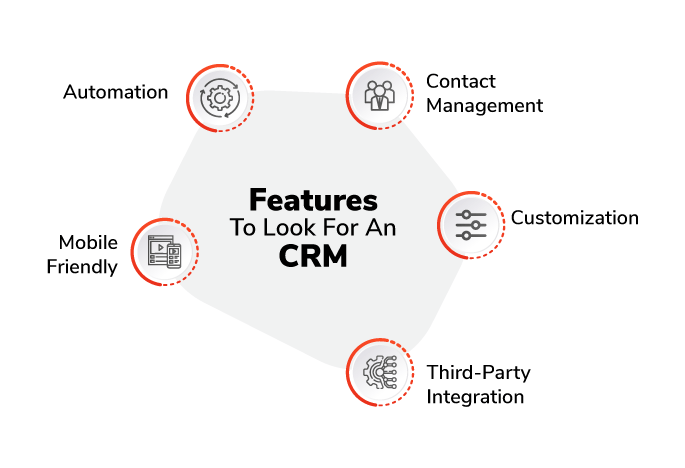 1. Contact Management
Contact management is essential for any CRM you can skip these features. Almost all CRM software track, collect and store the constant detail of the customers. Most companies require constant detail and at times that is the main reason for which they are using CRM software. If you are planning an event your attendees will be sharing their data or contact details with you and you can store those details with the help of CRM.
There will be the number of attendees that will be taking part in your event and manually managing the contact details and other data of your attendees can be time-consuming and have the scope of human errors but with  CRM you can easily sync all the data of your attendees so make sure you are choosing a CRM that allows you to manage and sync your contacts.
In-Person, Hybrid, Virtual
Create an Extraordinary Event Experience
Across All Event Formats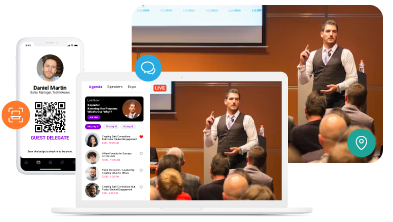 2. Automation
Automation is another feature that you should be looking for in an event CRM. There are a lot of things that are required during event planning and CRM with automation features can help with most of it. With the automated event, planners can manage their messages and notification and other such things and automation also reduces human errors. Event planners won't need a dedicated team to manage their messages, notifications, calendars, event reminders, and other such data. Choose a CRM that lets you manage and automate the whole workflow. With automation, you can get real-time data updates so you are on top of your planning and managing game.
3. Customization
Because you will be using a CRM with other tools and software so it is important to have a CRM that is flexible and allows customization. The CRM should allow you to create your dashboard so you can decide which data is important and how you need to manage things. Go for software that allows not just basic but also advanced customization offers so that you can easily integrate it.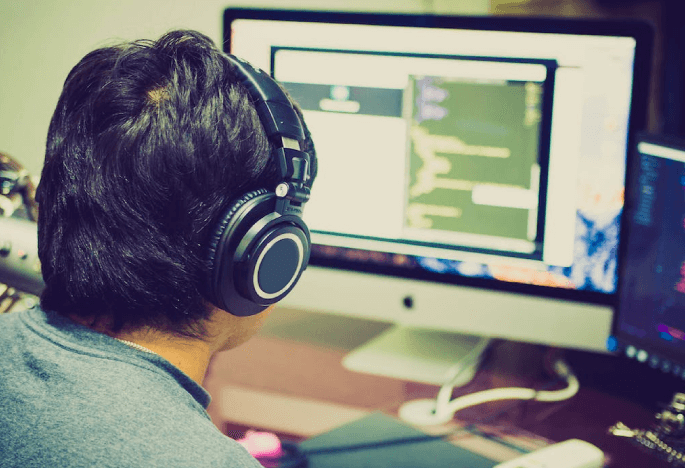 4. Mobile Friendly
This is another crucial factor to consider because not every person can carry a laptop with them all the time so it is important to have an event CRM that is easily accessible on the mobile phone.  Software that provides a top-class management dashboard on mobile should be your preference. Also, choose a platform that favors both Android and IOS.
5. Third-Party Integration
You need a CRM solution that allows third-party integration otherwise what's the point? Connecting your CRM with the event platform that you are already using will help you save a lot of time. But one thing that you will need to keep in your mind is that the software that you are using should integrate with the platform that you are using for your event, and your platform and CRM should be compatible. And also check if CRM can sync the data of both the software.
The Bottom Line
CRMs can be a game changer for your event. It is a perfect tool for all sizes of businesses and events. But these CRMs will only be an effective choice if you use and choose them correctly. Look for all the basic and advanced features to select the best CRM for events that can help you better manage your event data and enhance user experience. So if you want to access your event analytics from anywhere and if you want to create a better relationship with your customers you should consider using event management software.
In-Person, Hybrid, Virtual
Create an Extraordinary Event Experience
Across All Event Formats