In the past few years, live streaming has increased in popularity. In fact, the majority of social media found themselves engaged with video content rather than any other type of social posts. The social networking sites user including Facebook is seen taking the majority of benefits of its live streaming feature.
Facebook is considerably one of the most influential social networking sites common among all of us. Individuals to big brands do live streaming events on Facebook for multiple purposes, from connecting to friends, making connections and promoting their brands. Facebook as a networking site also offers many valuable features among all one of the popular ones on Facebook live events. By using such engaging features any brand or broadcaster can host a live stream or stream any in-person event to enhance the reach in real-time. All these combined make it possible for all the event hosts to build a strong relationship and connection with their targeted audience and increase exposure.
Why Should You Live Stream Your Event On Facebook?
Undoubtedly, live streaming is considered the best way to distribute information and grow your audience network. All the event organizers to businesses and brands can increase their event awareness while offerings such as interactive streaming content make them establish a stronger connection.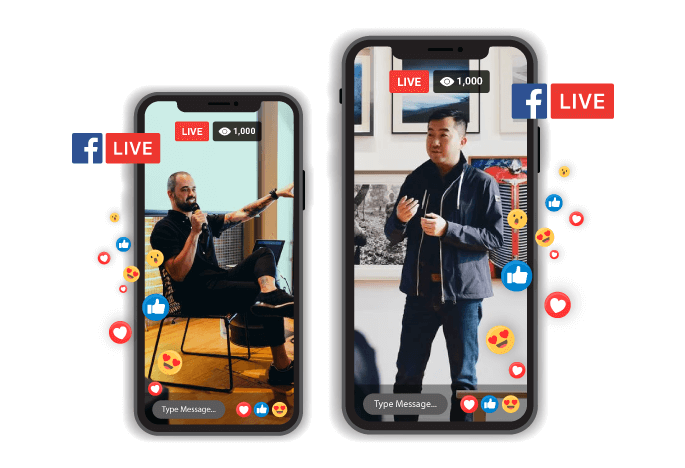 If your picture is unclear about why to go live to stream your event over Facebook, then this is for you. In general, Facebook videos are the initial foundation of live streaming because of the popularity of watching such real-time events. It is breaking all the boundaries and exploding the video content and more specifically live streaming to be over the top thing to consume. Additionally, there is an array of reasons to go live on Facebook for your event, some of the crucial points are mentioned below;
Wider Reach
By creating an event on Facebook or live streaming an event you can reach millions of people without caring about any geographical limitations. As there is not even any restriction on Facebook live streams for the number of audiences who can watch the stream. For instance; if there is a brand that is launching a new product in an in-person event, it is always preferable for them to use the online stream. Why? Because this is how you can reach way more audience and that too easily.
Convenient To Use
Facebook doesn't cost you a single penny for broadcasting your event. As anyone with a smartphone or laptop with an internet connection can live stream. Whereas for big-scale events like in the above-mentioned example you can take help from live streaming services.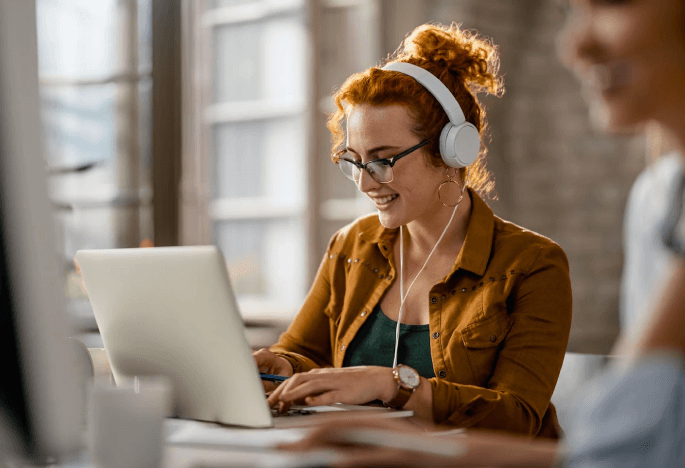 Interact With the Audience
In a real-time world, you will be able to interact with your audience and this approach creates a lot of personalized feelings. Connecting with offering a great brand experience. There are many live engagement and interactive tools (which we have talked about further).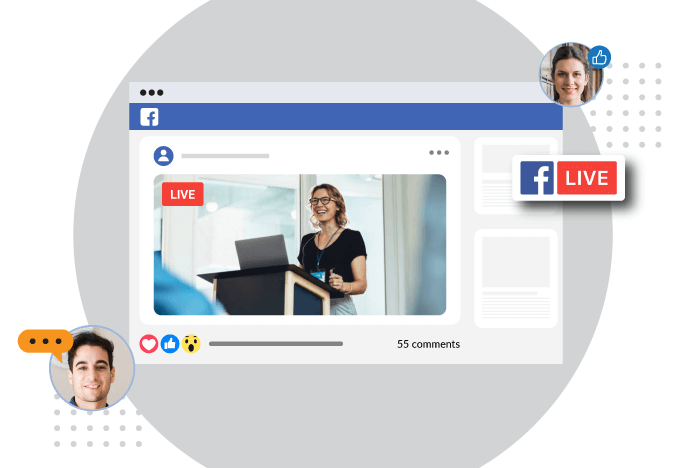 Data Analytics and Metrics
Facebook Live streaming offers you real-time analytics to understand the numbers of your online stream regards with performance.
Establish An Reputation
We all do research before buying any product or watching even glimpses before going there. But how to showcase and build such a reputation? Here, by live streaming events on Facebook and offering such branded material content and streaming on the latest product launches, tutorials, and product demos or by making part of your in-person event. You would be able to build a brand reputation.
Facebook Live Events: The Best Platform To Go Live
Facebook Live event is a useful feature that lets the host directly stream. And viewers can watch and enjoy while there are options to react, share, and comment during the stream and others which can be customized. However, live streaming can be recorded and used later to transfer over to your page and make it an on-demand video to watch later.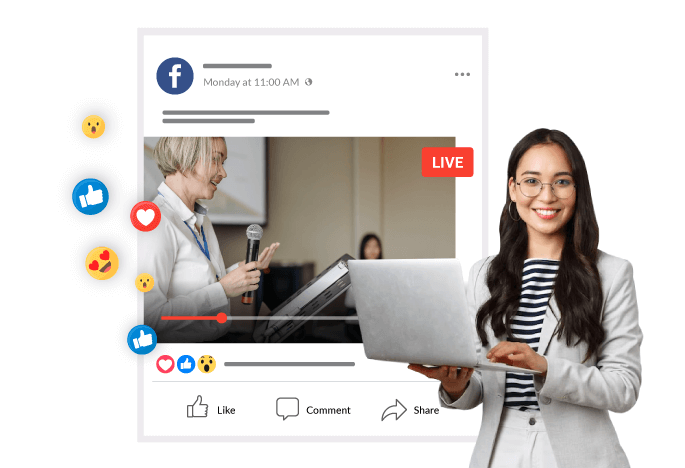 Nowadays, marketers and brands are so excited about Facebook Live, but why? There are an array of reasons but the most effective is that video content is among all forms of content consumed. Also, it helps the brands to build an exquisite relationship with their followers and users in real time. But there are too many things you need to start knowing as a brand or event organizer about how to go live on Facebook effectively. This comprehensive guide will help you create an event on Facebook with best practices to make a difference among your competitors and to offer a seamless experience to viewers. So, let's get started;
How to Go Live on Facebook
Facebook is a social platform and anyone from anywhere irrespective of their geographic location with the help of the internet on any device can watch a live stream. There are multiple ways to go live on Facebook like from their profile, page, group or even streaming an event. The streaming of events from the app itself or the web browser is quite different. While streaming big events somehow need support from a professional live-streaming service in the UAE. Check out the steps you need to follow;
How to Go Live on Facebook From Its App
It is the simplest way for individuals to stream their moments with their friends and socially. Many influencers have gained a good reach using it, but this is helpful for those who just need to live stream via their phone. There is no equipment needed in this type as simply opening facebook and going live is the only step you need to follow. But for a better understanding look at the steps mentioned below.
Step 1: Navigate to the event, group, profile, or page where you wish to go live.
Step 2: Click What's on Your Mind? if you're on a page, create a post; otherwise, if you're on a profile.
(The post choices should now be available for you to include from multiple offerings like;)
Photo/video
Tag people
Feeling/Activity
Check-in
Live video
Add Background color
Camera
GIF
Ask for recommendations
Life event
Raise money
Host a Q&A
Step 3: In the post choices, select Live video.
Step 4:Tap the area where it says. To add a description to the video, simply tap the description field.
Step 5: Set up the settings and any tools or features you want to use during the stream using the buttons on the bottom.
Step 6: When you're ready, select Start Live Video in
(Congrats you are live, don't do any mistakes you are live)
How to Go Live on Facebook From a Web-Browser
Just like going live via an app, it is also quite a simpler process. You just need to follow some mentioned steps and know your preferences (to choose from the offered options). Here are the steps you need to follow to go live on Facebook from a web browser.
Step 1: Look for a Live or Live Video option on your Facebook main page. "What's on your mind" (section) will be under your profile, if you are on one. It will be under 'Create Post' if you are on anything else. An icon window will appear with the following offering;
Live video
Photo/video
Feeling/Activity
Or there may be other options like Create;
Live Event
Job
Offers
And others!
Step 2: Select whether you want to create a live video event or just go live.
Step 3: Next, decide on the specifics of your video. The start time, title, description, co-host information, and different audio and video options are among them.
Step 4: When you're ready, click Go Live.
This is how to go live on Facebook. But applicable for those who want to live stream their own space, like an interior space product description, tutorial and some other piece of small-scale events. But if you want to live stream a big-scale event then it is always preferred to the Facebook live streaming services provider. As a professional live streaming services provider, Dreamcast can offer seamless streaming of event for all your audience with interactive elements like;
Features To Integrate into Your live Stream with Dreamcast
Live Polls
Featured Links
Live in Stories
Live Comment Moderation
Badges
Secure High Definition Work System
Integrated 4G Solutions
Worldwide Content Reach
Multi-Bitrate IP Encoding System
Customization
Different Formats
Unlimited Streaming With Seamless Integration
Budget-Friendly Solutions
Live Real-Time Audience Interaction
Parallel Multiple Platform Streaming
Real-Time Archiving
Live Analytics
Additionally, you will be able to add many other useful components and as a brand or event host that is quite necessary to use. We are talking about features that make your live-streaming interface brand rich that looks soothing and customized. Let's see what you can get with us.
Frame
Logo
Clap Sound
Confetti
And many more!
By adding all these features you can host a variety of live-streaming events including;
Virtual Town Hall
AGMs
Conferences
Sports
Music
Product Launches
Corporate Events
Government programmes
Education
Hope you get an idea about how to go live on Facebook. And about the features, you can integrate to make your stream an interactive yet immersive experience for the audience. If you are also planning for such an interactive streaming of your event, we are always ready to help you out. Book a free demo with Dreamcast and clear any of your queries.
Host an Engaging LIVE Stream
Connect with the Industry's Most Experienced
Live Streaming Service Providers.