We have reached 2020 and reflecting on the past year, and it is safe to say that live streaming has genuinely become a rather omnipresent phenomenon in digital trends across the globe. With increasingly advanced technologies providing the most excellent services in various sectors, the need to know more about professional live streaming and all it encompasses rises.
Live Streaming Facts & Statistics
So here is a list of some interesting facts and statistics that map the journey of webcast live streaming now:
About The Increase In Broadcast Live Streaming
A report by Conviva stated that webcast live streaming by December 2019 had been increased by 93%. Additional data also suggests that the average viewing time for the viewers is 26.4 minutes per session.
Did you know that almost 47% of the live video viewers are watching more live streaming sessions as compared to the last year?
Cisco had predicted that by this current year, 82% of all the consumer web traffic will be consumers of videos. They also stated that there would be a million minutes of video crossing the internet per second, a statistic we have yet to check.
About The Live Stream Session Viewers
It is the millennials who are the biggest viewers of live streaming for brands and other purposes. This population in the age group of 18-34 years has a percentage as high as 67% that engages live streaming social network.
Since 2015, the number of millennials utilising social media station and webcast live streaming has risen as compared to watching videos on television. Their prefered video viewing device has shifted to smartphones and tablets with viewers divided as 56% and 44% for each device respectively.
According to the latest studies, the time spent on live videos is 8 times that spent watching on-demand videos. In fact, the average time for live videos is 42.8 minutes, whereas the average time for on-demand videos is 5.1 minutes.
In-Person, Hybrid, Virtual
Create an Extraordinary Event Experience
Across All Event Formats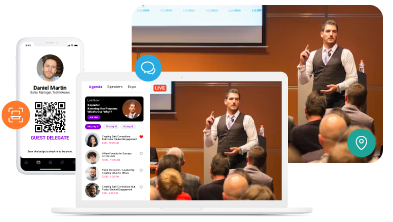 About The Reason To Watch Live Streaming For The Next Event
While we often hear that 'content is king', this notion is backed by 43% of the population that watches live videos. This fraction of people declare compelling and exciting content as the primary motivator behind their continued viewership.
Almost 30% of cable keepers have expressed that if their favourite shows, news and sports could be streamed live, they would switch over to a live streaming social network or platform instead. This will not only provide better service, but the live streaming cost will also be more affordable to some.
Popular entertainment streaming platforms like Netflix, Amazon and Hulu have recognised live streaming strategies that will increase their subscribers even more. Therefore, it is expected that by 2020, they will triple their content investment. 
About The Quality Of Professional Live Streaming
Although not surprising, statistics say that 67% of the people who use live streaming services for brands find the video quality to be a critical factor in their decision to watch live videos.
Over the past year, the quality of streaming videos has increased substantially. The statistics to support this fact state that start-failure has reduced by 33%, buffering has decreased by, 41% and the picture quality has been raised by 25%.
The metrics for video start-time and buffering of live videos have been improved over the years, so much so that they are better than on-demand videos.
About New Technologies In Live Streaming Strategies
The dawn of 5G cell networks that will happen in 2020 will speed up the internet roughly 100 times the current 4G LTE can provide. Among other things, this will benefit any social media station providing live streaming for the next event or live streaming services for brands.
The audiences have grown so loyal to these streaming services, that 29% of them will be willing to pay extra or premium if the 5G internet would further increase video quality and reduce buffering. Simply speaking, the live streaming cost may become a secondary factor for the consumer if the service is the best.
While the advancements in technology and how they can enhance live videos is rapidly evolving, H.246 has retained its place as the dominant codec for the video encoding process.
About Live Streaming For The Next Event And In Marketing
Today, the events and marketing industry are closely tied and often with very interlacing business. Using broadcast live streaming for the marketing of events has shown that almost 30% of the viewers are likely to attend the event in person the next time it happens.
With Coachella as the prime example, it has been found that more than 4.6 million people watch live streams of music festivals, concerts and events when they happen.
After all that we have read above, it is no surprise that at least 35% of marketers use professional live streaming for various purposes, including events.
In fact, this figure is set to rise every year by 20%.
In-Person, Hybrid, Virtual
Create an Extraordinary Event Experience
Across All Event Formats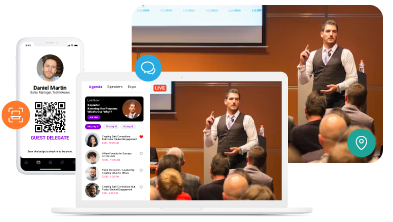 About Live Streaming Social Network For Various Sectors
The newer businesses have taken to live streaming like a duck to water. 55% of enterprises around the globe are now using this tool for inter-division as well as company-wide broadcasts.
Videos have truly revolutionised the education sector, and now the second wave of this growth is coming in the form of webcast live streaming. More than 50% of students from across the world have taken up online courses or studies in their lifetime.
Content creation and online blogging have become a big industry in itself today. With the feature available to monetize a live streaming session with the help of different subscription models, it is a booming career option that many from younger generations are turning towards.
The live streaming social network and its whole industry paint a vibrant picture full of potential in the future. More and more people are seeking out digital solutions in the form of broadcast live streaming for their brands, business and other endeavours in life. If you are also looking for professional live streaming, we hope that these facts and statistics can help in your way forward.
In-Person, Hybrid, Virtual
Create an Extraordinary Event Experience
Across All Event Formats