In this digital world, the way we interact and communicate with one another is always changing as social media platforms become an essential part of our daily lives. Live video streaming was one of the top social media trends in 2019. This trend has changed the way people interact and experience online events such as live concerts and football games.
The most popular live streaming activity is still live video gaming, but content producers are always coming up with new ideas for what they may share via live streams, such as cooking demonstrations, live music performances, or even just their own thoughts. Live streaming gives you the chance to share whatever you are going through with a specific audience in real-time, whether it's a live event online or a showcase of your life.
Media outlets with the technology to transmit live to their audiences were the only ones who could do this in the past. However, live streaming technology has exploded on the internet in recent years, and an increasing number of individuals are producing and receiving that live experience from the comfort of their homes. Now, sharing information and knowledge has gotten more affordable (for both individuals and businesses).
Most businesses and brands are using live video streaming services in order to expand their audience base, increase viewership, boost audience engagement, improve brand awareness, and more. In this blog, we will discuss live video streaming and its benefits. It will also provide more information about live video broadcast services for readers who haven't kept up with them during their period of exponential growth.
Host an Engaging LIVE Stream
Connect with the Industry's Most Experienced
Live Streaming Service Providers.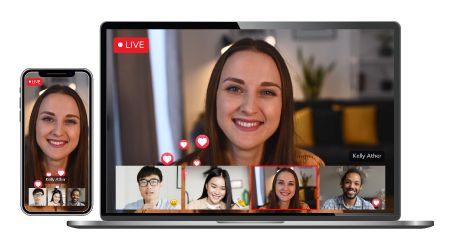 What is live streaming?
Live streaming is a process of broadcasting any media content (recorded or live) to people via the internet in real-time. In simple words, this technology allows people to create, watch and share videos in real-time. Movies, podcasts, music videos, and webcasts are famous examples of streaming content.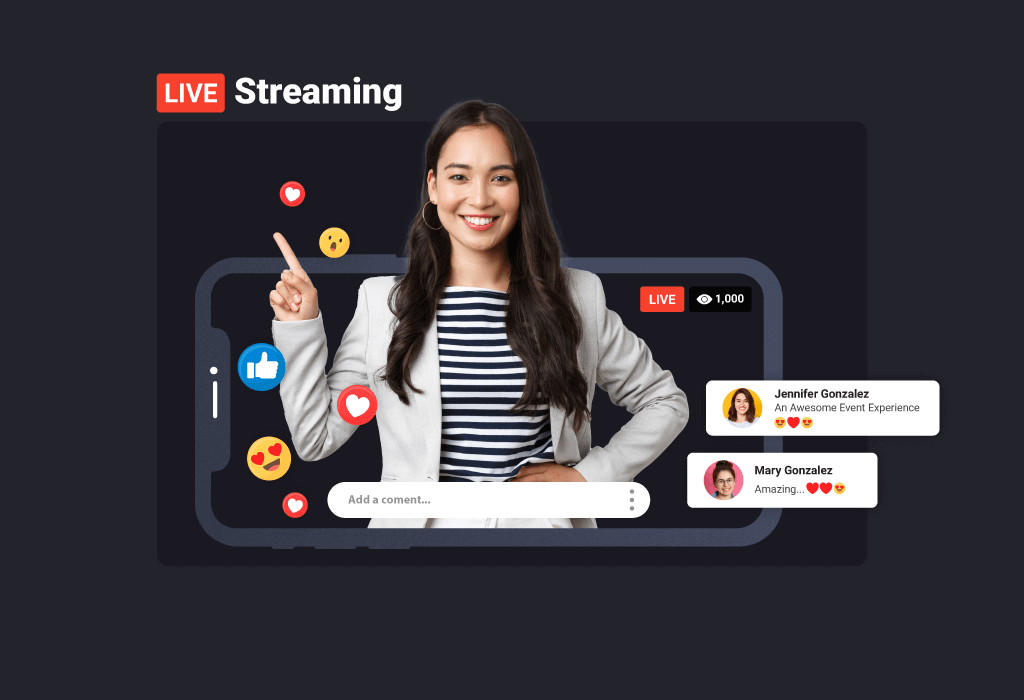 Marketers use an array of streaming devices in order to broadcast live-streamed video to the targeted audience. A stable internet connection, live streaming platform, and internet-enabled devices are required to conduct live streaming.
With lockdowns connected to COVID-19 during the past year, the usefulness of live streaming technology has been made clear to the globe. A live streaming service enables groups to remain connected and communicate safely regardless of distance, pandemic, or climate.
The Timeline of How We Got to Where We are Today
It's critical to examine the history and evolution of streaming in order to completely comprehend how live streaming software has grown. You can better grasp the development of live streaming technology by reading the following details.
1993: It started with a misguided attempt at a live internet recording by some IT firm, who consumed half of the Internet's available bandwidth.
1994: To promote their music to millions of streamers, the New York Times used the Rolling Stones "the rock band".
2005: To enable individuals to connect through videos, YouTube was created. Around the time the service started to become popular, Saturday Night Live (SNL) released its first video clip there that same year.
2007: The Justin. tv streaming service went live. It would eventually become the well-known live-streaming service owned by Amazon.
2008: YouTube Live was the platform's first live event. Live Streaming on mobile devices is now possible for producers with more than 1k subscribers on their channel.
2011: The launch of Prime Video by Amazon
2013: The launch of the first-generation Chromecast by Google
2015: Standalone streaming was launched by the HBO
2017: Apple TV plus, YouTube TV, and Disney Plus jumped on live.
2018: HBO Max with more content and Peacock (from NBCUniversal) joined the party.
2021: According to the B2B software search firm, the streaming industry reached $70 billion
Source:- https://www.techtarget.com/searchunifiedcommunications/definition/streaming-video
Today's Live Streaming Industry
Today, anyone can pick up their phone and go live on platforms like Instagram Live, Youtube, LinkedIn, and Dreamcast! Individuals may follow their passions, stream live content, and earn money by doing it. When compared to offline gatherings, live streaming allows people with related interests to meet virtually. Without a capacity restriction, everyone can participate in designing the framework for the future of music, gaming, and entertainment in general.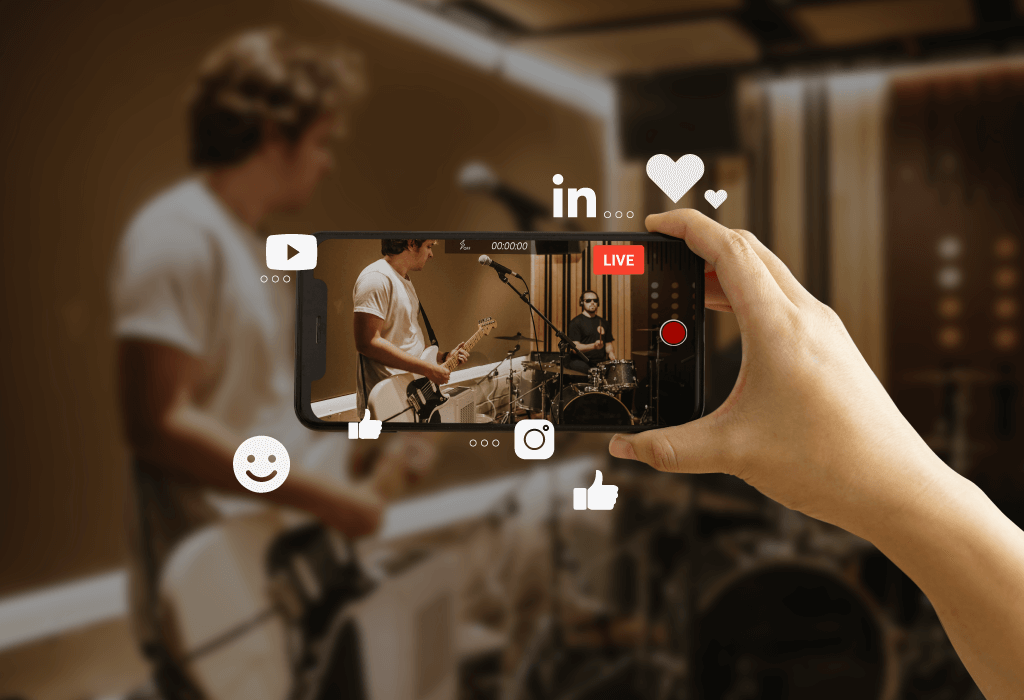 Famous video streaming services today include Youtube, Twitch, Peacock, Netflix, Hulu, HBO Max, Disney+, Apple TV+, and amazon prime video.
How Does it Work?
Media items like audio, video, and other forms are organized beforehand and sent in sequential order so they may stream instantly. Media files, on the other hand, are automatically removed after being played, in contrast to conventional downloads, which are retained on your device.
For remote event attendance, remote learning, and business, live streaming is an essential tool. This technology works by transmitting multimedia content to the audience through different streaming protocols without any video latency. RTMP, WebRTC, and HLS act as essential delivery vehicles in order to transmit multimedia content over the internet.
In order to transmit high-quality video and audio to targeted audiences, different live streaming equipment, live video streaming platform, and a series of protocols are required. Live streaming includes the following technical steps:
Experts use high-quality webcams or cameras to capture video
They use an encoder (to convert raw files to streamable formats)
Send the streamable video into the live video streaming platform or CDN via RTMP
Utilize CDN and HLS to deliver the video to a viewer-side HTML5 video player
Live video streaming is profitable for organizations and businesses because it allows attendees to join their online events regardless of location. It also helps the brands to improve their brand awareness, reach a wide audience, promote the product and generate leads in a cost-effective manner. Some common use cases of live streaming include: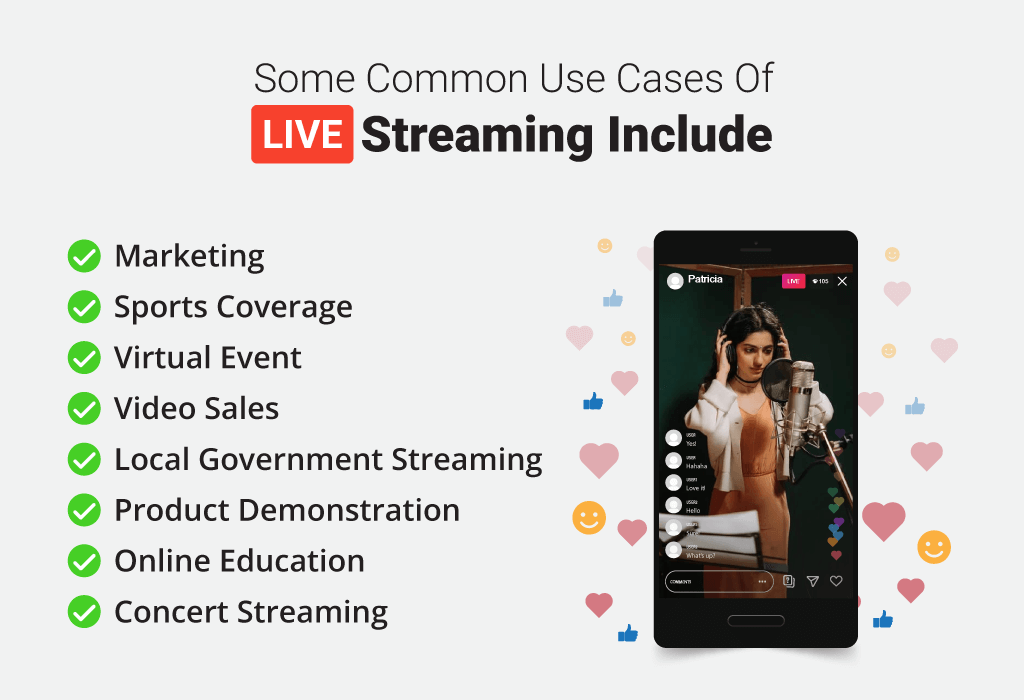 Marketing
Sports coverage
Virtual event
Video sales
Local government streaming
Product demonstration
Online education
Concert streaming, etc.
When it comes to streaming a live video then the possibilities are endless. You can use live streaming technology in a creative way for your brand or business in order to gain more audience and generate good revenue.
Advantages of Live Streaming With a Professional Service
There are different benefits of using live video streaming services and some of them are given below:
Platforms for live streaming assist in achieving high-quality streaming.
Live streaming gives you the chance to reach a larger audience because you are not constrained by size or location.
It gives you the freedom to use a variety of multimedia content, such as texts, pictures, videos, and more.
Platforms for live broadcasting are simple to use.
You may view the analytics of events that are being live broadcast thanks to the live streaming service provider.
Live streaming platforms provide customer support to resolve technical problems.
CDNs ensure reliable content delivery to viewers
A low-cost method of raising brand awareness and promoting your product or service is live streaming.
Different tools are available on streaming platforms for monetizing content.
Professional live streaming platforms such as Dreamcast allow the integration of marketing tools.
Live streaming is an essential and powerful tool that allows businesses to connect with a wide audience in order to share information, boost awareness, promote products or services and generate leads. Are you searching for the best live video streaming platform in order to broadcast your video? If yes, Dreamcast can be an ideal solution for you. We offer a high-quality and end-to-end streaming platform with video monetization and on-demand capabilities.