The love for music is a phenomenon so strong that it transcends barriers of distance, cultures, and languages. People from all over the world like different artists and consume music through various means, whether it is by going to live performances, watching youtube videos or downloading music on their mobile devices. Out of the many ways music is consumed by people, music live streaming concert is an increasingly popular choice.
Whether it is your favourite k-pop band or this year's Coachella, there are so many examples of just how many people tune in to watch the live stream for music events. After all, the lights, the atmosphere, the magic of a live concert is not always feasible or even accessible to all the fans around the world. The trend of virtual concerts is growing at a speed that corresponds to the increasing population of audiences now utilising any social media station to avail live music streaming services.
Music Live Streaming Concert
When it comes to music live streaming and live streaming strategies for any such events, there are some essentials to keep in mind. Here is a list of all the important factors that affect or are a result of a music live streaming concert: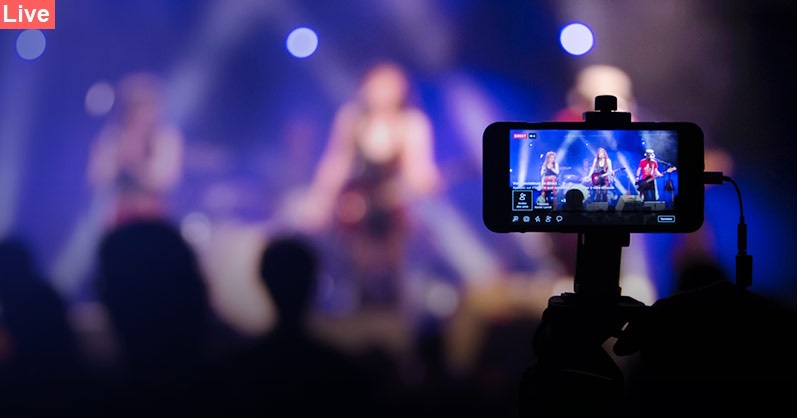 1. Making real profit off virtual experiences
If you are of the opinion that when you live stream for the next event, your ticket sales for the actual event will go down; then this opinion is actually unfounded. In fact, there are examples of many popular events that have seen much more footfall and ticket sales after they have undertaken live music streaming services. Many studies have shown that a majority of the music live streaming viewers are likely to actually go to the event next time it happens. It is not hard to imagine that not only does a live stream popularise the event to people who may not have known about it, but also given some others a major fear of missing out (FOMO) for such a fun event!
Therefore, an organiser can easily make a profit from ticket sales, merchandise, food, and beverages, etc at a future real event by live-streaming the current one.
2. Audience engagement achievement
A music live streaming concert gives you as close an online experience as you can get to the real one. Not only does it give the audience a taste of what your event is like, but it is also an excellent marketing tool. No other medium can quite reach and allows you interaction of the kind that this one does. Be it Facebook, Instagram, Twitter or any other social media station that you use to live stream for music events, most users are known to spend more time on live videos than normally posted ones. People are also known to be more active in commenting and reacting to live videos. 
Other than the actual musical performance, there are other types of visual content that can be used to engage the audience:
Some pre-event and post-event interviews and other types of content.
Meet and greets with fans and VIPs
Interesting behind the scenes and backstage videos
3. Choosing the right social media station
If you are looking for options regarding live streaming for the next event, it is prudent to know the best platforms to do so. In order to reach out to the maximum number of people, get the most out of the live video analytics matrix and just the most profitable service, choosing the social media station has to be done very carefully. Despite Youtube having a stronghold over a majority of on-demand videos on the internet, it is Facebook live that has gotten popular in regards to a music live streaming concert or any such event.
4. Quality above everything else
When planning to live stream for music concerts, it is imperative that you focus on the quality of your live video. Just getting your event to be live webcast is not enough when the viewer is not even able to watch what is going on in the video. A good quality video should be the priority in your live streaming strategies. People prefer stable and good quality live streams over any shaky pre-recorded ones. So use the best quality equipment and skilled professionals to execute your music live streaming concert.
5. Earning through monetization of content
Any viewer of live streaming for music concerts is essentially watching an actual concert, just from their own location rather than the concert venue. An organiser or the host of the stream can easily monetize that video and ask the audience to pay the ticket fee for watching it. Most of the audiences are willing to pay the price to attend such events, even virtually. This works in your favour in two ways, filter out genuine audiences and increase your financial profits.
6. Emerging as market leaders
Music events, concerts and a sundry of entertainment of this kind happen every day across the globe. So how does your event stand out in the list of so many similar ones? What is your impact on the mass audiences out there? This is where live streaming comes into play. Music live streaming or live stream for music events can be the unique selling point that gives you the added advantage over your competitors and make you stand a step ahead of everyone else. This method to promote and profit from your event has far-reaching positive effects!
Music live streaming for concerts is an emerging trend that is fast catching up to the already established norms of the entertainment industry. Every day, the evolution and innovations in technologies like these bring about a change in how the masses consume entertainment, and music, especially in this case. We hope that all these points can help you in your quest for making the next big music event live!
Host an Engaging LIVE Stream
Connect with the Industry's Most Experienced
Live Streaming Service Providers.