In the rapidly transforming era of technology and internet supremacy, everything is getting closer to your fingertips. The whole phenomenon of information sharing has changed with the rise of telecommunication, especially after 3G, 4G and now the expected launching of 5G technology. One of the effective ways that marked a huge difference in sharing media content over time is digital broadcasting services.
Along with the telecommunication and internet evolution, the continuous improvement and launch of social media platforms have already contributed to digital broadcasting services. Networking or simply social sites like Facebook, Instagram, Twitter (earlier Periscope), Professional networking sites LinkedIn, and YouTube (the early age of the 'broadcast yourself platform' that made it possible for today's age of social media broadcasting), all are a few names. So, let's unleash the layers from it.
Today, in this blog, we will be discussing all the necessary aspects of this technology and its subparts. We will also cover its types, advantages, and global and UAE perspectives. But before we dive deep into it, let's stick to our title and start with 'what it is'…
What is Digital Broadcasting?
Broadcasting is a term widely used to describe the process of transmitting information to several different receivers at the same time. It is made up of two words, mainly broad 'which means large audience' and cast 'meaning to transmit' combined means transmission of information to a widespread audience. In a broader term, it is not just the transmission of information only but to streaming of content or broadcasting of music, videos, or other array of diverse content including sports.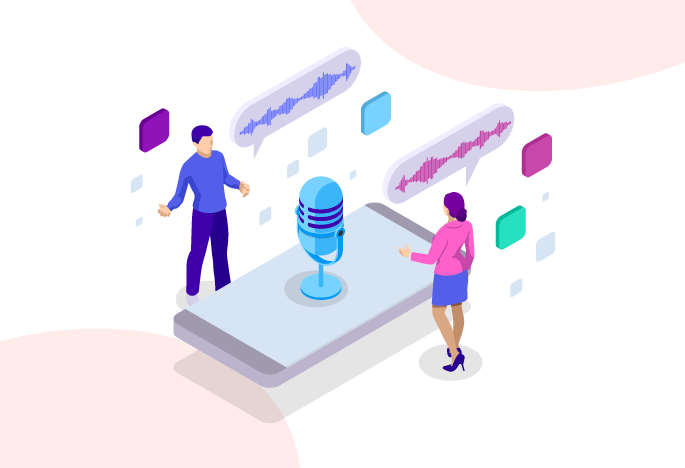 Simply from the traditional roots, there are two famous means of communication available that is television (TV) and radio (Frequency module: FM), and are simply the finest example of broadcasting services.
Furthermore, broadcasting services are the common way of streaming live feeds or in-person events over the internet, TV, or radio. All these channels sub-divide the type of broadcasting services;
Audio Broadcasting
Video Broadcasting
Web Broadcasting
In simple terms, we can say digital broadcasting refers to the transmission of audio, video, or multimedia content over the Internet or other digital networks. Such content is further consumed by users using numerous digital internet-enabled devices such as smartphones, laptops, tablets, etc.
10 Essential Types of Broadcasting Services, You Can't Skip To Know About!
Broadcasting services are divided into multiple types based on the channels, format of the content, the technology used for transmission, target audience, and range of coverage. Let's discuss all the important types of broadcasting;
1. Radio Broadcasting:
This type of broadcasting is majorly used by radio stations and transmits only audio through radio waves.
2. Television Broadcasting:
We all have televisions at home, which similarly work with radio waves but transmit audio-video content.
3. Satellite Broadcasting:
Satellite transmissions of radio or television signals that can be received by sophisticated satellite receivers.
4. Cable Broadcasting:
These broadcasting services worked on the subscription model offered by various TV cable companies for people to watch entertainment shows, movies, and others on TV.
5. Internet Broadcasting
On social media, just like we simply go live on Instagram or someone uploads a video on YouTube, it is an internet broadcasting service for audio and video content over the internet or social platforms. This uploaded content can be accessed by anyone with an internet connection. Also, nowadays, live broadcasting is also popular platforms like Facebook, Instagram, YouTube, Twitter, Linked In, and others that offer such services and features.
6. Podcasting:
Podcasting might be a native word in this era, this is specifically a kind of talk show transmitting audio over any platform or application limited to subscribers to listen and download. But few podcast creators also offer their sessions free of cost to internet users.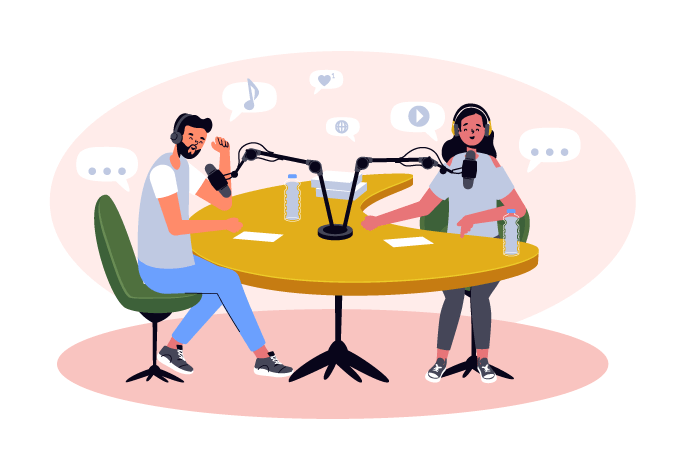 7. Mobile Broadcasting:
Mobile broadcasting is the new age of streaming content, whether it's video or audio or combined through mobile networks over the internet.
8. Public Broadcasting:
Public broadcasting is a non-profit service that is funded by the government or public donations, providing educational and informative content to the public.
9. Commercial Broadcasting:
Commercial broadcasting is a for-profit service that generates revenue through advertisements, providing entertainment and informative content to the public.
10. Narrowcasting:
This type of broadcasting service is specific to the target audience, such as in-house TV channels in hotels, corporates, campuses, or hospitals.
Digital Signage: The New Era Of Broadcasting Services
This type of broadcasting, works to transmit digital content, including text, images, and videos, on electronic displays in public spaces. For example; WhatsApp broadcasting is a kind of text-based broadcasting that works in real-time and transmits information to specified pre-feed contacts and a group of people. It is generally used by brands and businesses for promotions.
In today's age, it is quite preferable to talk about social media as it is a booming trend and the most beneficial platform for everyone. So, in the next section, we are unleashing social media broadcasting and its key aspects;
Social Media Broadcasting: Know The Importance & Key Aspects
Social media is nowadays used by everyone, from individuals to be connected with their friends and family to brands connected to their audience. Similarly, social media is quite an effective tool for all of us in the way it shares information to diversified content for all kinds of industries. In the context of broadcasting services, there are many social networking sites like YouTube, Facebook, Instagram, LinkedIn, Twitter, and others offering streaming services.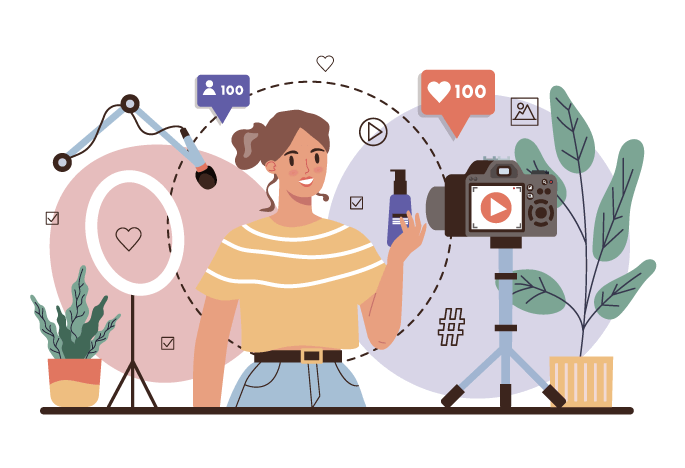 As said earlier, broadcasting is simply a means of transmitting information to a larger audience and in different multimedia segments. By using all these platforms you can share, and post, audio, video, and text-based content. Additionally, you can also choose to use live streaming services offered by this platform that too at free of cost to showcase your in-person event to a wider audience. Not just that, but also you can make product demos, information videos, or simply any type of content like how to use others to build your brand community.
One of the finest examples of it is News channels, which have an online and offline network of broadcasting to deliver the best possible news to their audience.
From the above crux, there is one question that might come to mind: is there any difference between live streaming and digital broadcasting services? So, let's understand it.
Broadcasting vs. Streaming
There are certainly a few differences and similarities that both the terms share. However, majorly the difference is that broadcasting is transmitting of information in any form whether it's in text, images, audio, video, and others to a large group of people. Whereas streaming commonly means streaming any live footage over the internet or via satellite to TV in real-time is considered as streaming. For example, a news channel covering the live footage of a riot to the sports channel streaming the IPL on Jio Cinema.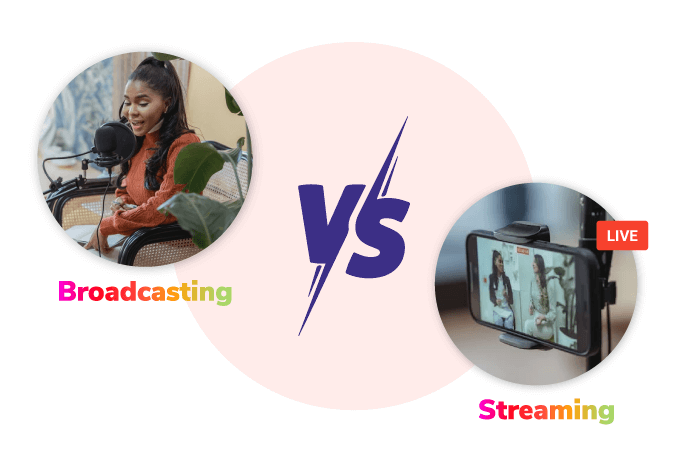 Moreover, live streaming is also done in the simplest form when you open your Instagram account in your form and go live. This is also a kind of streaming, but in broadcasting content, broadcasting is not necessarily live.
Now moving to our next section, that is how it works…
How Do Broadcasting Services Work?
Broadcasting services work on electronic signals which help to transmit audio, video, or other multimedia content to a wider audience. In general, any form of content is first recorded and then transmitted using many technologies like broadcasting towers, satellite, cable, or internet connection to receivers. Where the audience can receive it via the TV or radio tuned to the frequency of the broadcasting service provider. Furthermore, there are many technologies that are generally used in transmitting content, such as; airwaves or through a cable or internet connection.
To ensure that the content goes directly to the receiver uninterruptedly, broadcasting companies or service providers use specialized equipment like transmitters and antennas to strengthen the range and signals. Additionally, their content complies with government agencies and safety regulations to ensure the quality and safety of the broadcasting process.
Why Do Broadcasting Services Matter The Most?
Do you do many important outputs and numerous advantages it offers in the global scenario, it matters a lot. To get updated on the latest news, government work and policies, entertainment, and other sorts of content over the TV or radio. Also, with many types of broadcasting as discussed above, there are plenty of open opportunities. For example, with digital broadcasting, you yourself can record and broadcast your content over social platforms and the Internet. This can help in fulfilling many objectives like brand awareness, promotions, knowledge sharing, and others.
Moreover, Digital multimedia broadcasting is also a popular way to create your own channel and work as a broadcaster in any of the niches you believe you are good in. So, all these combined tell many aspects of why broadcasting services matter to us. If you also wanted to broadcast your event or establish a broadcasting or live-streaming service to promote your next business events. Do not worry about how you are going to set up the cameras, microphones, and other equipment, or simply leverage all the social channels to do so. We at Dreamcast are an event tech suite known for providing such services in the UAE. To know more, book your free demo or simply look for our service pages.
FAQs
What are the different types of broadcasting services?
There are numerous types of broadcasting services, including;
Television broadcasting
Radio broadcasting
Satellite broadcasting
Cable television broadcasting
Internet broadcasting
And more!
What is a broadcasting service?
Broadcasting services refer to a mass communication medium that uses electronic signals to transmit audio or visual content to a wide spread of audience.
What is the main role of broadcasting?
Broadcasting serves the primary role of sharing information, on a large array of topics depending upon the services providers such as entertainment, event registrations, education, healthcare, and others. Broadcasting is also meant to promote social and cultural heritage and values.
What are the benefits of broadcasting?
First and foremost benefit of broadcasting is that it lets you reach a wider audience with effective event registrations. It has the ability to promote information and educational content or any other in order to unleash the new potential of success for business and all other industries.
What are the limitations of broadcasting?
Every technology comes up with some limitations, like broadcasting here has few. The first is that anyone with access to broadcasting services can transmit misinformation and the cost of producing it, while complying with regulatory guidelines and standards. Also, people with no access to technology cannot read, view or see the broadcasted content.
Host an Engaging LIVE Stream
Connect with the Industry's Most Experienced
Live Streaming Service Providers.