Uncover the potential of our platform as compared to other alternatives available in the high-surged competitive market.
With the spike in the competition among the virtual event platforms during the pandemic, Dreamcast stands apart. As new players are coming up every day, the tug-of-war between virtual event service providers has taken a drastic turn. We have amalgamated this article, to talk about how Dreamcast is different from any other mainstream virtual event platform brands or Softwares that claim to offer top-notch services and solutions.
Dreamcast: All-in-one Virtual Event Platform
Dreamcast is a top-leading virtual hybrid event platform that offers customisable solutions to cater to all your event requirements as per your expectations. We strive to offer you the best possible features to enhance your virtual attendee experience and deliver immersive experiences, just like physical events. Right from emphasising on networking opportunities for seamless interactions to offering customisation options to match the brand vision, we take every effort to offer the best to our clientele. We thoroughly analyse the feedback given by our clients and attendees and try to integrate it to offer the best possible solutions to replicate the essence of live physical events. So without wasting any further time let's have a look at how we stand a step ahead of other available virtual event platform alternatives in the market.
1. We are Here to Assist you in Any Way Possible
We are always there to assist our clients. At Dreamcast, we take every possible effort to enhance and upscale user experiences by offering the most exuberant features and services. We offer an array of comprehensive user-friendly virtual event features to conceptualise and host engaging and interactive virtual events as well as hybrid events with utmost ease. Serving our clientele with the best-in-class features is our topmost priority. Right from offering 24*7 real-time customer support to ensure a seamless delivery of the virtual event or hybrid event to look for any other issues, we closely monitor and solve problems faced by clients or attendees instantly. We hold a team of dedicated experts that closely understands the client briefs and even take the nitty-gritty aspects into account. Moreover, we assure to solve all your issues and inconsistencies in real-time. We facilitate organisations to opt for end-to-end customisation services to revise the virtual event platform basis the brand image and event requirements.
2. We offer End-To-End Customisation Options
Dreamcast empowers organisers to customise every element of a virtual event platform to match the brand requisite. We offer a unique functionality of customisation to replicate live physical events to grab the attention of your potential attendees and keep them engaged with the event. Additionally, Dreamcast offers a wide range of most promising features that helps in uplifting the entire ambiance of your virtual event. Right from the dynamic lobby with animated lighting & music to dynamic banners to seamless navigation, we foster to curate an immersive and holistic virtual environment. Moreover, with Dreamcast exhibitors and sponsors get an opportunity to customise their virtual booths right from button colors, icons, texts, background images, and more as per their requirement. Dreamcast brings the best elements of both the event world i.e virtual and in-person under the same frame with its top-notch services, thus resulting in making it the best hybrid and virtual event platform.
3. We take Definitive Measures to offer Ample Networking Opportunities at Virtual and Hybrid events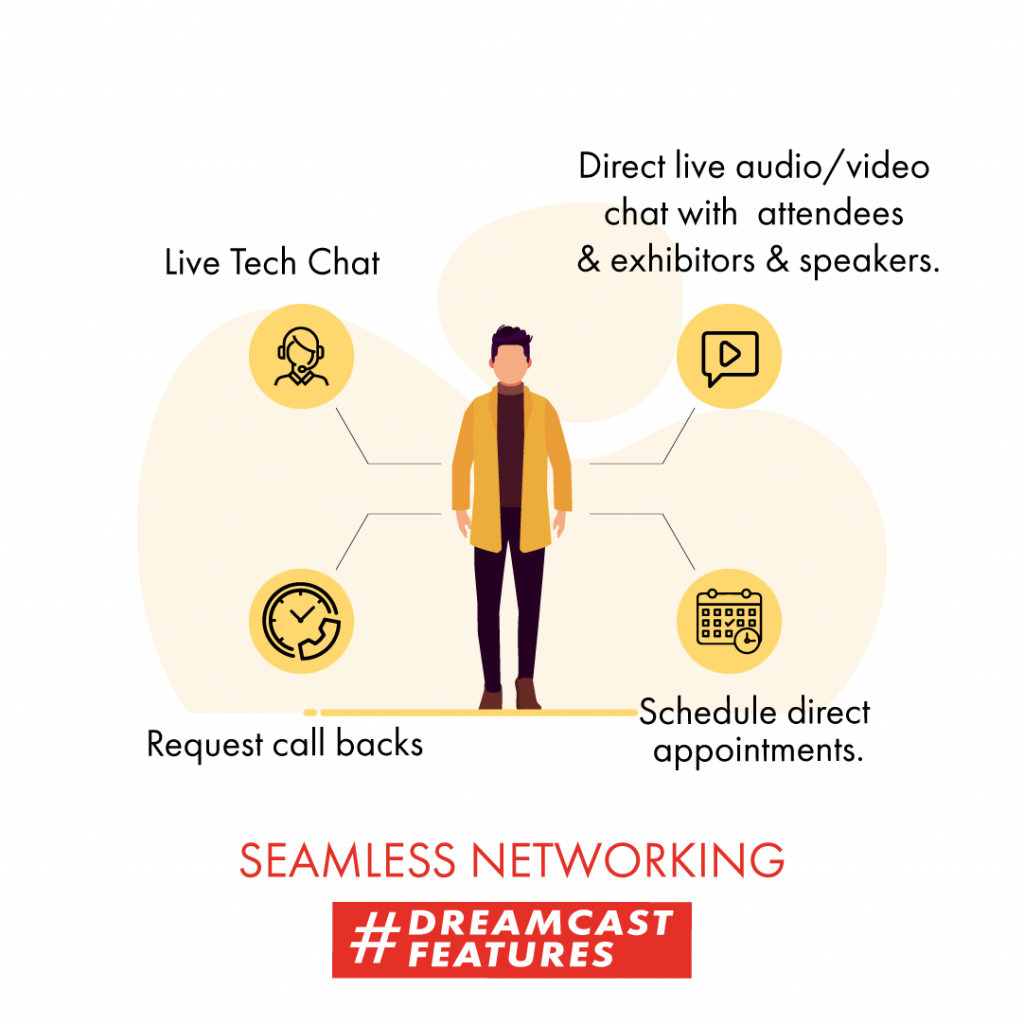 Networking is an important aspect of any event. When it comes to virtual or hybrid events, it becomes even more crucial. Attendees attend a virtual event or hybrid event with a clear intention to foster meaningful connections by having seamless interactions at the event. Whereas sponsors and exhibitors take part in the virtual hybrid event to build a larger client base by enhancing the reach. Here, networking plays a prime role. Dreamcast has integrated ample networking options in a virtual event platform for seamless networking in real-time. It helps in boosting and scaling the online visibility of your event and enables attendees to have free-flowing conversations.
Dreamcast virtual event platform offers a wide range of networking features starting from virtual networking tables, business card exchange, AI-matchmaking, audio/video calls, B2B meeting scheduler, Whatsapp and zoom integration, and more for seamless networking and replicating the essence of in-person events and conferences. However, the platform has recently come up with an exciting feature, 2-way virtual conferencing to make interaction smooth and seamless in a virtual environment.
4. Data Privacy of Our Clients is Our Utmost Priority
Our client's privacy is our priority. We at Dreamcast offer top-notch data security and privacy capabilities. Since its inception, we adhere to robust security and privacy measures to keep the sensitive data shared during virtual events safe and secure. The platform abides by transparency and compliance guidelines thus ensuring clients and attendees that their data is in safe hands. To ensure data security, we take several checks at various levels. The virtual event platform is curated on SSL Secure connection and Various methods such as Password-protected login, 2-Factor Authentication, Enhanced security through Captcha, 2-way Authentication using the OTP have been integrated.
5. Measure your Event Analytics Effectively With Us
Boost your events ROI by analysing the accurate data. We at Dreamcast offer you the most accurate data analysis of your virtual and hybrid events. The virtual event platform is embedded with the lineup of the most promising features such as digital footprinting, data tracking, and more to keep a track of all the data and the most visited sessions or booths. It helps in keeping a track of how attendees navigated throughout the event, what are the most engaging hotspots and which areas at an event did not receive any footfall. The data tracked during the virtual event enable organisers to take corrective measures in real-time and improve engagements.
6. We offer a Range of Interactive and Engaging Features
While hosting a virtual event or a hybrid event our rationale is to reach as many attendees as possible. Don't you want your event to make noise and become the talk of the town? You definitely do want this. To achieve this you need a comprehensive virtual event platform that offers the most exuberant features to make the user journey easy and seamless.
We at Dreamcast have designed each and every feature keeping in mind the comfort of virtual attendees to make their virtual journey easy. The platform offers an extensive list of the most engaging and interactive features starting from live polls, surveys, gamification, emoticon integrations, Q&A sessions, and more to keep attendees interested in the event throughout. Dreamcast offers the best virtual hybrid event platform with the most eminent features suiting the event requirement, which makes us stand apart from the other alternatives available.
Final Word
In the above-mentioned article, we have summarized a few key pointers that make us stand apart from other alternatives available in the market. If you have not yet planned out virtual or hybrid events, now is the time to get started! Plan out your upcoming hybrid or virtual events with Dreamcast virtual event platform and take your event to the next level. For more information, enquire now!
If you are looking for comprehensive solutions for your virtual hybrid events, Dreamcast offers endless possibilities. Enquire now!
In-Person, Hybrid, Virtual
Create an Extraordinary Event Experience
Across All Event Formats