In the current digital landscape virtual events have emerged as the game-changer. Due to many added advantages, it possesses; flexibility, convenience, and wider reach. Additionally, there are many types of virtual events. That can be hosted the same as in-person experiences. Whether it's for professional networking, brand promotion, or educational purposes, virtual event platforms provide an array of opportunities.
Here in this blog, we are going to explore all types of virtual events in 2023 that can possibly be hosted. So, let's deep dive into learning all types of virtual events and how to get the best out of all of them.
Top 15 Types of Virtual Events for Unparalleled Experiences: The Best of the Best
The 15 types of virtual events are just a number as it is not limited. By leveraging the robust event tech solutions or virtual event platform any kind of in-person event can be hosted in the virtual settings. Also, you can foster meaningful conversations, and fun activities, and keep interactivity and engagement as your top priority.
Virtual Exhibition
Exhibitions are of many types, but the main objective of all is to showcase cutting-edge products, artworks, antiques, and other creations. Some exhibitions are for displays and some are to sell. With the virtual exhibition platform, you can do this comfortably and let the audience give a chance to view and experience all the artifacts from their comfort of home or anywhere else. One of the finest benefits of hosting virtual exhibitions is that you don't have to be bound by geographical reach. Expand your exhibition reach globally and connect with like-minded enthusiasts.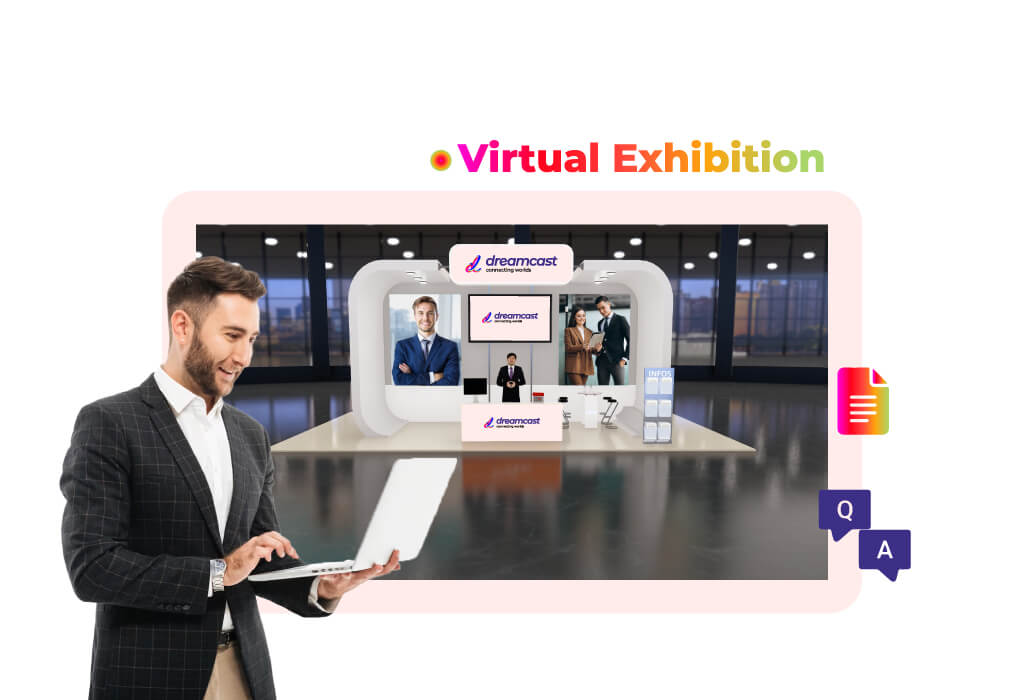 Virtual Expo
Many brands, businesses, and organizations host expos in many settings like; physical, hybrid, and in virtual settings. As they know the importance of it. Without the display of the latest products, solutions, and services any company can never grow. The virtual expo platform lets you host such immersive expos where you can display your products. Also, give live demos, connect with the audience, and interact in real-time with live chats, polls, and Q&As. Furthermore, with us, you can create virtual booths for 1-2-1 interaction and also capture leads.
Virtual Art Exhibition
If you are a renowned artist or a new in the business of art you might know how many arrangements it takes to host art exhibitions. So, let us help you with our robust virtual event platform designed to cater perfectly to all your attendees and global audience to take on a virtual journey through the world of art and culture. The virtual art exhibition is one of the finest examples of the types of virtual events in 2023. Why? Then there is a perfect answer. By creating an immersive 3-D environment, leveraging interactive features like emojis, confetti, emoticons, chats, and polls, you can showcase your art and capture the audience's response. 
In-Person, Hybrid, Virtual
Create an Extraordinary Event Experience
Across All Event Formats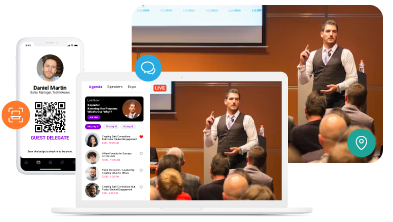 Virtual Product Launch
Are you a brand that can't afford to host an on-ground event due to heavy expenses and troublesome preparations? No? Still fine. Because no matter what. You are the one who wants to increase your brand and product visibility and overall increase the product's awareness. Unlock your latest innovation, products, or services that reach a global audience with an in-person-like experience. By leveraging the virtual product launch platform this can easily be possible saving you a lot of money, time, and effort. Additionally, this will ultimately help you generate the best possible ROI. And the recordings of your virtual product launch can be repurposed to boost the social media presence.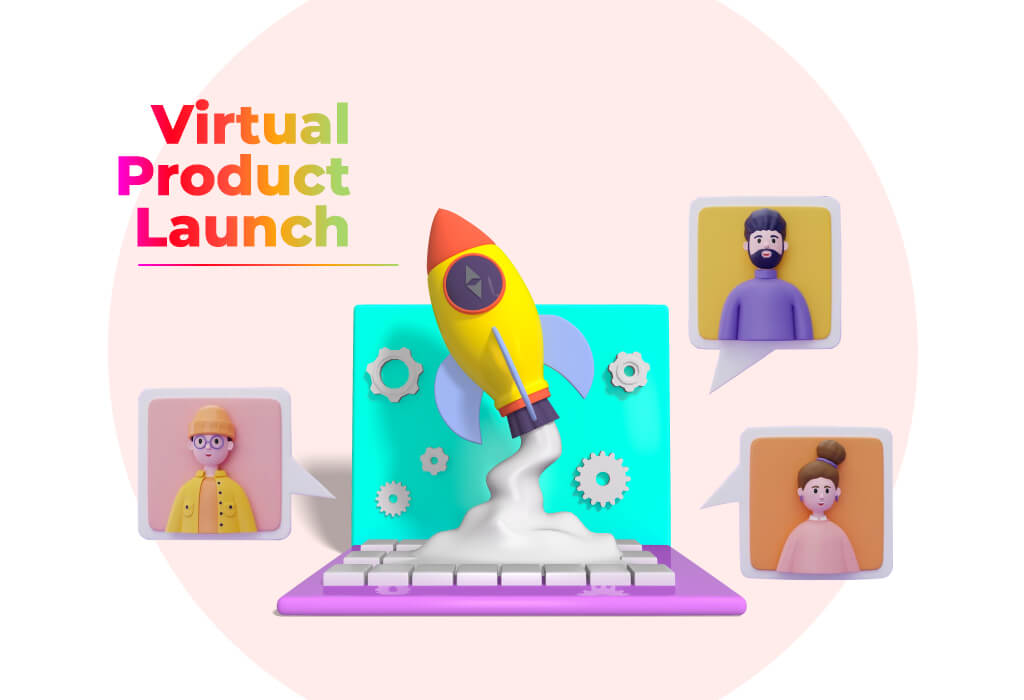 Virtual Award Show
From organizations to every institute in order to acknowledge their team members, employees, or in general hosts award shows. This can also be possible virtually. Gathering all the members of your organization from different places and continents is something not possible sometimes. But with virtual award shows you can make them feel valued, recognized, and honored for their contributions. Celebrate the exciting award show with metaverse-integrated avatars, video calls, and platforms that look more stunning than real.
Virtual Fashion Show
This is one of the best among all the 15 types of virtual events in this blog and is quite popular nowadays. Many fashion designers, brands, and companies are leveraging the services of virtual event solutions and platforms to host virtual fashion shows. For example; the biggest fashion show event the 'Tokyo and Shanghai Fashion Weeks' was hosted virtually in response to reach a wider audience. Many big brands like Dolce & Gabbana, Tommy Hilfiger, COACH, Adidas, DKNY, Vogue Singapore, and others take part in virtual fashion shows and host such events.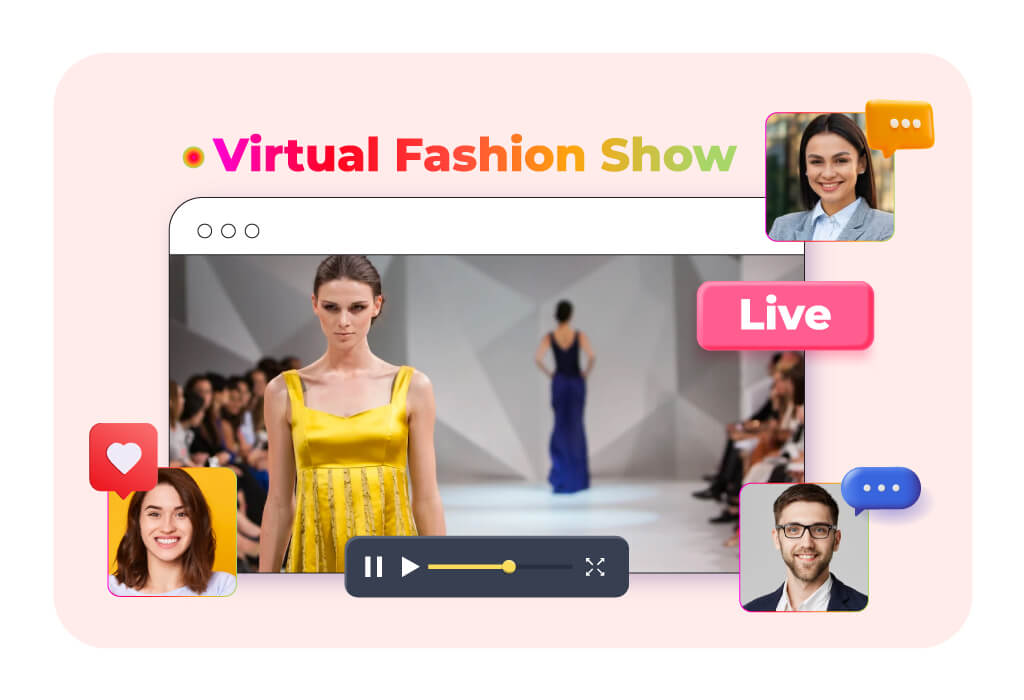 The major reason is the response they receive in on-ground fashion weeks and virtual are quite different. In the virtual settings, there are millions of people who can see the event whereas in the in-person settings, it can't be possible to reach such a wider audience. So, if you're thinking about how to host a virtual fashion show and want to learn more, get in touch with Dreamcast's virtual event team. Book your free demo now to learn more.
Virtual Property Show
Have you found difficulty in attracting more clients at your last property exhibition? Do not worry about this time hosting a virtual property show where you give immersive 3D tours and expert guidance on your property in real-time. The virtual event platform is inbuilt with many engagement and interactive functionalities like the raised hand, chat, and even breakout rooms. So, with the use of such you can interact with your potential buyers and give them a real-life tour of the whole property. The functional features will help you to resolve any query of your audience in real time, and also you can let your executive connect them one-to-one in the specially designed breakout rooms.
Virtual Trade Show
Host a fully customizable virtual trade show for all your national and international clients while boosting your networks. The virtual trade shows are fully customizable as per your unique requirements and in whichever brand tonne you want. This will help you create a more professional set-up where you can easily conduct meetings, showcase the latest products, and connect with global markets. 
In-Person, Hybrid, Virtual
Create an Extraordinary Event Experience
Across All Event Formats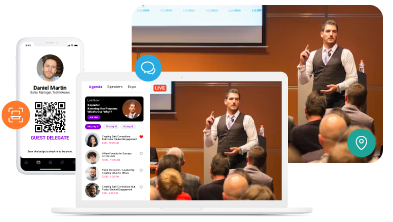 Virtual Automobile Show/Virtual Motor Show
The automobile industry is one of the most celebrated, and who doesn't love bikes, cars, and vehicles? Yes, everyone desires a vehicle based on their different requirements. But how will your latest designs, innovations, technology, and vehicles be presented to potential buyers? On-ground events are undoubtedly the best option to host such showcases. However, the concern lies in attracting enough people and managing reservations, ticketing, and check-in systems effectively. Fortunately, Dreamcast provides a one-stop solution for all your event tech-related needs.
Note* With our expertise, you can effortlessly set up a seamless on-ground auto show, tackling every challenge along the way. We offer mobile event apps, registration platforms, contactless check-in stations, and even live streaming services that encompass multi-camera streaming and simultaneous streaming on multiple platforms. Whether you choose to host the event physically or take it to the virtual realm, our virtual event platform and live-streaming services will ensure a successful and engaging experience for both organizers and attendees. So, why wait? Get in touch with us and get all your queries resolved.
Virtual Career Fair
In the competitive corporate era finding the right talent is quite difficult for companies. Also, with the physical interviews there are a lot of restrictions in terms of whether a candidate sitting in the UK will not be able to come to India for the interview. So, the virtual career fair is one of the best recommendations for such organizations looking for talent beyond their organization's physical location. Also, for the educational institute to organize such virtual career fairs and invite recruiters from all over the world. This approach will surely be helpful for the students to get a chance to get their interview at their top companies.
Virtual Fest
From corporations to educational institutions, all of them host virtual fests to celebrate culture, music, and festivities. Expand your blissful moments globally and let foreign peoples also get involved and boost your fest a true sense of festivity. That is to celebrate with many people. Create excitement with the festive theme-based virtual event platforms with the vibrancy of events from diverse backgrounds. Also, if you are looking to host charity fests and functions these are the best way to gain more attention and raise funds.
Virtual Summit
A virtual summit is an essential type of virtual event in 2023. That brings together industry experts, thought leaders, and participants from all around the globe in a digital environment. Unlike any physical summits, virtual summits give the same experience where you showcase the presentations and conduct workshops. Also, foster networking opportunities from the comfort of their own homes or offices. This format helps in saving a lot of time and money that are needed for traveling, and accommodation. Also, reduced logistics challenges. With interactive features like; live Q&A sessions and virtual exhibition booths, these summits offer an immersive experience and foster meaningful connections among participants. As continuous technology empowers us to give the utmost convenience in cost-effectiveness, and ability to reach a global audience.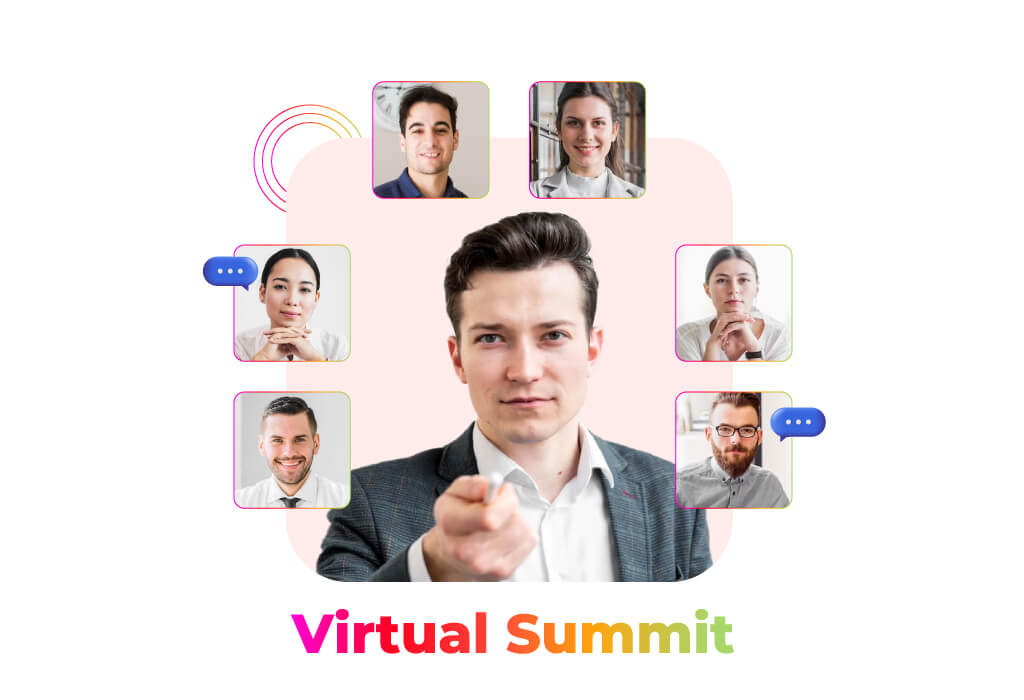 Virtual Conference
In every industry, conferences play a vital role. The virtual conference is meant to host to discuss the latest trends, and emerging topics while bringing all the leaders in place. Furthermore, with virtual summits, you can even conduct workshops, panel discussions, and networking activities the same as in-person. By leveraging the many advantages, such as increased accessibility, reduced costs, and flexibility for participants to attend sessions from anywhere with an internet connection. All you can manage to create a seamless experience for attendees.
Virtual Town Hall Meeting
Host your company's virtual town hall meetings easily and connect with all the employees and members located globally. With all the interactive functionalities, engage in open dialogue with team members and management, address critical issues, and contribute to collective growth. Additionally, with the breakout rooms, two-way video conferencing, chats, Q&As, and polls to know the opinions and collect feedback effectively.
Virtual AGM
Host the most secure, private, and safe AGM with voting capabilities. For the big organization to be available at the same meeting hall for all the stakeholders is close to impossible. So, in order to cater to this issue, conduct a virtual AGM. This will easily let you connect with all the stakeholders and in taking the decision based on the voting. Also, with all the secure chatting and conferencing the process of reviewing the performance can be done.
Summing Up
It is undoubtedly that virtual event platforms are one of the best technological advancements. Utilize the best-in-class services to host all 15 types of virtual events. With added functionalities and features such as chats, live polls, Q&As, metaverse avatars, custom backgrounds, and themes. You can add an immersive environment you can ensure overall attendee satisfaction. At Dreamcast, we ensure to give the most advanced, end-to-end customizable virtual event platform to run your event on the go. To learn more, book your demo now and get all your queries resolved.
FAQs
What is the difference between digital and virtual events?
The basic difference between digital and virtual events is that digital events are static like webinars. And the virtual events are dynamic in nature that give an immersive environment and experience like an in-person venue theme.
What is the role of virtual events?
The virtual event plays an important role in connecting and engaging the audience from the comfort of their place globally. Also, just like in-person events host the events on the go without any geographic boundaries and at the most cost-effective possibilities. With added analytics, and functionalities it is as engaging and interactive as any on-ground event, but in virtual settings.
What is the best time to host a virtual event?
You can host virtual events anytime as there are no barriers in terms of weather, venue availability, or timings. Virtual events are quite flexible and can host anytime and in anytime zone.
What to do after a virtual event?
Analyze the detailed reports post-event, send feedback, and bask in success. Also, based on your analysis optimize your future events
Can I interact with other attendees during a virtual event?
Yes, you can. With many added functionalities like; live chats, polls, Q&As, breakout rooms, group meetings, and two-way video conferencing advanced interaction is possible as well as meaningful interaction can be fostered.
In-Person, Hybrid, Virtual
Create an Extraordinary Event Experience
Across All Event Formats