The episode of several transformations happening since 2020 demanded everyone to enter the virtual environment to ensure the continuity of their business. It had been even more challenging for the event industry to continue delivering remarkable experiences without a physical venue. But, with the adoption of several digital tools and an ideal virtual venue, businesses and event organizers have not just hosted virtual events or virtual award shows but also made them a profitable and fascinating affair.
Let us walk you through some effective virtual award ceremony ideas and practices that you should understand before hosting an online award show;
What Are Virtual Award Shows?
An award show happens over the Internet using a secure and robust virtual award show platform. They are an effective means to appreciate your associates, clients, and employees for their efforts towards the growth of your business. Recognition is a great way to strengthen your company and inspire your employees to perform even better. It is important to acknowledge the accomplishments of our employees or associates to keep them motivated.
How To Plan a Successful Virtual Award Show?
The intent should be to host a successful virtual award ceremony that can recreate the experiences of an on-site event for the sponsors, exhibitors, and attendees. Here are a few excellent virtual award ceremony ideas required to host a unique and bizarre event;
In-Person, Hybrid, Virtual
Create an Extraordinary Event Experience
Across All Event Formats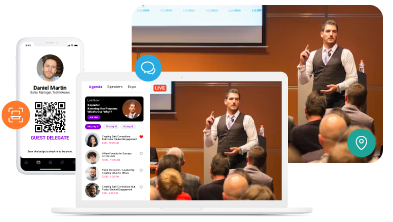 1. Choose the Most Suitable Virtual Event Platform
Determining the best virtual event software for your award show can be a bit complex, with so many options to choose from. But, we need to consider compatibility as the most crucial factor. Ensure that the virtual platform you pick is compatible with both laptop and phone to avoid any inconsistency. It should include excellent features like a chatbox, polls, gamification, quizzes, Q&A sessions, surveys, social walls to keep your audience engaged. They should incorporate endless opportunities and customizable interfaces to make your online award show more interesting and attractive.
2. Create a Room for Sponsors
Attractive sponsors for your virtual award ceremony act as a boom. To keep them engaged, you can offer a particular space on your social wall that will showcase both theirs and your content. Also, you can display their brand logo, content, products, and offerings on different digital screens. It will make your sponsors feel profited and hence, will readily sponsor for your future events as well.
3. Perform Social Media Live-Streaming
Live-streaming your online award ceremony is very crucial for generating excitement and awareness about your brand. You can pick one of these popular platforms such as YouTube, Facebook, Twitter, Instagram, or Twitter to live-stream your event. It is an effective way to welcome more participation in your online event.
4. Include Exciting and Engaging Features
For any virtual event, it is necessary to deliver impactful experiences right from the beginning. Keep interesting titles, immersive graphics, a visually rich environment, or exciting background music to keep your attendees excited. You can also include excellent games at your event to make your award show more enjoyable. It is an effective way through which the attendees will spend more time on the platform itself.
5. Promote your Virtual Award Show
To encourage more participation it is important to spread awareness about your online award ceremony. You can do this by using SEO-optimized content, promotional emails, or a compelling landing page. Make sure to mention the date, time, and registration link of your online event to avoid missing out on any new joiner. You can post event-related content on your company's official website and social media handles. It will spread the word more speedily, and you can expect more delegates from all over the world.
6. Leverage the Right Technology
Make sure that the virtual award ceremony platform you have chosen employs the most suitable technologies to make your event a success. It should be backed by 24/7 customer & tech support to provide immediate assistance to your attendees or avoid any unforeseen error.
7. Perform a Dry-Run
Virtual award ceremonies are live events, there might be chances of glitches befalling. Therefore, make sure you perform a dry run before the main day. Consider pre-filming the recognition speeches, just like the ones you watch at the Oscars. You would not want your victors to deliver a long acceptance speech which might hinder engagement.
8. Choose an Appealing Theme
Besides all the above stages this pointer can be potentially valuable too. Choosing an appealing theme for your virtual award ceremony can make your event a fun and engaging experience. Your theme can incorporate the key component of your company's brand tonnes such as color, logos, and other elements. Additionally, think of a super engaging theme like a superhero or something else. The deployment of the right theme is the best virtual awards ceremony idea you can look forward to.
Here are a few examples of virtual award ceremony themes;
Hollywood Glamour Awards
Heroes of Hope Awards
Retro Rewind Awards
Galactic Excellence Awards
Superheroes of the company
Red carpet rollout
9. Amazing Virtual Award Category
Well, in a company there might be many prizes you are supposed to distribute. But categorizing them in the best possible way can be helpful. Like not all your award should be based on the work. Some can be like the best fashionable award or Longest work anniversary.
Here are a few categories of virtual awards ceremony ideas for employees;
Employee of the Year
Best Team Player
Most Innovative Idea
Outstanding Customer Service
Leadership Excellence
Collaboration Champion
Rising Star Award
Excellence in Problem-Solving
Employee Mentor of the Year
Workplace Wellness Advocate
Also, when you're distributing these awards nominate a few names to encourage enthusiasm.
10. Send Post Event Clips of Your Online Awards Ceremony
Post-event engagement is also a part of any event. So, make sure to engage your employees with post-event awards the best moment clips, and highlighted recap.
Here are a few key details to include in your recap:
List of Nominees and Winners;
Comprehensive list of all nominees for each award category.
Announcement of the winners and their respective achievements.
Screenshots and Group Photos;
Captured moments of attendees during the virtual event.
Group photos of award winners and participants celebrating.
Meeting Recording;
Recording of the entire award ceremony for on-demand access.
Allows attendees to revisit the event or share it with others.
Thank You Message from the Company's CEO;
A heartfelt message expressing gratitude to all attendees.
Appreciation for employees' contributions and dedication.
Benefits of Virtual Award Shows
Attendance: Sometimes, because of unexpected circumstances, an attendee might not be able to attend an on-site event. But with virtual awards shows, you can expect 100% attendance as it requires no traveling.
Recognition: We know that companies have the option of awarding an individual privately. But, with virtual award shows, all the attendees are aware of the awards an employee, associate, or client has been awarded.
In-Person, Hybrid, Virtual
Create an Extraordinary Event Experience
Across All Event Formats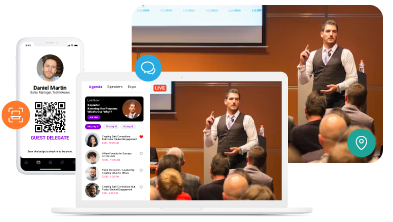 Long-term advantages: Moreover, a virtual award show will allow you to keep a recording of your virtual events. It is a digital method that can be shared with each attendee or be made available as on-demand content. This recorded content can be used for your promotional approaches for the upcoming online events.
Cost-effective: Since this award shows take place in a digital environment, there would be no additional expenses of traveling, accommodation, food, or venue.
Networking opportunities: Hosting an award show virtually gives way to numerous possibilities like gamification, live chat, audio, and video features. It will ensure that attendees do not get diverted and ultimately help in converting the online award ceremony into a success. Excellent networking opportunities make it easier for your exhibitors to find qualified leads, connect, and make meaningful relations.
How to Promote Engagement at Your Virtual Award Show?
Use Immersive Visuals
It is an excellent way to deliver an impactful experience to your attendees right from the beginning. Right from creating a 3D environment, animated light at the lobby, to attractive GIFs.
Add Compelling Sound Effects
It is a great means to recreate the experience of a physical award show. Exciting effects or clapping sounds will help make the awardees feel special.
Include AI-based Recommendations
AI matchmaking tool helps boost engagement at your online award show. It helps the attendees connect with like-minded people to initiate meaningful connections and interactions.
Keep Interesting Award Categories
Think of some creative titles for each award category that can arouse a sense of excitement and suspense among the attendees. This strategy will help you keep your attendees hooked and involved throughout the virtual event.
Social Wall
A social wall is similar to a social media wall that exhibits event-specific content assembled from different social media handles. When you showcase event-related content on the social media wall, many attendees get boosted to post about the virtual award ceremony using the branded hashtags. It widens your social presence and enhances your global reach.
Customized Games
Gamifying your award show is an effective way to keep the audience hooked and involved throughout. Games like guess the award, spin the wheel, word games, crosswords, shooting games, etc eliminate the monotony of attending lengthy sessions. You can also keep sponsored games to let the exhibitors showcase their content, products, and offerings to the attendees in a creative way.
Virtual Networking Tables
Virtual networking tables facilitate 1:1 and group discussions via live chat, audio, and video features. It allows the exhibitors to either have a private chat or interact with multiple attendees at a time.
Photo Booths
Photo booths are an excellent way to add an enjoyable element to your event. After the virtual award ceremony starts, the attendees can make use of photo booths during their breaks. They can capture multiple photos and share them on their social media channels. It will promote the virtual award ceremony and enhance your brand value.
Include Breaks or Plan Shorter Sessions
You need to treat the attendees in a different way when it comes to online events. It is important to keep them interested so they dwell on the platform for a longer duration. You can schedule breaks before the most important sessions to deliver your message accurately, and attendees do not miss out on anything. Consider keeping a variety in the format of your event or include different speakers who can keep the attendees involved. This strategy will help minimize attendee drop-off.
Getting Sponsors for Your Virtual Award Shows
Brands and organizations sponsor virtual events to boost their sales, enhance visibility, and promote their brand. If you are planning an online award show, you have to reach out to various brands and propose if they would be interested in sponsoring the event or not.
Sponsorship enhances the chances of drawing more attendees and brings in the funds needed to host the award show. Virtual or physical, if an event is financed by sponsorship, it attains credibility and is expected to notice an uptick in the number of attendees.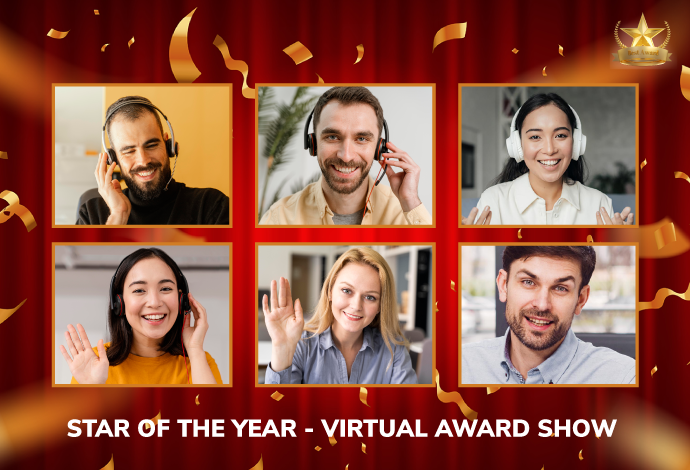 Conducting an event virtually does not mean you cannot back it with sponsors. But to lure more sponsors, it is vital to explain the benefits or profits that they can experience through your event. Let's understand the main reasons why a sponsor would be interested in your event:
Help the sponsor with increased visibility: You should be capable of offering excellent visibility for your sponsors by outlining some creative virtual award ceremony ideas for their brand recognition during the event. You can use their brand logo, images, and content on various sections of the virtual venue to generate more qualified leads and enhance their brand value.
Attendee Database: Secondly, you can help the sponsors with their attendee's email id. It will offer a chance for the sponsor to let the attendees know about their products or services through email during the event.
In-Person, Hybrid, Virtual
Create an Extraordinary Event Experience
Across All Event Formats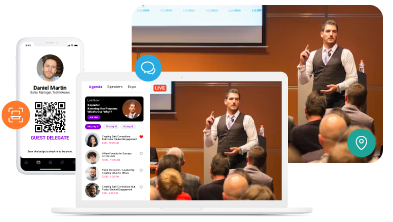 How to Gauge Success of a Virtual Award Show?
One of the major concerns for both the event organizer and the sponsors regarding an online award ceremony is the achievement of their endeavors. There are various ways to gauge the success of your event as you intend to host one.
You can estimate the success of your event by assuming your audience ratio (AR). This ratio estimates the percentage of individuals who visited the virtual event as compared to the number of registrants.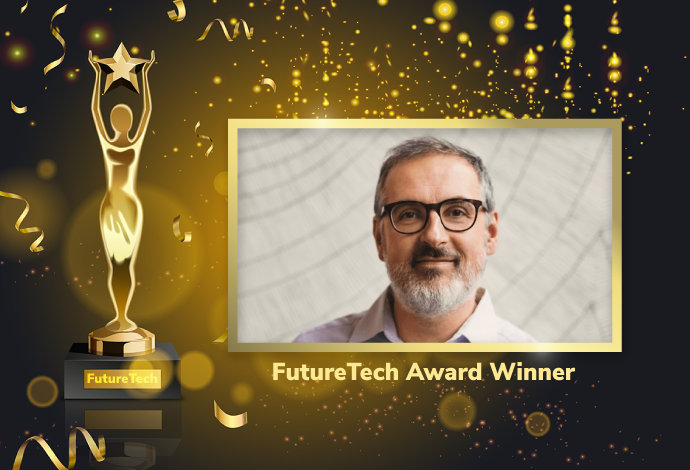 Also, the surveys will allow you to discover the interests of your audience by obtaining real-time feedback. Additionally, you can apply exit polls to gauge how well you sufficed the expectations of your attendees. For example, whether your virtual event achieved what was promised to the target attendees and more.
Quick Tips and Tricks
Design an exciting event landing page
Use keywords to optimize your search results
Use email marketing as your advertisement tool
Advertise your virtual event on various social media across platforms
Urge people to inform their friends and colleagues
Consider posting videos on YouTube and Instagram to spread awareness regarding your online award ceremony
Collaborate with associates or sponsors to enhance your brand recognition
Make your online award ceremony very engaging and interactive to avoid attendee distraction
Remember to collect relevant feedback from your attendees to understand your opportunity areas.
Besides all the tips and tricks you have to take care of the engagement and interactivity. It is generally believed that the award ceremonies are quite formal. So, let's break the stereotypes with some of the best fun virtual awards ideas and technology-enriched virtual awards ceremony ideas for employees.
Interactive Elements and Technologies for Virtual Award Shows
So, here we have covered some of the best possible interactive and engagement fun ideas you can leverage with us but not limited to. So, let's get started
Augmented Reality (AR)
With our virtual event platform, you can create a 360-degree immersive environment with 3D animations, filters, and much more. This will give attendees to explore the award venue virtually and enjoy personalized AR features.
Virtual Reality (VR)
By creating the 3D immersive environment and astonishing sound it is possible to let your attendees immerse in virtually as in-person. With lifelike award venues with VR headsets, it is possible. Delivering acceptance speeches and networking in a simulated ballroom setting can improve the overall experience of your event.
Holographic Presentations
Empower the speakers, presenters, and award winners on the virtual stage to present their speeches. This will add futuristic charm and grandeur to the event.
Interactive Gamification
To create an additional way of formal interactivity at your virtual award shows you can host trivia games, quizzes, and polls. Additionally, linking gamification to sponsor booths for fun and rewarding interactions will be helpful and revenue-generating.
Live Q&A Sessions and Chat Features
With our virtual event platform capable of real-time Q&A and chat, you can easily gain feedback and also boost interactivity. This will let the employees directly be in touch with other users, speakers, and panels. This functionality can be purely customizable, so you can take control of it.
Incorporating these technologies elevates the virtual award show experience, fostering engagement and meaningful connections among attendees.
Conclusion
Your online award ceremonies will help attendees with a chance to be smiling, to greet, and to admire their or other's successes. It will also offer a platform for individuals to interact and 'meet' again.
If you can engage your audience and sponsors, you can expect a grand and prosperous event.
It will also present you with an occasion to make or produce a new collection of videos that will help market your upcoming online award shows.
Looking for an all-in-one virtual event platform to elevate the level of your event? Book a demo today!
In-Person, Hybrid, Virtual
Create an Extraordinary Event Experience
Across All Event Formats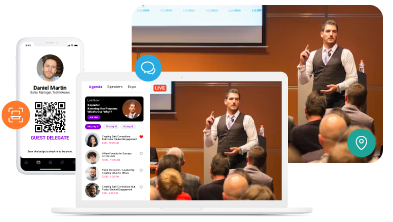 FAQs
What is the Role of a Virtual Event Platform?
An ideal virtual event platform is enriched with impressive features, powerful digital tools, and technical advancements. Hence, this is why with the selection of the right virtual platform, you can conduct a bizarre virtual award show that will deliver life-like experiences to the attendees.
How to Decide the Date and Time of a Virtual Award Show?
While planning your virtual award show, remember that the date and time of your event should not conflict with any other big industry event. With a thoughtful selection of the date and time of your online award show, you can encourage maximum participation from different remote locations.
Who Should be the Judges of Your Virtual Award Show?
Awards are meant to appreciate the hard work and efforts of your employees. To do justice, the judges of the award show should be experienced and skilled seniors who have expertise in their particular fields who can assess the employees and their efforts perfectly.
How to Decide the Award Categories for Your Online Award Show?
The motive behind presenting the awards to your employees is to let them feel motivated and inspire them to perform better. Dive into your business data and insights to understand which departments have obtained their goals and delivered exceptional results. It will help you with detailed knowledge of the employees and the awards you would like to bestow them.
How Will You Promote Networking During a Virtual Award Show?
As a virtual platform, Dreamcast ensures to keep networking as one of its priorities. It includes live polls, surveys, AI-based recommendations, games, quizzes, and many more to let attendees and exhibitors connect and interact seamlessly.
How to Keep Your Attendees Engaged During a Virtual Award Show?
To promote engagement, you should select a proficient speaker, who will deliver engaging and interactive content to keep your attendees involved throughout the virtual award show.
What Happens if There is a Technical Error During the Live Award Show?
Dreamcast as an all-in-one virtual event solution ensures to perform a dry-run or test rehearsal to eliminate any kind of unexpected error on the main day. Besides, we provide 24/7 tech and customer support to offer immediate assistance to the attendees in case of any technical glitch.
How to Attract Sponsors for Your Virtual Award Show?
Attractive notable sponsors for your virtual award show can increase the ROI of your event. To lure more sponsors, make them believe that they could obtain potential leads as you would display their content, products, and offerings through your event.
Can you Make the Content Available as On-demand Content Later?
Yes! Any virtual event that was live-streamed can be made available later as on-demand content. It will help you extend your virtual award show even after the live session is over.
Is Hosting Virtual Award Shows Budget-Friendly?
Yes, it is! You should understand your limits. Before you start envisioning the awards show, get a precise understanding of your budget. It will help you align your branding and messaging accordingly based on the budget.