The pandemic has evolved the entire way organizations conduct conferences & meetings. The world is now organizing all significant formal & informal events virtually over virtual event platforms. The immersive environment & interactive features provided by a virtual conference platform is making global organizations take events online. However, shifting to the virtual format requires you to follow some tips & practices to ensure its success. In this blog, we have encompassed some of the best virtual conference ideas, tips, and practices to help you host a seamless event.
15 Virtual Conference Ideas, Tips, and Best Practices
Virtual Conference Tips to Organize a Frictionless Event
Follow these tips to organize a seamless virtual conference:
1. Set a Clear Objective for Your Virtual Conference
Predetermine the goals & objectives of organizing the virtual conference. Whether it is reaching a maximum target audience or addressing an important subject, ensure that you plan out the entire event based on these goals. Setting specific goals will not only help you while creating an event outline but also measure the outcome.
2. Plan Every Event Aspect in Advance
From event schedule to content, plan each aspect of your virtual conference in advance. Create an efficient plan while keeping all your event objectives and goals in mind. Outlining your entire event's plan can essentially help you ensure a seamless event execution. Not just this, but it will also close all the loopholes to missing out on any significant element.
3. Define Your Virtual Conference Content Strategy
Content has always been and will always be the KING. Therefore, you need to focus on & define an excellent online conference content strategy that entices your event attendees. A strong online event content strategy meets these three attributes:- Engaging, Informing, and Relevant for the users. Some of the most significant content aspects to work on while organizing a virtual conference are:
Landing Page
Promotional Content
Virtual Venue
Lobby Designs
Sponsorship Content on the Venue
Informative Content
Necessary Event Documents
Auditorium Design
4. Prioritize Audience Engagement
The virtual format of organizing events is any day better than the physical format. However, keeping the attendees engaged becomes more important when it's about the audience's experience at the virtual event. Therefore, ask the virtual event platform provider to include the most engaging tools at the virtual conference venue. Not just the functionalities, but you should also plan some engaging activities to elevate attendee engagement during the event.
In-Person, Hybrid, Virtual
Create an Extraordinary Event Experience
Across All Event Formats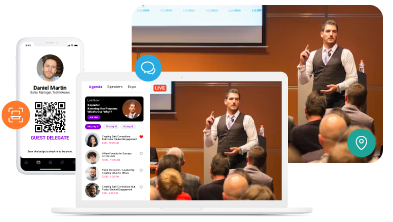 5. Test the Technology
Before the big event day comes and when all your event preparation is completed, begin testing the technical elements. Ask all the event speakers to ensure the quality of the technical aspects like internet connectivity, mic, camera, etc. Also, test the virtual conference platform set up through a dry run. Doing this will help you confirm that there is no error or glitch during the event execution.
Virtual Conference Ideas to Host an Engaging Experience
Elevate the attendees' engagement experience throughout the event with these excellent virtual conference ideas.
1. Include Engaging Quizzes & Contests
Just like an on-site event, include exciting yet informative quizzes, competitions, and polls throughout the event. An excellent virtual conference platform provides users with numerous live real-time features to enhance interactivity and engagement. Some of the most acclaimed and efficient functionalities are:- live polls, Q & A sessions, live quizzes, engagement zone having gamified contests, etc.
2. Use Features like Signature Wall, Photo Booth, Social Wall
Taking events virtual has numberless benefits that help you provide an engaging experience to the users. Most experienced virtual event platforms provide you with features like a branded photo booth, social wall, and signature wall. While a photo booth is a framed space where users can capture pictures, a social wall is a common wall where all the social media posts shared by users appear. In addition, a signature wall is a functionality where all the event attendees can write messages over a wall.
3. Allow a Two-Way Interaction
Enable two-way interaction between attendees and presenters to boost engagement. A two-way interaction feature helps the users come on screen with the presenters and interact with them in real-time. Giving your attendees the opportunity to have a real-time interaction with the speakers can essentially elevate engagement at your event.
4. Include Breakout Sessions
Breakouts are brief interactive sessions where a lesser number of attendees can connect and discuss a common topic. You can also include a moderator in each room so the sessions work right on track. Breakout sessions can include workshops, panel discussions, demos, etc.
Pro Tip: Make sure that the breakout session topic addresses or is related to the virtual conference theme.
In-Person, Hybrid, Virtual
Create an Extraordinary Event Experience
Across All Event Formats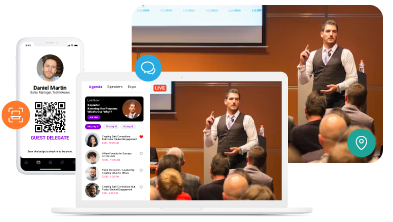 5. Make Way for Networking Opportunities
Networking is one of the key aspects of any virtual event. Your attendees always expect to network and build valuable connections with the rest of the event participants. Therefore, include networking tools that can help your attendees have the experience they expected. Mentioned below are some of the best networking functionalities provided by an experienced virtual event platform:
Meeting Scheduler
Networking Tables
AI Matchmaking
Multi-Format Communication
Business Card Exchange
Virtual Conference Best Practices to Ensure a Successful Event Execution
Here are some of the best practices for your virtual conference that will enable you to ensure a successful virtual conference execution.
1. Choose an Experienced Virtual Conference Platform
Pick a virtual conference platform that meets your requirements and budget. It is also significant to choose an experienced virtual event platform so you get access to top-notch features & functionalities. Mentioned below are some of the best elements that an experienced virtual event platform provides:
100% Customization
Complete Event Tech Suite Support
Fully Managed Service
Safe & Secure Virtual Platform
Immersive 3D 360-Degree Virtual Environment
Industry-First Virtual Functionalities
24*7 Backend Support
2. Create an Immersive Virtual Environment
With an experienced & managed virtual event platform, you get the opportunity to build a dynamic virtual environment. You can not only replicate a physical venue but also create imaginary venues as per your preference & event requirements. Creating an immersive 3D virtual conference venue will also help you provide an engaging experience to the users.
3. Make Content Available On-Demand
Unlike an on-site event, a virtual event comes with the advantage of maximizing the exposure of the event. In the case of an on-site event, attendees don't get access to any content if they are late or couldn't attend the event because of some reason. However, this is not the case in a virtual event format. Therefore, utilize the opportunity and make the content of your event available on-demand. With the help of this functionality, you can easily maximize the exposure of your virtual event & content.
4. Ensure Interactivity During the Conference
Interactivity is one of the main elements of any virtual event. The best way to keep your attendees engaged is by providing them with interactive solutions. Therefore, to ensure the successful execution of the virtual conference event, make it highly interactive. From the virtual venue to the sessions & content, try to include interactive functionalities as much as possible.
5. Say Yes to Measurable Results
Another outstanding advantage of organizing an event virtually is the access to event data tracking & matrics. A virtual conference platform provides you with complete event data analytics & reports. So, use the opportunity and include this feature in your virtual conference. Including this feature will not only help you measure the results & track the efficacy of event elements but also make strategic decisions in the future.
Bring these virtual conference ideas, tips, and best practices together and we ensure you a super engaging & successful online conference event! For any queries or doubts, reach out to us, and we'll clear them all.
In-Person, Hybrid, Virtual
Create an Extraordinary Event Experience
Across All Event Formats