The world we are in is no longer the same as it was before the outbreak of the global pandemic. Right from our ways of operating life to operating events, our lives took a 180-degree turn. Though the restrictions have begun to lift, the uncertainties are likely to linger. But as they say, innovation is the only way to win; the event industry came up with new ways to celebrate festivals and didn't let the unpleasant times take over the festive spirits. One such innovation was virtual festivals. Thanks to technology, a well-planned course of action can make your monotonous experience a memorable one.
What is a virtual festival?
A Virtual Fest or Festival is an online hosting of festivals of different types virtually in a 3D virtual environment. Where online events and webinars revolve mainly around content, virtual festivals are more engaging, as they come with entertainment and content, interactive activities. An online festival is how you would want a social gathering to be; the event consists of an academic session, workshop, and an interacting program. Examples of virtual fests include virtual film festivals, virtual music festivals, or even virtual youth festivals.
Benefits of hosting a virtual festival-
Now that we know what a virtual festival is, let's dive a little deeper and go through some of the advantages of hosting virtual festivals:
Highly Flexible- The first and foremost advantage that virtual festivals have is flexibility. You can modify them as per your needs and condition. If you can think of hosting an in-person physical, you can host it virtually too, given you take proper strategies and planning into consideration.
Economical- The venue you hire for your in-person festival can single-handedly burn a hole in your pocket. With virtual celebrations, factors like accommodation, venue, food, and logistics are nearly non-existing.
Highly Adaptable- Physical festivals come with many limitations; one is the limit on the attendees. You can accommodate only a certain number of attendees at an in-person event; this is not the case with online festivals.
Interesting 3D Virtual Experience– The concept of attending events virtually can be appealing for the audience. An excellent virtual fest platform provides a completely 360-degree customized environment that helps you keep the attendees engaged for a longer time.
Completely Managed & Reliable- Coming on board with an experienced virtual fest platform means you can feel free and rely on the service. It is so because the right platform provides a fully-managed service that enables you to focus on the rest of the event work. Hence, you get to save a lot of time and effort.
In-Person, Hybrid, Virtual
Create an Extraordinary Event Experience
Across All Event Formats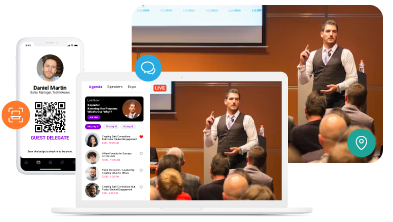 How to Host an Online Fest?
Below we have discussed some virtual festival ideas and a guide to host online fests.
Let's get through it:
Start with envisioning the online festival:
To begin with, you need to visualize the subject of your online festival. Decide what you are going to serve the audience? Defining the festival subject will make sure everything stays aligned till the end. A definite theme will also help you create an outline of the event and further plan it accordingly. Every festival has its own set of proceedings and planning. For example, organizing a virtual youth festival would require you to plan differently than what it takes to host a virtual cultural festival. You cannot line up a karaoke session in a virtual educational event; likewise, including a keynote speaker session in a virtual music event won't give you optimal results.
Find your target audience-
It is one of the most decisive aspects you need to consider to bring together a successful online festival. The audience you are targeting will determine every aspect of the event- right from the type of festival, the date, and even its success. Draft a business plan which discusses all the details, everything you want to deliver to the audience if you are targeting the right audience group, or what strategies you will follow to meet the expectations of your audience. Once you have found your target group, make sure those who participate stay till the end. For this, you need to prepare everything keeping the audience in mind. All your attendees would want is to meet each other, connect and have a gala time at the online celebrations.
Find Sponsors-
To find sponsors, align your event with the demands and expectations of the sponsors. Draft everything you can offer to them that meets their goals in your sponsorship packages. Various offerings can include having sponsors' logos at the login screen to sponsoring speaking opportunities. It becomes significant to have a piece of detailed information along with the USPs every option offers. Start with creating a list of your sponsors, and narrow it down to the names you think will represent the image of your online celebrations. Finding sponsors for your event can be a tedious task. So save enough time for it so that you don't have to compromise with the festival quality.
Identify Speakers-
Speakers and experiences your online festival offers are the key factors you can use to attract the audience. Use a strategy that will outreach your potential participants and make it a win-win situation for you. Look out for speakers you know will align with the event's purpose and add value to the attendees' experience. Make it easier by briefing them about the festival and how their presence will contribute to the event. If you don't have any options left, you can consider incentives to get them aboard. These strategies will make your event gripping with speakers who have something relevant to share with your attendees.
In-Person, Hybrid, Virtual
Create an Extraordinary Event Experience
Across All Event Formats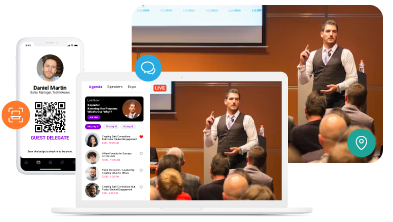 Look out for a virtual festival platform-
Now that you have decided on your speakers, it's time for you to look out for the technology you will use to stream the event. You also need to consider if you will pre-record the event or stream it live. Consider an online fest platform that is smartphone accessible, as most attendees might join in through their phones.
Don't compromise with the platform that will deliver the event to the audience as, in the end, everything comes down to this factor. Dreamcast allows making the event more engaging by its features such as 3D virtual space, Gamification, AI Matchmaking Tool, and many more.
To save your brand and festival from any embarrassment and technical glitch, familiarise yourself with the technicalities of the platform. Spend enough time going through the backstage of your online festival solution so that everything goes smoothly once the festival is live.
The platform you would select for your event will have a technical team that will ensure the untroubled execution of your plans. Make sure you go through every single feature of the platform to make sure you're comfortable on the big day, and your attendees have an enriching experience.
Start promoting the online festival-
Start building your event and share it with the rest of the world. You don't need to pay much attention to marketing if the festival is for your social circle. But if you're going to cover a larger audience under your umbrella, use appropriate strategies to bring it to the notice of your target audience. Use everything you have at your end, like social media, emailers, paid media, and newsletters. Develop bonds with your sponsors and your partners and use their social presence to cross-promote your festival. Don't hold yourself back from paying nominal fees to paid social campaigns; this can help your event reach a larger audience.
Perform a quick test run-
Perform a quick-through with all your keynote speakers or experts. Inform them with an email specifying details like the link of joining in, code, and why do you need to have a quick rehearsal? Make sure you have covered everything so that they can use it for their future reference. Invite every speaker for a run test. It will ensure the speakers don't find it difficult to join on the festival day, and you can assist them with their doubts regarding the streaming platform.
Focus on making the online event visually appealing-
Pay more attention to the seeable components of the festival, right from the logo placement to the color composition. The virtual elements are the factors that grab the attention of the attendees, try and make them appealing. Since people tend to remember 80% of what they see, create the main elements of the event keeping virtual components in mind. Further, add creative graphics, animations, and other factors that help your event be a visual feast.
Summing Up-
Right from the past year, the event industry has transformed itself. But there is still a long way to go before everyone gets used to celebrating festivals online. Going through the depth of the pandemic wasn't easy, but such are the times that compel us to innovate something, and online festivals are the product of one such innovation. Who would've thought that someday we would be celebrating festivals virtually?
Virtual events help you break the box that a physical event would come in. Though such events come with innumerable opportunities to deliver the content, it's not only about that. Explore ways that will help you enhance a virtual festival. With the above discussed virtual festival ideas and a platform like Dreamcast, give your plans the perfect execution. 
In-Person, Hybrid, Virtual
Create an Extraordinary Event Experience
Across All Event Formats