The most happening time of the year is here, and we can feel the vibes of excitement! While the world goes virtual and it's time to take our holiday celebrations online too! After waiting for almost a year, the holiday season is finally here, and who wants to miss out on hosting exciting parties?
Think no more! As in this blog, we have got you covered with the best virtual holiday party ideas to organize a memorable holiday celebration. Go on and dive into the world of ultimate holiday excitement and joy!
Best Virtual Office Holiday Party Ideas
#1 Send Customized Invites
Begin inducing the excitement for your virtual company holiday party with the top idea to send customized invites. Doing this will make your remote guests feel excited and thrilled to be a part of the virtual holiday party. You can also brand up the invites and attach the party schedule to elevate the excitement level. However, the format of your virtual holiday party invites depends on your choice. You can either send offline or online invitations, the preference is yours.
In-Person, Hybrid, Virtual
Create an Extraordinary Event Experience
Across All Event Formats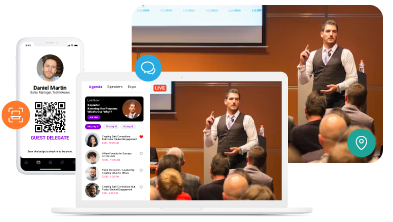 #2 Pick an All-in-one Virtual Event Service
Choosing a virtual event platform is one of the most exciting aspects of planning an online party. It is so because you get so many enthralling features and tools at the virtual venue, easing down the execution process. Usually, organizing a party means preparing and arranging various aspects to ensure fun at the party for your guests. But with the help of a virtual event platform, all you have to think about is having fun with your guests while everything else is managed by the professionals.
#3 Organize a Virtual R&R and Award Show
Who doesn't like appreciation and recognition? The annual holiday party is the best time to organize a virtual R&R and an award show to appreciate your employees and teammates. It is one of the best holiday party ideas for work that always works like a charm. This session will not only make them feel encouraged but also motivated to perform better and work harder.
#4 Host a Virtual Town Hall Meeting
Isn't this also the best time to organize a session dedicated to an Annual Meetup? The virtual office holiday party is the perfect celebration to hold your company's virtual town hall meeting and the annual sales meet session. The pandemic has brought an unfortunate gap between people and office teammates. By organizing a virtual town hall meeting, you can bridge this gap with a delightful & enlightening session to ensure that everybody is on the same page. 
#5 Send a Gift Box
Enhance the enthusiasm by sending all your remote attendees a swag bag or a gift box filled with goodies and valuable items. Following are some of the best ideas for your personalized swag box:
Snacks like chips, candies, and cookies
Cute Holiday Accessories like sunglasses, hats, and bands
Mini Activities like puzzles and quizzes
Beverages like hot chocolate, tea mix, and coffee sachets
Swag Goodies like customized t-shirts, mugs, office accessories
Gift cards and mini presents
#6 Theme Up the Party
Any party is incomplete without an exciting theme, isn't it! So, introduce a compelling theme for your virtual company holiday party to enhance the enjoyment. The theme of your party can be anything from black & white, holiday characters, and pajama party, to Christmas characters, the movie industry, and even a masquerade gala.
#7 Holiday Costume Dress Up
Dressing up and getting well-ready is the first thing that comes to our minds when somebody talks of having a party or celebration. However, the pandemic took that excitement away from people ever since it came into existence. Therefore, bring that fun back by asking your attendees to attend the event all dressed up in their favorite holiday costumes.
#8 Send Holiday Decorations and Props
Gift your attendees with exciting decorative items and props before the event day to level up their excitement to attend your party and make it a success.
#9 Holiday Playlist
Any celebration is incomplete without the perfect music, songs, and playlist. However, organizing a virtual holiday party doesn't mean you have to skip making a delightful playlist. You can create a music playlist based on your session moods, vibe, party theme, etc. Further, share the playlist with your virtual event service provider so they can play the music in the background whenever required.
#10 Celebrate the Successes
The year is ending, and this might be your last office party or get-together of the year. So spend some time acknowledging the milestones your organization has crossed and successes it has achieved as a team this year. It is one of the best ideas for a virtual holiday party to keep it going.
In-Person, Hybrid, Virtual
Create an Extraordinary Event Experience
Across All Event Formats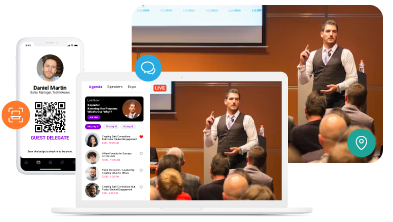 Virtual Holiday Party Activity Ideas
Read on to know the best virtual holiday party activity ideas to level up the enjoyment at your party.
#11 Virtual Secret Santa
The holiday and Christmas celebration is patchy without a session dedicated to the secret Santa. Therefore, you can organize a virtual office secret Santa for gift exchanges and recapture the fun of an on-site party. You can make use of an online site working as a gifts exchange generator to send presents. During the session, everybody can open their gifts together. 
#12 Arrange a Team Meal
Can you imagine having a holiday or Christmas celebration without having a meal with your teammates? Probably not! So why miss out on the fun mealtime at a virtual party? Arrange a session dedicated to having a team meal with all your attendees virtually. You can also order your remote guests with the same meals or send them discount coupons & offers beforehand.
#13 Virtual Costume Contest
Organize a virtual costume contest as you have already asked your attendees to come dressed up in their favorite holiday costumes. You can pre-designate silly awards like the best weird costume, the most real costume, the funniest costume, the most beautiful, the Santa of the party, the best elf, etc.
#14 Christmas Tree Decoration
Spend some Merry time with your colleagues, decorating the setting, and most importantly, the Christmas tree and a wreath. At the end of the session, everybody can show their decorations, and the best one gets the party crown!
#15 Virtual Card Exchange
Gone are the days when people used to be excited to buy greeting cards for celebrations and parties. However, you can bring that era back by sharing virtual greetings through the exceptional features provided by the virtual event platform.
#16 Online Talent Show
Another excellent virtual office holiday party idea is to host an online talent show. In this session, your attendees can showcase their unique and interesting talents one by one at the virtual party. You can also designate prizes for this virtual show. This session can be exceptionally exciting, as all your attendees will get to explore something new about their teammates.
#17 Holiday Movie Marathon
A session dedicated to a movie marathon is a must virtual holiday party activity. You can send out a poll to all your remote guests on which movies to stream. After you have selected a holiday, Christmas, or new year themed movie, you can share the names with the virtual event platform and ask them to stream the films during the session.
#18 Carol Karaoke
A virtual Holiday or Christmas celebration can never be complete without singing carols and Christmassy songs. Therefore, spend a Merry time with your teammates by singing happy holiday carols and songs.
#19 Virtual Happy Hour
A spirited virtual happy hour is another best virtual office holiday party idea to enhance the fun and excitement. You can send your attendees a happy hour kit before the big party night. And, during the session, a bartender host can teach your remote attendees how to make fun holiday cocktails and drinks along with enjoyable games.
#20 Holiday Magic Show
Enhance the amusement at your virtual holiday party with the idea to host an engaging magic show. You can outsource talent and dedicate a session at your party to an entertaining magic show.
#21 Memory Slideshow
We are sure that most of your attendees have some memorable holiday or Christmas story that they would love to share with the team. So, you can ask for their pictures and videos before the event day. And create a slideshow of all the content. Further, you can play the slide show during the session while your attendees can share their memories and stories with all.
#22 Acts of Kindness
Amidst all the fun, thrill, and excitement, you can spend some time with your attendees while indulging in acts of kindness. Inform your attendees about the session and ask them to do at least one act of kindness. Moving ahead, everybody can share their good deeds during the session.
In-Person, Hybrid, Virtual
Create an Extraordinary Event Experience
Across All Event Formats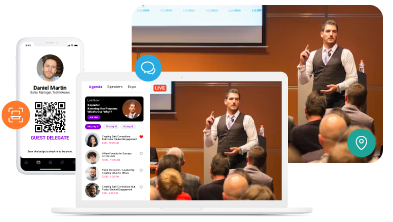 Virtual Holiday Party Games
Explore the most engaging virtual holiday party game ideas to enhance the fun at your virtual celebration.
#23 Virtual Holiday Bingo
Virtual Holiday Bingo is a mandatory virtual office holiday party game that sprinkles bliss at your celebration throughout. There are several ways to play online bingo at your party. While one way is to let your remote guests interact and solve the game, the other way is to create separate chat rooms for specific teams of your attendees to solve the bingo.
#24 The Name It Game
It can be an extremely exciting virtual holiday party game for work as you can theme the game up with Holiday-themed music, movies, lyrics, and dialogues. The Name It game is a fun activity where attendees have to guess different items and content. For example, the platform will play a tune, and your guest will have to determine the song's name. Similarly, you can level up the fun by including various tv shows & film dialogues, lyrics, scenes, etc.
#25 Virtual Scavenger Hunt
The virtual scavenger hunt is a game that must be played during a virtual celebration. It is so because the enjoyment which comes along with it is incomparable. You can also theme up the game with the Christmas or new year themes and ask your remote guests to find items related to the same.
#26 Two Truths and a Lie
The game of two truths and a lie is another excellent team building game that promotes interaction & engagement. During the game, your attendees have to share three facts one by one, of which one is a lie. The other attendees have to guess which statement is a lie. The game not only spreads entertainment but also helps your teammates get to know each other better.
#27 Virtual Never Have I Ever
The online never have I ever game is an exciting virtual holiday party game that you can include in the happy hour session. During the game, your attendees have to share one statement, while the rest of the attendees take a sip from their drinks if they have had the same experience too. The game is best for people who are adventurous and like to have exciting life experiences.
#28 The Naughty List
The naughty list is another amusing game that brings out the naughty & fun side of your teammates. In this game, all your virtual guests have to hold all their fingers up and lower one of them down with every statement that applies to them. Following are some of the most fun naughty list statements:
Stole a Halloween candy
Re-gifted a present
Knows a naughty holiday joke
Fell over a Christmas tree
Is a forgetful gift giver
Curses a lot
Add your choice of statements here!
#29 Virtual Escape Room
Virtual Escape Room has become one of the most prevalent online holiday party games for work. It is because of the exceptional engagement opportunities that remote attendees love to indulge in the game. You can give your virtual escape room a Christmas theme where the puzzles and quizzes are related to the holidays.
#30 Virtual Tambola Night
Any virtual celebration is incomplete without the exciting game of tambola housie. You can designate a number caller and the different prizes the winners are going to be rewarded. The game will not only level up the fun at your party but also keep your attendees engaged.
Virtual New year Party Ideas
Step into the New Year with these additional Virtual New Year celebration ideas.
#31 Comedy Session
The best virtual new year celebration idea is to end the year with laughs! Therefore, organize a comedy session to sit back, relax, and laugh the year away. You can bring a professional comedian on board and host an entertaining comedy session.
#32 Holiday Photo Booth
A virtual event platform comes with countless innovative engagement features & tools. A virtual holiday photo booth is one such feature that can not be missed at your virtual new year party. You can also create a customized photo booth integrated with social media platforms so your attendees can directly share these pictures.
#33 Virtual Holiday Dance Party
The real new year party vibes lie in stepping into the new year dancing and celebrating. Therefore, select a party playlist and ask your virtual event service provider to play it on the online venue. This way, all your attendees can dance to the same music together.
#34 New Year Resolutions
During this session, all your virtual guests can sit and share their new year's resolutions together. With the help of this virtual new year party activity, everybody can share motivated and encouraged vibes to start their new year with their best wishes and hopes.
#35 Virtual Countdown
While the new year is beginning, it's time to bid goodbye to this year. So, spend the last few seconds bidding a blissful goodbye to the present year, countdown together, and step into the new year with your teammates.
Throw a Memorable Virtual Holiday Party this Year!
With these exceptional virtual holiday party ideas for work, you don't need to ask for a memorable Virtual Holiday Celebration from Santa! Virtual holiday parties render a great opportunity for your employees & teammates to bond and interact. So, bring these ideas together and host a memorable virtual holiday party & a new year celebration with your teammates! Happy Holidays!
In-Person, Hybrid, Virtual
Create an Extraordinary Event Experience
Across All Event Formats