New Year Celebrations have been different for the last two years, thanks to the coronavirus. But as they say, every dark cloud has a silver lining; so does the pandemic. We are connected with our families more than ever, even though virtually. Not to mention, the past two years were full of uncertainties, grief, and tears. But, as every bad thing has to come to an end, the pandemic is also approaching its end. We at Dreamcast will make sure you say goodbye to this difficult period in the most amazing way.
This blog discusses some incredible virtual new year party ideas that will ensure it's a 'Happy' New Year's eve for you and your employees.
Virtual New Year Party Ideas for Your Employees
Virtual R&R and Award Ceremonies
Who doesn't like being appreciated for their hard work? Not a single soul. We all work sincerely to get recognition; even your employees. It's high time you appreciate them for their sheer dedication. What better than doing it at the end of the year? Host a virtual R&R and Award Show and give them one more reason to be proud of themselves. 
In-Person, Hybrid, Virtual
Create an Extraordinary Event Experience
Across All Event Formats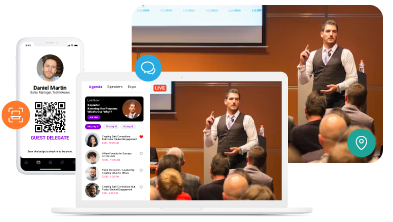 R&R Ceremonies are generally the events hosted by the end of a month or year to thank the employees for their valuable contribution and high commitments towards the company. Since the current scenario won't allow us to host an in-person R&R and Award Ceremony, incorporate the concept with your virtual new year celebrations and welcome the upcoming year with a bang! In times of crisis, virtual award ceremonies will give your attendees something to look up to. It won't only bring a positive shift in the moods of your employees but they will also feel appreciated. 
Annual Meetup (Annual Sales Meet)
Okay, the next virtual new year party idea might sound a little boring. But trust us, it isn't. Bring in the new year with some new work goals, or rather end the passing year while celebrating your achievements with your colleagues. Incorporating this virtual new year party idea will give a twist of modification to your regular virtual new year celebration. And who said you would be discussing work the whole time? Begin the celebrations by discussing annual reports, achievements, and notable accomplishments and end it with a dance party, maybe.
There are various virtual new year's eve party ideas that you can make use of and deliver an enriching experience to your employees. Let us have a look at some-
Add colors to your look- Dress up colorfully and bring out some laughs at this Annual Sales Meet. Don an interesting and unique hat, wear colorful clothes and use a few props.
Play some good music- Music has the power to change the vibes of a place instantly. Doesn't matter if it's an in-person celebration or on a virtual event platform; music can add to the feel of any event. Do you need any better occasion than a virtual new year party to enjoy some good music?
Play Have You Ever?- This virtual new year party idea can surely give your employees to burst into laughter and welcome the new year with smiles. Up your game by including questions related to work. For instance, you can ask questions like "Have you ever faked a network glitch during a call?"
Virtual Town Hall Meetings
Town Hall meetings have a golden history associated with them. Town Hall meetings have been a part of villages and cities where villagers would discuss their problems and find solutions. Over time, organizations adopted the concept into their proceedings to ensure better communication between their employees. Now that virtuality has taken over, organizations have started hosting townhalls through the internet. If you have always perceived town halls as an official, formal event, maybe you're doing it wrong. You might haven't thought of it yet, but you can incorporate the concept in your new year virtual party and give the year an exceptional ending. Various reasons support the statement. Some of them are-
In-Person, Hybrid, Virtual
Create an Extraordinary Event Experience
Across All Event Formats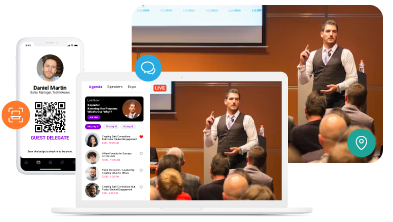 Your employees can join in from any corner of the world.
You can always record your event and provide it to those who couldn't make it to the celebrations.
Not to mention, online meetings are cost-effective and time-saving.
If you think virtual town halls can never do that for you, hold on. We are sharing some exciting virtual new year's eve party ideas that you can include in your meeting and make it a happy event for everyone.
The most crucial part of any event is its beginning. You have to make sure that it is fun and interactive. Having it otherwise won't affect your attendance, but your employees will lose interest in the event. Hence, start the town hall meeting with a funny icebreaker.
How about making the best of the opportunity and hosting a comic quiz with your employees? Divide your participants into teams and play "Who knows who better?" just like they did in F.R.I.E.N.D.S.
Ditch your formals for a day and get into that party dress you've saved for a special occasion.
Exchange greeting cards with your colleagues. Get back in time and design greeting cards for your coworkers. Though you can find everything online, designing it yourself will add a personal touch to it and deepen your bonding.
Raise a Toast
Victories call for celebrations! And do you think there's any better achievement than surviving a challenging year like 2021? Raise a toast to this and the fact that your employees didn't compromise with the work. Host a cocktail mixing event during this new year's eve virtual party. Send out all the required ingredients to your employees before the party. On the day of the party, call a professional who will guide you all through the entire process. Make it more entertaining by playing some fun drink games and letting your employees spill out some secrets. It is a great idea to share your biggest accomplishments with all your employees since the virtual new year party will bring them together on a single platform. Prepare a small speech regarding the achievement and address it during the party. Such activities boost the morale of the employees and encourage them to perform even better. 
In-Person, Hybrid, Virtual
Create an Extraordinary Event Experience
Across All Event Formats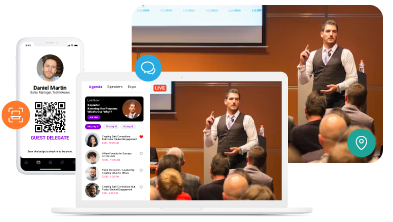 Take a Quick Glance at Your Passing Year
It is advisable to not live in the past; learn from it and move on. However, you can always get back once in a while and praise yourself for how far you've come. Add it to your list of virtual new year's party ideas and take a quick trip down the memory lane with your employees. Since the year was too challenging, it will give you and your employees a reason to pat their backs and smile. Create a video or timeline that includes all the highlights of your work year, be it getting back to the office for the first time after the pandemic or cracking that crucial deal. This idea will give you all a sense of satisfaction and a reason to be nostalgic, of course. You can use various available services and applications to make a video and add some soothing music to add to its feels.
In-Person, Hybrid, Virtual
Create an Extraordinary Event Experience
Across All Event Formats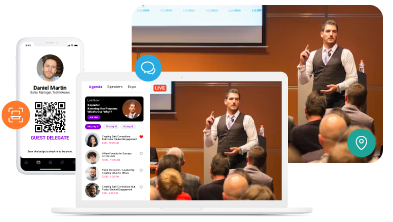 Send Hampers to Your Employees
Do you like receiving gifts? Yes, We all do, and so do your employees. Show your employees that you care for them by sending a surprise gift. We're sure they will love your gesture and you for this. The best virtual christmas party idea is to make a hamper and include things they can use to enjoy the festivities. It can be a self-care package also. 
Below, we are sharing a list of a few items that you can include and curate an exciting hamper for your employees-
Adult coloring books and puzzles
Snacks
Mugs and flavored coffees
Device cords and tech accessories
Candles and essential oils
Stationery kits
Gardening Kits
These small gestures will make your employees feel special, and of course, add happiness to their virtual new year celebrations.
Give Back to Society
To make your new year's celebrations memorable, you can sing, dance, and have fun. Do you know what else you can do? You can do acts of kindness. Bid Adieu to the passing year with the needy and welcome the new year in the most unique way. It won't only give many a reason to smile, but you all will remember it for the times to come. Collaborate with an NGO in your city and host a series of activities for them. If the NGO takes care of children's education, donate some kits that will help them. It would be a small thing for you, but it would mean a lot to those less fortunate kids. You can also raise funds for them with your event. For example, every activity your colleagues participate in will automatically send funds to the NGOs. Apart from this, you can also list out some animal shelters and orphanages and donate food and needful items there. And yes, you can also plant some trees.
Don't forget, Happiness increases when shared!
Make Resolutions and Team Rituals
New year's eves are for celebrating the achievements of the year. They are also for listing down our plans, hopes, and dreams for the upcoming year. We all make resolutions for the new year, even though we forget about them the next day. We can make sure you stick to your resolutions till the end of the year. Share your commitments with your employees. Sharing it with others will make you feel accountable to them, and you will work for it, and the same goes for your employees. Apart from this, you can also start a team ritual with your team. It can vary from having a coffee together at the end of the week or going out for a team lunch after every three months. It won't only make your employees feel excited about coming to work but also strengthen your team bonding.
Host Darn Fun Events
If you're looking for some lowkey new year's eve virtual party ideas, then virtual darn fun events will work the best for you. It is the best choice if you are looking forward to doing something fun with your colleagues but not sure what. It is a happy hour event that includes activities like rapid-fire rounds, trivia, bingo, and more small challenges. These exercises can keep your functions and celebrations pleasant and warm. If you don't feel like hosting an all-hyped-up event, go with Darn Fun Events. Make it more exciting by announcing prizes and surprises. You can also sing songs, do a karaoke session, and even dance to some party jazz.
In-Person, Hybrid, Virtual
Create an Extraordinary Event Experience
Across All Event Formats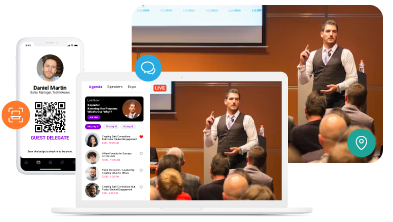 Use Your Social Media Effectively
Let us give you one more exciting virtual new year celebration idea. Use your social media presence effectively and create hype about your brand. You can create a hashtag or even a social media page of your company's new year virtual party. Host various contests for your employees and even other people. It is a great way to boost your brand reach and audience engagement. Announce exciting prizes and offers to add to the excitement among the audience. Social Media is an effective tool in sharing information with the world. Why not use it for virtual celebrations? You can announce various titles and use social media to execute them. Ask your employees to post their entries, and the post that gets the most likes wins the contest.
This new year's eve virtual party, let your audience be your judges.
Tips to Make Your Virtual New Year's Eve Virtual Party Engaging-
Here, we are sharing some tips that will help you make your party engaging and memorable. Like said earlier, we have got your back!
Though virtual events require lesser planning, there are quite a few factors that decide their success. One of them is the date and time of virtual events. Correct timing of your virtual events will boost your audience engagement to the maximum. Host your virtual new year party between Monday to Friday. Though it is a party, your colleagues might have plans with their peers. Considering the date and time becomes extra crucial when your organization is an MNC. Timings that might be suitable for employees belonging to the same country might not work for others.
Keep the session short. Avoid adding irrelevant content and add only those pieces of information that will add value to their experience.
Share agenda and event flow with all your employees beforehand. It will keep them informed and prepared for your party.
We understand it is not easy to get used to the idea of celebrating the festivities online. But that also doesn't mean virtual celebrations are less fun and gripping. With the ideas for a virtual new year's eve party discussed above, you can host a super fun and unforgettable new year party. Come on, take that first step; we at Dreamcast are rooting for you!
Make it a happy 2022 for you and your loved ones with us!
In-Person, Hybrid, Virtual
Create an Extraordinary Event Experience
Across All Event Formats