With the buzz of virtual Christmas parties being an exciting affair, we can feel the vibes of carols echoing in everyone's mind. The Christmas period is all about booming happiness, joy, Santa, snow, cakes, gifts, and surprises. But, today, with most festivals and celebrations happening virtually, it has become vital to come up with excellent ideas that can recreate the experiences of a physical environment.
With Christmas being the most awaited upcoming event, people already have virtual Christmas activities in their minds to make their online Christmas party more thrilling and memorable.
What is a Virtual Christmas Party?
With the enforcement of remote work culture, there has been a limitation on face-to-face interactions. Hence, hosting a virtual Christmas party for employees is a great way to make them feel rejuvenated and strengthen team bonding. Online Xmas party is an interactive event that happens over the Internet and a secure virtual event platform or a video conferencing tool. Event planners can get really creative and include engaging virtual Christmas activities to make the event more lively and entertaining.
But, the question is, how do you make a virtual Christmas party stand out?
In-Person, Hybrid, Virtual
Create an Extraordinary Event Experience
Across All Event Formats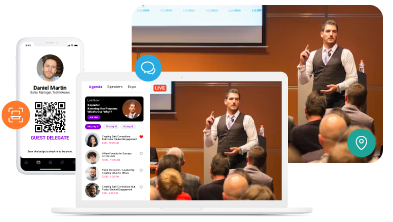 To know more, let us walk you through some interesting online Christmas party ideas;
Virtual Gala Night
Keeping a gala night is one of the trendy activities that add more emotion to virtual festivals. It is indeed a great Christmas virtual party idea to keep the attendees hooked and involved throughout the event. You can send a personalized party box to each of your employees to make them feel treasured. To create an exciting party box, you can include a cocktail kit, personalized messages, or badges with unique categorized names like most dedicated employee, most passionate employee, etc. 
Virtual Housie/Tambola Night
We all know that virtual Christmas party games are a must to make online celebrations more fun. So, games like Bingo, Tambola, cards, Pictionary, charades are some excellent choices that can add more thrill to make your virtual event super impactful. 
Host a Virtual Townhall Meeting
A virtual town hall meeting is an effective way to get all the team members, managers, and employees of the organization together at a time. So, keeping a virtual meeting during an online holiday party makes individuals realize that work and fun are the two sides of the same coin. Hence, there should always be a balance between them. So, besides discussing vital strategies and recent company updates, you can add games and interactive tools like live chat to make it a memorable affair.
Team Holiday Dinner
Team dinners had been a conventional practice for organizations to strengthen their team bonding during Christmas party nights. In 2021, with more people attending the events virtually, it becomes even more vital to host activities like this to make your employees feel rejuvenated. With online Christmas parties, it does not mean that you cannot add a fun factor or make it enjoyable. Having a team dinner together is an outstanding online Xmas party idea to recreate the experiences of a physical event. While everyone is dining together, you can initiate interesting conversations too to keep everyone involved and hooked throughout the event.
Christmas Swag Bag
With Christmas comes hope, joy, and surprises. Who does not love gifts or presents at the Christmas celebration? Giving exciting swag bags is an excellent online Christmas party idea. Some great swag bag ideas include;
Personalized gifts like pens, coffee mugs, office accessories, or a Santa hat.
You can also send them cozy blankets
Scented candles are also a unique present
You can send these gifts at least 1-2 weeks in advance. And, ask your employees to unwrap their gifts during the online event. It is one of the virtual Christmas activities that will promote attendee engagement.
Virtual Christmas Photobooths
Who does not love taking memorable takeaways or capturing photos during an event? Keeping a Christmas-themed or branded photo booth lets attendees capture pictures with their families, pets, and colleagues. These virtual photo booths are one of the engaging virtual Christmas celebration ideas to deliver immersive event experiences. Later, if they wish, they can upload these photos on their social media platforms. It is also an excellent practice to promote the virtual event on different social media channels.
Virtual R&R shows
Celebrating wins and appreciating employees for their hard work is an excellent way to keep them motivated. So, along with Christmas celebrations, you can organize a virtual award show to honor the employees who have made notable contributions to the company's growth.
Organize a Secret Santa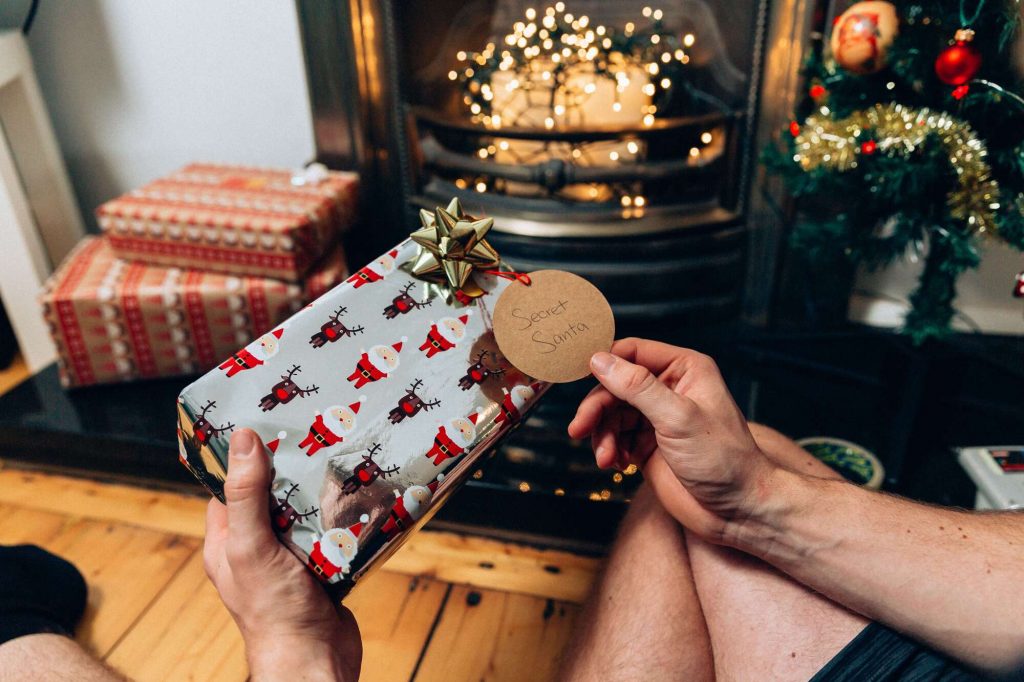 We all know that Christmas party nights are incomplete without a secret Santa. It has been a traditional practice that adds more excitement to a Christmas celebration. Exchanging gifts is an excellent virtual Christmas event idea for the employees to make them feel special. You can use an online listing for allocating names of the employees to whom they need to send gifts. You can leverage a centralized software where employees would update their phone numbers and residential address on which they would receive their gifts. Later, you can ask all your employees to unwrap their gifts at a time on the screen and reveal the names of the secret Santa. It is an engaging activity to make the virtual team Christmas party more fascinating.
Virtual Christmas Costume Dress-up
With everyone enjoying the festive vibes, you can keep a themed costume dress-up as another virtual office Christmas party idea. You can ask your remote employees to either put on a Santa hat, Santa costume, or a reindeer antler to add more thrill to the virtual Christmas celebration. 
Besides this, you can also choose to keep exciting giveaways or prizes or the best costume.
Virtual Scavenger Hunt
A scavenger hunt is an exciting activity that can spice up virtual holiday events. It is more like a "show and tell" game that helps boost attendee engagement. Some best items that you can ask your audience to search and show are;
A winter coat
A Christmas tree
A family photo
Christmas stocking
Horrifying present
Virtual Team Trivia
Getting your entire remote team involved in virtual trivia is an interactive Christmas party online idea. You can make small groups for the employees and get an incredible emcee on board who can make this virtual Christmas activity more engaging. Via interesting quizzes, you can have a healthy competition between the teams. To make this more realistic and fair, you can integrate a live chat feature, where attendees can submit the answers. In the end, you can calculate the points and declare the name of the winning team. To make your attendees feel valued, you can keep discounted coupons, offers, or exciting presents as key takeaways.
Sing Christmas Carols
Christmas is all about making merry and enjoying together. Singing Christmas carols together is an excellent activity that spices up the festive vibes. It creates an atmosphere filled with joy, positivity, and happiness.
Immersive Virtual Environment
Customization is the key to making a virtual event super impactful or leaving a lasting impression on the audience. Hence, this is why it is essential to choose an ideal virtual event platform that can create an immersive online stage that can wow your attendees. You can ask your platform provider to keep a Christmas-themed background, add 3D designs based on festive vibes, or include exciting sound effects of carols and more to add to the joyful spirit of virtual attendees.
Make a Virtual Christmas Party Playlist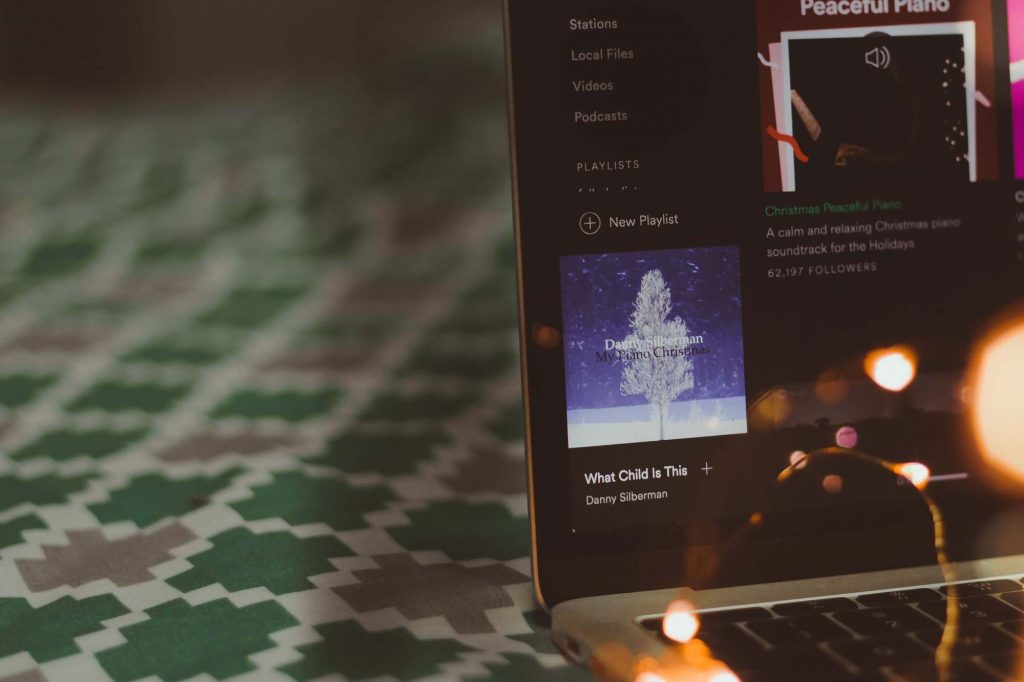 Any party -be it physical, virtual, or hybrid is incomplete without music, dance, and festivities. So, you can create a playlist of some popular songs on Apple Music or Spotify and get everyone started. Make sure to keep this playlist editable so employees can add their choices too. Also, do not forget to check the video and audio features in advance. It is to ensure that there are no disruptions on the D-day. It is an excellent virtual office celebration idea where everyone can unwind themselves and enjoy the moment.
Virtual Team-Building Games
To make your virtual office celebrations more engaging, you can add games like Never have I ever, Virtual Christmas karaoke, A Christmas quiz, Guess Who, and many more. With employees joining the virtual celebration from different global locations like UAE, USA, INDIA, etc., it becomes even more essential to make them feel united.
Virtual Christmas Movie Night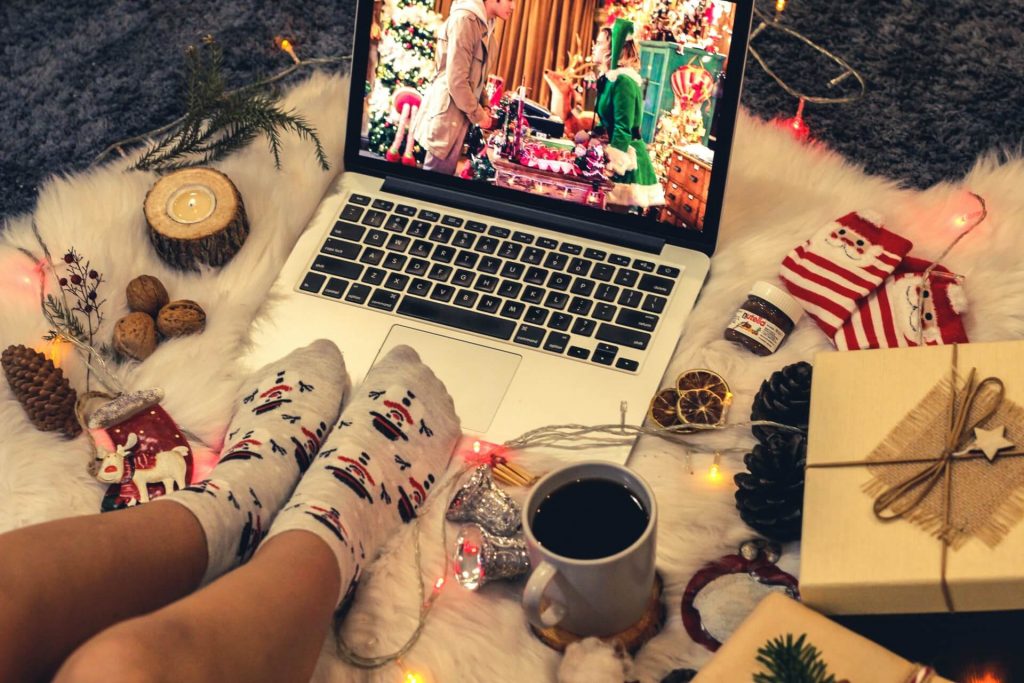 We understand that a virtual Christmas event does not make way for physical interactions. But, with a decisive choice of a leading virtual event solution, you can integrate features and tools that enable watching a movie or film together. With everyone watching the movie together, you can add a holiday buzz task in between to make this duration more breathtaking. Pre-decide on specific words and whenever it is used in the movie the first person to say "BINGO" gets the opportunity to ask a question to any other employee. This way, you can encourage attendee engagement.
Christmas Charity Donations
With the festive mood on, besides enjoying the Christmas party night, you can consider making it a great occasion for others too. You can include a virtual fundraiser event and ask your employees to contribute their bit based on their choices. Christmas is all about spreading happiness, and it would be excellent if you could lighten somebody else's festival too.
Virtual Gratitude Ceremony
From childhood, we have been taught that being grateful or showing gratitude is a precious moral value. So, why not add this as an online Xmas party idea to make your event more value-yielding. During office team parties, there are employees, managers, and team leaders who we always look up to as our ideals. So, you should make the most of this occasion to express your gratitude towards your colleagues or senior officials.
In-Person, Hybrid, Virtual
Create an Extraordinary Event Experience
Across All Event Formats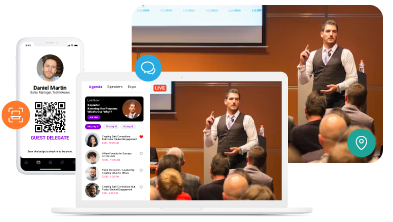 Virtual Talent Show
Along with music, dance, and other festivities, do not miss out on inviting a noteworthy musician, performer, comedian, or dancer to deliver remarkable event experiences. These are effective strategies to make the online Christmas event more unique and bizarre.
Create Christmas Cards
It's Christmas time so, let the creativity pour in. You can keep a dedicated time where you can ask your team to make Christmas-themed cards. Ask them to use color, pictures, and lively artwork to make the most beautiful card. To add more suspense, you can choose to keep an award or present for the best card or artwork. 
Virtual Chocolate Making
Cakes and chocolate are the two most usual consumables during the Christmas holidays, and what best than making it? It is quite possible for all your friends and family to bake cake or making of chocolates at the same time as part of virtual Christmas activities. It can be a great idea for you to conduct such activities as cooking, and baking or you can also make them feel excited if any of your team members is good at such things
Virtual Christmas Mystery Mission
How cool is it to solve a murder mystery at virtual work Christmas party? There is nothing wrong about solving a murder mystery or anything other than robbery, Usually, people celebrate Christmas eve by talking and chit-chatting, but making it into intense fun can be exciting and make it memorable. This can be an influencing virtual office Christmas party idea for you to propose. An array of mystery games over the internet can be played in a team. Additionally, you can announce some of the gifts for the winner like your baked chocolates (we just prepared the chocolates above). 
Virtual Wine Tasting
Well, during a virtual Christmas party, what about tasting wine and sharing the delightful taste of your different brands' taste and sense of feelings? Wine is a common thing that everyone used likes and they used to have their home. And it is also common to have different brands of wine and tasting wine this virtual work Christmas party can be useful and effective. 
Virtual Pictionary
Pictionary is a game of traditional and elated childhood memories of all. As we are deep diving into finding online Christmas party ideas. Pictionary can make you feel treated and gives surety of filling the whole team with laughter and joy. But right now, you're probably thinking about how to move it to a virtual platform. Make a group and split it into two teams during the virtual work Christmas party. Now, use an online word generator to aid you. Use Dreamcast's "Whiteboard" feature after that to start having fun!
Never Have I Ever: Virtual Holiday Christmas Party Activities
Secrets are precious and revealing them within a virtual office Christmas party can be a great idea. As this will enhance your bond as a team. Never I have never is a game of revealing my personal life in an honest way, making it possible the different sides of people and understand them better. There are lots of questions you can find over the internet which makes it easier for you to play this game with ease while marinating the excitement.
Name That Christmas Tune
It is another exciting activity to make your holiday party or Christmas event more engaging. You can play songs from popular music apps like Amazon Music, Spotify, or Tidal. Let the song play, and the attendees need to guess the track. The attendee who guesses it first can drink a sip of their cocktail and tell the answer. If the answer is correct you can begin with the next round, and if it is wrong, you can simply pass on!
You can choose to keep this an individual game or create breakout sessions to create different groups. Again, you can also turn this into a healthy competition and keep exciting giveaways.
These are the top 25 virtual holiday party activities and can be considered as virtual Xmas party ideas. Hope you liked it.
Wrapping Up
With everyone entering the festive mood of Christmas and New year's eve, unleash your creativity and host an impactful virtual team Christmas party for your attendees. We hope, the above-mentioned ideas, will help you plan a blast at the upcoming virtual Christmas event. 
Virtual Christmas Party FAQs
Below are the answers to some popular questions on Virtual Christmas parties;
How do you host a Virtual Christmas Party?
With virtual celebrations, the idea is to keep everyone engaged and create a unique event experience. Hence, it is very important to identify the event goals, choose the right virtual festival platform, and pre-decide the team-building activities that you need to include to make the event super interactive and enjoyable.
How do I make a Virtual Christmas Party more interesting?
At virtual parties, you can include exciting games, features, a thematic background, and fun activities to replicate the experiences of an on-site party.
What are some excellent Virtual Christmas Party ideas?
To get everyone started, begin with icebreaker exercises, and then you can include a happy hour, online games, and fun activities to add an entertaining factor.
How to create a fun and engaging virtual Christmas celebration?
With the adoption of the right virtual event technology, you can create a fun and engaging online Christmas event. Make sure to do research about the latest and trending activities that your attendees would love to take part in.
In-Person, Hybrid, Virtual
Create an Extraordinary Event Experience
Across All Event Formats