The real-estate industry is one of the many industries that got severely affected due to the multiple lockdowns. The pandemic brought with it a wave of loss, making people put a hold on their plans of buying properties. And, for the ones who still wanted to, exploring the properties seemed like an impossible task. However, virtual property show came to light, making countless benefits clearly visible to buyers & sellers. Sellers got the opportunity to sell overseas, and buyers got a chance to fulfill their dream of buying property across boundaries. A virtual real estate event has become a whole new realm of matchless opportunities.
In this blog, we will help you explore all about a virtual property show. Move ahead and dive into the realm of virtual real estate with us!
What is a Virtual Property Show?
A Virtual Property Show or a Real-Estate Expo is an online event that helps in showcasing all types of properties in an immersive 3D 360-degree view. A virtual property show brings the global buyers, sellers, and virtual real estate agents together in a virtual venue where they can connect and share details related to the properties. The event is organized over a virtual property show platform that provides various virtual tools, ensuring a seamless virtual event experience for the users. From live property tours to 3D map views, a virtual property show is power-packed with countless features to ensure an outcome-driven event.
Benefits of Hosting a Virtual Real Estate Expo
1) Expanded Reach
Organizing a virtual property enables you to reach a wider target audience. Achieving a target like this is next to impossible in the case of an in-person event. However, you don't have to think twice about it in case of a virtual event. You can invite as many exhibitors, sponsors, sellers, agents, and buyers as you prefer. With a maximum number of attendees, the prospects of a successful outcome also increase.
In-Person, Hybrid, Virtual
Create an Extraordinary Event Experience
Across All Event Formats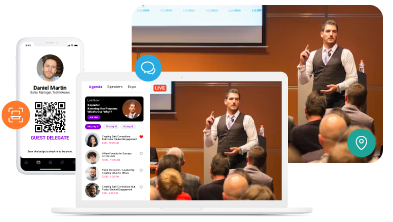 2) Economic Solution
A virtual property show or open house platform costs you way less than a physical event. From traveling & accommodation to resources & logistics, the requirement of many arrangements gets eliminated. Also, virtual events provide way more benefits at a lower cost.
3) Better Networking Opportunities
A virtual property show platform provides you with various interactive tools & features, enabling seamless networking. While at an on-site event, people have to 'find' relevant buyers or agents, it is not the same in the case of an online event. Virtual event users can have an excellent networking experience using tools like advanced search filters, networking tables, AI matchmaking, etc.
4) Extremely Convenient
Property showing and selling can be a tiring task when done in person. From numberless property visits to the same information sharing over & over again, the agents have to keep working in an endless loop until they have a deal. Not just for sellers and agents, the process is also very tiring for the buyers as they have to look for numberless properties till they find the one they like. The whole process also costs large sums that could have easily been used for other relevant activities.
As you shift to the virtual format, all these factors get eliminated. Sellers can showcase their properties through virtual tours, virtual open houses, and virtual mapping. They can also collaborate with virtual real estate agents to enable a frictionless property selling process. In addition, buyers don't have to travel long distances as they can view the property in detail from their remote locations. Hence, a virtual real estate expo is an extremely convenient format for all.
5) Access to Profitable Virtual Tools
Virtual tools & technology plays a key role in providing worldwide users a seamless virtual property show experience. From interactivity & engagement to networking & event matrics, a virtual property fair platform provides the organizers with excellent virtual features. Organizers do not only get to enjoy an immersive virtual experience but also access to tools like complete event reports & analytics. A virtual event platform has features dedicated to each participant of the event; be it exhibitors & agents or buyers & sellers.
A common question that pops up in our heads is HOW exactly do we host a virtual property show event that generates more value. So, let's explore a few simple ways to do that.
In-Person, Hybrid, Virtual
Create an Extraordinary Event Experience
Across All Event Formats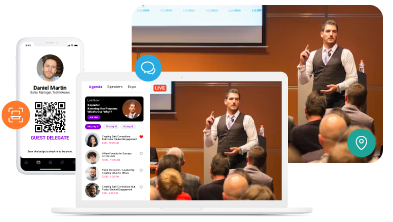 How to Organize a Successful Virtual Property Show
To organize a successful virtual property show, all you have to do is follow a few simple steps.
5 Simple Steps to Host a Successful Virtual Property Expo
1) Define Your Event Goal
Begin your event planning by determining your goal behind organizing the property show. Think of all the objectives you aim to achieve through the event. This step will help you move ahead with the planning process and choose a platform that provides relevant services & features. Following are a few example questions to help you define the goal:
What will be your marketing or promotional strategies?
How many exhibitors are going to participate?
What interactive features do you require during the event?
Do you have any specific attendee-engagement requirements?
What are your branding goals?
2) Pick the Right Virtual Property Show Platform
Choose the most suitable virtual property show platform that meets all your needs & requirements. An excellent virtual event platform provides you with complete flexibility to customize & scale your event as per your preferences. Ensure that you choose a platform that provides easy integrations and other essential virtual tools to organize a super-engaging & outcome-driven event.
3) Create a Well-Defined Content Strategy
Another significant aspect of organizing a successful virtual event is defining your content strategy. Content is always the king, and it plays a vital role in providing a seamless experience to the attendees. Therefore, create a well-defined strategy of which content to use & deliver during the event. Further, begin working on the content to make it accessible during the event.
Pro Tip: Think from your attendees' perspective while creating the content strategy for your event. Think of all the information or detailed content that your attendees are likely to look for during the event.
In-Person, Hybrid, Virtual
Create an Extraordinary Event Experience
Across All Event Formats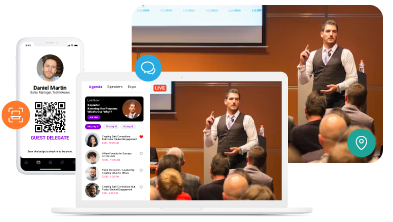 4) Promote Your Virtual Real Estate Expo
Start creating a buzz for your event with the right promotional strategies. Promoting your virtual property show will not only help you maximize your brand identity but also the reach of your event. This step will also boost the number of event registrations, enabling a better prospect of event success.
5) Test the Technology Before the Event
Before the big event day, when all the preparations are done, it's time to test the technology! It is one of the most significant aspects that help you ensure the smooth execution of your event. A dry run test of the virtual event will also enable you to confirm that there are no tech glitches during the event.
Choosing an excellent virtual event platform is not enough. You also need to make the right use of it. Therefore, let's explore some of the top ideas to organize an engaging & seamless virtual property show.
In-Person, Hybrid, Virtual
Create an Extraordinary Event Experience
Across All Event Formats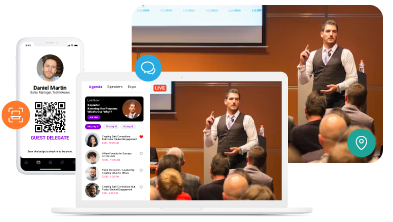 12 Brilliant Ideas to Make Your Virtual Property Show Stand Out
Include these virtual features and activities to organize a seamless virtual property expo.
1) 3D Immersive Virtual Environment
Create a virtual environment that keeps your attendees engaged & enthralled throughout the event. Ask your virtual property show platform provider to build an immersive 360-degree 3D environment. Also, don't forget to customize the virtual venue as per your event theme & branding requirements.
2) Advanced Search Filters to Select Relevant Buyers
Incorporate the super-efficient feature of an advanced search filter to help your attendees find relevant buyers. For example, the property sellers or real estate agents can easily select relevant buyers by adding filters in the search bar as per their preferences. Basically, the sellers & exhibitors can add filters to find the best buyers for their property. To make the event execution more seamless, you can also incorporate tools like networking tables to have a 1:1 conversation with the participants.
3) Criteria & Filter Based Property Finder
To further create a frictionless event experience for your attendees, introduce the feature of a filter-based property finder in your virtual venue. Using this virtual tool, your event participants can find a property as per their requirements by adding criteria and filters to their search.
4) Branded Booths Providing Relevant Details
Provide 3D exhibit booths for your exhibitors, enabling easy navigation for your users. These booths can be completely customized and branded based on your exhibitors' requirements & preferences. To make the information sharing easy, you can provide all the essential details available at the booth. In addition, users also get the option to get in touch with the support team of the exhibitors.
In-Person, Hybrid, Virtual
Create an Extraordinary Event Experience
Across All Event Formats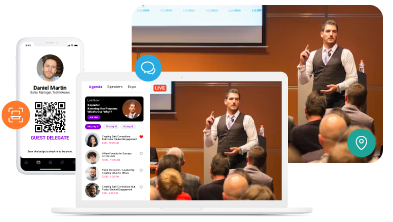 5) Live Property Listing with 2D & 3D Map View
Incorporate the function of LIVE property listing by specifying the colors for different categories. With the use of this feature, you can keep your users updated about the availability & unavailability of the properties being showcased at the event.
6) 3D 360-Degree Property View
Level up your attendees' event experience by providing a 360-degree immersive view of the properties. This feature will make the open house aspect even more easy & simple.
7) Detailed Maps of Facilities & Township
As the idea clearly suggests, you can provide your attendees with detailed maps of the properties & township. Using this feature, your exhibitors can seamlessly showcase the property & describe the township.
8) Property Categorization Basis Size, Location, Prices
List the properties based on different categories to further smoothen your attendees' buying experience. Your virtual property show attendees can find all the essential details of the properties all in one place with the help of this tool.
9) Property Comparison Tool
The comparison tool is another super-beneficial virtual event platform feature. Using this tool, the buyers can easily compare the top properties shortlisted by them. With this, the users get to make a well-thought decision about buying a property.
10) On-Event Video Calling with Sales Person
Incorporating the feature of on-event video calling will help the participants clear their doubts & queries. They can connect with the salesperson to have a straightforward interaction through multi-format communication tools. This feature further provides a seamless experience to the virtual attendees.
11) On-Event Sales & Checkout
Enable direct on-event sales & checkout to simplify & fasten the selling process. With the help of this user, your exhibitors get the option to convert their hot leads during the event itself. Once your attendees have made the decision, they can move ahead by making the final checkout.
12) 3D Auditorium for Live Sessions
You can also include a 3D auditorium to run live webinar sessions or other relevant content. This aspect will help you interact with your participants and share other relevant information related to the event. In addition, you can invite a renowned speaker for a live session to make the event more engaging. Go ahead, and organize a superbly interactive, engaging, and outcome-driven virtual real-estate expo! In case of any queries, reach out to us and we'll clear all your doubts.
In-Person, Hybrid, Virtual
Create an Extraordinary Event Experience
Across All Event Formats