Ever since the Covid-19 pandemic has emerged, we have begun to understand the importance of modification. Blending our work techniques according to the wavering situations is not just a compulsion anymore but has also become a widely accepted lifestyle. Like every other industry, the events industry has also faced several startling constraints that have unfolded a whole new approach to organizing events.
Many thriving organizations wish to host multiple summits in a year as it is essential for their growth, but this became next to impossible in the wake of the pandemic. However, when these organizations were at the brink of accepting defeat at organizing events, event planners came to their rescue with an innovative blend of events and technology.
Yes, we are talking about hosting Virtual Summits over the innovative Virtual Summit Platforms.
Virtual Summits are increasingly gaining popularity in the online event sphere with each passing day, as they are of great importance to booming businesses. But, it's not just about organizing a summit anymore! The prevalent virtual shift of events has also led to the innovation of excellent tools and elements that have modified the concept of organizing events. Therefore, it's also about efficient ideating, planning, and ensuring the success of your virtual summit.
Read on to explore all the essential aspects of a Virtual Summit.
What is a Virtual Summit?
A Virtual Summit is an interactive online event that brings together a large group of people with similar interests to discuss important industry-related topics. Like an on-site summit, an Online Summit also gathers industry experts, speakers, presenters, business leaders, etc. These summits are by and large 3 to 5 days long, and all the event sessions adjoin to support the prime Summit theme. Although almost all the elements of a virtual summit are similar to that of a physical one, the only major difference remains to be the type of venue; as an offline summit takes place on a physical venue and an Online Summit is held over a virtual venue.
In-Person, Hybrid, Virtual
Create an Extraordinary Event Experience
Across All Event Formats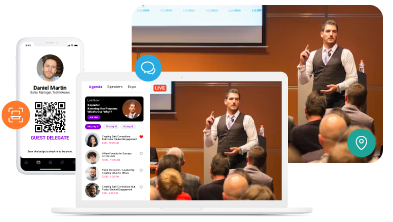 Virtual Summits are proving to be a game-changer for organizations as along with excellent time and cost benefits, it also provides maximized reach with a greater level of impact than a physical event.
These summits are generally payment-free, pay-to-attend, or freemium in nature. However, your Virtual Summit can be any format, form, and structure according to your preferences.
How Does a Virtual Summit Work?
A Virtual Summit provides you with the opportunity to generate valuable leads as it involves an advanced digital platform with innovative automated facilities. With the help of exceptional marketing and promotional strategies, you can gather the right amount of attendee registrations for your Virtual Summit.
On the day of the summit, your attendees can check into the virtual venue and explore all the virtual locations with the help of a well-designed user interface and experience. A Virtual Summit Platform also enables your attendees to interact, engage, and network through the innovative tools present over the virtual venue. Therefore, if you aim to host a successful summit with a global reach, we suggest you go virtual!
Features and Benefits of a Virtual Summit
There are so many reasons behind the growing prevalence of Virtual Summits, and one of them is the features provided to all your participants over a Virtual Summit Platform. Following are some of the top features and benefits of a Virtual Summit.
#1 Cost and Time Effective
The most beneficial feature of Virtual Summit is its cost and time effectiveness. Shifting from physical to virtual venue saves many of your expenses as it eliminates the need to travel, booking a physical venue, arranging resources like accommodation, logistics, refreshments, etc. It also helps you reach a wider audience sitting in remote locations across the globe without waste of time and effort, as your virtual summit is now available to attend from anywhere & anytime.
#2 Enhanced Networking Opportunities
A Virtual Summit Platform provides you with countless innovative and advanced networking tools. Interacting and generating leads is no more a trying task as a long list of interactive and engaging options are made available to your attendees over a virtual venue. At Dreamcast, we render your participants with excellent networking tools like B2B meeting scheduler, networking lounges, advanced search filters, AI matchmaking, etc.
#3 Customizable Virtual Event Platform
One of the most crucial features of a Virtual Summit is that it renders you the opportunity to personalize all the tools and elements of the virtual venue. Therefore, choosing the right virtual venue is very significant in the process of planning your event. Dreamcast facilitates you with excellent customizable options to ensure that all your requirements are met efficiently. Not just this, but you can also add booths, halls, lounges, etc., to your online summit according to your necessities.
#4 Live Broadcasting and Recording
Live interaction is another vital feature of a Virtual Summit that enables all the participants of your event to interact, communicate, and connect with each other in real-time. With the help of a live video streaming tool, your speakers and presenters can live stream their questions & present the content while your attendees can engage in live chat and respond to those questions & polls.
Another interesting and valuable feature is that these live streams can be recorded and made available to the audience later on as well. This way, the reach of your content is also maximized.
#5 A1 Automation
Hosting any type of event comes with a lot of intensive practices and procedures that can be stressful and time-consuming. However, you don't have to worry about this while hosting a Virtual Summit as an advanced virtual summit platform is well-equipped with automated tools. This feature does not only take some burden off your shoulder but also provides a smooth flow to your virtual event.
#5 Choose the Right Virtual Summit Platform
Choosing the most suitable virtual event platform to host your online summit plays one of the key roles in ensuring the success of your virtual summit. You can opt for a virtual venue that supports your summit requirements with advanced tools and facilities. An excellent virtual summit platform can provide you with significant networking and engagement opportunities to enhance your attendees' event experience. Dreamcast also facilitates you with the option to customize the platform according to your specs.
#6 Market and Promote, Far and Wide
Marketing and promotional activities for your Virtual Summit will create a buzz for your virtual event before the big day arrives. It will help you gather more registrations and maximize the reach of your summit. You can use a variety of mediums to implement different marketing strategies and promotional tactics to captivate the attention of your target audience towards the Virtual Summit.
#7 Create Compelling Content
The content of your virtual summit has to go through different levels before it finally goes live. Content creation involves effective planning, strategizing, and designing. It is suggested to create all the content of your event beforehand to avoid any hassle during the event.
#8 Examine the Technical Support
An online summit platform integrates multiple technical components to deliver a successful execution of your event. However, even with the best backend support, there is always an adverse possibility of technical errors or glitches. Therefore, it is necessary to examine your event tech support by testing it with a dry run. Ensure the efficacy of all the tools and elements before your virtual summit goes live.
#9 Invite Professional Speakers and Presenters
Bringing skilled speakers and presenters on board can effectively enhance the performance of your virtual summit. The speakers are the soul of your event as they are the ones who are responsible to interact with your attendees, keep them engaged, and elevate the performance of your virtual summit.
#10 Collect Valuable Feedback and Analyze the Event Data
As mentioned in the features of a Virtual Summit, collecting feedback and analyzing the event data is of great importance in the level of both- planning and executing your online event. While feedback can provide a personalized attendee opinion, event data records and insights can help with more strategic and technical analytics about the virtual summit.
These records can also facilitate you with valuable assistance while hosting future virtual summits.
How Long Should a Virtual Summit Last?
Virtual Summits can generally last from 3 to 10 days. Although this is a basic duration of a summit with no hard and fast rule, it also depends on the scale of your event. If your Virtual Summit is being hosted on a small scale with 30-50 attendees, the summit can last for 1-3 days. However, if your summit is directed towards a global audience with more than ten speakers, the event can last for more than five days.
If we talk about your online summit's session duration, you need to acknowledge the fact that your audience is present over a screen with a shorter attention span. It means you have to ensure that the sessions of your virtual summit are not too tedious for your participants, else they might navigate out of your virtual event. Also, you can include mini-breaks in between the sessions to keep your attendees engaged.
How Much Does it Cost to Host a Virtual Summit?
To host a successful Virtual Summit, you need to contact an excellent virtual summit platform provider to help you through the process of planning and execution of your online event. However, the overall cost of your event depends on the type of tools, elements, and features you wish to include in the event. For example, hosting a simple webinar might cost less but hosting an engaging summit with advanced 3D and interactive interface, fun gamification, and great backend support will cost higher.
Best Ideas and Tips for a Successful Virtual Summit
Making your Virtual Summit engaging and interactive is very significant to ensure the success of your event. Let's explore some of the best tips and ideas to enhance your virtual summit's overall performance.
#1 Gamification – Adding fun games to the summit can help you to captivate your attendees' attention. You can organize fun elements like trivia, contests, leaderboards, scavenger hunts, etc., to incite excitement and a sense of playful competition amongst the virtual event attendees.
#2 1:1 Interactive Options- Provide your attendees the facility to have personal audio, video, or text chat.
#3 Branded Photo Booths- Who doesn't like clicking pictures? A branded photo booth will not only add a fun element to your virtual summit but also fulfill your branding goals. Your participants can also share the captured memories to their social media handles with the help of embedded links.
#4 Q&A Sessions- It will render your participants a chance to have a live interaction with the industry experts and share their opinions which will add to the quality of your online summit.
#5 Engaging Quizzes and Polls- Live polls and quizzes can not only enhance engagement at your virtual summit but also help your attendees gain information about important industry-related topics.
A Bonus Point!
The art of experiment has always been the most effective idea in the history of worthwhile innovations. The thought is, innovative thinking and brainstorming can always bring up good ideas. Therefore, do not limit your imagination and let your ideas flow, and there's a possibility of creating something excellent for your Virtual Summit to take its experience to another level.
Looking for a one-stop solution to host an amazing Virtual Summit? Contact Dreamcast now and leave everything up to us!
In-Person, Hybrid, Virtual
Create an Extraordinary Event Experience
Across All Event Formats