It is the era of taking all kinds of events virtual. While the world is now hosting events online, webinars have stayed in the online sphere ever since the pandemic began. Webinars came into prevalence before any immersive online event and continue to grow commendably. Clearly, they turned out to be advantageous for both organizers & attendees, making it the go-to option of the world.
A webinar benefits your organization in many ways. These advantages can be both long and short term, in terms of different factors. However, you might have always heard of some very common benefits that everybody keeps talking about. But, does anybody tell you the precise benefits of hosting a webinar for your organization? Well, that is how this blog is different!
In this blog, we have also covered the in-depth & long-term benefits of webinars that no one talks about. Move forward and diversify your vision about webinars.
Explore some of the well-known benefits of organizing a webinar below.
Attain a Matchless ROI for Your Business.
Pick the Best Webinar Services of the Industry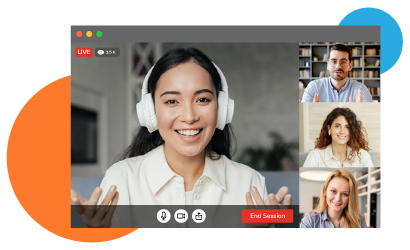 5 Popular Benefits of Webinars
1) Conveniently Available to Attend
Who would mind attending a webinar from the comfort of their remote locations? Your attendees don't have to make extra efforts to become a part of an important seminar or conference. And the best part about this factor is that it helps you gain more participants effortlessly.
Webinars are not just easily accessible but also provide flexible use to the attendees. It is so because your users can choose to watch specific sessions as per their preference instead of watching all the sessions.
2) Cost-Effective
Needless to say, organizing a webinar instead of an on-site seminar or any other informative session can be a great cost savior. Once you pick a webinar service or platform, you get all the webinar solutions in one place. With this, the requirement to manage many resources is eliminated, for example- venue, catering, accommodation, logistics, travel, event set-up, etc.
3) Bridges the Gap between You & Your Target Audience
Webinars bring you the essential opportunity to reach a wider audience. In the case of an in-person event, you have to think about countless aspects to reach a maximum target audience. Also, the more people you invite, the more your expenses increase. However, a webinar helps you reach an unlimited number of the target audience across time & geographical boundaries.
4) Improved Interactivity
Hosting an in-person seminar, conference, or any professional meet-up comes with the challenge of smooth interactivity. There is always a possibility of things going rough while trying to ensure a frictionless event execution. However, in the case of a webinar, all the features come well-versed to ensure high engagement & interactivity. Hence, a webinar helps you guarantee seamless execution & interaction throughout the event.
5) Longer Availability through On-Demand Content
A webinar can be recorded during the broadcast so the attendees can view the sessions according to their schedules post the event. And because the recorded version is also accessible over the screen, there is no difference in the virtual experience of users. Regarding interactivity during session recordings, the on-demand content can be enhanced with additional features to provide interactivity if required.
Now let's take a step ahead and explore more detailed and long-term benefits of organizing a webinar that you might not know.
10 Must-Know Benefits of a Webinar
1. Helps You Deliver Matchless Value
It is one of the biggest reasons why organizations should host a webinar. All you need to do is choose an excellent platform and ensure smooth execution. It helps you in keeping your attendees engaged for hours through seamless interactivity & information sharing. The excellence of a webinar not only helps you broaden your reach but also gain more leads. Therefore, webinar events remain one of the best converting marketing tools, delivering matchless value for your organization.
2. All in One Online Digital Solution
According to a report, 74% of the webinars are conducted through the webinar platform. Going virtual with a webinar platform helps you find a complete solution for your event. Organizing a successful webinar requires the arrangement and management of many aspects. However, when you come on board with a webinar platform, you get all your solutions in one place. And therefore, any extra arrangement or effort is not required from your end.
3. Boosts Your Brand Awareness
Building a brand identity and awareness takes organizations numerous efforts and years. A webinar helps you enhance your brand awareness through the simplest ways without requiring any extra time, money, or resources. As you organize a webinar event, you get to put up your branding throughout the event screen, content, and other digital features. All you need to do is plan and execute the event smartly. Once your viewers consciously or subconsciously discover your brand elements, your brand awareness gets boosted automatically. It is also an unquantifiable benefit that you can notice in the longer term.
4. Enables You to Generate More Qualified Leads
Lead generation is one of the main objectives of every organization. According to a statistical report, around 40% of webinar attendees convert into lead generation. However, while lead generation remains a key agenda for many, finding more qualified leads is a task that takes long hit and trial strategies. It is where webinars can efficiently help you. As you organize a webinar and people register for it, they automatically become a hot lead for your business. And by following a strategic way to reach them, you can maximize your lead conversion rate.
Pro Tip: You can also ask your attendees for more details through interactive webinar tools like live chat, Q&A sessions, polls, etc. By doing this, you can gather more high-quality leads without seeming pushy.
5. Positions You as an Expert
Another hidden benefit of organizing a webinar is that you get to position your organization as an expert in what you do. All you have to do is provide your audience with insightful details & information that is beneficial for them. A simple rule you always need to remember is- that the more value you provide, the more you receive back. Mentioned below are a few tips to make your attendees' webinar experience better:
Provide informative content throughout the webinar
Answer all your attendees' questions & doubts
Inform & educate them about your webinar topic
Consistently share multi-format webinar content to deliver more value to your attendees
6. Levels Up Your Audience Engagement
Be it about keeping your present customers engaged or acquiring new customers, both are a task in themselves. However, acquiring a new customer is way harder than retaining the existing ones. So let's talk practical in this case. To improve your business and reach greater heights, maintaining good relationships & engaging the current customers is very significant. It is where webinars essentially help you. While your attendees only partially consume any other promotional content shared by you, they feel much more engaged in the webinar content. It is so because, during the webinar, your attendees get a maximum opportunity of interacting & engaging. Therefore, you can use the webinars to build stronger relationships with your existing customers and attract new customers.
7. You Get to Invite Renowned Speakers
In the case of an in-person event, inviting high-profile speakers or guests can be a difficult or unpredictable task. However, as you change your event format to online, reaching out to well-known speakers becomes super easy. Also, the benefit is not only limited to inviting a high-profile guest as it also helps in boosting attendee engagement at your webinar.
8. Revamps Your Sales
Owing to the better interactivity and engagement driven by a webinar, you get the opportunity to build a more authentic impression on the attendees. As a webinar brings all the best measures together, your audiences automatically begin to feel closer to your organization. Further, this authenticity helps you in boosting overall sales.
9. Faster Return on Investment
From generating better leads to ensuring deeper engagement, everything boils down to one point, i.e., the improved outcome and return on investment. Not just this, but you also get to generate more revenue through a webinar. A simple example is that you get to reach a wide target audience, and the more the registrations, the more the revenue.
10. Perfect Way of Soft-Selling & Promotion
The right strategy and content can help you soft-sell the product without seeming to be too pushy. Organizations truly focus on getting better outcomes, and most of that facet is dependent on the quality of attendee experience. To ensure this, you would not want to be too hard on your attendees with extensive promotional activities. Therefore, by creating & using a good content strategy, you can sell & promote your brand or product softly. Organize your own world-class webinars and experience the benefits for yourself!