In numerous ways, the years 2020 and 2021 have changed the method of communication, learning, employment, and business. We have had to adjust to a new way of working and living since the pandemic, thanks to remote working and virtual meetings. For people and businesses wishing to connect and share their offerings with anyone, anywhere in the world, webinars have opened up a world of possibilities. There are two major approaches you might take when organizing and producing a webinar. The typical live event that you most often associate with a webinar is the first. The second is an evergreen webinar, a pre-recorded session. To conduct these types of webinars, the majority of companies and event planners employ webinar platforms and services.
It's crucial to grasp the distinction between pre-recorded and live webinars before choosing which platform is ideal for you. This session will describe numerous webinar kinds, along with their advantages and disadvantages.
What is a live webinar?
It is an online class, gathering, or conference, and it is created and broadcast to online people (in real-time). It is a vital video collaboration tool used in education and business sectors since it allows for real-time interaction and communication with a group of people. In simple terms, a live webinar is focused on the presentation style the host chooses to use to reach their audience. Live webinars typically include different elements such as screen sharing, audio, and video. There are different advantages and disadvantages of utilizing this technology such as: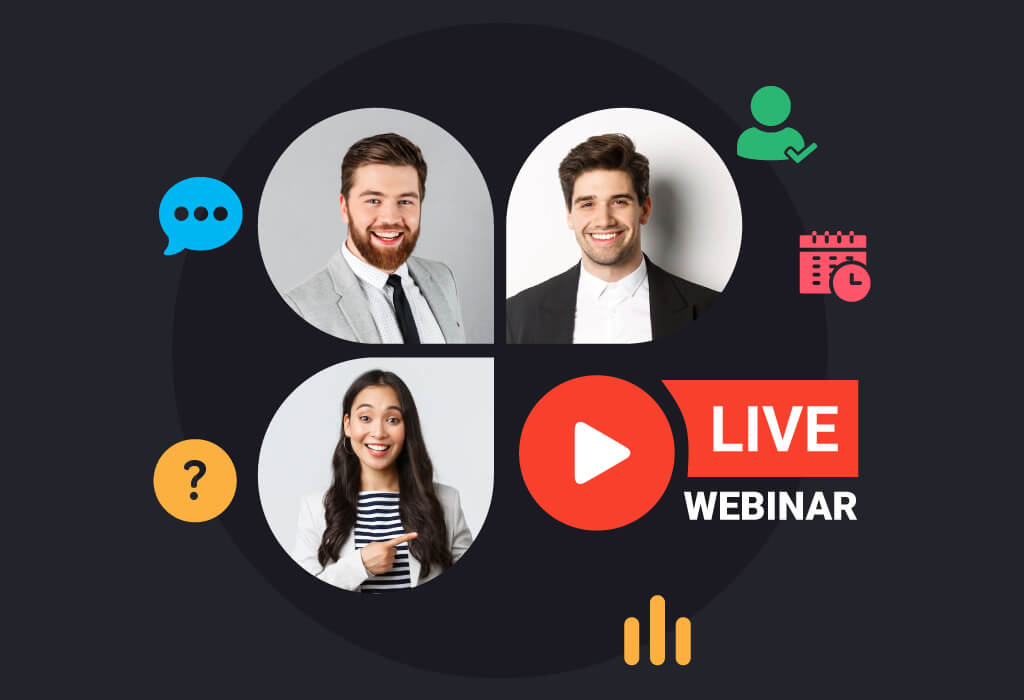 Pros of live webinar
Establish an emotional connection with people
This form of webinar assists event organizers to build and improve the connection with the target audience because it is a live component of the channel. For example, if your target audience can watch and listen to you, they can easily relate to your approaches and story. It is beneficial to build trust and gain more customers.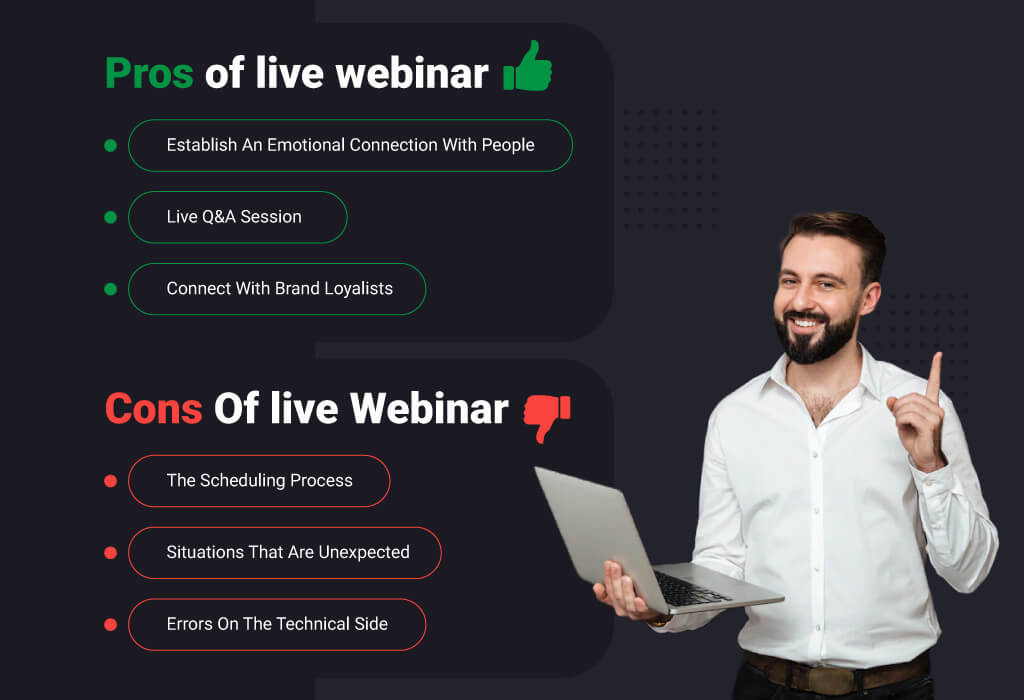 Live Q&A session
For live Q&A sessions, the majority of event planners employ interactive webinar systems. Professional webinar service providers enable the participants to ask spontaneous questions. The virtual event platform allows hosts to respond to audience questions live in real-time.
Connect with brand loyalists
Hosting a live webinar is a unique way to interact and engage with genuine people (who trust your brand).
Attain a Matchless ROI for Your Business.
Pick the Best Webinar Services of the Industry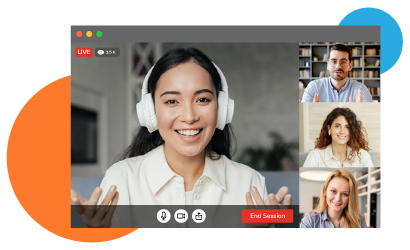 Cons of live webinar
The scheduling process
For an event planner, scheduling a live webinar for the audience can be difficult. Finding a time that works for all of your target consumers is not an easy task, especially if they are in various time zones.
Situations that are unexpected
External factors don't always coincide with our schedule. Visitors, incoming calls, and other problems can interrupt your live session.
Errors on the technical side
Your live webinar experience may be affected by lags, slow connection, and software issues. You can work with a qualified and experienced live streaming service provider like Dreamcast to avoid technological problems. We provide technical support that is available around the clock so that you can manage and avoid technological problems.
What is a pre-recorded Webinar?
It is another kind of webinar that is filmed and edited before the event. Event organizers may develop the material, record it, adapt it to their requirements using pre-recorded webinars, and then make it available to viewers in the event. Users may access all the interactive features, polls, and other aspects of a live webinar by hosting pre-recorded webinars utilizing webinar services.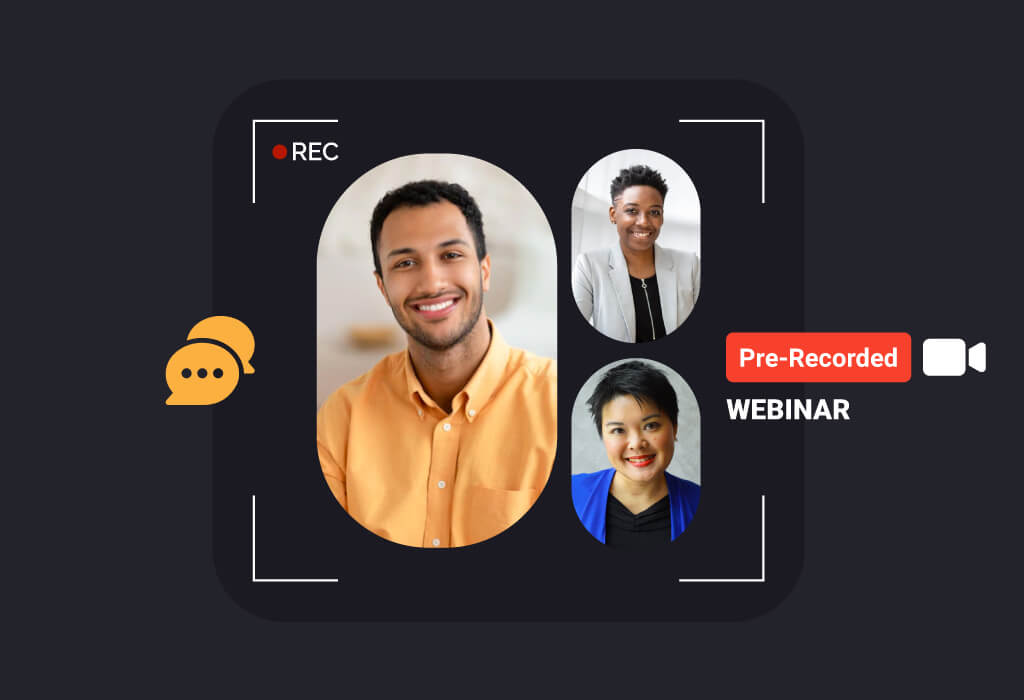 This style of the webinar is focused on the attendees and how they want to see and engage with video content, to put it simply. Pre-recorded webinars highlight the participant and customer experience, whereas live webinars put more emphasis on the host's material delivery. This form of webinars includes different benefits and drawbacks listed below:
Pros of a pre-recorded Webinar
Boost the engagement
You can broadcast your previously recorded webinar online by using an online webinar platform. It is one of the best strategies to raise the brand value and audience engagement. In your pre-recorded video, you can use text, charts, infographics, etc.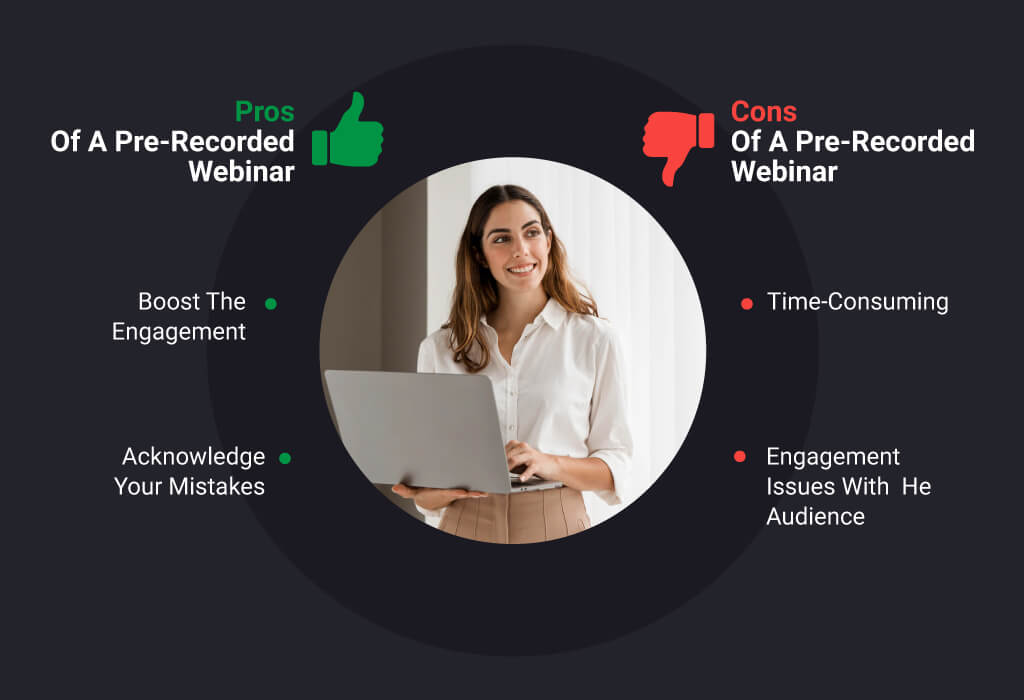 Concentrate on the content
Pre-recorded video allows you to plan the event easily. This mode of webinar helps the presenters to relax and concentrate on other aspects of presentations.
Acknowledge your mistakes
Watching your pre-recorded videos allows you to understand your mistakes. It also helps you make adjustments in order to get the best results. It is helpful to plan out every step in advance.
Attain a Matchless ROI for Your Business.
Pick the Best Webinar Services of the Industry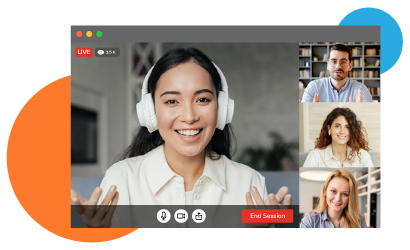 Cons of a pre-recorded webinar
Time-consuming
This form of webinar consumes more time compared to typical webinar production since it involves additional recording and modifying processes.
Engagement issues with the audience
Compared to live webinars, there are fewer possibilities to hold your participants in this type of webinar. It also offers audience response in real-time.
Last but not least!
Now you are aware of the distinctions between live and evergreen webinars. So which webinar will you choose? In the end, your goals will determine which webinar format is ideal. Select a live event if capturing the audience's attention is essential. Consider using a recorded webinar if you wish to present your presentation in a polished manner. But when you can use the functionality of both, why choose between them? Dreamcast, a well-known and trusted provider of webinar services, enables you to organize and conduct fantastic live events while simultaneously recording them. We can assist you in using a cutting-edge webinar platform to integrate pre-recorded video into traditional webinars Our goals are to decrease the stress associated with going live and to maximize audience involvement and interaction. We offer an opportunity to combine virtual events and in-person events through a hybrid event platform. So why are you still waiting? To use our webinar services, get in touch with us immediately.
Attain a Matchless ROI for Your Business.
Pick the Best Webinar Services of the Industry