Online webinar is a widespread term nowadays, and you probably heard of how marketing webinars are the most excellent way to educate your audience and create brand value. Well, webinars are of many formats and are considered an effective way to host meetings (internal and external), training sessions, lectures, training workshops, interactions and other communications (regarding sharing of information, thoughts and ideas).
Besides the company's internal meeting webinar, brands use host webinars to fulfil many marketing objectives (as a part of content strategy). And for that, it is a common question about how to increase registrants and audience.
Here in this blog post, we are going to cover all the essential tips in order to produce a successful webinar for your business. Scale your next webinar with an impeccable webinar strategy plan that incorporates every single detail that helps you in every way and improves your webinar success moving forward. Please keep reading.
Webinar: The Essential Key To Unleash The Digital Dynamics
Live webinars are the new-age way to connect and communicate for various purposes. Especially for the corporates who have multiple offices or need to deal with clients for product demos in different geographic. Talking about the tips here you go.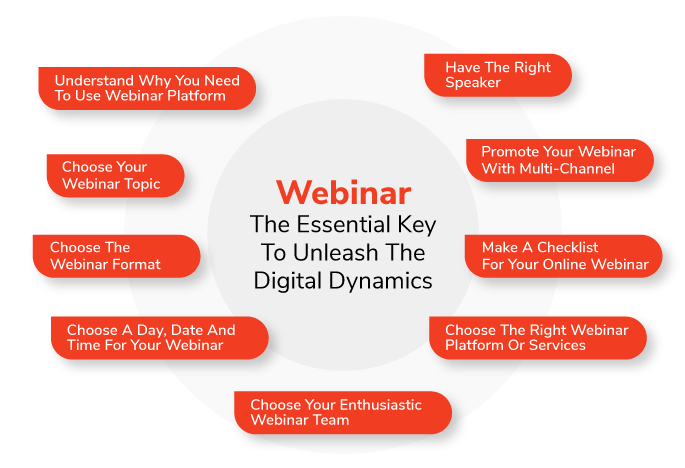 Understand Why You Need To Use Webinar Platform
Well, the answer is simple and effective, to provide a seamless experience to your audience of clients and have an interactive session webinar platform is necessary. A webinar platform offers you to connect with hundreds to many headcounts in a single window. While having the advantage to show your presentation, share your screen, videos, infographics, use polls and many added features you want to incorporate.
Once you understand why you need a webinar platform and how a reliable webinar service is helpful for your businesses then it's time to move to plan strategically to all the necessary details.
Attain a Matchless ROI for Your Business.
Pick the Best Webinar Services of the Industry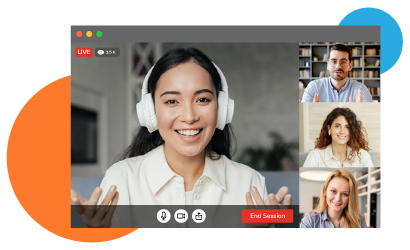 Choose Your Webinar Topic
To choose a topic you need to deep dive into intrinsic industry research to find the missing components. To be very clear you need to choose something which plenty of people are looking for, or is trending. Besides that you can also try:
You can analyse your competitors, what they are doing and what they are missing so that you can go with that.
Using social media channels, google search console to know what people are searching for or are interested in.
If you are having a new product launch you can give a demo or information-sharing webinar.
Check out frequently asked questions to select from.
Well, all that time you do in the research will help you to understand the customer behaviour and their choices too. Once you choose a topic it is taking you to the next step.
Choose The Webinar Format
There are plenty of things you can do over a webinar from a live product demo to an interaction session, an interview, or anything else all up to you. There are many things you can add such as having a Q&A session, a group discussion or whatnot. But to choose the format makes your task easier and pre-determined to move all your energy in one way.
Format of Webinar
Industry Expert Panel
Interview
Case Study
How To
Q and A
Casual Chat
There can be other options too, which can be categorised as webinar types. Depending upon your business, industry and intent you can choose from this pool to have a successful webinars.
Training Webinar
Product demo Webinar
Leadership Webinar
eLearning Webinar
Tutorial Webinar
Corporate Communication Webinar
On-demand Webinar
All types and formats are just to indicate but the webinar is still not bound to all this.
Choose a Day, Date and Time For Your Webinar
This is a simple task to do. Every event needs to be well planned and on a fixed date and time. So, choose the time wisely particularly if your attendees are from different time zones. For example, no one wants to miss their favourite prime-time show to attend your webinar. Right. I think you got what we are saying.
The next step is to gather or build a team if you are planning for something big. But still few people are needed so that every task can be allotted and get done at the right time.
Choose Your Enthusiastic Webinar Team
A team of qualified individuals is important to reduce or make your webinar error-free. As the webinar is a live event (not specifically as there is an on-demand webinar as a type too), so the scope of any mistake is not good for the brand image. So it is preferable to hire a technical team from a webinar service provider who gives full backend support to you and makes your imagination come true. Like we say "Cast Your Dream — Dreamcast".
Have The Right Speaker
This point is important, let me take this opportunity to the cruciality of how it matters. If you invite an industry expert or someone with a known personality as it can increase the registrations. The majority of people believe in industry expert words as it builds strong credibility and value to the information.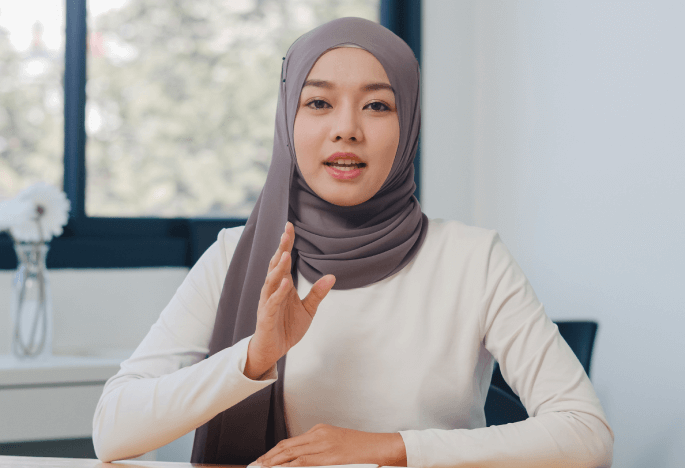 Promote Your Webinar With Multi-Channel
You are somehow at the last stage of planning your webinar. Promotions are vital as without them how someone will know about your next event or anything else? For promotions, you can use all social media channels, and even send emails to all the prospects, targeted audience (filter from your database) and anyone you think your webinar topic is related to.
If your webinar is related to product launches or somewhat very important then it is preferable to avail the benefits of paid ads.
Make a Checklist For Your Online Webinar
The concept of a checklist is common to note down all the important aspects of an event, as to not miss out on anything. Make a thorough checklist which has all the points and nitty-gritty of your event and before you go air check everything and go for a dry test.
Well, here one important aspect we missed out on, is equipment starting from camera to microphone, tripod and others. But there is a cache if you are a business it is not recommended for you to arrange everything instead hire a good team in order to avoid any technical issues during your webinars (this will also ease down your efforts and workload). Webinar hosting services are known to offer you everything possible from equipment to end-to-end customisation for a seamless experience.
Choose The Right Webinar Platform or Services
Last but not the list. The right webinar platform is quite necessary as without it you will not be able to do anything you are planning on. The right professional webinar platform will provide you with tons of features and tools to utilise and make your event engaging.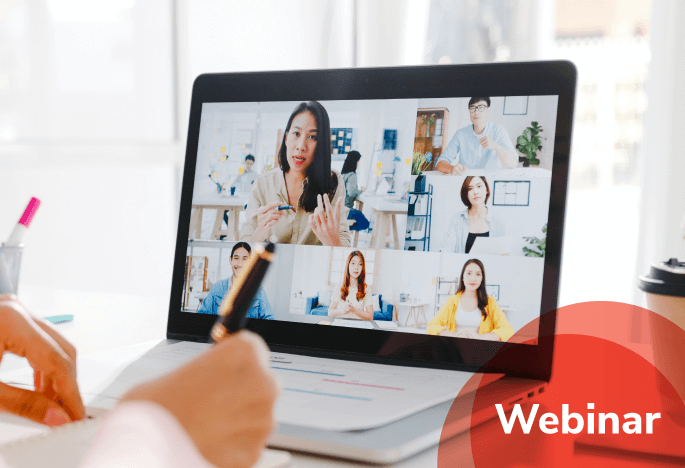 Not just that, but also offers you to make your webinars as huge as you want (in terms of headcount), and the opportunity to showcase videos, PowerPoint presentations, infographics, polls, Q&A sessions, emoticons, hooting, countdown and many more.
The time has gone when one needs to download an app or install software to join the webinar (and nowadays, no one likes that). You can now take the advantage of web-based solutions and this is the easiest way to make your audience join (anyone can join the webinar by just clicking on the link, but you can choose whom to send).
No matter how big or small you are there are webinar platforms for small businesses as well as for big corporations too. If you are looking for such a solution, get in touch with us, we are always ready to help you host a webinar that your audience will love and generate qualified leads.
Attain a Matchless ROI for Your Business.
Pick the Best Webinar Services of the Industry