Webinars are the best approach to communicating information and ideas in the contemporary world when technology is widely used. Today, though, webinars are more than just that. It's hardly surprising that an increasing number of individuals, including business professionals, educators, students, artists, and speakers, are embracing webinar management tools to inform, inspire, get visibility, sell, study, create leads, and even make money. Indeed, you too can accomplish this. You may employ webinar solutions that will benefit your business, group, or profession.
We will go over all elements of hosting webinars in this session, including crucial factors to take into account, essential features of webinar services, and all you must do to effectively run your own webinar event.
What is a Webinar?
A webinar is an online group event. Most event organizers use webinar services in order to conduct this online event. A webinar is broadcasted to a specific group of people over the internet. One of the main things about online webinars is that they can turn your online presentations into real-time conversations. This form of the event allows event organizers and companies to interact and communicate with their audience from anywhere in the world.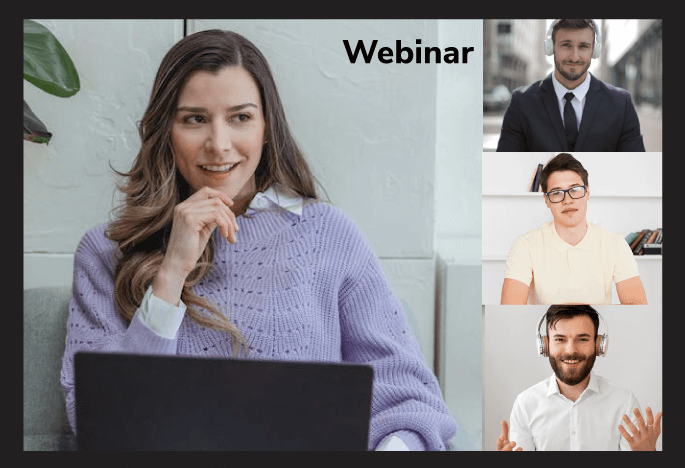 Webinars are just online seminars. Unlike in-person seminars, which employ a traditional venue and equipment, these seminars use the internet and numerous software programs. Webinars are practical, economical, and engaging. Depending on the hosts, the subjects, the goal, and the audience, there are several sorts of webinars that may be used. Interviews, workshops, product presentations, continuing education (CE), panel discussions, financial and business reporting, team meetings, and even webinars that function entirely as Q&A sessions can all be done via the internet. Whatever the webinar entails, effective webinar management is essential to its success.
Several webinar management service providers can provide your webinar with a full solution. Now that webinar service providers like Dreamcast can manage everything from registration and payment processing to surveys and certificates, webinars go smoothly and effectively.
Things To Consider While Planning A Webinar For Your Business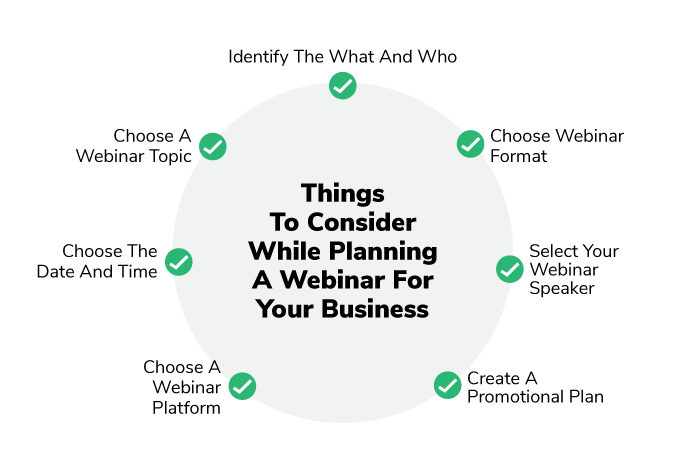 Identify The What And Who
If you are going to host a webinar, it is important to identify your target audience and reasons to conduct the webinar. So the initial step is to understand what you are promoting and who is your audience. Here are a few questions to ask yourself:
What service or product do you want to promote through your webinar?
Who could benefit from your webinar?
What is the objective of the webinar?
Which buyer do you want to draw?
Choose A Webinar Topic
If you want to attract more audience and hold them in your webinar, you should choose to tread an interesting webinar topic. Understanding what is good and important for your target audience is the best way to ensure the webinar is successful. You can consider these points to understand what is meaningful to your audience:
Survey your existing clients on pain points
Survey your sales and customer support teams
Visit social media platforms to understand the latest trends
Choose Webinar Format
After deciding the topic for your webinar, it is important to choose a suitable webinar format. Here are some of the common webinar formats that you can consider:
Q&A webinar
Single expert presenter
Dual presenters
Interview webinar
Product demonstration
Select Your Webinar Speaker
For a webinar, you'll definitely need presenters. You can choose from a host and presenter, a lone presenter, a pair of presenters, or a panel. Identify speakers with a strong command of the topic. Selecting a presenter who is eager to work is equally crucial.
Choose The Date And Time
In order to gain more viewership it is important to consider a suitable date and time for your webinar according to your target audience. Choose a time and date that can accommodate individuals from various locations, if you are planning to go global.
Create A Promotional Plan
No matter how carefully you plan, if no one knows about your webinar, it won't be effective. Choose an advertising strategy: send emails to current and potential clients, advertise the session on your social media accounts, etc. Send out reminder emails a few days before your webinar.
Choose A Webinar Management Platform
A trusted and high-quality webinar platform is vital to run an interactive and engaging event. Webinar management platforms offer a wide range of features such as different engagement tools, a dedicated helpline, easy registration, branding option, networking options, customized landing page, and more. So hire a provider of webinar hosting service that offers a complete webinar solution at an affordable price.
Attain a Matchless ROI for Your Business.
Pick the Best Webinar Services of the Industry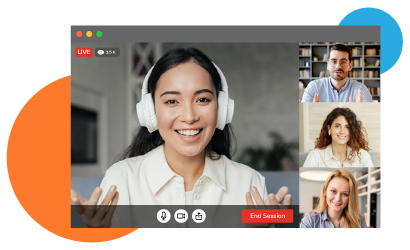 Key Features Of Your Webinar Management Platform
The webinar service provider you select will have a big impact on how well your event goes since it will give you the capabilities and resources you need to run and present your webinar. These aspects should, however, also be advantageous to your attendees. The following are the key requirements for a webinar service:
The Ability To Customize Your Webinar
Choose a webinar platform that allows you to customize each aspect of your webinar. The customization feature can help you to improve the professional image of the business that you are trying to project.
Live Polls
This feature of the webinar management platform allows you to increase audience engagement. Live polls work on different levels. These include understanding the pulse of the audience, feedback from attendees, or suggestions on different topics.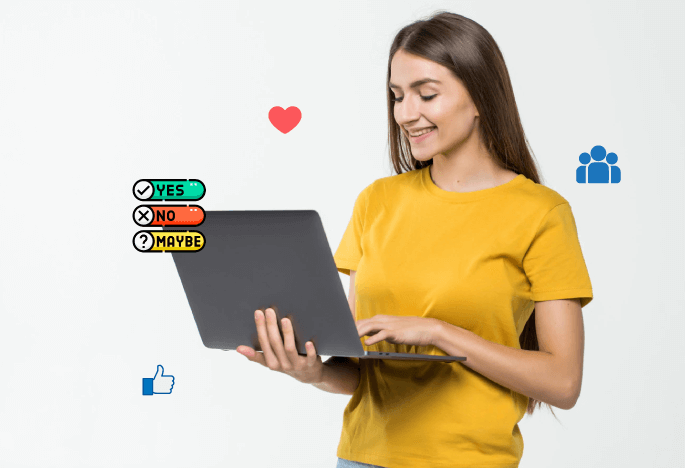 Screen Sharing
Webinar management tools offer a screen-sharing feature. This feature can be helpful in demonstration and offer the "real-feel" of any concept. Most hosts use the screen-sharing feature in order to share their desktop screen with their audience in real time and explain the topic effectively.
Survey
Webinar platforms offer a survey feature in order to collect feedback from the audience on how you engaged with them, how you discussed your topic, what the attendees felt, and more.
Record And Replay
You can make your webinar available for on-demand viewing with the help of the record and replay feature. With this feature, you can increase your viewership and boost brand awareness.
Email Integration
Choose a webinar platform that offers the ability to add seamless email integration. This feature helps you to keep track of your registration and manage the database of attendees interested in the next event.   
Live Chat
The live chat feature offers an opportunity to interact with the audience in real-time. With this feature, attendees can communicate and build a network with speakers, sponsors, and hosts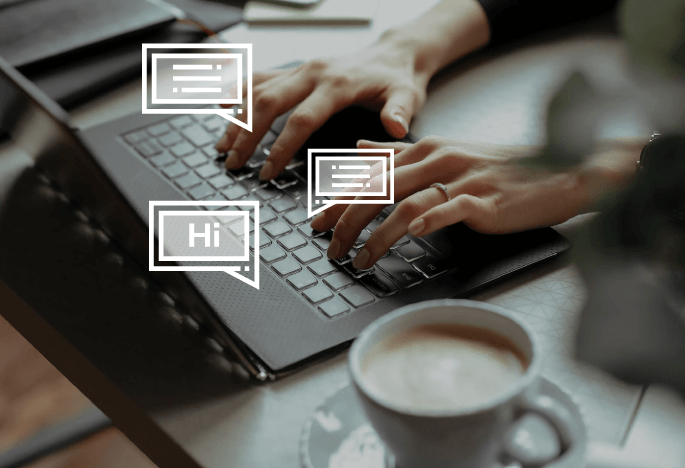 Q&A
Q&A features allow event organizers to make their webinars more interactive and engaging. This feature encourages the audience to provide valuable input during the webinar.
Breakout Rooms
You can make your webinar more interactive and interesting with breakout rooms. The networking feature of the webinar management tool allows event organizers to divide their attendees into different groups. It helps them to interact and engage with each other.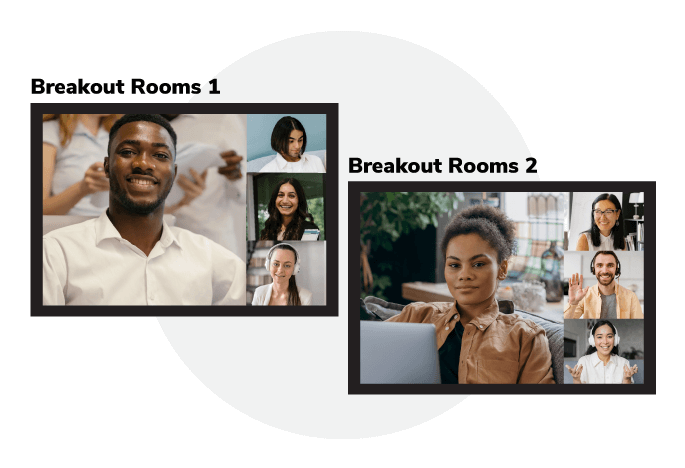 Final words:-
Hosting an engaging and interactive webinar can be difficult. But it is not impossible. With the right live webinar service and approaches, you can level up your webinar which can help you to gain more viewership, increase engagement, generate more leads, and boost revenue. Dreamcast can assist you if you want to hold a webinar for your company. As the best webinar service provider, we completely comprehend your wants and are here to give you our top-notch webinar services. According to the unique requirements of each webinar, we meet all additional criteria, including technical assistance for a full setup, compatible devices, and other essential prerequisites. We guarantee safe, error-free, and trouble-free information access for your viewers.
In-Person, Hybrid, Virtual
Create an Extraordinary Event Experience
Across All Event Formats