The world is moving at a pace so fast that nobody has the time to stop. Organizing webinars & events are a significant part of any organization. However, does anybody have the time to stop and spend days making arrangements & managing the webinar? The answer is a clear no. Therefore, the webinar & virtual event industry has come up with a comprehensive all-in-one solution for event organizers. This solution is known as a fully-managed webinar service. Let's move ahead and explore how a managed webinar service works.
What is a Fully-Managed Webinar Service?
A managed webinar service is a professional virtual platform that takes the entire responsibility for your webinar. By coming on board with a managed webinar service, you get the much-needed time to focus on your sessions & audience instead of worrying about the management. A managed webinar platform provides you with end-to-end webinar set-up & execution support.
Attain a Matchless ROI for Your Business.
Pick the Best Webinar Services of the Industry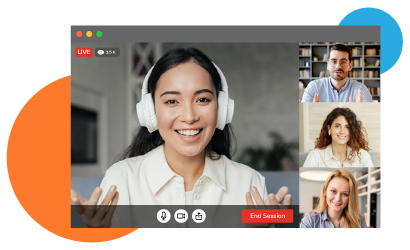 Support Provided by a Completely Managed Webinar Service
From technical arrangements to event flow & execution, you can leave everything to us!
You don't have to worry about the event set-up as we will do everything for you based on your requirements.
Be it a conference or an internal team meeting, we at Dreamcast provide solutions for every scale and type of event.
Leave attendee engagement up to the managed webinar service.
The webinar software provides you with a totally safe & secure platform.
You get an absolutely flexible webinar solution, where we build the virtual event as per your preference. All you need to do is share your requirements with us.
When to Look for a Managed Webinar Service?
Following are a few points that will help you define the use of a professionally managed webinar service.
1) When You Need to Save Time, Efforts, and Cost
Get in touch with a leading managed webinar service to save your time & effort. We understand that you are super busy and don't have the time to make all the arrangements. Choosing a managed webinar service means you are free to invest your time & efforts in the right place. In addition, coming onboard with a managed webinar service enables you to save a lot of expenses.
2) When You Require 100% End-to-End Event Support
A fully-managed webinar service helps you with every aspect of the event. Not just this, you get 100% event support as the team is there to ensure the smooth execution of your event.
3) When You Need Customizable Webinar Solutions
With a professional webinar service, you get complete flexibility to customize the event venue. Take a step ahead of regular live sessions and create a completely personalized event. Basically, each element of your webinar is based on your needs & requirements.
4) When You Have Specific Branding Goals
Give shape to your branding goals with a managed webinar platform. Add logos, tickers, images, and other elements to your webinar venue without any restrictions.
Attain a Matchless ROI for Your Business.
Pick the Best Webinar Services of the Industry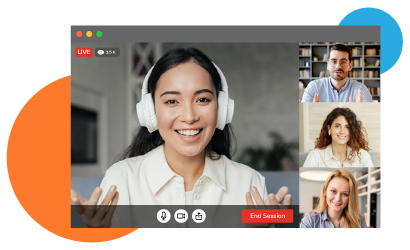 5) When You Need to Reach a Large Number of Target Audience
With an expert webinar platform, you don't have any limitations on the number of event attendees. You can invite as many attendees as you like. Apart from that, you get the opportunity to reach participants from across geographical boundaries.
6) When You Want an Immersive 3D Experience
A leading webinar platform provides you with a super immersive 3D virtual venue that keeps your webinar attendees engaged at all times. You can also create a 360-degree environment to provide a fascinating virtual experience for your event participants.
7) When You Need Excellent Interactive Opportunities
A webinar platform is well-equipped with excellent interactive tools that enable seamless interaction and communication throughout the event. It provides you with tools like live polls & quizzes, Q&A sessions, multi-format 1:1 & group chat, and a lot more. Not just this but you also get exceptional networking tools like meeting schedulers, networking tables, etc.
8) When You Need a Completely Flexible & Scalable Solution
The most excellent webinar & virtual event solutions provide you with complete flexibility to create an event as per your requirements. However, the best part is, that you can choose the features on the basis of your budget, without any specified plan, and scale your event accordingly.
9) When You Wish to White-Label Your Webinar or Virtual Event
The best webinar platforms provide you with the option of white-labeling your webinar. Using this aspect, you get the opportunity to present yourself as the thought leaders of your industry.
10) When You Require Detailed Event Analytics & Reports
An expertly managed webinar platform provides you with complete event analytics & reports of your event. According to BrightTalk, 51% of marketers use demand metrics to assess a webinar's success. With this feature, you can track and analyze each and every aspect of your webinar. This aspect of a managed webinar helps you understand the efficacy of your event and make a well-thought decision in the future.57% of marketers run up to 50 webinars a year. Quite clearly, webinars are undoubtedly one of the most effective marketing strategies for every organization. So go ahead and organize your own webinar using a completely managed webinar service.
Attain a Matchless ROI for Your Business.
Pick the Best Webinar Services of the Industry