The Google definition of a webinar is – A seminar conducted over the internet. Fairly enough, a webinar is simply a seminar but only organised on the web or using web services.
With the increase of internet services and fine technology, we can connect with people from all around the world in real-time. Some may say that video chatting platforms such as Skype or Google Plus work well for us, but, let's agree, these are good for individual and group chats and calls only.
When we step into the professional or corporate sector, events that are meant to be delivered to larger audiences take the form of webinars. Webinars become the medium of choice for professionals and corporate as they provide HD video quality and powerful functionalities such as-
• Engagement analysis
• Attendee statistics
• Moderated private chats
• Customised invitations
• Webinar rebranding
• Polls and surveys
• Q&A sessions
• Webinar recording and storage
• Performance rating
A webinar is a live, web-based video conference that uses internet services. Using these internet services, the webinar host can connect to the global audience. Hosts can indulge in conversations, share presentations or demonstrations on their computer screen and even invite guests from other locations to co-host the webinar with them.
Here, at Dreamcast, a webinar service provider in Dubai, we are sharing the benefits of webinar services for your brand. Benefit from these powerful functionalities for your events, conferences, presentations and internal training sessions-
UNDERSTAND & INTERACT WITH YOUR AUDIENCE
Webinars are interactive as they allow conversations, chats, Q&A and more. These interactive features help the webinar host to know more about the audience. If brands organize a webinar, the interactive feature enables them to know the taste of the audience. This helps the brand to understand how to develop or alter their products and services and introduce them in the market to the target audience.
Attain a Matchless ROI for Your Business.
Pick the Best Webinar Services of the Industry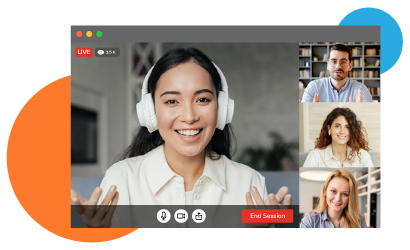 Allow webinar attendees to ask questions, or ask questions of your own to the participants. Gain insight into your target audience with the interactive functionality of webinars. At a traditional event or conference, attendees barely even pay attention. Choose webinars!
GENERATE AUTHENTIC LEADS
Webinars can be commenced by asking the webinar attendees to sign-up for forms. Such forms can collect information from the target audience such as –email addresses, job titles, city, contact number, etc. This way, sales leads can be acquired in the best possible way for businesses. Webinars thus boost your business and revenue, minimize your costs and develop a relationship with clients, customers, and industry leaders.
REDUCED COSTS
Webinars eliminate the need to travel for the webinar attendee thus eliminating expensive travel fare. This makes it easier for a person who wishes to attend a webinar to simply tune into web services to watch the event webinar online. Easy and cheap!
As a webinar host, the costs are low too for you. Organizing a physical brand event, conference, seminar or meeting at a venue would lead to venue charges, food, ticketing, counters, booths, brochures, and the list goes on. Webinars, on the other hand, are low-budget and suit the pocket of all. With little requirements such as an internet connection, a microphone, and a webcam, webinars get you started instantaneously.
POST-WEBINAR POWERS
Webinars provide the benefit of continuing to reach your target audience even after the webinar is over since the webinar can also be watched afterward. Webinars can also be shared on social networks. This allows a webinar host to increase the reach and impact of their event. Also, in the long run, it is important that the event webinar can be found instantly via Google which is why a well-designed webinar is also search-engine optimized (SEO).
Attain a Matchless ROI for Your Business.
Pick the Best Webinar Services of the Industry