This smartphone app uses the Internet to deliver text messages, voice messages, and videos to any location around the globe, which results in far lower rates than international calls or texts. The program is so well-liked that there are more than 1.5 billion monthly active users and 60 billion messages are transmitted every day.
However, the reach & features of this app can be used to boost your event execution as well! WhatsApp can be a useful tool for event organizers, specifically those that have extensive marketing goals. This smartphone app can be used by savvy event organizers to foster community, increase registrations, address queries, advertise the event, and continue the conversation after the event has ended. Read the blog in its entirety to find out more about WhatsApp event marketing and the dos and don'ts of using WhatsApp to promote your event.
What is WhatsApp Automation Marketing?
WhatsApp automation marketing is a type of activity that is used to promote or market an event. This type of activity takes place on Whatsapp. Most event organizers use WhatsApp for marketing their events and increasing their viewership. It is one of the best marketing tools that help marketers to reach a wider audience, establish a good relationship with their audience, increase brand awareness and increase sales.
Reasons to Use WhatsApp as a Marketing Tool for Event Businesses
Wondering why your business should invest in Whatsapp marketing? Some important advantages your business can gain are: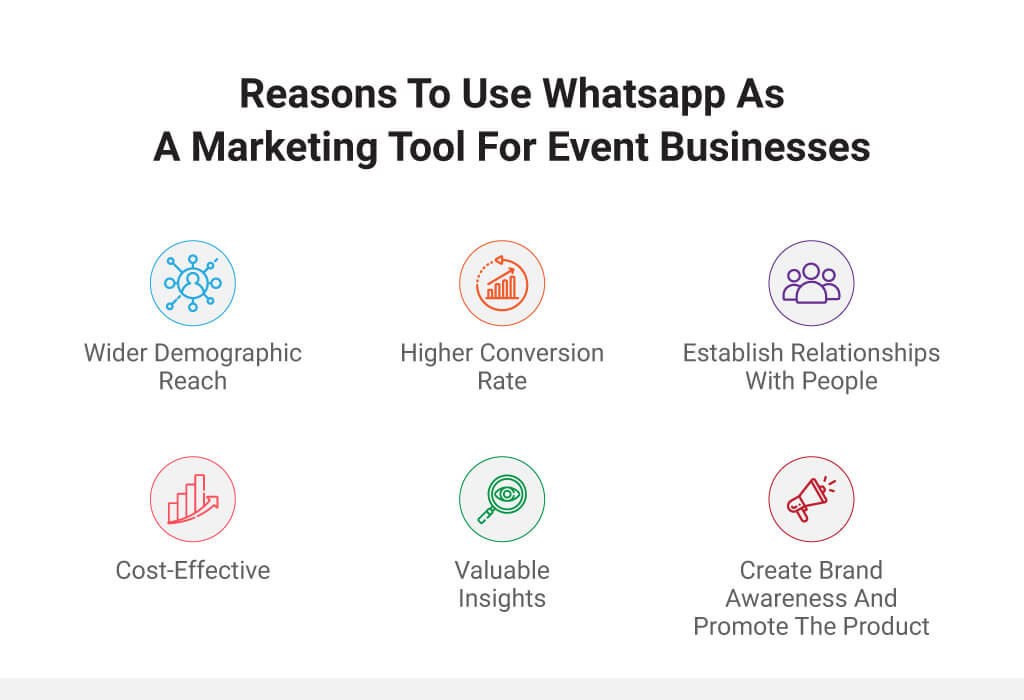 Wider Demographic Reach
There are users of WhatsApp in 180 different nations. Due to its straightforward functionality, a larger age range is more interested in it. With WhatsApp, you may communicate with any person in the world, regardless of their location, age, or gender. This then gives you the opportunity to boost up business growth efforts.
Higher Conversion Rate
It's important to pick the right medium for your first interactions with clients. When contacted through the phone rather than email or social media, people may become irritated. Here, WhatsApp might help you encourage potential customers to make a purchase. Businesses claim that 40% of WhatsApp messages were responded to by customers. And even better, messaging encourages conversions. Specifically, sending a message to a prospect after making initial contact can boost conversion rates. So, if you want to increase your conversions, marketing with WhatsApp can be the best choice for you.
Establish Relationships with People
According to the study, using messaging applications makes customers feel more like a part of a business. It makes WhatsApp marketing an amazing tactic for creating lasting, meaningful relationships with clients. In turn, maintaining such a relationship aids companies in reducing costs as client retention is 5 to 25 times less expensive than acquisition. Additionally, WhatsApp offers a wide range of customization options for organizations. Sending bespoke welcome messages, exclusive offers, birthday greetings, and other communications is possible. Such a strategy increases the loyalty of customers to a brand. Event marketing with WhatsApp can help you to gain genuine and interested audiences.
Cost-effective
WhatsApp is one of the best and most cost-effective marketing tools for businesses. Whether it is a small or large business, event organizers use this tool in order to connect with the audience, share information, establish relationships and increase brand awareness. All you need to install WhatsApp and connect to the internet.
Valuable Insights
You can better understand the experiences of your clients using WhatsApp Business Statistics. The function offers several important information, including the total number of messages sent, delivered, received, and read. This might assist you in creating a communications strategy with a more narrow focus that will connect with your audience more effectively.
Create Brand Awareness and Promote the Product
The platform now allows greater space for visual material, and consumers can check out what your products are without having to message you for this information thanks to the addition of new features like status updates and catalogs in the WhatsApp Business account.
How Can you Use WhatsApp to Digitalize Your in-Person Events
In order to automate the entire message flow and conversation, businesses can leverage chatbots, the WhatsApp Business app, and WhatsApp API. In the event industry, most event organizers use different marketing automation functions available with Whatsapp including:
Ticketing for Events
WhatsApp event registration system can help to create and share fully customizable and non-transferable digital tickets to your audience. People can join the in-person event by showing their digital tickets at the counter. This tactic can help event organizers to maintain social distancing protocols. Through digital ticketing (WhatsApp- based), event organizers can handle all the details of attendees digitally and can access them later in order to promote their next event. 
Live Audience Participation
By switching over to WhatsApp-driven communication during the interactive elements of the event, you may increase event attendees' engagement. Share the agenda for the event with your attendees through WhatsApp, and during live sessions, let them participate in chat-based votes. You may also utilize this functionality to get participant feedback for each session. You may greatly enhance participation and involvement at your event by utilizing WhatsApp event management.
Push Notification and Alert
One of the finest WhatsApp event promotion ideas is to use push notifications and broadcasts to keep your audience interested by providing them with event-related information. Use push notification tools to welcome and assist your guests as a consequence. The whole attendee journey may be followed through all of the WhatsApp conversation's touch points by using an automated WhatsApp chat. Automating everything, using this WhatsApp can help you save time and effort. To improve audience event notification, you may manage several conversations at once. This WhatsApp event marketing technique might assist you in spreading the word about your event and boosting attendance.
Automated Sales Process
A WhatsApp chatbot may automate your sales flow. The customer service bot may inquire about their intentions, show them the product catalog, help them choose a product, and even enable quick checkout.
RSVP Management
By shifting the RSVP management system to WhatsApp and making it simpler, you can eliminate the element of ambiguity. Now you may quickly invite someone using a QR-based digital invitation and get a confirmation of that invitation. Even better functionality is available over the phone, where you can easily add invitations and manage the guest list.
Feedback Collection
Every event has to collect insightful feedback from attendees, and WhatsApp events can achieve this. It not only gives your audience a sense of importance and enables you to evaluate the success of your event. However, asking for feedback from your audience might take a while since consumers prefer a rapid response to one that takes a while. Bring the element to WhatsApp to quickly and easily gather feedback from the general public.
Getting Started with WhatsApp Business Automation
WhatsApp Business automation gives companies the chance to interact with their clients, deliver timely updates, and guarantee that they receive prompt replies when a situation calls for it. This marketing tool is an excellent chance for companies to capitalize on and guarantee that their consumers and prospects receive the attention they require in a continuously changing world. Schedule a demo with Dreamcast right away if you're seeking for solutions to automate and scale up your client experience.
In-Person, Hybrid, Virtual
Create an Extraordinary Event Experience
Across All Event Formats