Unlike in-person training and events, workplace webinars combine the convenience of webinar platforms with the interactive nature of live presentations. Since the culture of remote work is growing, employee engagement webinars have gained popularity as an effective medium to engage employees and provide training.
In this article, we will explore webinars' significant role in employee engagement and training, highlighting their benefits and impact on organizational success.
8 Benefits of Hosting Remote Employees Webinars For Training and Development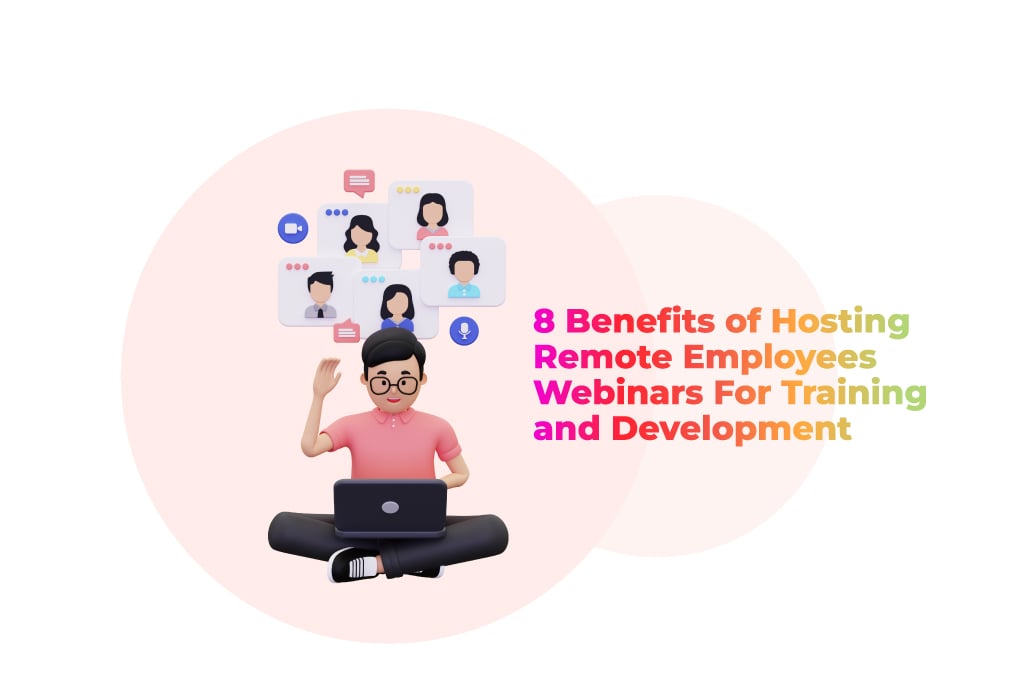 1. Improve job performance
Incorporating employee training and development webinars consistently improves the productivity of the employees and keeps them focused on the same goal. Employee training webinars give them the opportunity to know about their performance and look into the areas of improvement.
In the research done by the International Journal of Business and Management, 90% of employees have witnessed an improvement in job performance through employee development webinars.
However, not every employee training webinar works best. Therefore, it is important to measure your programs to know the effectiveness of the employee training program. Thanks to webinar platforms which come with analytical tools to set up employee progress measurement systems. Whether your goal is to train employees on the company's policies or train the sales team to get leads, webinars help track employee progress.
Leaders can then compare the competencies of each employee to make an informed decision. Gathered insights through measurement would make more targeted training and place the right roles.
2. Making training accessible from anywhere, anytime
Remote training through webinars makes learning and development easily accessible no matter where the employee resides and what the time zones are. Employees can access training from anywhere at any time without the need to travel at the location.
This is a significant benefit of workplace webinars especially in the age of remote work where it's convenient for the employees to work from miles away. So, this makes webinars accessible from anywhere since they can also be recorded and stored. With on-demand remote working webinar series, it becomes easy for employees to watch the same webinar as many times as they want to.
3. Eliminate travel and in-person training costs
Online webinar training saves from the costs of in-person presentation space along with all the required arrangements. All participants need is to watch the training from the comfort of their rooms without having to spend money and time on travel.
With the ease of setting up a webinar platform, you can create an event and let trainees join your event remotely. By eliminating travel costs, you'll save more money that can be used to collaborate with subject matter experts and enhance the quality of training.
Unlike in-person events, workplace webinars can be hosted within a few clicks on the webinar platform. This also provides you more time to prepare the content and focus on making your webinar highly interactive for the employees.
4. Boost Employee Engagement
No one likes workshops that last for days. That's where employee engagement webinars benefit. Webinar platform for employees makes the webinar interactive and engaging with the features it offers.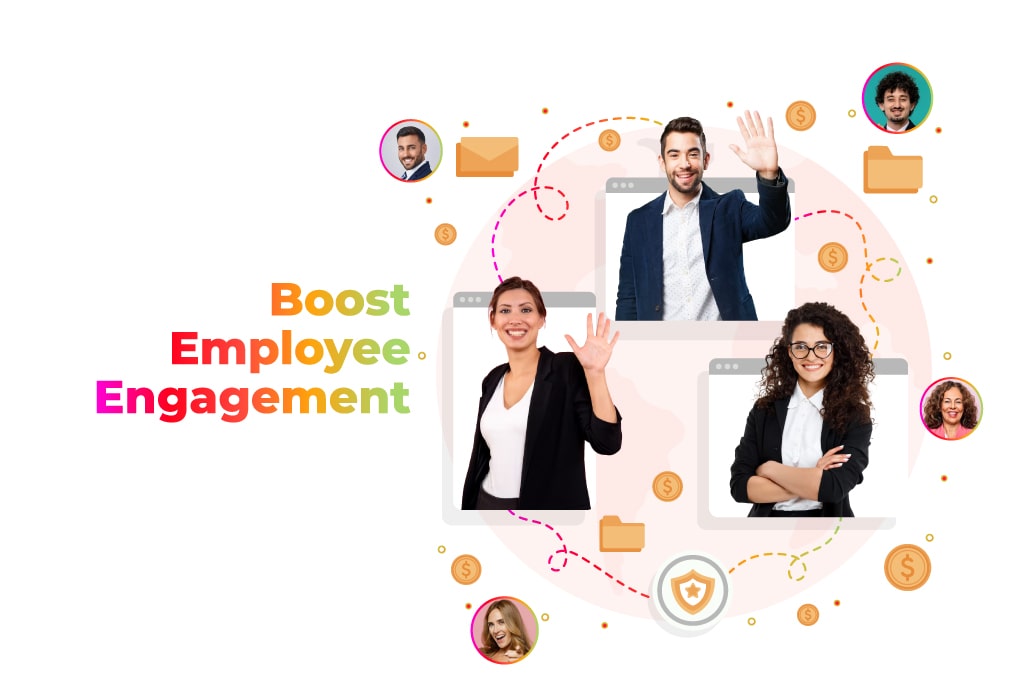 If you are someone who feels embarrassed about raising a hand in live in-person meetings, you can use the live chat function of the webinar to ask questions and interact with other attendees. Webinars also offers Q&A sessions where attendees can ask their questions to make it even more interactive.
Therefore, it is important to choose a webinar platform that fits employees' event needs and allows real-time communication between participants. Interactive videos are considered more engaging than traditional videos by around 82% of employees. To boost engagement levels, you can add interactive activities such as live chat, polls, digital whiteboards, screen sharing, and file-sharing capabilities.
5. On-demand Employee Engagement Webinars
Another one of the most significant benefits of the webinars is that you can record it and make it accessible anytime. In addition, live webinar recordings can be used as on-demand content without any additional cost.
The recorded on-demand content can further be improved and updated without making it from scratch. This makes the recorded information to be accessed more quickly. Employees can access information that is supported by the benefits of recorded webinars like subtitles, pause, rewind, and reviews.
6. Collaboration with Industry Experts
To make your workplace webinars more valuable, allow collaboration with industry experts. With experts on your webinar platform for employee training, you can skyrocket engagement, brand authority, and meaningful connections.
On the other hand, you'll be empowering subject matter experts to create resources for your team. As a matter of fact, your expert doesn't have to be physically present to hold meetings, it's all virtual.
No matter if it's an in-house expert or you want to hire a professional instructor, they can simply hop on a webinar to join. After all, the goal is to make the most of the expertise and knowledge they have to deliver to the rest of the organization.
7. Affordability of the Virtual Remote Employees Webinars
On-site training is expensive and requires a lot of management throughout the event. Venue costs, food and beverage costs, materials costs, transportation costs, etc. may also be incurred.
Webinars help employers and employees save money and time. Remote training is a more cost-effective option as it eliminates or greatly minimizes additional costs. As a result, more and more companies are turning to this training approach. This takes us to another benefit of the employee engagement webinars i,e, adaptability of the remote work.
8. Quick Adaptability of the Remote Employee Training
Remote working has constantly been promoted in the post-pandemic world. Every workforce at the organization is adapting to the technology and new way of working. So, with employee training webinars, you can rest assured that there would be less supervision required. However, it requires the right framework in place.
That's because remote employees can lead to a lack of team engagement. So, using effective remote webinars help engage new hires and motivate the existing ones.
Hence, remote work should be combined with virtual training via webinars, on-demand videos, and other media.
What to Look for in a Webinar Platform When Hosting Workplace Webinars
Training webinars are an effective way to engage employees. However, you need the right features to make your remote employees webinars engaging.
Here are the best features you should have in your workforce webinar solution:
1. Quick polls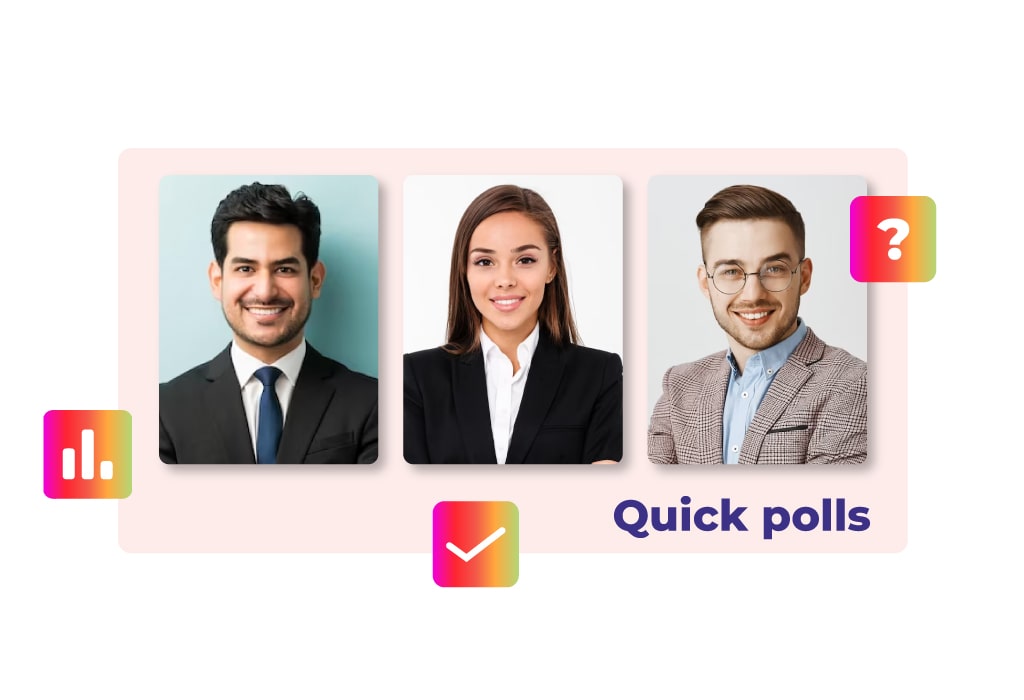 It allows participants to interact as well as gauge emotions by sharing results. Using polls during webinars is also a great way to start a deeper discussion on a topic.
2. Easy screen sharing
The last thing you want to do during a webinar is to lose momentum when arranging screens for everyone to see. One-click screen sharing makes it easy to show your screen and switch between presenters.
3. Rich chat features
Ideally, the platform would allow employees to ask questions, share comments, and express their thoughts using rich chat features such as emojis. The dynamic chat feature also helps presenters understand audience interests in real-time. Then, if employees seem bored, you can change the tone or pace of the webinar to get them back in.
4. Follow-up System
For the post-webinar engagement, use follow-up emails to see if they have any additional questions and receive your feedback. This gesture will help you better understand the effectiveness of your training webinar. It also helps drive more employee engagement. It also shows that you are prepared to ensure that everyone receives all the information they need to do a good job.
5. Recording Tools and Analytics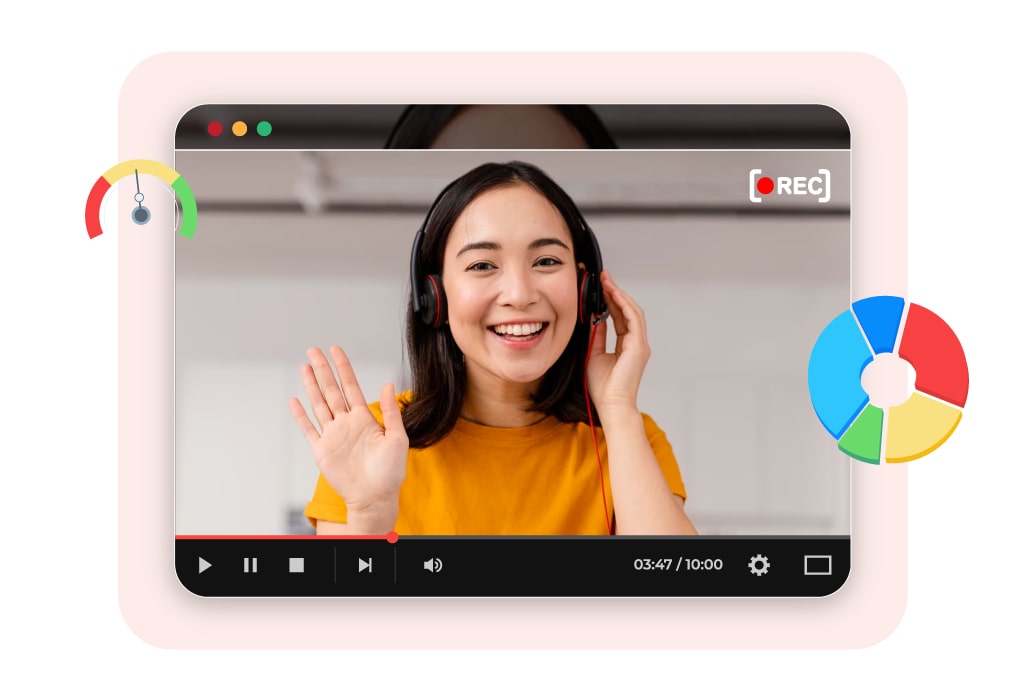 To ensure that your employees have a complete webinar recording, you need to have enough disk space to store all the data. It's also important that the recording includes slides, any video that the presenter may have played, and screen sharing.
All these features allow companies to create engaging remote working webinar series. More importantly, it should also come with analytics and tools to continuously improve the team's online training events.
Conclusion
Webinars have revolutionized the way organizations engage with employees and deliver workplace training. By leveraging the power of a webinar platform for employees, you can offer an interactive learning experience that transcends geographical barriers.
Through webinars, organizations can engage their employees effectively, foster a learning culture, and equip them with the knowledge and skills required to thrive in a rapidly changing business landscape.
The convenience, accessibility, and affordability of webinars make them a great tool for organizations to enhance employee engagement and training. Thereby, creating a more skilled, and motivated workforce that drives organizational success.
FAQs
Q1. How are webinars more effective than traditional training methods?
Allow to reach a wider audience, inform people, increases awareness 
Convenient to attend from anywhere
Increase employee engagement quickly through interactive features such as polls, Q&As, live chat etc.
Q2. How can webinars be used for onboarding new employees?
Webinars can be used for onboarding new employees by providing them with essential information about the organization, its culture, policies, and processes. They can also deliver training modules, introduce team members, and facilitate interactions with colleagues, helping new hires feel welcomed and informed.
Q3. What features should a webinar platform for employees have for effective employee engagement?
An effective webinar platform for employee engagement and training should have features such as interactive chat, Q&A sessions, polls, screen sharing, and recording options. These features enhance engagement, encourage participation, and allow accessibility of the webinar content.