With the right webinar software for marketers, they can create interactive and impactful online presentations that capture the attention of potential customers and drive conversions.  From interactive features and customization options to advanced analytics and integration capabilities, these webinar platforms offer a comprehensive set of tools to host marketing webinars. In fact, 78% of hosts use a designated webinar platform instead of a video platform like Vimeo or YouTube
We will explore some of the best webinar platforms for marketing that empower marketers to enhance their lead-generation efforts. Let's delve into the top webinar platforms for marketing professionals, their features, and pricing plans. 
Essential Webinar Software for Marketers that You Can't Ignore 
1. DC Webinar Plus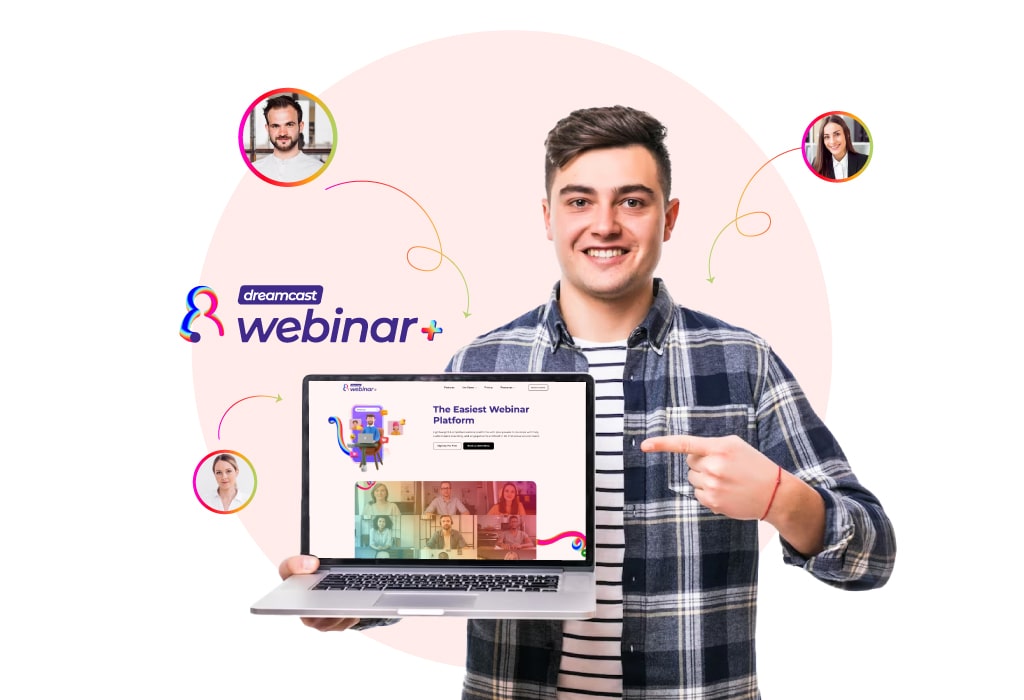 Webinar Plus is the leading browser-based marketing webinar platform that helps businesses of all sizes. It gives the best webinar tools a run for their money, offering some unique features you won't get elsewhere. Webinar Plus is more than webinar software for marketers, combining a wider range of features to host webinars, online meetings, training sessions, interactive presentations, and team collaboration.
During live marketing webinars, hosts can engage with attendees using interactive tools such as live chat, polls, and surveys. These features encourage audience participation and provide real-time feedback. Hosts can also share their screens, display presentations, and conduct live demonstrations to enhance the webinar experience.
Keeping flexibility in delivering the content and convenience of the attendees, Webinar Plus allows you to host both live and automated webinars. This marketing webinar platform supports integration with platforms like Salesforce, HubSpot, and Mailchimp to enable users to streamline their marketing and communication processes.
Key Features of Webinar Plus
Enhance Webinar Branding: The webinar software for marketers offers several design features and tools to custom brand your webinar and enhance your attendee experience. 
Engage Attendees from the Get-go: Incorporate features like polls, raise hands, breakout rooms, interactive live chat, and Q&As, and take engagement and participation to another level.
Meet in 3D: Hosts can give a 3D immersive experience to participants in real-time conversations and use interactive 3D designs to increase engagement.
Analytics and Reporting: This webinar software for marketers offers comprehensive analytics and reporting features. It provides hosts with detailed data on attendance rates, engagement metrics, audience insights, and conversion tracking. 
Who is Webinar Plus for
This marketing webinar platform is designed to meet the needs of every business of every industry no matter what their size is. Therefore, for marketers who want to stream webinars live and record them for lead generation, Webinar Plus would be their best bet.
Webinar Plus Pricing
Webinar Plus starts at $179/mo which allows hosting a webinar with up to 1000 Attendees per event. By allowing a thousand participants in a single webinar session, it can meet the needs of both small-scale businesses to large enterprises.  Want to know about this platform? you can book a demo now.
2. Demio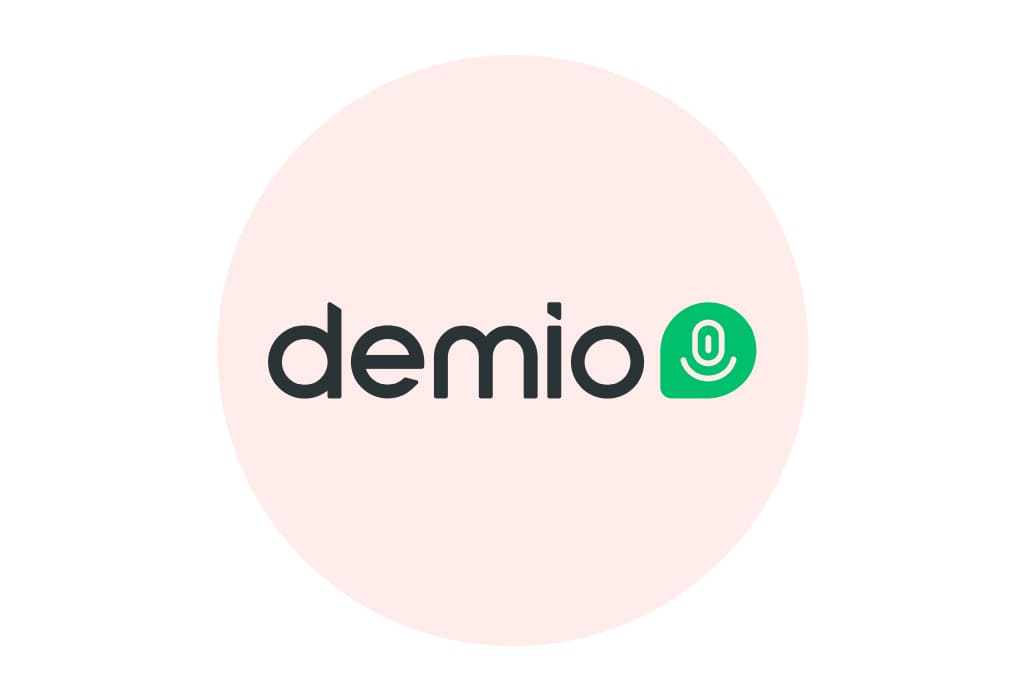 Demio is a robust and user-friendly marketing webinar platform designed to keep up with the needs of marketers. It helps marketers and businesses host an interactive webinar powered by attendee engagement tools and features.
You can use polls, featured actions, and handouts to drive audience engagement. Demio fosters relationships building between attendees, hosts, and special guests with the power of real-time chats, and a dedicated Q&A session during the webinar. To enhance conversation and interactivity even further, you can use emojis, ask questions, and engage in discussions.
Additionally, Demio is quick to set up and only takes less than two minutes to create a live, scheduled webinar. Customizations and add-ons are the essentials to give your webinar a touch of branding once it is created. When you use Demio, you can rest assured of the customization you can do on the registration page, thank you page, and automated emails.
So, one of the strengths of Demio lies in its user experience. Most customers experience a simple and clean experience during the webinar. Unlike complicated webinar platforms, Demio ensures a clutter-free interface with easy access to the microphone, camera, chats, polls, and other essential tools.
Key features of Demio 
User-Friendly Interface: Demio is known for its intuitive and user-friendly interface, making it easy for hosts to set up and manage their webinars.
Interactive Webinars: Demio comes with engagement features to make webinars interactive and engaging. Hosts can conduct live polls, and interactive Q&A sessions, and use the built-in chat functionality. 
Customizable Registration Pages: Demio provides customizable registration pages to match branding. You can logos, images, and colors to create a consistent look and feel of the brand to the webinar.
Analytics and Insights: Demio has a comprehensive analytics and reporting tool to perform post-webinar evaluation. Hosts get valuable insights into the performance of their webinars.
Integration and Automation: Demio integrates with popular marketing tools and CRMs such as Mailchimp, Zapier, Hubspot, and more.
Who should use Demio?
Demio is best for marketing teams who want a webinar platform that gives a seamless experience in hosting marketing webinars and live virtual events. It has the capability to handle the online operations of businesses via webinars that can be automated down the line.
Demio Pricing
The basic plan starts at $42/month with an attendee room of 50 attendees. The price goes up to $1850 with access to 3000+ attendees and a 10-hour session limit.
3. Big Marker 
BigMarker is another one of the best webinar software for marketers, known for its automation features to host, and engage audiences through online presentations, marketing webinars, and virtual events. It offers a wide range of features and tools to create interactive and immersive webinar experiences as if they were live events.
Thanks to built-in automation of big markers which automate small manual tasks. You can automatically open the waiting room, play to start the webinar, and draft messages and polls in advance. Moreover, scheduling handouts, chat posts, giveaways, and pop-up calls can also be worked at a pre-set time.
It helps record your presentation and schedule it to play at a later date and time according to the convenience of the attendees. Also, BigMarker provides integrations, APIs, and white-label services that enable companies to integrate powerful video experiences into their marketing, sales, and learning stacks.
Key Features of Big Marker 
Custom Branding: BigMarker allows hosts to add their own branding elements to customize their webinar landing pages and registration forms. 
Automated Webinars: BigMarker enables hosts to automate marketing webinars by scheduling pre-recorded presentations to run at specific dates and times. 
Easy Setup: BigMarker provides a user-friendly interface for creating and configuring webinars quickly. 
Lead Generation: BigMarker is a marketing webinar platform that offers lead capture forms during the registration process. Lead forms allow marketers to collect contact information from attendees for follow-ups and lead nurturing. 
Integration with Marketing Tools: BigMarker can be integrated with popular marketing tools and CRMs for smooth workflows.
Who is Big Marker for
From small online presentations to large-scale virtual conferences, Big Marker is the perfect webinar software for marketers, businesses, and startups to give a live presentation.
Big Marker Pricing 
The basic plan allows up to 1,000 attendees, followed by the enterprise plan which creates a room of up to 500,000 attendees. The price is specified by the company, you'll need to request a quote.
4. Webinar Jam 
An outstanding marketing webinar platform called WebinarJam was created to cater to the demands of marketers looking for a complete package packed with cutting-edge marketing capabilities. For companies of all sizes wishing to improve their lead-generation efforts, this strong platform offers a number of distinctive features that set it apart and make it a valuable asset.
Features of Webinar Jam
High-definition streaming and video: Your webinars will be interesting and aesthetically appealing thanks to WebinarJam. It offers top-notch video and streaming capabilities, ensuring that your audience receives seamless, expert, and unbroken broadcasts.
CRM and email marketing integration built-in: The seamless integration of WebinarJam with email marketing and customer relationship management (CRM) platforms is one of its most notable features. Marketers can easily manage leads, contacts, and participant data thanks to this connectivity.
Interactive Engagement Tools: In order to keep viewers interested and actively participating during your webinars, WebinarJam provides a number of interactive options. These include capabilities for polling, Q&A sessions, and chat.
Analytics and lead generation tracking: The advanced analytics and monitoring features of WebinarJam give advertisers useful information about the engagement levels, interests, and behavior of attendees. 
Multiple hosts and presenters: The fact that WebinarJam supports numerous presenters and co-hosts is another benefit. By utilizing this option, you may increase the depth and scope of the content of your webinar by utilizing the experience of other team members or guest speakers.
Webinar Jam is for who?
Webinar Jam is the ideal marketing webinar platform designed to satisfy the particular requirements of marketers looking for a complete webinar solution packed with cutting-edge marketing capabilities. It stands out as a priceless resource for companies of all sizes, from agile startups seeking quick expansion to well-established organizations looking to increase their online visibility and lead-generating efforts.
Pricing for Webinar Jam 
The entry-level package costs $29 per month and provides access to 100 participants. With access to 5000 people, the cost rises to $379 per month.
5. Crowdcast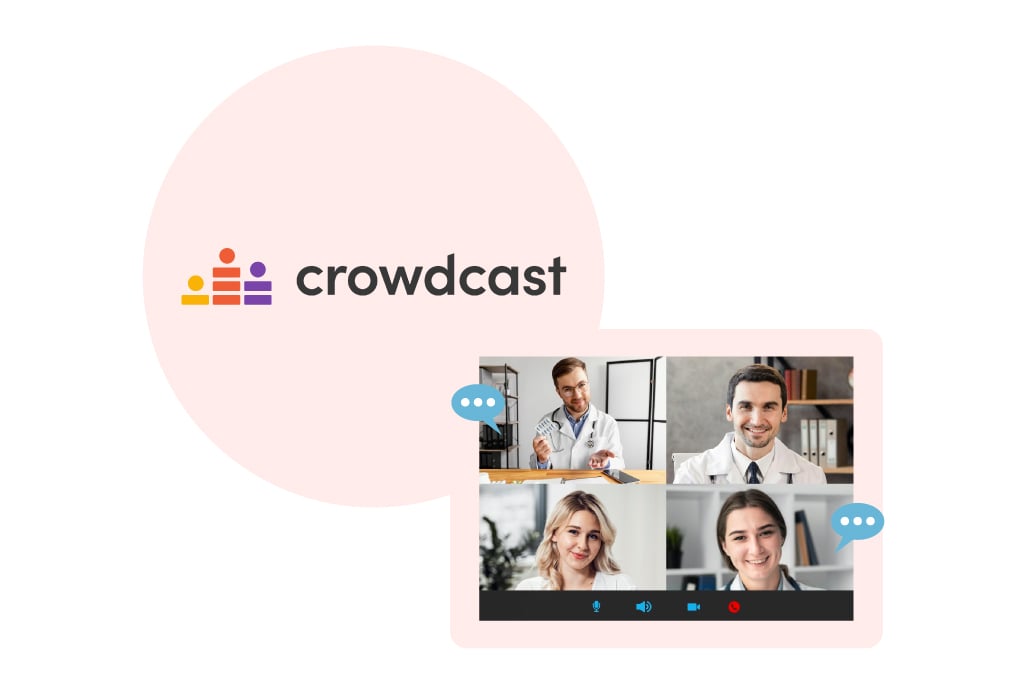 Crowcast is the best webinar platform for marketing to broadcast on multiple platforms simultaneously. It comes with built-in support for streaming to Facebook Live, YouTube, Twitch, and LinkedIn Live. So, if you can followers on any of these platforms, you can connect and meet with them.
Crowdcast focuses on creating interactive and engaging marketing webinars with the support of live chat, polls, Q&A, and hand raises. The integration of clickable buttons also helps marketing teams take attendees through the call to action.
Crowdcast also offers in-depth reporting with analytics on everything from attendance and traffic to detailed conversion rates, funnels, referrals, UTM tracking, and more. Hosts can gain insights into attendee engagement levels, questions asked, and other data to understand the audience's interests and preferences.
There is not much webinar software for marketers that offers as powerful tools as Crowdcast. It has an integrated RTMP Studio to connect to live streaming software. It gives users to add advanced configurations like custom on-screen graphics, or support for multiple cameras.
Key Features of Crowdcast 
High-Quality Video: This marketing webinar platform supports HD video streaming to ensure clear and professional video presentations.
Screen Sharing: Hosts can share their screens during marketing webinars, enabling them to showcase presentations, demos, or other visual content. 
Paid Webinars: Crowdcast supports monetization by offering the option to charge attendees for access to webinars or virtual events. 
Email Automation: Hosts can set up automated email sequences for webinar reminders, follow-ups, and other communication to keep attendees informed and engaged.  
Who Should Use Crowdcast 
Crowdcast is a popular choice for individuals, businesses, and organizations looking to host dynamic and interactive marketing webinars.
Crowdcast Pricing 
From $49/month for the Lite plan with support for up to 100 attendees and ten hours of streaming per month. For startups looking to engage their customers, they can go with the business plan which costs $195/month for 1000 plus attendees.
6. Livestorm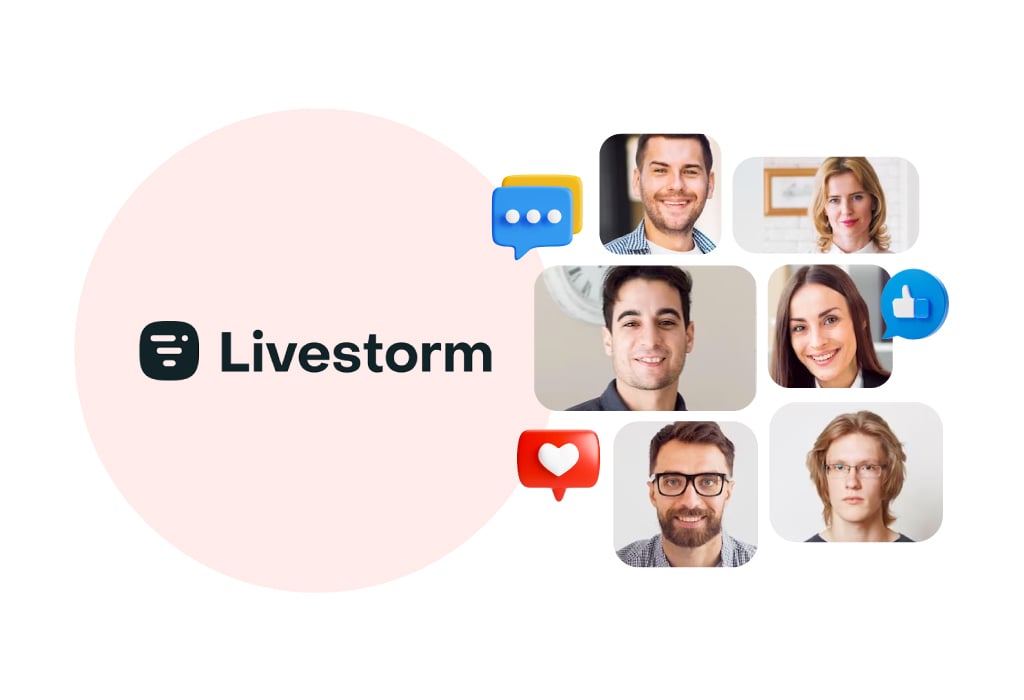 Livestorm is one of the best webinar platforms for marketing professionals to help run marketing webinars on a regular basis. It has an easy-to-use interface and workflow without compromising on essential and advanced features. There is a customizable registration form you get that can be sent via email, shared via link, or embedded on the website. When you create a new event, you have a pre-built automated email flow that you can edit based on the requirements of the clients. 
Livestorm makes the webinar branding easier for you. Simply by integrating a free custom design app, you can add brand colors, and logos and change the background image. To ensure success with marketing webinars, your attendees must be interested to know more about your business even once the webinar has ended. You need the right call to action during the webinar which the audience can go through to see what you have to offer. With the marketing webinar platform, you can send a custom CTA, play videos, or highlight resources at any time during the event. Therefore, this will help your brand gain more visibility after the webinar.
With its focus on user experience and robust feature set, Livestorm enables hosts to create engaging online events and connect with their audience effectively. Also, it provides comprehensive analytics and reporting on webinar attendance, engagement rates, and other key metrics to measure the success of webinars.
Key features of Livestorm 
On-Demand Webinars with Live Chat: Recorded webinars can be made available for on-demand viewing, while still allowing attendees to engage through live chat. 
Custom Branding: Hosts can customize webinar registration pages, email invitations, and other elements with their branding.
Webinar Engagement Dashboard: Livestorm provides hosts with a real-time engagement dashboard to look into attendee behavior, questions asked, engagement rates, and attentiveness. 
Advanced Audience Segmentation: Livestorm segments audience based on various criteria, such as registration data or engagement levels. 
Who is Livestorm for 
Livestorm is feature-packed webinar software for marketers that caters to the needs of small businesses, large enterprises, and content creators to market their products and services.
Livestorm Pricing 
Free plan available for up to 30 active contacts per month and limited features. You can upgrade to the Pro plan for $79/month. This provides up to 100 active contacts per month, 100 live attendees per event, 4 hours per session, and HubSpot integration.
7. Click Meeting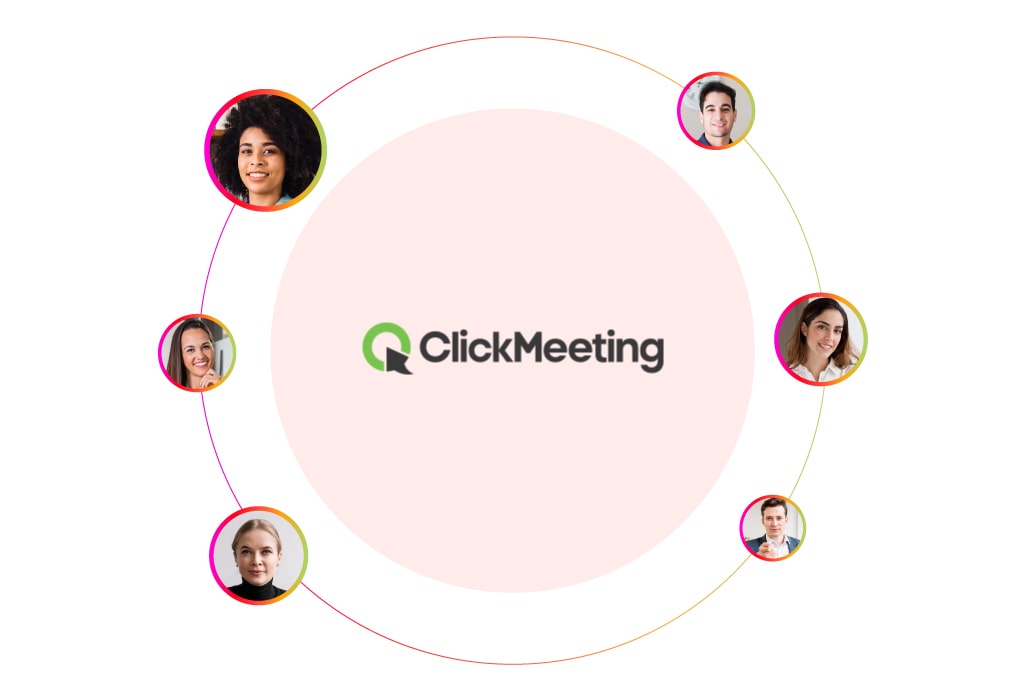 ClickMeeting is a versatile webinar platform for marketers to host seamless webinars, virtual meetings, conferences, and more. It offers a comprehensive set of features, a user-friendly interface, and easy customization tools.
Hosts can schedule webinars, set up registration pages, and customize email invitations to match their branding. Also, the platform supports both live and automated webinars, giving different choices to marketers to deliver their content.
During live webinars, hosts can engage with attendees using interactive tools such as live chat, polls, and surveys. Also, hosts can share their screens, display presentations, and conduct live demonstrations to enhance the webinar experience.
You can invite multiple presenters to join the webinar. It fosters relationship-building through panel discussions and group presentations. When it comes to tracking webinar performance, you can analyze attendance, engagement levels, and other key webinar metrics.
Key features of Click Meeting
Whiteboard Integration: This marketing webinar platform provides a whiteboard that allows hosts and attendees to engage with interactive content. 
Multiple Presenters: ClickMeeting allows hosts to invite multiple presenters to join the webinar, enabling panel discussions and group presentations. 
Integration with Third-Party Tools: ClickMeeting integrates with popular marketing automation tools, CRM systems, and other platforms to streamline workflows. 
Multimedia Sharing: You can upload multimedia such as videos, audio files, and images, within a few clicks. 
Who is ClickMeeting for 
ClickMeeting is an ideal marketing webinar platform for businesses and enterprises of all sizes. For marketing webinars, choosing Click Meeting would surely be a good choice.
ClickMeeting Pricing 
With 6 hours of recording storage, it starts with a cost of around USD $25 and goes up to 10,000 attendees and 10 hours of recording with a custom plan.
8. Webex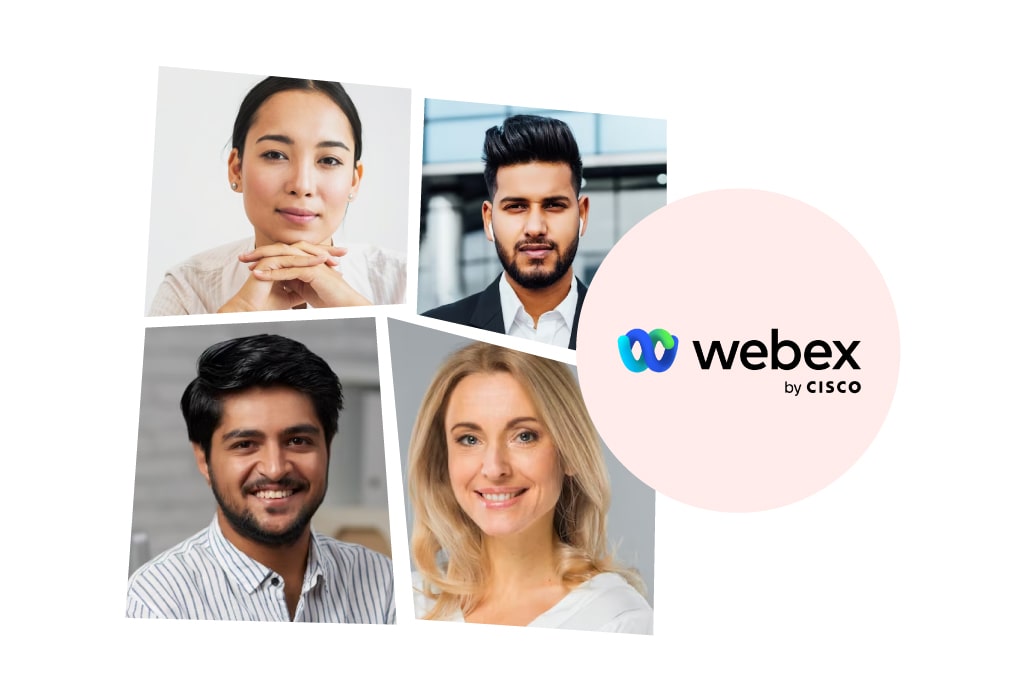 Webex is a one-stop solution combined with a wide range of features. It allows hosting online meetings, events, training sessions, interactive presentations, and webinars. 
It supports high-quality video and audio streaming, ensuring clear and reliable communication during webinars. The platform is designed to handle large audiences, allowing hosts to reach thousands of attendees simultaneously.
Webex enables hosts to create and manage webinars with ease. No matter whether it is a live webinar or wants to create a recording, hosts can schedule webinars, set up registration pages, and send customized invitations to attendees.
Moreover, the platform can seamlessly be integrated with many collaboration tools. This includes, for instance, Google Calendar for easy scheduling and popular CRMs for lead nurturing.
Key features of Webex
HD Video Streaming: Webex ensures high-quality video streaming, providing clear visuals and smooth video playback. 
Polls and Surveys: The platform enables hosts to conduct polls and surveys during webinars to gather feedback and insights from the audience. 
Playback Options: Recorded webinars can be played directly within the platform or shared with attendees to watch later. 
Content Sharing: The webinar platform for marketing supports the sharing of multimedia content. This includes videos, images, and other files, enhancing the webinar experience. 
Who Should Use Webex
Webex is well suited to startups and organizations that require a reliable and feature-rich webinar platform. Therefore, it caters to various departments, including sales, marketing, customer support, and training.
Webex Pricing
Webex has different offers for webinar organizers and planners. With Up to 200, you'll need to $14.50/license/mo with a meeting length limit of 24 hours. However, the price can vary in the Enterprise plan with the attendee's capacity up to 1000.
FAQs
Q1. What should marketers look for in a webinar platform?
Marketers should consider several factors when choosing a webinar platform. Thus, key features to look for include customization options for branding, seamless integration with marketing tools and CRMs, and security features.
Q2. How to measure the success of my webinars?
Best webinar platforms for marketing offer analytics and reporting features to measure the success of your webinars. Therefore, you can track attendance rates, engagement levels, conversion rates, and other key metrics to evaluate the effectiveness of your lead-generation efforts.
Q3. Can webinar platforms be used for other purposes beyond lead generation?
Absolutely! While lead generation is a primary focus, webinar platforms for marketing can also be used for product demonstrations, thought leadership presentations, customer onboarding, team training, virtual conferences, and more.