By harnessing the potential of hosting sales webinars, it becomes possible to overcome the limitations of traditional training methods and reach sales team, regardless of their location. Thanks to the webinar platform for sales teams which helps train remote employees and take them through the sales process.
Whether you have a geographically distributed sales force or want to provide ongoing training and development opportunities, webinars offer a cost-effective and efficient solution.
Through this guide, we will help you know how to use webinars to train your sales team and host a successful Sales Leadership Webinar Series. We have outlined the key steps involved in implementing successful sales training webinars and conducting interactive training sessions.
Conduct Product Demo Webinars for Sales Managers
Without knowing about the product, your sales team won't be able to understand what to promote when pitching to customers. So, conduct a product demo meeting that teaches them everything they need to know about your products or services. 
Based on the research, 52% of brands share webinar leads with their sales teams. So, the more the sales team has an understanding of the product, the more likely they are going to convert prospects into paying customers.
Therefore, these sessions allow you to instantly share information about your products with your sales reps so they can learn quickly and start selling with confidence.
Choose a Webinar Platform
Choose a reliable webinar platform that fits your needs of hosting a sales leadership webinar series. Look at the functionality and features like ease of use, attendee capacity, interactive features (polls, chats, Q&A), recording capabilities, and integration with other tools. 
By using a webinar platform that ensures high-quality video when you host sales webinars, you can rest assured that you will gain the interest and engagement of the trainees. You can further enhance the quality of the presentation through media.
Another factor to consider when choosing a webinar platform for sales team is the quality of the audio. A training session becomes seamless when it is clearly audible and helps trainees understand what the speaker is trying to convey. Go with the software that keeps all the technical glitches in check and never let them happen when the time comes.
But what if you end up with some technical issues during the webinar? You need immediate support right!! An excellent sales training webinar platform is those which provides customer support and always be available to resolve any technical issues.
Schedule Webinars Strategically
Scheduling is another key factor to host sales webinars successfully. Delve into planning the schedule of the webinars that fit the availability of your sales team members. When setting the webinar timings, take a look at their workloads and time zones. Scheduling your webinars for sales managers when they aren't available could be a disaster for the webinar's attendance rate.
While sales training webinars hosted on Wednesdays and Thursdays could be the best days for attendees, Fridays could reduce participation. Moreover, how long you want to keep your webinar depends on what topic you've chosen. But it's best to keep it under 60 mins so that you don't experience attendee drop-offs.
Also, allow enough time for participants to prepare for the webinars by providing them with the agenda and any pre-reading materials in advance.
Share Best Practices in Webinars on Sales Training
When it comes to sales, best practices must be followed. If you are hosting a team training webinar, you can share some sales tips and practices that would provide them with actionable insights and improve their performance.
Make sure to create relevant content that your audience would like to know about. Your webinar not only be insightful but engaging and interactive at the same time. You can also use webinar platform for sales team and across different departments of the company. This will help them stay informed and accountable for their roles and their strategy implementations.
When everyone is aware of the most effective methods, it ensures consistency in messaging, customer interactions, and sales strategies.
By highlighting successful techniques, you inspire your sales team to strive for excellence and continuously seek ways to refine their skills. Each team member can use these practices to lead better collaboration, smoother workflows, and improved overall results.
Conduct Interactive Sessions
Engagement is the key to success when you host sales webinars. During the Sales Leadership Webinar Series, encourage active participation and engagement from the sales team. Use interactive features like polls, chat, and Q&A to involve participants. 
You can encourage your team to ask questions, share their experiences, and discuss the challenges they face in their roles.
To ensure your team is engaged throughout the webinar, tracking engagement levels in real time is beneficial. You should track how many questions have been answered by each team member of the sales during the session, helping you to analyze the performance and interest of each member.
Keep in mind, you need to focus on creating a fun and competitive environment in the webinar that can motivate your sales team to participate.
Provide Post-Webinar Resources
Share additional resources related to the webinar topics, such as handouts, guides, or links to relevant articles and videos. This will help those team members who have missed part of the training and interactions during the webinar.
Also, providing additional resources would deepen the understanding of the sales goals of the company. As sales personnel, they must be well trained and want to know all the ins and outs of specific training.
Address Real World Sales Scenarios
One of the most effective ways to teach sales is to show examples of real-world sales scenarios. This is where webinars come in very handy as you can record your scenario with a video and show it in the webinar. Also, the videos are reusable and can be used in different training sessions.
Although the methods differ from company to company, this applies to all industries and all sales methods, regardless of whether they are products or services, online or offline.
Gather Feedback
When you host sales webinars, never forget to collect feedback from the sales team to evaluate the effectiveness of the training. Use surveys or feedback forms to gather their opinions on the content, delivery, and overall experience.
By understanding how participants perceived the webinar, you can tailor future sessions to better meet their needs and expectations, resulting in higher engagement and satisfaction. Feedback helps identify the strengths and weaknesses of the sales training webinar.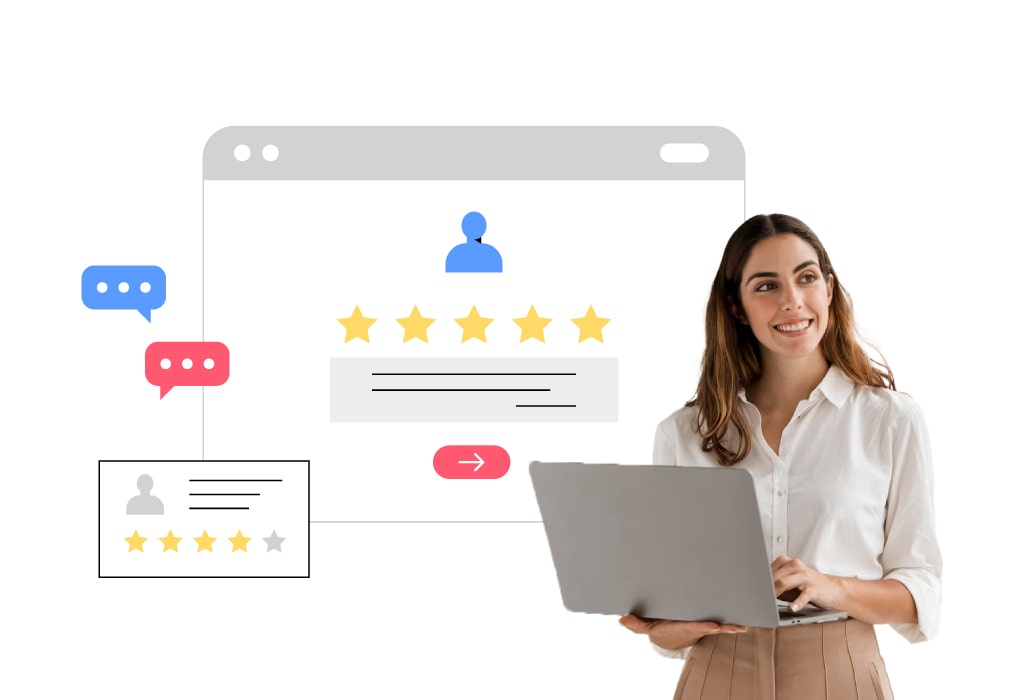 Simultaneously, it highlights areas that may need improvement, such as content clarity, delivery style, or technical issues, enabling you to enhance the overall quality of the training. Based on this feedback, you'll be able to adjust your future webinars to improve the training program.
FAQs
Q1. Why should you use webinars for training my sales team?
Webinars have several perks for training your sales team. They provide a flexible and scalable platform, allowing you to reach remote working team members. Webinars are cost-effective compared to in-person training, and they can be recorded for future reference.
Q2. How to create engaging webinar content for sales training?
To create engaging webinar content, consider using a mix of formats such as slides, videos, case studies, interactive polls, and Q&A sessions. Incorporate real-life scenarios and examples relevant to your sales team's needs. Keep the content concise, visually appealing, and stay focused on the training objectives.
Q3. How should you promote and encourage participation in sales training webinars?
Promote your sales training webinars through various channels such as email, internal communications, and calendar invites. Clearly communicate the benefits of attending and emphasize the relevance of the training content to their roles. Encourage active participation with the help of the platform's interactive features like polls, chat, and provide opportunities for attendees to ask questions during the webinar.
Q4. How to reinforce learning after the sales training webinars?
To reinforce learning, provide additional resources post-webinar such as handouts, guides, or links to relevant articles and videos. You can also conduct follow-up meetings or one-on-one discussions to address questions or concerns that arise after the training.