Real estate webinars have grown in popularity over the past few years in the real estate sector. Webinars have become an essential tool for real estate experts to engage with clients, advertise their services, and exchange knowledge and expertise as technology develops and is made more accessible. According to research, 86% of people use webinars for marketing and education purposes.
A cost-effective strategy to reach a larger audience and establish oneself as an industry authority is through real estate webinars. Real estate experts can gain the confidence and trust of potential clients by offering insightful advice and data. The advantages of using real estate webinars and the best tips for creating a webinar for real estate sector will be discussed in this blog post.
What is a Real Estate Webinar?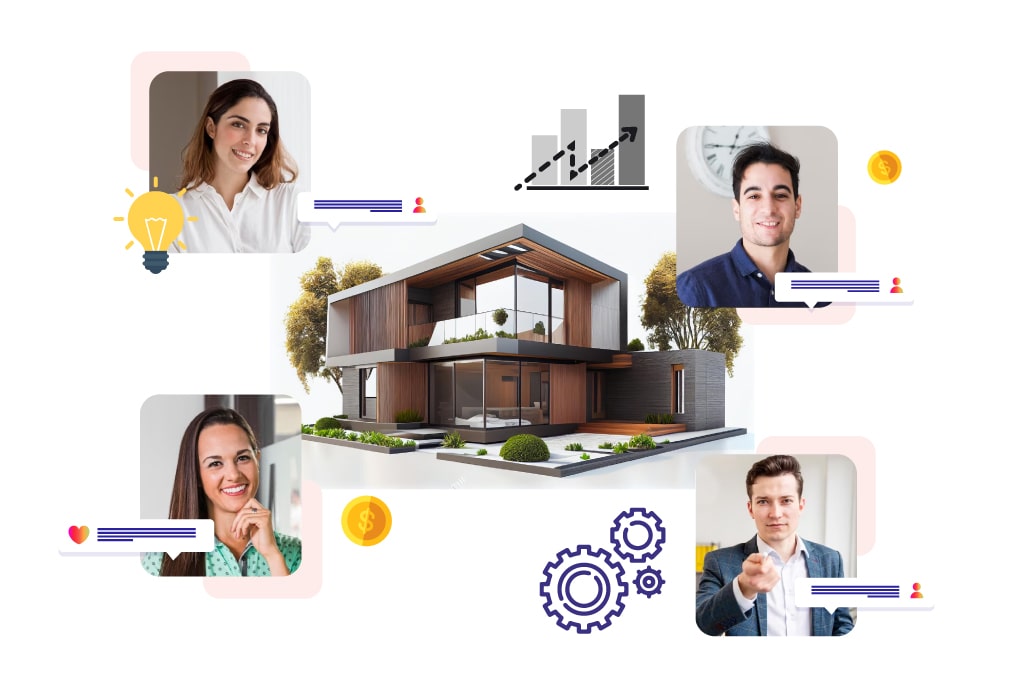 A digital seminar on the property market that addresses issues inclusive of buying, selling, making an investment, and keeping properties is defined as a real estate webinar. Professionals and experts in the field routinely present these webinars, sharing their know-how, perspectives, and approaches to assist members in making knowledgeable decisions concerning the real estate marketplace.
Industry trends, property inspection, financing choices, property control, legal problems, and other topics can all be included in these webinars. These are realistic and low-priced methods for people to acquire an understanding of the real estate industry and community with different experts because they are often free to attend and on hand from anywhere in the globe.
Video conferencing software programs or online real estate webinar platforms are extensively used to host Real Estate Investing webinars, permitting attendees to connect with the presenter, ask questions, and share their own experiences. Due to the reality that they offer a useful and approachable way to learn about the sector, a number of real estate agencies and organizations use webinars in their training and education programs.
Real estate experts who need to grow their audience and position themselves as authorities in their zone may additionally discover Webinars for Real Estate to be quite helpful. These are beneficial resources for people who could not attend in person because they'll be recorded and shared after the occasion.
7 Compelling Reasons Why Experts Use Real Estate Investing Webinars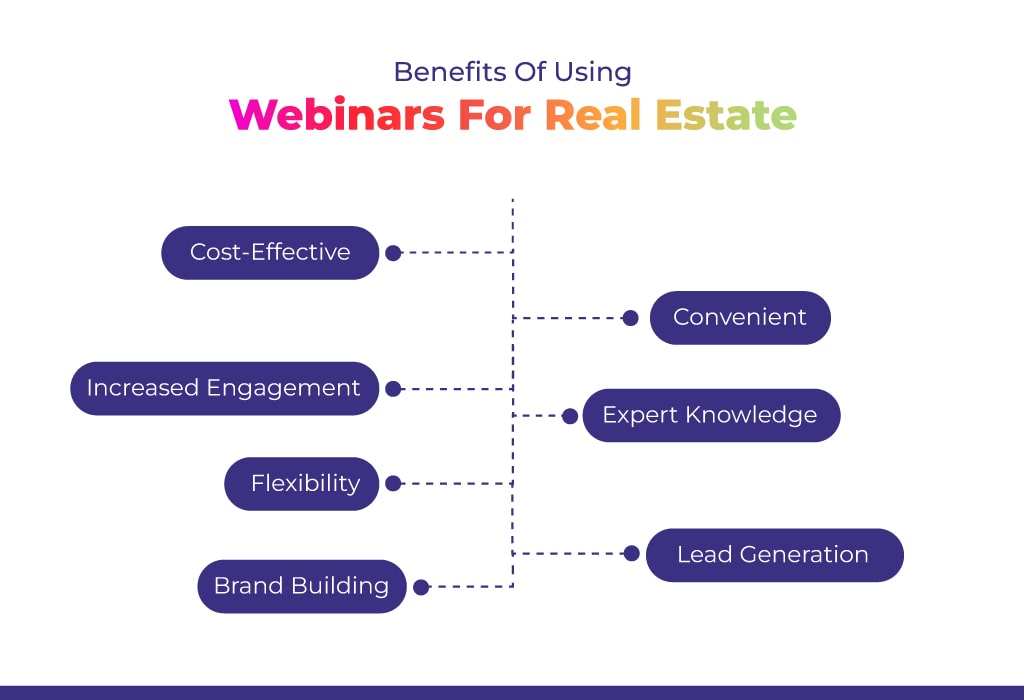 Real Estate or Property Investment Webinars may be a powerful tool for informing, involving, and connecting with audiences while sharing important information and insights on the most recent trends and tactics in the sector. Additionally, webinars are a crucial tool for real estate agents who want to expand their companies because they provide a practical, accessible, and affordable approach to reaching a larger audience and creating leads. Using webinars in the real estate industry has a variety of advantages. Many of them are listed below:
Increase engagement
Real estate marketing and investment Webinars with online platforms offer more chances for interaction than conventional live events. Questions, comments, and real-time interaction with the presenter and other attendees are all possible for participants. Attendees may feel more a part of the group and engaged in the lecture material if there is this degree of interaction. In fact, a lot of property investment webinars also include interactive features like real-time polls, surveys, and quizzes to keep participants interested and connected.
Online real estate events are Cost-effective
Online real estate events may be held without incurring the same costs as an in-person event, such as travel, venue rents, and other related costs. As a result, it is a cost-effective technique to reach a large audience. Real estate investing webinar participants can participate using their computers or mobile devices, saving money on travel and hotel. Also, the cost of planning and hosting a webinar is frequently less than that of a physical event because there are no venue rental fees, catering costs, or other expenses linked to an in-person event.
Convenient
Webinars for real estate investment are handy because they can be attended from any location with an internet connection, allowing participants to learn and participate without leaving their homes or offices. With no need to take time away from their hectic schedules to travel to an actual event, it is simpler for professionals to attend. Also, participants may often pick from a variety of days and times for webinars due to their flexible scheduling possibilities. As a result, attendees can take part in online real estate events whenever it is most convenient for them. Additionally, webinars for real estate investors offer a convenient and accessible way to learn, allowing participants to join from anywhere with an Internet connection.
Expert knowledge
Webinars are the best source of information and knowledge. For example, real estate investment webinars equip participants with the knowledge and tools to make informed investment decisions. Industry leaders and professionals frequently hold real estate investing webinars, giving participants access to insightful information, ideas, and recommendations that may aid in making wise decisions in the real estate market. These professionals can impart their knowledge and skills to participants since they have a wealth of industry experience.
On a variety of subjects, including real estate market trends, property assessment, financing choices, property management, legal difficulties, and more, they may offer helpful guidance. You can also host webinars for real estate agents in order to connect and interact with them. It will help you to share and gain knowledge in the real estate industry.
Flexibility
It is possible to record Webinars for real estate and make them accessible for later viewing. This gives participants freedom and allows them to take their time reviewing the material. Also, it enables participants who couldn't make it to the live event to still view the content. You can share real estate marketing webinars series on different channels such as email, social media, etc. in order to reach a wider audience.
Lead generation
Webinars for real estate investors may be an effective strategy for generating leads. According to a recent survey, a significant 72% of respondents reported that webinars have a measurable impact on their customer pipeline and revenue. Webinars for real estate agents offer insights into the latest technology and tools for streamlining their business.
Real estate agents may reach a larger audience and create leads from participants who are interested in their services by offering quality content. Webinars for real estate professionals are the perfect options to advertise future events, offerings, or products. It gives experts a chance to demonstrate their knowledge and establish their brands. Quality real estate investor webinars increase the likelihood that viewers will interact with the Investor and become prospective clients.
Brand building
Real estate businesses and organizations may develop their brands and position themselves as thought leaders in the sector by hosting commercial real estate webinars. Real estate agents may establish themselves as authorities in their industry and draw in more clients and consumers by offering insightful advice and tactics. Experts may exhibit their businesses and set themselves apart from the competition by hosting webinars. Real estate businesses and organizations may position themselves as leaders in the field and develop a devoted audience by regularly organizing real estate investor webinars.
How to Create a Successful Webinars for Real Estate Professionals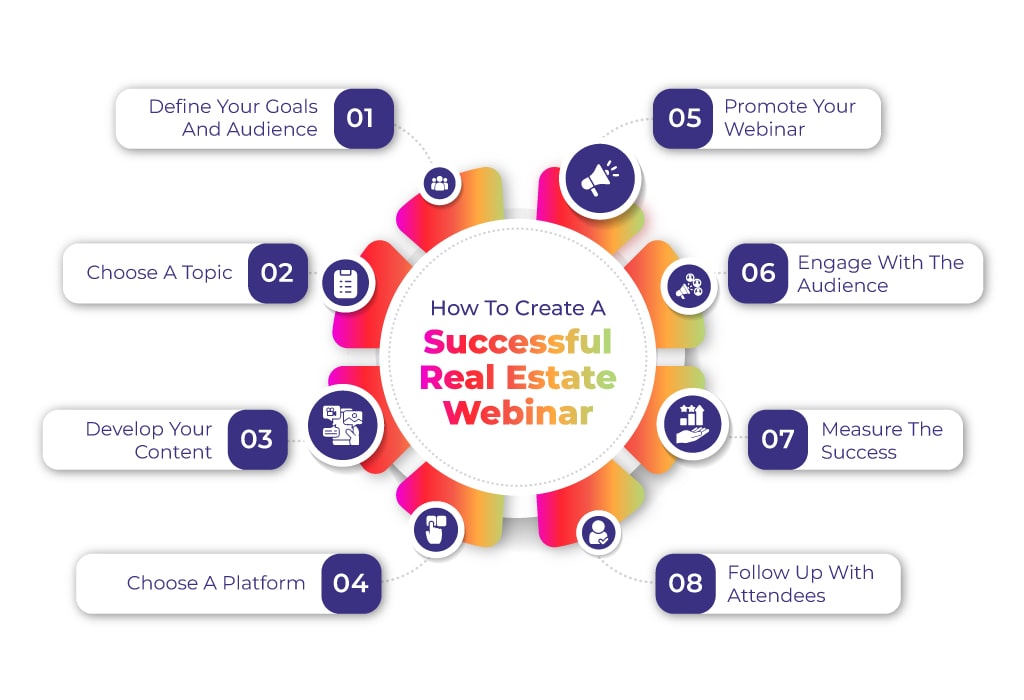 Webinars for real estate professionals should be useful, informative and simple. Clear goals and objectives, target audience identification, selection of the appropriate platform and technologies, development of interesting content, and promotion of the event through numerous media are all necessary for a real estate webinar to be successful. Also, it is essential to practice the presentation and have a backup plan. These are some crucial actions you should do in order to successfully hold real estate investing webinars.
Define your Goals and Audience
Start by deciding who you want to reach with your real estate marketing webinars before you identify your audience. You want to draw in what kind of real estate experts or fans, right? As soon as you have a broad idea, think about developing customer personas to more precisely define your target market. Buyer personas are made-up individuals that represent your ideal target market. These contain details about their hobbies, aspirations, and difficulties in addition to demographic data like age, gender, income, and location. Additionally, you may generate content that is more relevant to and tailored for your audience by developing buyer personas.
Choose a Topic
It's crucial to take your audience's interests and information needs into account when selecting a topic for your real estate webinar. You may do this by doing research on current challenges and trends in the real estate sector or by contacting your target audience to seek their input on the subjects they would find most interesting. Moreover, think about picking a subject that corresponds with your areas of knowledge and interests. It will enable you to produce more interesting and genuine content.
Develop your Content
After you've settled on a topic, it's critical to provide interesting and educational material. In real estate investor webinars, you can use slides with chats, graphs, etc. Additionally, you can also use interactive elements quizzes, polls and Q&As. Your content needs to be simple to read, structured, and full of useful statistics.
Choose a Platform
For hosting webinars, there are numerous platforms available, each with unique features and advantages. Think about things like cost, dependability, and convenience of use when selecting a platform. And, consider the platform's availability of tools like screen sharing, chat capabilities, and recording options. They may all improve the success of your webinar.
Promote your Webinar
It's crucial to advertise your webinar to your intended audience in order to increase interest and attendance. To assist spread the word, this might involve using social media platforms, email marketing, or collaborating with other real estate experts or groups. Be sure to clearly state the date, time, and subject of your webinar on any landing pages you create.
Engage with the Audience
It's crucial to interact with your audience during your real estate investing webinars to maintain their attention and focus. This could entail posing inquiries, enticing involvement through surveys or Q&A sessions, or including engaging components like games or quizzes. You may create a relationship with your audience by interacting with them. You can also position yourself as an authority in the field.
Measure the Success
Analyzing data like attendance, engagement levels, participant comments, and conversion rates can help you achieve this. Additionally, consider creating a post-webinar survey to get feedback on the webinar. By assessing your webinar's impact, you can identify opportunities for improvement.
Follow up with Attendees
It's crucial to follow up with participants after your webinar to thank them for participating. In addition, providing links to pertinent articles, and sending recordings are some examples of how to do this. You may create rapport with guests and position yourself as an industry thought leader by following up with them.
Repurpose and Optimize your Webinar Content
One of the benefits of webinars is the ability to reuse and optimize content for different purposes and platforms. Webinar recordings can be used as lead magnets, blog posts, podcast episodes, or video series. You can also edit the content and split it into smaller parts such as snippets, quotes, or tips on social media, email, or other channels. You can also use webinar content to create testimonials, case studies, or FAQs that showcase your findings and authority. By reusing and optimizing your content, you can increase the reach and impact of your webinars, generating more leads and customers.
Host Your Online Real Estate Events With Webinar Plus
Want to host dynamic and engaging real estate webinars? If so, Webinar Plus can help you. A well-known and dependable webinar platform, Webinar Plus offers a variety of interactive features and tools. With Webinar Plus, you can interact with your audience in real-time, respond to inquiries, and educate others in the field about your knowledge and skills. Screen sharing, polling, Q&A sessions, and other features are available on the platform, which is simple to use.
Furthermore, Webinar Plus gives you access to analytics and reporting tools. It helps you to monitor participation, engagement, and other crucial indicators. You can use this information to enhance your marketing approach and future webinars. So why are you still waiting? Sign up today to advance your real estate business!
FAQs
Q1. Who organizes real estate investing webinars?
Real estate investing webinars may be held by real estate agents, brokers, investors, or other industry experts.
Q2. Is it possible to ask questions during real estate investing webinars?
Yes, most real estate investing webinars allow attendees to ask questions and communicate with the presenter and other attendees.
Q3. What features should a real estate webinar platform have?
Look for features like screen sharing, interactive tools (including polls, surveys, and Q&A sessions), analytics and reporting tools, marketing and promotion tools, and interaction with other software services when selecting a real estate webinar platform.
Q4. Is it possible to view real estate investing webinars after the event has ended?
After the event, most real estate events are recorded and made accessible for on-demand watching. Check with the host to see whether this is a possibility.
Q5. Is it possible to get a free trial of a real estate webinar platform?
Yes, many real estate webinar platforms such as Webinar Plus include a free trial period. It allows you to test out their features and assess if the platform is perfect for you.
Q6.What topics are covered in Commercial real estate webinars?
Commercial real estate webinars can cover a variety of topics. It includes buying and selling real estate, investing in real estate, property management, and real estate marketing. The particular topics will be determined by the host and the webinar's intended audience.