We were introduced to the world of webinars and other formats of online events while we had no other choice left. However, over time, conducting events through the internet became a part of our lives, and now, it is nearly impossible to think of a world without webinar, online conferences, and other kinds of online events.
Talking of webinar platforms, everyday some new webinar platforms emerge in the market. Some are better than others, and help users deliver exceptional webinars.
Though it gives the organizers a wide variety of options to choose from, things get confusing also sometimes, and organizers find it difficult to choose one platform for hosting their webinars.
If you are also one of those who find it quite difficult to choose one platform for your organization, don't worry. We are here to help you.
In this blog, we will take you through all the points and factors that you should consider while selecting the platform for your webinars. It would ensure that you pick nothing but the best option for your organization. So, without any further ado, let us get going with the blog.
What is a Webinar Platform?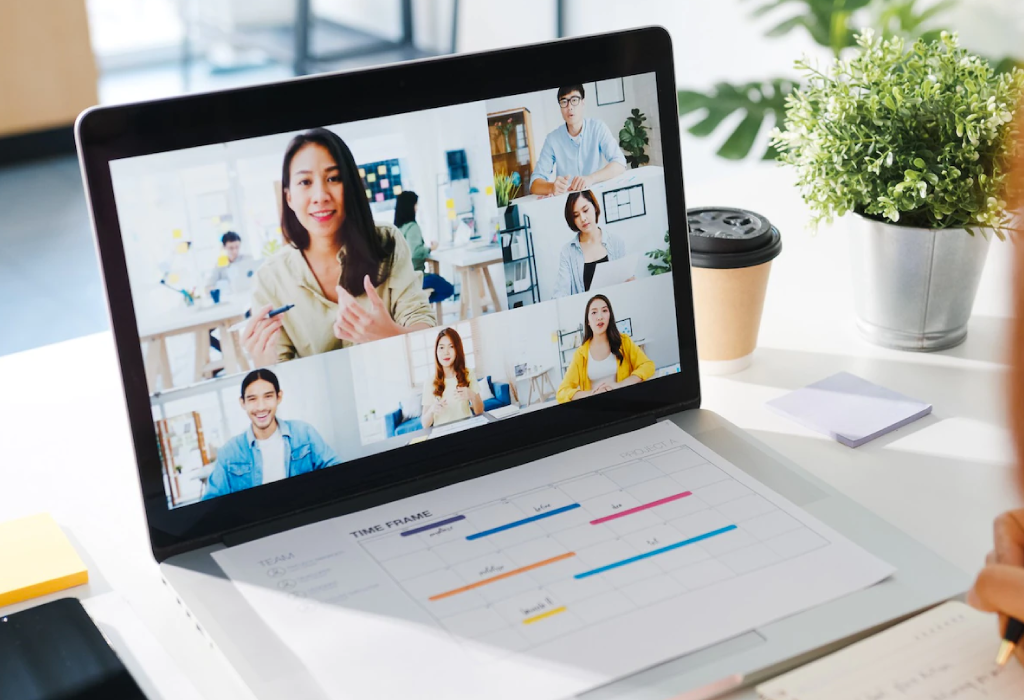 A webinar platform is simply an online platform that enables users to plan, host, and deliver webinars to their audience easily and effectively.
Webinar platforms come with a plethora of tools and features that let users ideate, execute and manage their webinars with ease and comfort. Most webinar platforms are compatible with hosting both kinds of webinars, live or pre-recorded. In addition to it, webinar tools offer several features that let organizers deliver their content, interact with the audience, and also, boost the growth of their brand.
Webinar tools have gained enormous popularity in the past few years, and it is why now the online event industry is filled with webinar platforms.
Due to this, organizers, especially first-timers, find it challenging to choose one platform. And in most cases, they end up picking the wrong platform leading to failed webinars.
However, to make it easier for you, here we are sharing with you a few points that you should always keep in mind. It won't only make it super easy for you to choose the right platform, but it will also ensure that you end up with the most suitable webinar platform for your brand.
What Are the Factors You Should Keep in Mind While Choosing a Webinar Platform?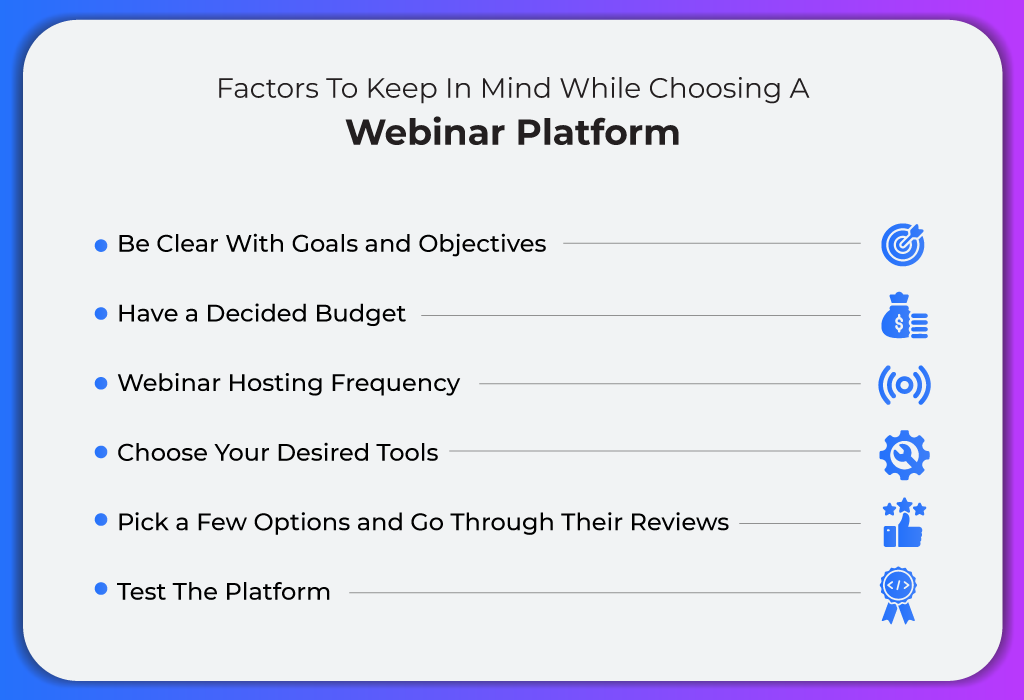 Since choosing the best webinar software requires a lot of factors, things might get a little overwhelming. But here are a few factors you should always consider before making the final decision.
1. Be Clear With Goals and Objectives:
The first and foremost thing you should know is to have clear and well-defined goals and objectives for your webinar. Since different platforms have different USPs, it becomes necessary to be clear about what you want to achieve with your webinar. For example, if you want to host a webinar to interact with your audience, then it is advisable to choose a platform with advanced audience engagement tools. Similarly, if you wish to boost the sales and growth of your brand, we recommend you look for a webinar hosting service that lets you deliver branded experiences.
All and all, it is necessary to choose a platform that aligns with your objectives. It would make it easier for you to achieve them.
2. Have a Decided Budget:
It is so important to fix a budget before you begin your hunt for an online webinar platform. The reason behind this is simple. There are several platforms available in the market which vary in features as well as the price range. Therefore, not having a decided budget would lead you to pick up a platform that doesn't match your financial limitations at all.
Conducting a webinar comes with some expenses and if you end up spending the majority of your budget on the webinar tool itself, it would either compel you to compromise with other factors, or you might end up facing financial losses.
3. Webinar Hosting Frequency:
Another factor you should consider while planning to select a webinar platform is how much you will use it. Always ask yourself a few things before starting to look for a platform. For example, you should be very clear about the number of webinars you are planning to host. Is it going to be a webinar series or a one-time webinar? Not only this, but you also need to have a clear understanding of the audience you wish to cater to with your webinar.
If it is going to be a webinar series, we recommend you go for a subscription-based webinar platform like Webinar Plus. These kinds of webinar platforms let you host webinars whenever you want.
4. Choose Your Desired Tools:
As we mentioned, every other webinar platform has its own USPs and limitations. All the webinar tools are built to cater to different kinds of objectives, audiences, and organizations. While you plan your webinar, pick out a few tools and features you'd wish to have in your webinar platform. There are several customizable webinar tools that let users pick their desirable tools. Hence, while choosing your platform, make sure you have all the tools you need for your webinar.
5. Pick a Few Options and Go Through Their Reviews:
We are sure by this step you'd have a few options in your mind. Now is the time to select one of those options and move on to the next step. But how would you choose one option from all of these platforms? Simply by going through the reviews from the existing customers. There are several reviewing websites and platforms available in the market. These tools let users post honest reviews about their experiences on the webinar platform. You can refer to these websites and learn more about the platform; this time from the audience's perspective. 
6. Test The Platform:
Now that you have picked the platform for hosting your next webinar, it's time to try it once before hosting the webinar. It will give you a more clear understanding, and help you know the platform in and out. When you purchase a car, you take a test drive before making the final decision, right? Choosing a webinar platform is nothing less than choosing a car. After all, your entire brand's reputation depends on it.
Hence, it is advisable to book your demo session before making any decision.
Several webinar tools, such as Webinar Plus, offer a month-long free trial to the users.
Features You Should Look For in A Webinar Platform: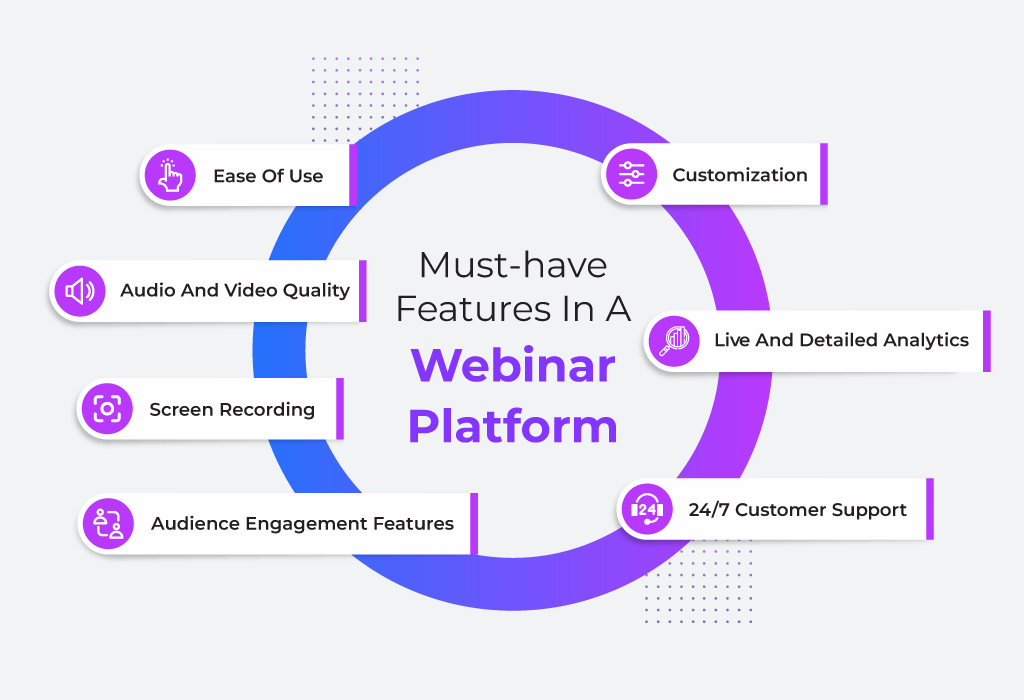 As mentioned, there are a few features that you should always look for in a webinar tool to ensure the smooth and successful execution of your webinar. Let us have a look at them.
1. Ease of Use:
There are several kinds of tools available in the market, including browser-based platforms as well as platforms with their own mobile applications. However, when it comes to ease of use, platforms that can be accessed with the browser are more preferred over the ones that need installation. The attendees can access these platforms easily from their browsers without having to download anything.
Always keep your audience's comfort and convenience in mind before choosing one name. What might be accessible for you may or may not be feasible for your attendees.
2. Audio and Video Quality:
As an organizer, one thing you would never want to compromise on is the audio and video quality of your webinar. You would always want to deliver nothing but the best to your audience and leave an everlasting positive impression. For this, you need to look for the best webinar platform that provides you with the best audio and video quality for your webinar. Also, go for the one that doesn't have much effect on the streaming quality with the minor disturbance in the internet connection.
3. Screen Recording:
The next thing you should look for in a webinar platform is if it provides recording functionality or not. This feature has its own benefits; recording the sessions would enable you to expand the reach of your webinar. Not only this, but with this feature, you can use your content and use it in ways more than one. You can share the recordings with your attendees, post the highlights on social media, etc.
4. Audience Engagement Features:
One of the main reasons it took time for people to become used to online events is the unavailability of audience engagement tools on webinar platforms. Just sitting and listening to speakers doesn't seem as engaging as one might expect. Attendees missed being a part of the discussions; it is why several tools later came up with several audience engagement tools.
Audience engagement tools help attendees be a part of the discussions, express themselves, and promote two-way communication in technology-driven events.
In addition to it, audience engagement rate is one of the top KPIs that let the organizers measure the success of their events.
5. Customization:
Having a custom platform would simply help you pick your desired solutions and plan your event the way you want. Not only this, but with a customizable webinar platform, you would be able to incorporate your brand theme, values, and objectives into your webinar. It would make it easier for your attendees to be able to relate to your webinar more. Reflecting your brand ethos and values with your webinar would help you expand the reach of your brand.
6. Live and Detailed Analytics:
Online events will always have an upper hand over physical events in case of a few factors. One of the factors is measuring and analyzing the success of your webinar. Now that you can have that advantage, we don't think you'd want to miss out on it. Therefore, you should consider going for a platform that provides you with a live and detailed analytics feature. With this feature, you'd be able to get accurate data and statistics. It would help you host further events more effectively and boost the growth of your business.
7. 24/7 Customer Support:
No matter how many features the platform offers, you'd still prefer to look for an online webinar tool that would have your back when things go wrong. No matter how efficient the platform is, things can go wrong anytime. And, it is when you will want to turn back to some technical support.
Hence, always choose a platform that provides users with round-the-clock support.
Over To You:
When it comes to planning and hosting webinars, one thing that takes up the maximum of organizers' time is picking up the right webinar platform. It might have been confusing for those who don't have enough knowledge about the platform.
But, Now that we have discussed all the steps and features you should take care of while choosing a webinar platform, it's time we think you are ready to choose your desired webinar hosting platform.
Though there are several webinar hosting platforms available in the market. However, one name that is preferred by maximum users is Webinar Plus.
Webinar Plus is counted as one of the best webinar software across the globe, and for all the right reasons. It is an all-in-one platform. It comes with all the features and functionalities that one needs to deliver a successful and unforgettable webinar.
You can try this platform free of cost for a whole month.