An exhibition is a great tool to present your brand in front of your target audience. You can reach your audience and showcase your product or service. With the help of an in-person exhibition, exhibitors can create different and unique experiences for their attendees.
As in-person events are back most marketers and organizations are preferring on-ground exhibitions. They can help exhibitors directly interact with their potential clients.
If you want to plan an in-person exhibition we have to go back, in this blog we are mentioning some amazing in-person exhibitions ideas, and best practices, and not just that we are also listing some creative ideas for your in-person exhibit booth, so continue reading to explore more about it.
In-Person Exhibition Ideas
Here are some amazing ideas for In-Persons Exhibitions: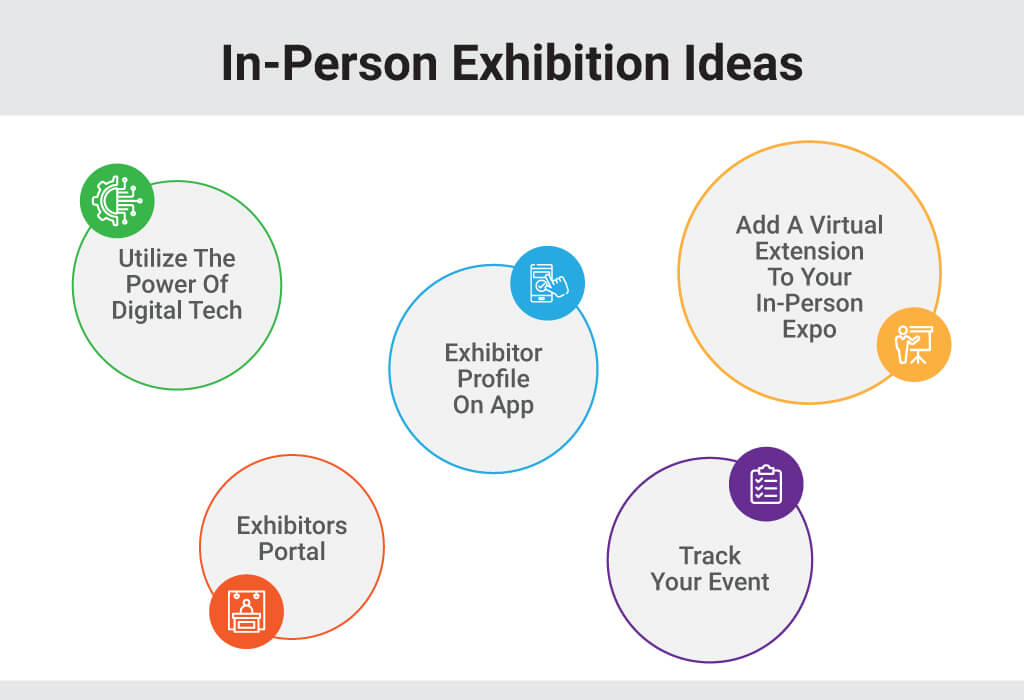 1. Utilize The Power Of Digital Tech
By adding digital tech to your expo you will be able to create a seamless experience for your attendees. You can play around smartly with these digital solutions.
Nowadays most things are quick and virtual. Offering QR-based check-in can save your attendees from standing in a long queue. You can also add QR's to your booth that your attendees can scan to the information about your booth and what services you are offering. Not just that you can add a large screen with unique graphics and designs to offer information regarding your booth, but all this can enhance your attendee's experience.
2. Exhibitors Portal
The next idea we have for your exhibition is adding an exhibitor portal to it. This exhibitor portal can provide all the information regarding your exhibition to your attendees, they can use it to explore different exhibition booths at the expo, or get information about any individual booth, or any product or service at your booth. These portals can provide all the crucial information that your attendees might be looking for.
You can also add the map of your on-ground expo in this portal as it will make it easier for attendees to locate any particular booth.
3. Exhibitor Profile On App
A mobile event app for the exhibition is a great option to consider.  Most individuals these days are using a smartphone so you can take advantage of it and create a mobile app to reach your attendees.
These mobile apps can make things more convenient for your attendees, they can register, book tickets and make payments online for the on-ground expo. You can also provide complete information about the different booths, what are the products, and the services that they can expect. You can also provide them with the map of your expo on the mobile app.
4. Track Your Event
Tracking your attendees during the on-ground expo can provide you with an overview of your attendees at the expo. If you are adding QR-based check-in to the expo it will be easier for you to track your attendees you will be able to see which booth they are checking in, how they are interacting, how much time they are spending on different booths, if they are making any purchase you can get information regarding that too.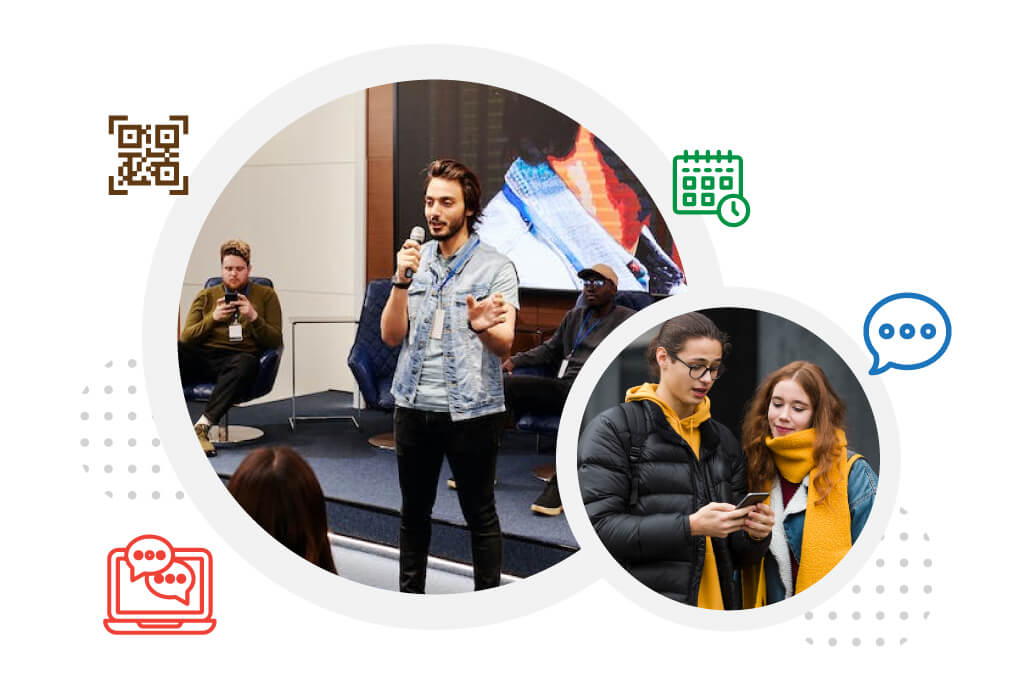 So you have all the information and data of your audience. This will help you in live lead retrieval at your expo.
5. Add A Virtual Extension To Your In-Person Expo
Adding virtual extensions and elements to your on-ground exhibition can benefit you in various ways. You can take your expo virtual or add elements of a hybrid expo. For instance, you can live stream your expo and the attendees who were not able to attend your expo in person will be able to join it online and as a  result, you will be able to reach a wider audience. You can use a digital platform fully customized according to your on-ground expo. Additionally, that platform can also sync your in-person exhibition with your hybrid or virtual expo.
In-Person Exhibit Booth Ideas
Here's How You Can Amplify the Experience at Your In-Person Exhibit Booth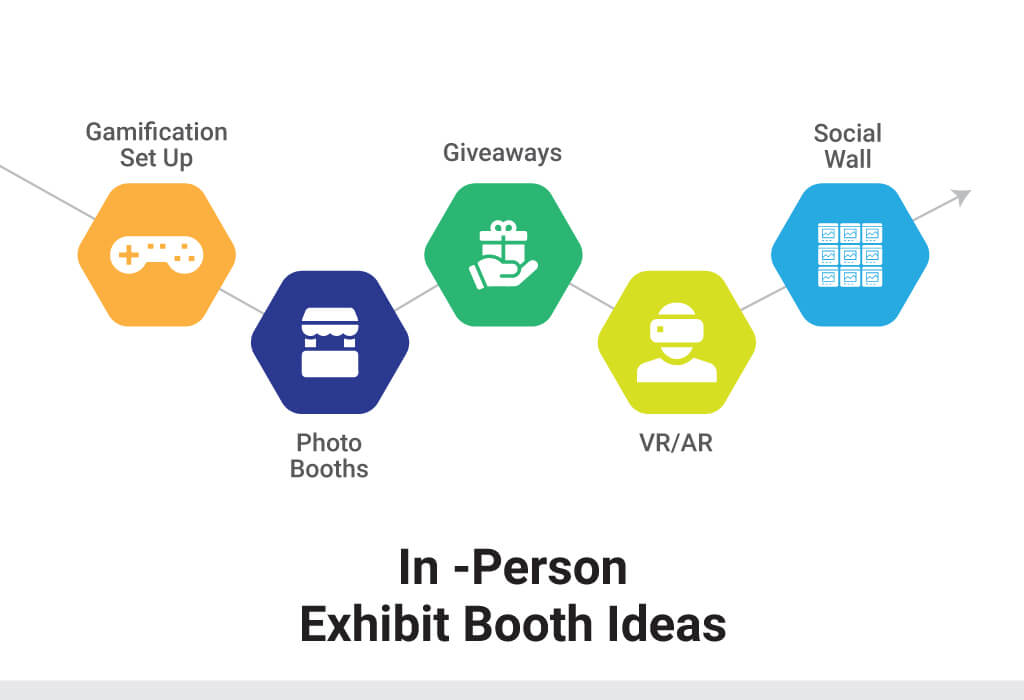 1. Gamification Set Up
When we are talking about creative ideas to amplify your exhibit booth we can't miss out on games. Adding gaming elements to your booth can attract a large number of people. Games can increase engagement at your booth and attendees will stay at your booth for a longer period. The main idea behind adding games to your booth is for enhancing your marketing strategy and for branding purposes. You can design a game depending on the information you need from your customers. A fun game will draw attention to your event and ultimately increase traffic to your booth. You can add elements that can promote your goods and services.
2. Photo Booths
Photo booths are trendy so why not add them to your exhibit booth? Photo booths are a fun and engaging way of attracting attendees to your stand. Photo booths are simply fun and attractive. With photo booths you can experiment according to your attendees, you can create your background, or just have a green wall and allow your attendees to be creative, they can decide their background, you can offer them tangible props or they add digital props to their photos.
Photo booths can help with social media promotions. You can ask your attendees to share their pictures online by tagging you. Photo booths are perfect for branding also.
3. Giveaways
If you want to attract more attendees to your booth you should host a giveaway because everyone likes to receive freebies. If you are a product company you can also offer free products as part of your promotional strategy. You can also give badges, water bottles, dairy, bags, and planners with the branding of your product as a part of your giveaway. You can host small competitions or quizzes for the giveaway in this way you will be able to engage your audience with your brand.
4. VR/AR
Technology is overtaking exhibitions these days. Integrating VR or AR into your expo booth is one of the finest exhibition ideas.
With the help of AR and VR technologies, you will be able to demonstrate your product and service and their use.
For instance, you are an automobile company and want to showcase your car's features, and what your audience can experience. In this situation, you can use virtual reality and augmented reality in showcasing your car without actually having it in your booth. It can offer a memorable experience to your target audience, hence boosting foot traffic at the booth.
5. Social Wall
Social walls at exhibitions attract a lot of attendees. If you are hosting a giveaway or a competition, or if you have installed a photo booth or games to your setup you can make use of the social wall. The social wall can display the images that are shared by event attendees online or you can also connect the social wall with your photo booth to display the pictures of all your attendees, you can also use it to display the score of your games, or for display the picture of giveaway winners, etc. With all this, you can motivate other attendees at the expo to visit your booth or to engage with you.
In-Person Exhibition Best Practices
Here are some best practices for in-person exhibitions: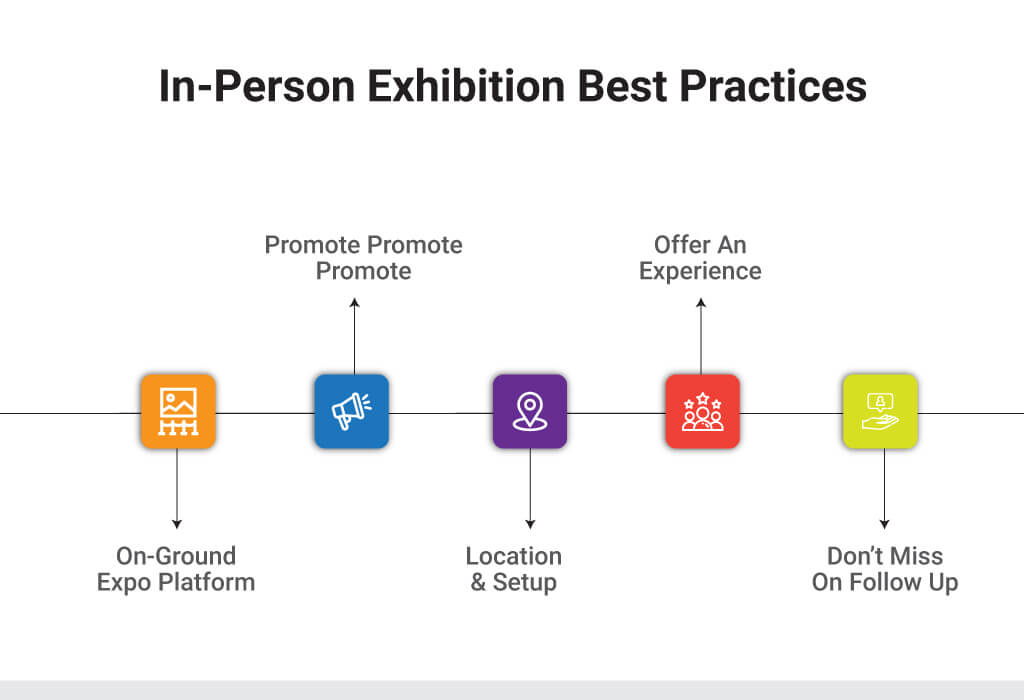 1. On-Ground Expo Platform
Expo platforms are very helpful, they can collect the necessary data, record all the necessary details of the audience, and can sync your in-person event with your virtual event. You can offer both online and on-ground expo registration with the help of the on-ground expo platform. Not just you can also use it for accepting payments for in-person exhibition ticketing.
2. Promote Promote Promote
Promotion plays a major part in the success of the exhibition. So start promoting your exhibition early. Social media is the best option for promoting your event with the help of social media platforms. You will be able to inform your audience about your exhibition, you can create your exhibition hashtag if you want you can also create a Snapchat filter to promote your exhibition. Show behind the scenes and post regular stories etc.
3. Location & Setup
The location of your booth is also important, as an exhibition you want to create your setup at a place that can receive more footfall. So you should take a look at the venue of the event and decode the location keeping the audience's point of view in mind. Create an eye-catching setup.
4. Offer An Experience
Don't just try to market or promote your product or service at the expo try to offer an experience to your audience. Use different elements and features that can enhance the experience of the users, add photo booths, offer freebies, and refreshments, and use tech like VR/AR, etc.
5. Don't Miss On Follow Up
One of the important things to keep in mind is to ask for a follow-up. When you know what your attendees are saying about you and what was their experience with you, you will be able to upgrade and improve if required so don't miss out on feedback.
You can ask for in-person verbal feedback but you won't be able to save it for later so to keep that track you can share a feedback message on the app, or share the thing through Email, etc.
The Bottom Line
So now you know some amazing exhibition ideas, exhibit booth ideas, and best practices for in-person exhibitions. If you are planning an on-ground exhibition you should try these ideas as they will enhance your expo. From adding social walls, and photo booths to using AR/VR everything can help you attract more audience to your booth. Additionally, by adding more virtual elements like QR-based check-in, live streaming of the event,  exhibitors portal, etc you will be able to create a more scalable expo. If you are looking for smart solutions for your in-person exhibition or you want an expo platform you can choose Dreamcast to make your expo advanced and smart.
In-Person, Hybrid, Virtual
Create an Extraordinary Event Experience
Across All Event Formats