Organizations are now more attracted to the apps where they can create various events. However, you will need the right features and functionalities to create the best mobile event app. It can help you build a seamless experience for your audience with numerous engagement, communication, and networking opportunities.
Still, various organizers wonder how an app can help host a successful event or conference. That's why here is a complete blog sharing all the benefits you can get with an event app.
18 Ways A Mobile Event App Makes Your Event and Conference Successful!
You need to choose the right and the best mobile event app for conferences. However, Dreamcast can give you everything you need for your event without hassle. Hence, here is a list of ways that can be helpful in making your event successful with a perfect app.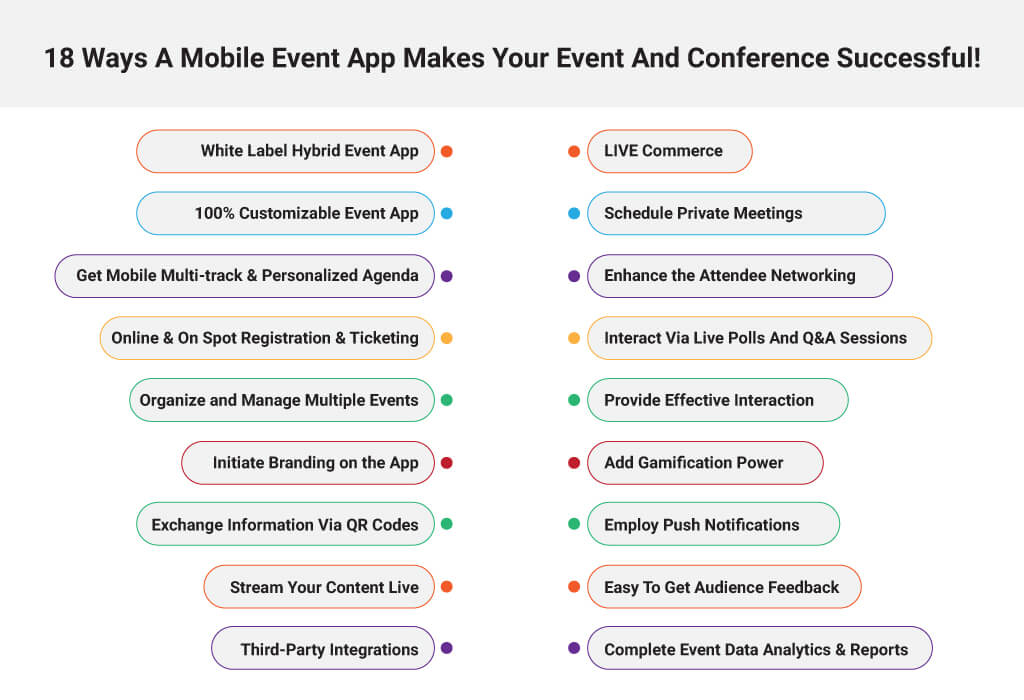 1. White Label Hybrid Event App
You will get a ready-to-launch application entirely designed to fit the needs of any business. Furthermore, you can add various branding, promotional, and other content and features as per your needs to stand out from the crowd. You can make it a replica of your brand as well as provide a wide range of events to your audience with such an application.
2. 100% Customizable Event App
Brands and businesses can add various features and functionalities as per their event requirements. You can add your logo, branded content, engagement tools, networking opportunities, communication features, and many more. Furthermore, you can easily create and customize guest lists and many other things.
3. Get Mobile Multi-track & Personalized Agenda
You do not need any other device to know about your event's work and success. Furthermore, you can track your events and everything from your mobile easily. It does not have to be a laptop or a PC. Also, you can upload various agendas and schedules online, creating a registration or landing page for your event. You can provide valuable information related to the event, from sessions to speakers to topics to date & time to duration and other essential information.
4. Online & On-Spot Registration & Ticketing
You can conduct an on-ground event by taking it to the online stage with the event app. Just like the event registration platforms, you can create a registration page on your event app. All the audience can come and register, whether they want to attend your event online or offline. Hence, your audience does not have to wait in a long queue at the ticket counters. They can simply get everything at your event app.
They will receive the tickets with m-badges via email, SMS, and other modes like the online ticketing platform. Hence, they can show their tickets to enter an on-ground event. You can scan the ticket and give them permission without hassle.
5. Organize and Manage Multiple Events
An app can save you a lot of hassle. You do not have to create a platform every time you conduct an event. Furthermore, you can add and host unlimited online and on-site events with this one event app. Hence, you do not have to build a new app every time you conduct a meeting. Create, edit, and host your event without hassle in the same event application.
You can find the event app as the best option for a smart event management platform, as you will be able to add and eliminate everything as per your wish. It is a solution you can create as per your requirements and make the entire event successful.
6. Initiate Branding on the App
Branding and promoting your products and services are the most significant reasons for conducting an event. Hence, you can get limitless opportunities to market your brand over the event app. You can create different content formats such as images, infographics, teasers, trailers, product description videos, gifs, and many more. Display all this information on your event app and let your audience know what you do and what you can provide them.
Also, you can integrate the internal and external links to various touch points in your event app. It will be helpful in diverting your audience from one page to another or from your app to the sales page without hassle.
7. Exchange Information Via QR Codes
You can create a QR code for your application to share complete information with your audiences. They can scan and download your event application using the QR. It will ease the trouble of searching the app on the browser or playing store. Also, you can divert them to the event information page as soon as they download and log in to your application. This way, they do not have to search or wander here or there to find important information about your event.
8. Stream Your Content Live
Examples can make it easy to understand any topic; hence, the live content can make it easy and uninteresting for your audience. Your speakers will have some data that they would like to share with the audience. Ask them to create some presentations and other content files and let them display them during the live event. Hence, you can get screen sharing with your event app, where your speakers will be able to show all the statistics and other information they have collected to justify or support their knowledge.
Also, you can create a document library for your audience in the event application. They will be able to access, download, and share all the provided content formats, like images, infographics, videos, pdfs, files, and more. Additionally, even when your event is not live, you can upload various latest and essential information to this library and keep your audience updated.
9. Third-Party Integrations
Every organizer and the expectation of their event are different. Hence, they search for a solution that can fulfill all their needs in a single place. Similarly, it can be tough to boost communication, engagement, and networking opportunities with the in-built features and functionalities. So, the online event solutions will offer your 3rd party integration.
Hence, you can incorporate various apps and software into your event app to boost easy engagement, interaction, and better networking opportunities for your audience.
10. LIVE Commerce
You may have seen a lot of applications that offer live commerce streaming to boost the audience range and sales. Likewise, your event app can provide similar live commerce selling opportunities. You can host a live selling event where you can use the 3D demonstration for every product.
Your audience can use the 360-degree view to see the product from all sides. It will create a complete in-person event experience. Also, you can add various links to divert the audience to your sales page. You can increase your sales easily using this technique.
11. Schedule Private Meetings
People love discussing your products and services with speakers or brand representatives. That's why the private meeting scheduler at your event app is one of the best in-person event solutions to enhance your attendees' experience.
Hence, your audience can get an appointment with your brand representatives without hassle, even before the event starts. They can request a 1:1 meeting and get the slot as per their availability.
12. Enhance the Attendee Networking
Creating contacts, sharing thoughts, and listening to others' views are vital parts of an event. Your audience can connect with anyone at the event, taking advantage of various features and functionalities. You can add elements like a signature wall, live chat, fun gamification, AI matchmaking, and more.
Hence, your attendees can connect with other users using the live chat opportunity.
They can leave a message on the signature wall for the speaker, event host, or any other person. Everyone will be able to see the messages shared over that wall.
Your audience can participate and compete in different integrated AR/VR-based contests. Also, you can display the high scorers on the leaderboard section.
They can get suggestions to make friends with the help of an AI matchmaking tool. It analyzes the demographic data provided by the users and creates matches based on their interests, likes, dislikes, and other information.
13. Interact Via Live Polls And Q&A Sessions
It is your responsibility to keep your audience entertained even during a session. Hence, you can use live polling to engage your attendees. Create a list of questions with various options in advance and display them during a live session. Your participants can vote for the possibility that they think is correct, and you can show the percentage of votes in real time.
Also, you can conduct a separate Q&A session to let the attendees ask different questions related to your event topic. Your speaker can answer all the questions in real-time. This way, you can keep your audience at the event for a longer time with the Q&A session.
14. Provide Effective Interaction
Making new friends and talking with your co-participants at an event can fill your audience with fun. Hence, you can offer multi-communication formats for valuable interaction among the audience with smart event solutions.
Your audience can create a group with available friends to chat throughout the event or talk 1:1 with anyone.
Anyone can connect via video or audio call to discuss the topic with ease.
You can create a separate chat room for your audience. It is a virtual room for the attendees to send a text message to anyone that another person or group can read instantaneously.
15. Add Gamification Power
You must have planned breaks between the various sessions while preparing for the upcoming sessions. But what will your audience do meanwhile? Hence, you need to integrate gamification into your app. You can get 100+ AR/VR games to add to your event.
This way, your audience will be busy throughout the event playing games and will not leave the event until everything ends.
16. Employ Push Notifications
You may have a lot of information to share with your audience during the live event. Hence, you can employ the push notification feature. It is helpful in creating a personalized message for your audience.
Furthermore, you can share various event announcements, changes, updates, and other essential information. This way, your audience will get a pop-up on their device screen grabbing their attention, so they will read and get the data in real-time.
17. Easy To Get Audience Feedback
You can create a separate link or button at your event app noticeable on the home screen for audience review. It will be helpful in taking your audience's feedback. They will be able to submit their review after every session.
Also, you can pop up the feedback form on the screen to make your attendees submit their reviews. On the other hand, you can create a single feedback form to display at the end of the event. You can use a 1 to 10 number or 1 to 5-star rating to make it easy for your audience to provide follow-up.
18. Complete Event Data Analytics & Reports
The analytics of the event is essential to calculate the success rate and understand various drawbacks. Hence, you can get such an app with in-person event services that can help you get detailed analytics and insightful data.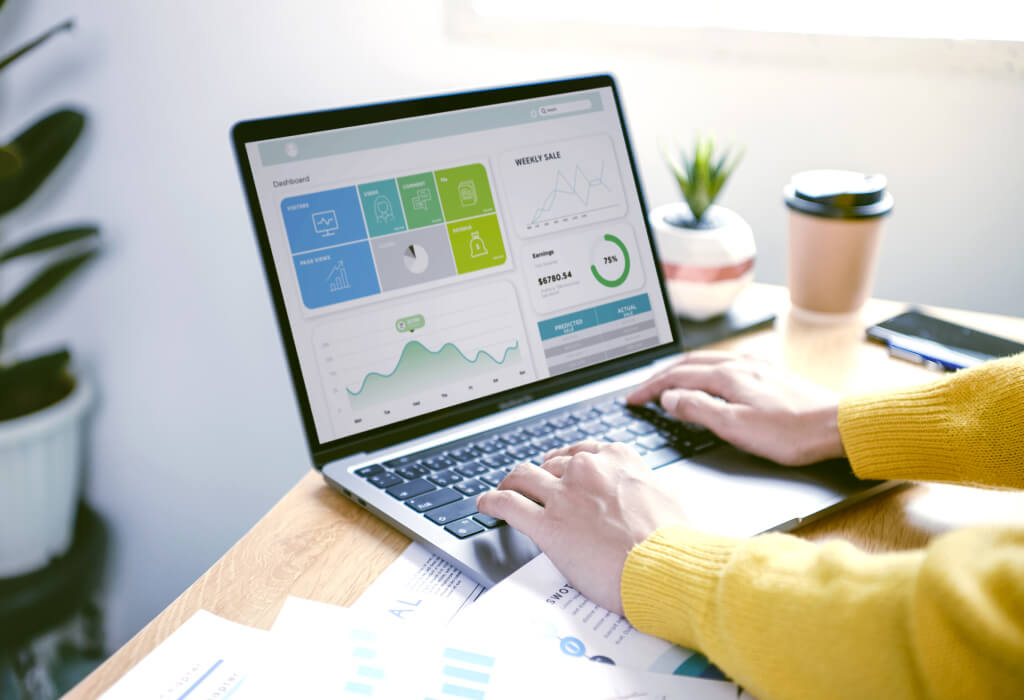 You can get a complete list of registrants, logged-in audiences, early logouts, and other information from the point of registration till the event ends. These metrics will help you measure the aspects of whether you have achieved the goal of conducting this event or not. Also, it will help you make beneficial decisions for your upcoming event.
In a Nutshell:
You can get a lot of benefits with an event app that can be helpful in changing the complete experience of your event. Dreamcast can make your dream come true for an in-person, virtual, and hybrid event. Furthermore, you can get seamless integrations that can enhance the interest of your audience in your event. Still, if you have any doubts, connect with us today and get a solution for all your requirements without hassle.
In-Person, Hybrid, Virtual
Create an Extraordinary Event Experience
Across All Event Formats