The current global digital scenario is changing with the change of social media trends every moment and the behavioral patterns of people consuming content. With such popular social networking channels the retention time is reduced and to support it short, engaging, and crisp content is in demand. To make it more clear, short-form videos like Instagram Reels or YouTube shorts are rapidly growing trends in social media. Many industries, businesses, and brands are utilizing all these kinds of content forms to reach their targeted audience and increase the digital visibility of their organization. In the same context, the event industry of organizers is utilizing YouTube shorts for event registration to maximize their participation.
Here in this blog, we are about to discuss the key pointers of how to use YouTube shorts for event ticketing, ideas, and other key aspects. Additionally, we will also touch upon the YouTube shorts strategy for events promotions with best practices, tips, and tricks. So, why wait for marketing companies? Let's get started;
What are YouTube Shorts?
YouTube's shorts are short-form video content features that are a maximum of 60 seconds long. In 2020, American global online video-sharing and social media platform YouTube launched this feature to be in trend with Instagram, TikTok, and other social sites by observing the market trends. With the creation tools and app of YouTube, you can create, make and record shorts with added music (an expansive music library is offered) or original audio. Additionally, you can also use a multi-segment camera to mix multiple clips together into a single video. Furthermore, it also gives the liberty and other essential tools to control the playback speed, and access hands-free recording with countdown and timer tools.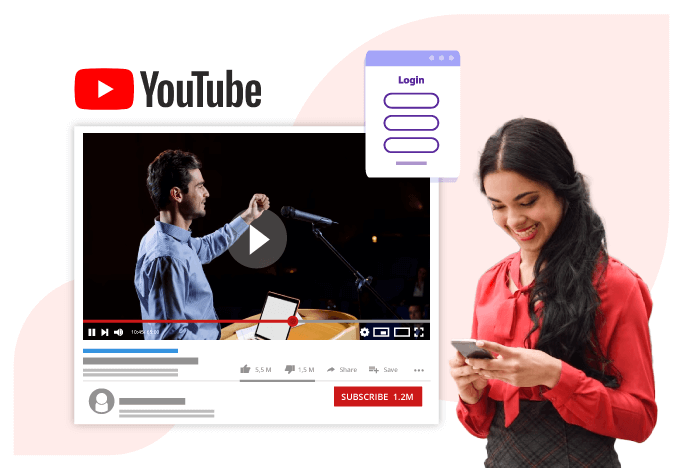 Well, this is the general information about the shorts. But we are here to know more about YouTube shorts for event registration, ticketing, and how to use them for promotions. In the next section, let's reveal it.
What are YouTube Shorts for Event Registrations, Ticketing, and Promotions?
There was a time when radio and billboards were very popular for promoting brands and their products. But with the evolution of the internet and social media, promotions of such changed slightly. As there are many social media platforms and around 4.9 billion people are on them, making it the best to include them in the event promotion strategy.
But before including it in your strategy, knowing the trends of each platform are a must. For example, you can use Facebook posts, Instagram stories and reels, Twitter Live and other Live streaming platforms to enhance your event marketing. Currently, if you want to raise awareness of your next on-ground event, YouTube shorts event marketing is the best. Creating engaging shorts on YouTube can help you build a community, reach a wider audience, increase visibility, and overall attract more audience to register and buy tickets. In general, YouTube shorts for event ticketing means attracting more audience by attracting them through shorts and encouraging them to register for the events. This is like indirect marketing, but the overall effect is incredible.
Benefits of YouTube Shorts for Event Registrations and Engagement
YouTube shorts event marketing is the finest way to promote your event and utilizing it can give you several benefits. Starting with a range of benefits of event video promotion is that it is short and concise, attracting more people to watch and leading to conveying significant information about the event. Furthermore, the algorithm of YouTube shorts works on a basis that actively promotes its short-form content, making it more probable to reach a wider audience. Other than that, it can be shared to other social media platforms via links or directly as a post that maximizes the event promotion efforts and amplifies visibility. Some of the other crucial benefits of YouTube shorts strategy for events are;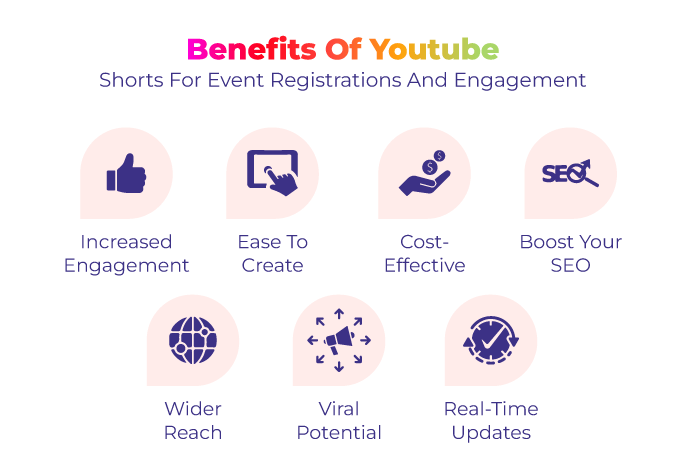 Increased Engagement
Ease To Create
Cost-Effective
Boost Your SEO
Wider Reach
Viral Potential
Real-Time Updates
These combined benefits of using YouTube Shorts can increase your event registrations and ticketing sales. Knowing about the benefits is not enough if you don't know the best practices and strategies for using it. So, let's talk about it;
Best Practices & YouTube Shorts Strategy for Events Promotions
To effectively boost YouTube shorts for event registration, you need to consider how to find your YouTube niche because these strategies and pointers will help you in real life. Here we have concluded a crucial pointer that helps you in creating YouTube shorts and overall event promotions through it.
Identifying Target Audience and Tailoring Content
Know your audience!!! A simple phrase, but it has many meanings. A brand, business, or event organizer must need to know their audience and their behavior in terms of likes, dislikes, preferences, and about themselves. Identifying all these combined help you tailor the YouTube shorts for event registration as if you don't align with their expectations they are expected to not pay attention to all your creations. So, in order to capture them and encourage them for ticketing, identifying your audience is preferable.
Additionally, the intrinsic research that takes into identifying the audience and other information gathered is further utilized in many other strategic roles. Like when doing paid ads or when collaborating with other collaborators or influencers to create the viral YouTube promotion for events.
Crafting Captivating Event Promo Videos
When crafting event promo videos for YouTube Shorts, try to make them visually appealing and attractive to capture more attention. Use a good-quality audio video and an interactive storyline that shows a variety of aspects and key significance about the event, or simply the highlights that they can expect. Also, be active in the comments section to reply and interact with your audience.
Collaborating with Influencers and Event Partners
To maximize the reach and impact of your shorts, try associating with other influencers, partners, or collaborators who have already certain subscribers. In addition, make sure you and the partner have a similar audience fan base that you identified. By following this practice, you can substantially boost your event awareness and registrations. Create engaging and trendy content with influencers that take you to a wider reach through YouTube Live.
Implementing Hashtags and Trends for Maximum Visibility
Hashtags and trends both parallelly take your YouTube shorts strategy for events to new heights of success. As relevant or trending, hashtags are most likely to boost your visibility of shorts and make them easily discoverable. Conduct thorough research or simply hire any social media marketing agencies to find industry-related hashtags, and write captions strategically. Pick trending topics, trends, and creativity to enhance your chances of appearing in relevant search results or YouTube recommendations.
Well, these above-mentioned pointers come under the banner of YouTube shorts strategy for events best practices. But now it's high time to talk about some tips and tricks to make your content more engaging, appealing, easily discoverable, and align with your brand's tonne and campaign goals.
Tips & Tricks To Boost Your YouTube Shorts for Event Registrations
There are many tips and tricks that need to be implemented in order to fulfill the marketing and sales campaign goals. Here are a few mentioned ways you can enhance the registration counts and ticket sales for your next event with YouTube shorts.
Keeping Videos Short, Snappy, and Engaging
YouTube's shorts are meant to promote a short form of content that means small length, short, crisp, and concise. The conciseness is the real essence of it, make sure you don't eliminate this factor. Try making visually appealing content that grants the user attention in the first 5 seconds with an engaging flow in continuous. Deploy compelling visuals, captivating storytelling, and vibrant editing techniques to make your Shorts stand out.
Optimizing Titles, Descriptions, and Tags for YouTube Shorts Searchability
If your content is not easily discoverable to the audience, it might end up going unnoticed, and all your efforts will be wasted. To maximize the discoverability of your content, optimize the titles, descriptions, and tags. This can be achieved by using relevant keywords from your industry or popular ones. Write compelling titles that can encourage the audience to watch your content, generate curiosity, and ensure clarity about your message and video's purpose. Craft clear, concise, and informative descriptions that include all the links and other event-related information, encouraging the audience to take action.
Utilizing Eye-catching Thumbnails
Thumbnails are always underrated, but are the first thing a user considers clicking on any videos to watch. Create attractive thumbnails that capture the user's attention with creative visuals. You can use vibrant color tonne, clear overlay text, and compelling visuals, all these combined can make your YouTube shorts thumbnails stand out in a crowded feed.
Engaging with Viewers through Comments and Community Tab
Engagement in times of promotional and marketing campaigns are must. When you create YouTube shorts for event ticketing make sure you keep engaged, by responding to comments it can be possible. Encourage discussions and create a kind of community by responding to all queries, questions, and concerns. Invite viewers to share their thoughts to foster conversations and enhance the overall event experience. Additionally, by leveraging the Community Tab feature on YouTube you can provide exclusive updates and content.

Okay! You learn a lot of tricks and now know the best practices to deploy YouTube shorts event marketing, but what about ideas to boost sales? So, here is the next section comes, which is focused on event YouTube shorts ideas for enhanced event video promotions and sales;
Event YouTube Shorts Ideas To Boost Registrations
Event ticketing is of no worry when there are good ideas. Here we have concluded all those good ideas you can think of when creating event promo videos or simply shorts.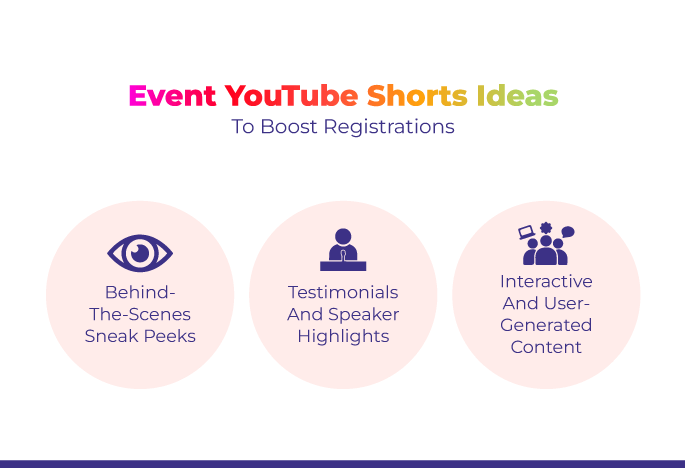 Behind-the-Scenes Sneak Peeks: Showcase exclusive footage of behind-the-scenes event preparations, rehearsals, and other key highlights. Build anticipation and show what they can expect by attending the event or missing if they don't participate.
Testimonials and Speaker Highlights: Reviews and testimonials are influencing and serve as a social proof while increasing credibility. The testimonials overall encourage other users to register.
Interactive and User-Generated Content: Ask your targeted audience about their ideas or what they like to experience at the event. Conduct social challenges, and try to involve the audience in your event much before it really happens. This way you can create a sense of community and increase engagement.
Utilizing YouTube Shorts for Event Ticketing
The main goal of running all the campaigns and promotions is to sell the vent tickets and increase participation. To do this, there are a few aspects you can look forward to and make possible with YouTube shorts for event ticketing;
Create event promo videos or teasers in YouTube Shorts to capture an audience.
Make engaging shorts that showcase the event highlights of previous events or preparation footage to generate excitement and encourage event registrations.
Make sure to use clear calls-to-action (CTAs) in YouTube Shorts that direct the viewers to the registration page of the event.
Utilize YouTube Shorts analytics to track all your metrics, play counts, and audience interaction. The actionable insights are helpful in order to optimize your marketing and promotion efforts.
Showcase the USP of the event like any guest, speaker, exclusive workshops, goodies, activities, or experiences that make your event more profound.
Leverage the YouTube live streaming services to come up with your guests and partners and organize YouTube Live sessions. This session can be of Q&As or simply interaction between the panel or audience.
Summing Up
Among other social media platform features, YouTube Shorts has proven to be a powerful tool for event organizers, whether their goal is to boost event registration, increase engagement, or attract more participants. Implementing effective promotion strategies using YouTube Shorts can unlock limitless potential. By embracing this dynamic format and utilizing the best practices discussed in this og, event organizers can establish a powerful online presence and delight their audience in the ever-evolving digital landscape. If you are also looking to create an online registration and ticketing system that streamlines the sign-up process, you have come to the right place.
At Dreamcast, we are renowned for our fast delivery of customized event ticketing and registration platforms, whether it's for on-site deployment, creating a microsite, or developing a mobile event app. We can handle it all for you. Book your free demo with us to learn more and get a personalized 1:1 interaction with our product expert to clear all your doubts and concerns. Thank you for reading the blog!!
Host an Engaging LIVE Stream
Connect with the Industry's Most Experienced
Live Streaming Service Providers.