When live streaming is considered, people often tend to confuse the webcast and webinar terms and use them interchangeably. Though on a fundamental level, they work similarly, that is on they have somewhat similar execution and purpose, they have some differences as well.
What is a Webcast?
A webcast is usually a unidirectional flow of data, broadcast over the web to an outsized audience. The audience doesn't typically contribute a lot of to the content of the webcast, which could embrace an audio stream, presentation slides, or video clips. A webcast is another way during which members of an organization or community can share concepts and knowledge across the world. Webcasting includes a full-featured, high end, multi-camera broadcast designed to inspire and train team members, better communicate concepts and broadcast necessary events live for your company or community.
Host an Engaging LIVE Stream
Connect with the Industry's Most Experienced
Live Streaming Service Providers.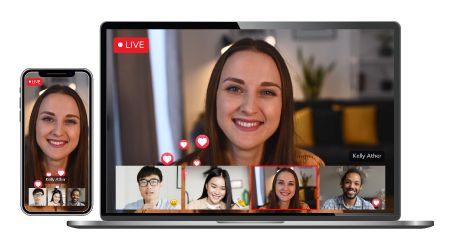 With the employment of High Definition HD streaming via the web, webcasting permits the presenter to go along with his or her team by sharing his or her visual communication, facial expressions and excitement for the subject at hand. While all members cannot freely raise queries or interact in conversation throughout the complete webcast as they can in a webinar, webcast attendees are able to submit via the internet or call in inquiries to be self-addressed directly by the moderator. This permits for a swish and impactful presentation with the addition of HD cameras, videos and alternative professional graphics to supply a unique expertise which will be both academic and inspirational.
Also Read: How Live Webcast Helps In Product Promotion And Branding?
What is a Webinar?
On the other hand, a webinar is an online interactive meeting or seminar. Additionally, referred to as web conferencing, it permits for cooperative interaction between totally different parties over the phone or a web-based microphone and electronic equipment.
Webinars are designed for smaller teams, from meeting-sized teams to on-line events involving many individuals. The content can likely be academic or training-based. It additionally allows the moderator, or person presenting at the meeting, to share his or her display screen to showcase PowerPoint slides or alternative relevant info. They typically include several of the options out there with online conferences, like Q & A, polls, whiteboard and markup talents or alternative cooperative means.
Thus, webinars are full-featured displays or events for a few hundred or (often) far fewer people. A "webinar" expands the concept of a webcast into a lot of interactive formats. The experience tries to breed the advantages of attending a live seminar.
Also Read: Why Host A Webinar? Four Key Benefits Of A Webinar
How do they both differ?
Webcasts permit attendees to submit inquiries to be answered by the moderator, whereas webinars usually have very little structure wherever question and answer segments are involved. Both webcasts and webinars permit the presenter to share his or her presentation with the meeting, a webinar is restricted to share solely that that is on his or her monitor, traditionally a PowerPoint presentation, whereas a webcast permits for a custom presentation with slides, videos, photos and graphics designed specifically to accompany the presentation.
Generally, webinars and live conferences are less costly than a standard webcast. However, because the variety of attendees grows for a webinar, thus will the value for added phone lines, correct bandwidth, and therefore the resources required for the meeting. Conversely, a webcast will normally not grow in price because the variety of attendees around the world grows in size. This suggests that the costs of a webinar could be such as the costs of a webcast.
Attain a Matchless ROI for Your Business.
Pick the Best Webinar Services of the Industry